How To Do Laundry While Traveling 101
If you're packing a carry-on for the first time or going on a long-term trip, you've probably begun wondering how the hell you'll do your laundry while traveling.
Chances are you don't want to spend valuable travel time washing piles of dirty clothes and so, I've got good news for you: it's really not that hard! There are so many different ways to get your laundry done regardless of your budget, so I've put together a list of the six different methods I use to avoid smelling like a dirty backpacker when I travel.
How to do laundry while traveling:
Hand wash them in the sink or bathtub
This is by far the cheapest option and while it sounds like a drag, it honestly becomes a habit after time!
Keep in mind that it's very bad etiquette to do your entire laundry in one go and hang it all over the place – some hotels even ban hand washing, so make sure not to do it if they wrote it down in their rules.
My trick is to wash the underwear and shirt I used that day at night before I go to bed and hang it during the night. I like doing this because it becomes a sort of habit. Since you are only washing a few things every night, you barely feel the effort and you never have to run out of clean clothes.
If you've never hand washed your clothes before and have no idea how to do it, here's a super useful step-by-step guide!
Tips:
If this sounds like the way to go for you, then I recommend packing a sink stopper – it's a mini item that barely takes any space in your luggage but will save you lots of headaches! There no sink stopper that will work on all sinks/tubs, but this one is your best bet because it's made of silicone and lies flat.
Pack fabrics that dry quickly, some examples of these are nylon, polyester, etc.
Don't hand wash light and dark clothes at the same time.
Don't forget to get travel insurance for your trip! As always, I recommend Safety Wing for great prices and coverage abroad. It starts at only $45 USD per month and will have you covered with everything you may need during your trip! Check them out here.
Book yourself a hotel room or apartment with a washing machine in the room
On Booking.com, type in the city you're headed to and to the left, under "Room facilities", you'll find tick boxes. Tick the option that says washing machine and bam! You found yourself tons of rooms with shiny washing machines!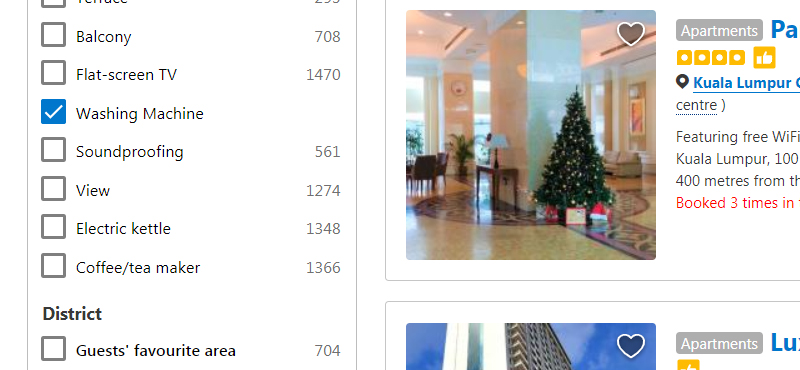 You'll need to bring your own detergent, but it makes life so much easier if hand washing sounds like too much work. I also recommend packing a travel clothesline for these – many of them come with hangers, but not all of them do.
Find a laundromat
Laundromats are global! You'll definitely be able to find one anywhere you go, especially in large towns. You can either ask the team at your accommodation to tell you where the nearest one is, or open up Google Maps, type in "laundromat", and it'll show you a bunch of different options near your location.
Book a hotel with laundry services
Many hotels, resorts, cruise ships, and even hostels have laundry machines or laundry services. It's not a norm for hotels to offer this service, so if the place you're staying at doesn't or you're on a tight budget, keep reading. This is by far the most expensive method to wash your clothes, but also the easiest!
Find a local laundry service
Similar to having your hotel wash your clothes, but more often than not, a hell of a lot cheaper!
This is one of my favorite options because it tends to be inexpensive in countries where this service is a thing (think Mexico, Sri Lanka, or Indonesia) and all you really have to do is bring your clothes over, come back a few hours later to pick them, and ta da! Your clothes are not only clean but also neatly folded with love and all.
In non-touristic places, these can be hard to find. Most times, they are attached to dry cleaners or it's sometimes just a family doing it as a side-business in their homes. In main tourist hubs, like say, Bali, you'll find them super easily – they usually just have large signs outside that says "laundry".
Get a SCRUBBA
Another great option, especially for long-term travelers or if you're headed into nature is to get yourself a SCRUBBA bag. All you have to do is put your clothes inside the bag, fill it up with water + soap, and scrub like crazy. I find this method more effective than washing by hand in the sink and also much faster.
Note: If you plan on washing your clothes outdoors, make sure you bring an eco-friendly laundry soap to ensure you don't pollute your surroundings. I love Sea To Summit's Wilderness Wash.
Essentials You'll Need To Do Your Laundry While Traveling
Drain stopper – If you liked the option of washing your clothes in the sink, then bring along a sink stopper. You'd be surprised how many sinks I've encountered without stoppers and leaving the water on running while you wash a few items is not the way to go. I recommend this one as it lays flat and works on most sinks!
Laundry bag – Pack a small laundry bag if you plan on using laundromats or taking your clothes to a local laundry service. I love this one because you can fold it up and it gets super tiny and it's also really cute (when you're not using it to move your laundry around, you can also use it as a cute day bag!)
Laundry soap – You can get this at any supermarket all over the world. Most places have the same brands and I recommend sticking to the one you use back home if you have sensitive skin.
Biodegradable laundry soap – If you'll be washing your clothes outdoors, make sure you bring along biodegradable laundry soap to avoid polluting the nature around you. I love Sea To Summit's Wilderness Wash.
Clothesline – They are light and come in super handy if you plan on washing your clothes by hand or the idea of booking a room with a laundry machine sounded like the way to go for you. I recommend this one.
Disclaimer: This post contains affiliate links. This means that, if you purchase something through my links, I might earn a commission at no extra cost to you 🙂