Perissa Santorini: A Beach Lover's Paradise
If you're looking for a stunning beach destination in Greece, Perissa Santorini might just be the perfect spot for you.
Located on the southeast coast of Santorini, Perissa is known for its black sand beach, crystal-clear waters, and laid-back vibe.
What makes Perissa Santorini Special?
The beach stretches for over 7 kilometers and is lined with beach bars, restaurants, and sunbeds. You can spend your days soaking up the sun, swimming in the Aegean Sea, or trying out water sports like jet skiing or paddleboarding.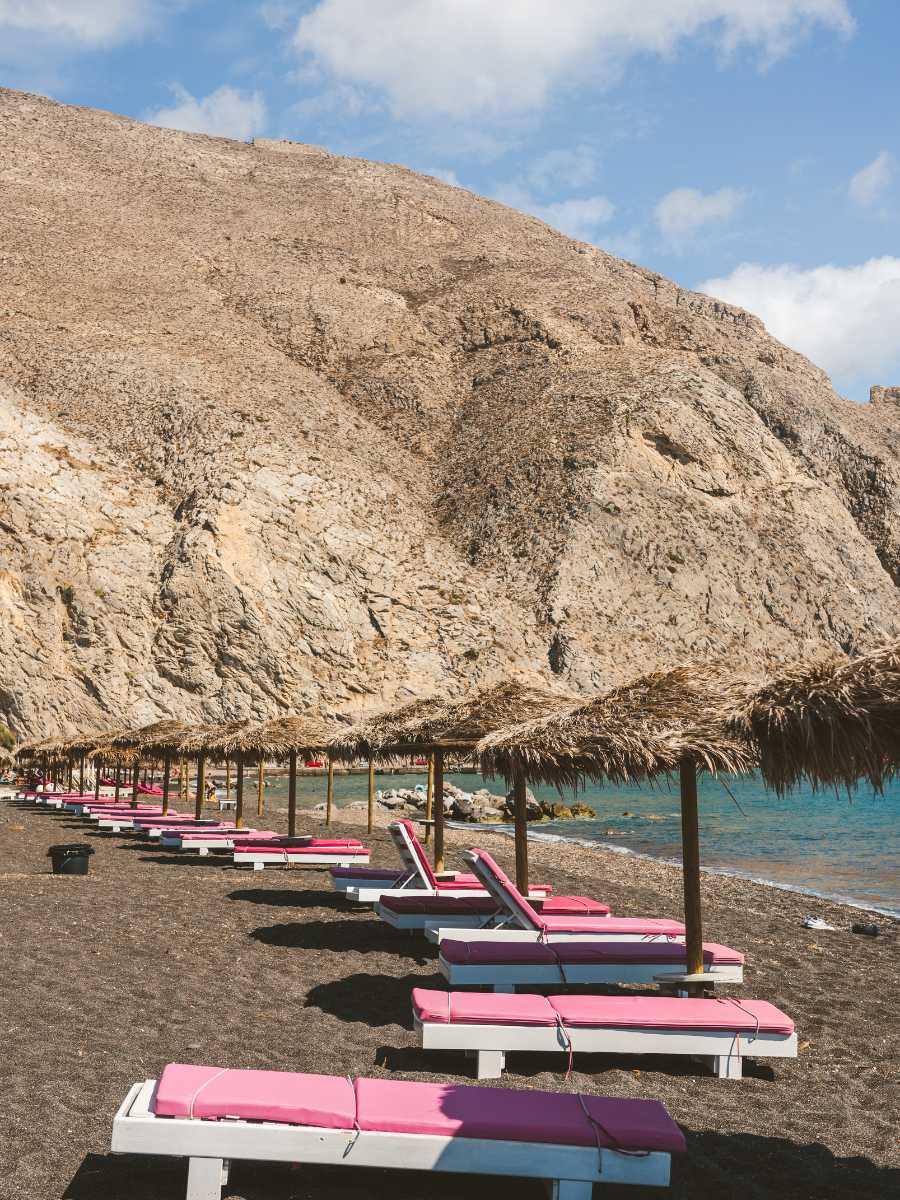 If you're interested in exploring beyond the beach, there are plenty of options for you as well.
You can take a hike up to the ancient Thera ruins, which offer stunning views of the island and the sea. Or, you can visit the nearby town of Emporio, which is known for its traditional architecture and narrow streets.
Perissa Santorini is also a great base for exploring the rest of Santorini. You can easily take a bus or taxi to other popular spots like Fira, Oia, or Akrotiri. And, if you're interested in wine tasting, there are several wineries in the area that offer tours and tastings!
Things to Do in Perissa Santorini
If you're planning a trip to Perissa Santorini, you'll be pleased to know that there are plenty of things to do in this coastal village. Here are some of the top activities to consider:
1. Visit Perissa Beach
Perissa Beach is the main attraction in town, and for good reason. With its black sand and clear waters, it's a beautiful spot to relax and soak up the sun.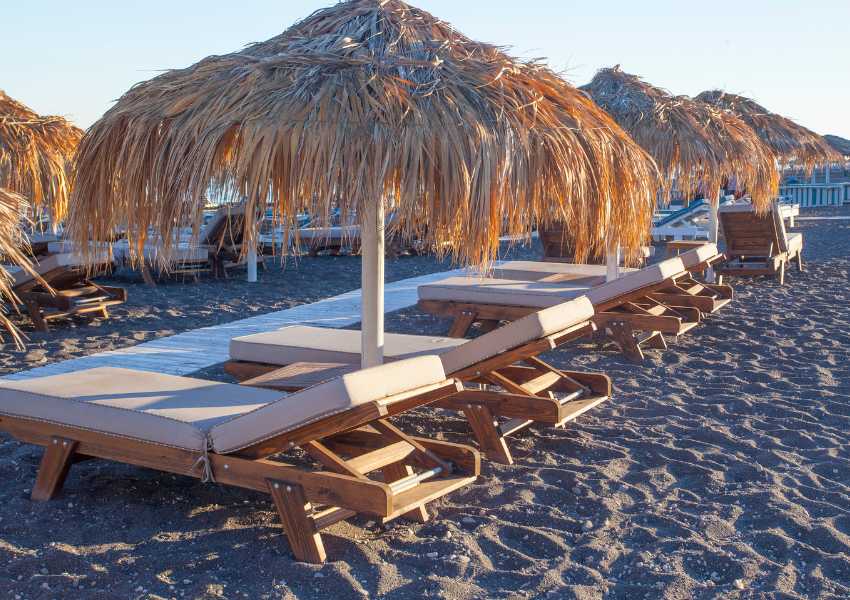 You can rent sunbeds and umbrellas, and there are lifeguards on duty to ensure your safety. Plus, the beach has been awarded a Blue Flag for its cleanliness and environmental efforts.
2. Explore Ancient Thera
This archaeological site is located on the top of Mesa Vouno, a mountain that overlooks the Aegean Sea.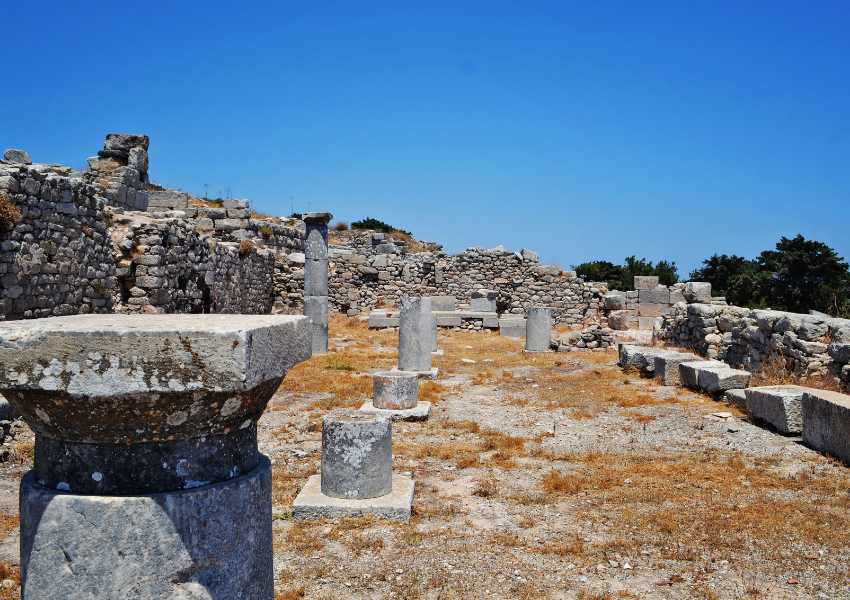 The ancient city dates back to the 9th century BC and was inhabited by the Dorians, Spartans, and Romans throughout its history.
The city was named after Theras, the leader of the Spartan colony that settled in the area. The city flourished during the Hellenistic and Roman periods, with a population of up to 8,000 people. It was an important center for trade, agriculture, and religion, with several temples and public buildings.
Today, the ruins of Ancient Thera are a fascinating glimpse into the island's rich history. As you explore the site, you'll see the remains of houses, temples, and public buildings, including a theater, a gymnasium, and a marketplace.
The ruins are spread out over several levels, with stunning views of the surrounding landscape.
3. Check out the Church of Panagia Katefiani
One of the most impressive buildings at Ancient Thera is the Church of Panagia Katefiani, which dates back to the 17th century.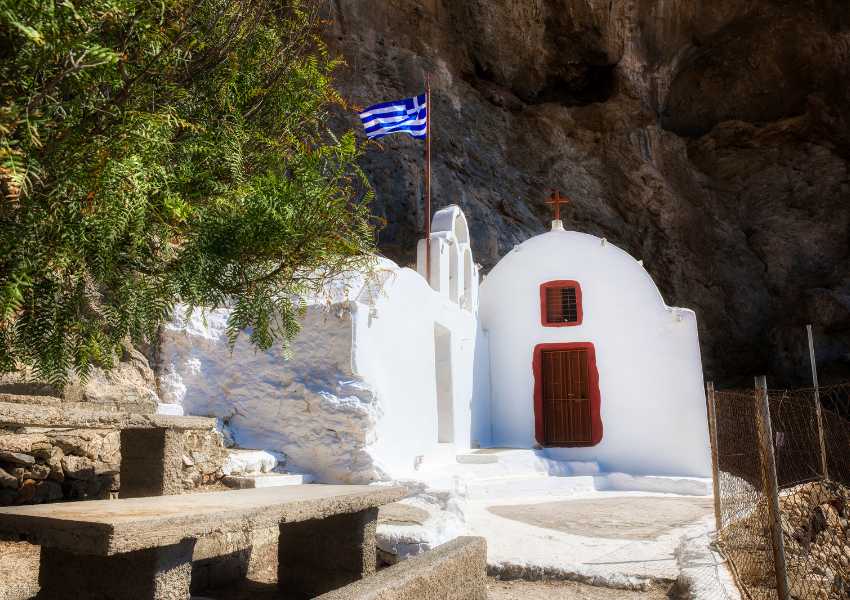 The church was built on the site of an ancient temple and is dedicated to the Virgin Mary. It's a beautiful example of Byzantine architecture and is still used for religious services today.
4. Learn about Ancient Thera at the Museum of Minerals and Fossils
If you're interested in learning more about the history of Ancient Thera, be sure to visit the Museum of Minerals and Fossils.
The museum has a collection of artifacts from the site, including pottery, coins, and tools. It also has displays of the island's geology and mineralogy, with samples of volcanic rocks and minerals.
5. Hike to the Prophet Elias Monastery
Hiking to the Prophet Elias Monastery is one of the most popular activities for visitors to Perissa Santorini.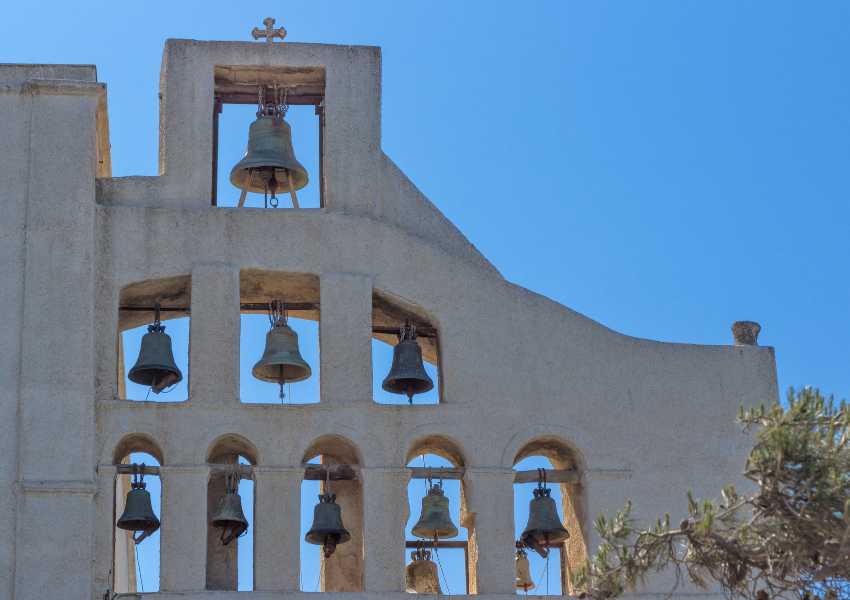 The monastery is located on the highest point of the island, at an elevation of 567 meters (1,860 feet) above sea level.
The hike to the top takes about 2 hours and covers a distance of approximately 6 kilometers (3.7 miles).
The trail starts in Perissa and follows a winding path up the mountain. The first part of the hike is relatively easy, with a gentle incline and plenty of shade from the trees.
As you climb higher, the trail becomes steeper and more challenging, but the stunning views of the island and the Aegean Sea make it all worth it.
As you approach the monastery, you will see a small chapel dedicated to the Prophet Elias, the patron saint of the monastery.
The monastery itself dates back to the 18th century and is a beautiful example of traditional Greek architecture. It is still active today and is home to a small community of monks.
The views from the top of the mountain are breathtaking, with panoramic vistas of the island and the surrounding sea. On a clear day, you can see all the way to the neighboring islands of Ios, Naxos, and Amorgos.
6. Explore the Perissa Waterpark
The Perissa Waterpark is a great place to visit for families with kids who are looking for some fun and excitement.
The waterpark is located in the heart of Perissa and offers a wide range of water activities for visitors of all ages.
The park features several water slides, including the Kamikaze, the Black Hole, and the Space Bowl, which are sure to get your adrenaline pumping.
The lazy river is a relaxing way to float around the park and take in the scenery. The wave pool is another popular attraction, where you can experience the thrill of swimming in the ocean without leaving the park.
7. Go Wine-Tasting
Visiting the wineries is one of the most popular activities in Santorini, and Perissa is no exception.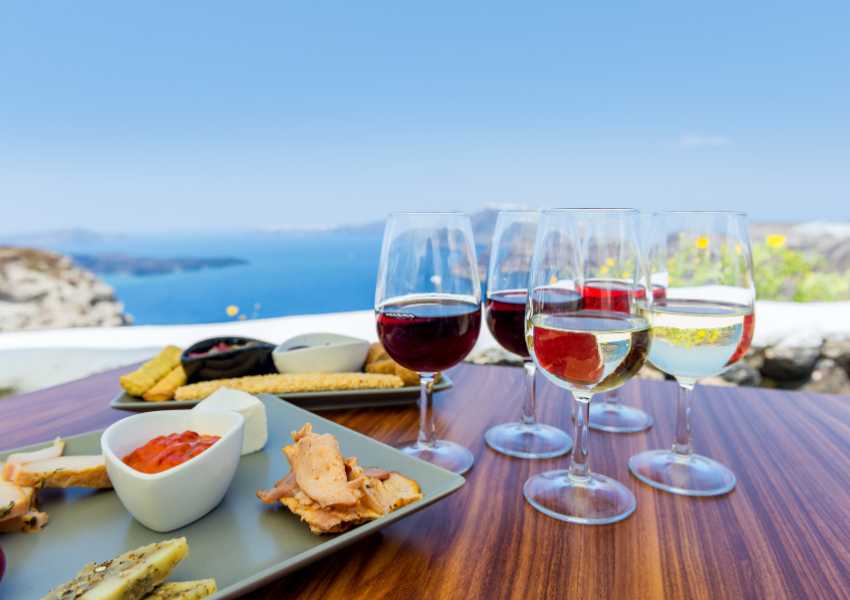 The island is famous for its unique wines, which are made from grapes grown in volcanic soil. The wineries in the area offer visitors a chance to taste different wines, learn about the island's wine-making traditions, and enjoy stunning views of the vineyards and the sea.
Some of the most popular wineries near Perissa Santorini include Santo Wines, Venetsanos Winery, and Gavalas Winery.
Santo Wines is located in Pyrgos, a short drive from Perissa, and offers visitors a chance to taste some of the island's best wines while enjoying panoramic views of the Aegean Sea.
Venetsanos Winery is located in Megalochori, a picturesque village with traditional architecture, and offers visitors a chance to taste wines made from local grape varieties.
Gavalas Winery is located in the village of Megalochori and is a family-owned winery that has been producing wine for generations.
YOU MAY ALSO LIKE:
8. Go Horseback Riding
The horseback riding tours are suitable for riders of all skill levels, from beginners to experienced riders.
The tours are led by experienced guides who will provide instruction and ensure that everyone is safe and comfortable.
Horseback riding tours usually start in Perissa Santorini and follow a scenic route through the countryside, passing through vineyards, olive groves, and traditional villages.
9. Try Your Hand at Water Sports
If you're feeling adventurous, rent a kayak or take a water taxi to explore the coast further. You can also try your hand at windsurfing or paddleboarding.
10. Visit the Perissa Archaeological Museum
The Perissa Archaeological Museum is a small museum located in the center of the village.
It features exhibits on the history and culture of Santorini, including artifacts from the Minoan civilization.
11. Take a cooking class
There are several cooking classes available in Perissa Santorini, where you can learn how to prepare traditional Greek dishes using local ingredients.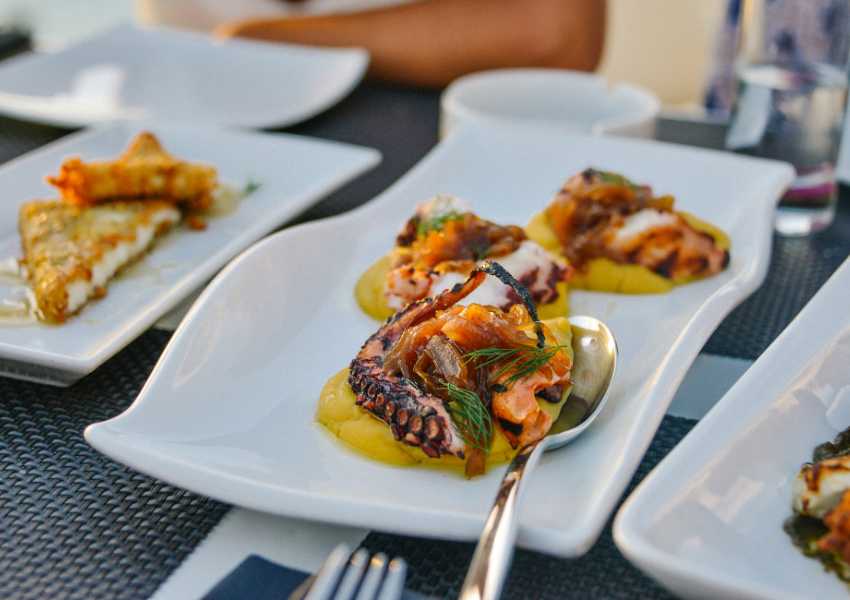 12. Visit the Perissa Cultural Center
The Perissa Cultural Center is a community center that hosts events and exhibitions throughout the year, including art shows, concerts, and theater performances.
Don't forget to get travel insurance for your trip! As always, I recommend Safety Wing for great prices and coverage abroad. It starts at only $45 USD per month and will have you covered with everything you may need during your trip! Check them out here.
Things to Do Near Perissa Santorini
If you're looking for more beaches to explore during your visit to Perissa Santorini, you're in luck! There are several nearby beaches worth checking out. Here are a few of our favorites:
1. Perivolos
Perivolos Beach is located just south of Perissa and offers a similar experience. The beach is long and wide, with black lava sand and crystal-clear water.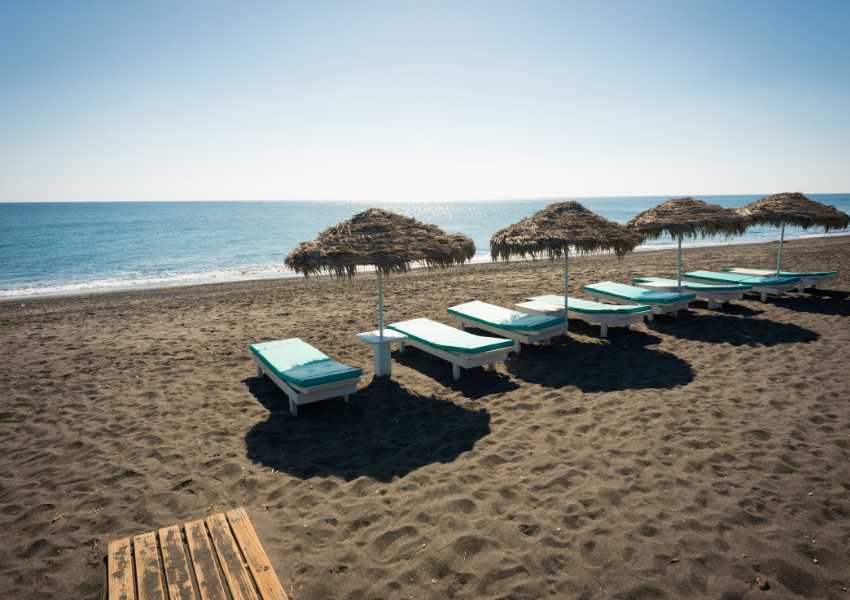 There are plenty of sun loungers and umbrellas available for rent, as well as beach bars and restaurants. If you're looking for a more lively atmosphere, Perivolos is a great choice.
2. Kamari
Kamari Beach is located on the east coast of Santorini, just a short drive from Perissa S. The beach is known for its black sand and clear waters, as well as its lively promenade lined with shops, restaurants, and bars.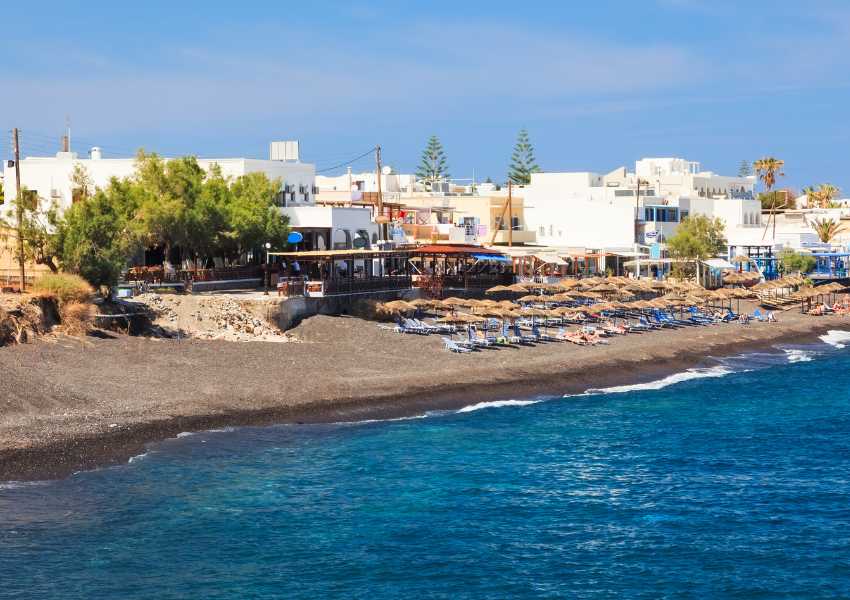 Kamari is a popular choice for families, as there are plenty of activities available, including water sports and horseback riding.
3. Red Beach
Red Beach Santorini is located on the south coast of Santorini and is known for its unique red sand and dramatic cliffs.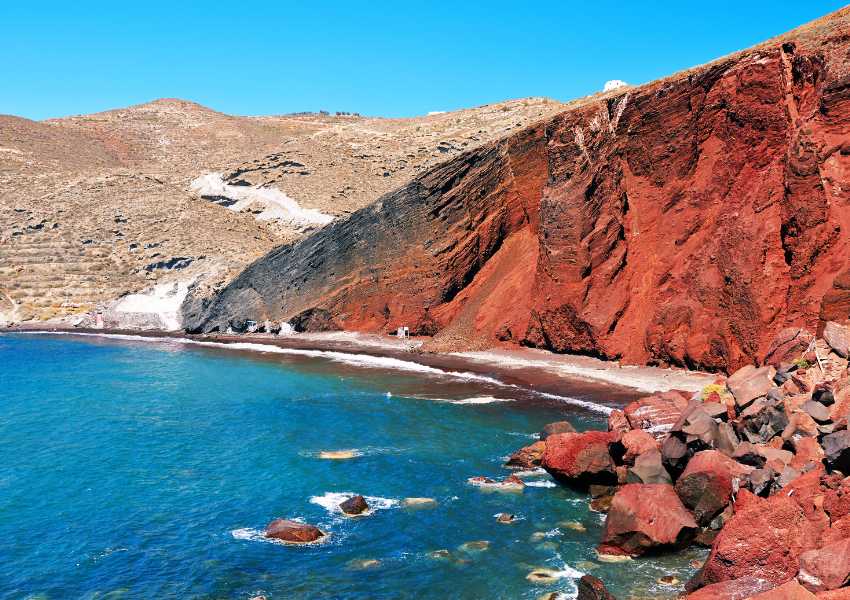 The beach is accessible by foot from the nearby village of Akrotiri or by boat from Perissa or other nearby beaches. The water can be a bit rough, so it's not the best choice for swimming, but the scenery is well worth the visit.
4. White Beach
White Beach in Santorini is a picturesque beach located on the southern coast of the island. It is named after the white pebbles and cliffs that surround it, giving it a unique and stunning appearance.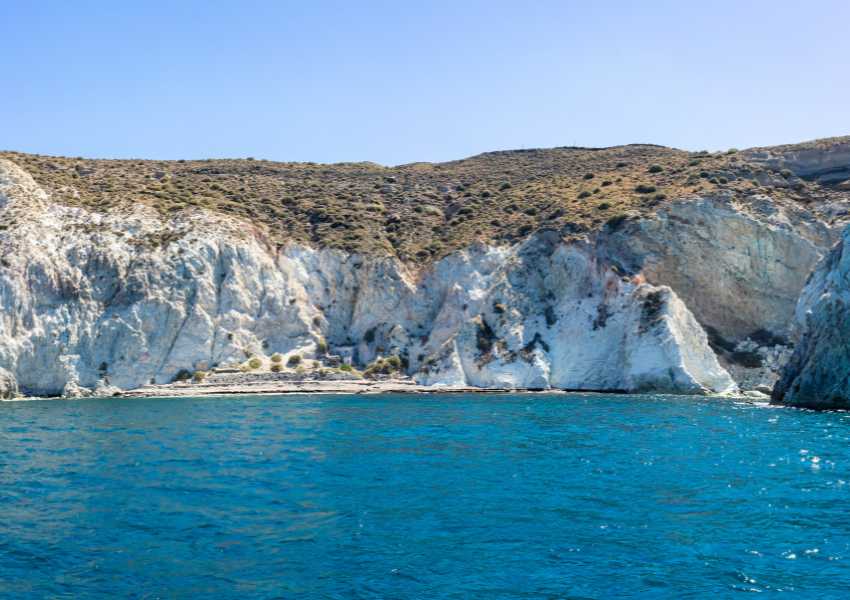 The crystal-clear waters are perfect for swimming and snorkeling, while the surrounding cliffs offer excellent opportunities for hiking and exploring.
5. Emporio
Emporio is a charming little village with narrow streets and white-washed buildings.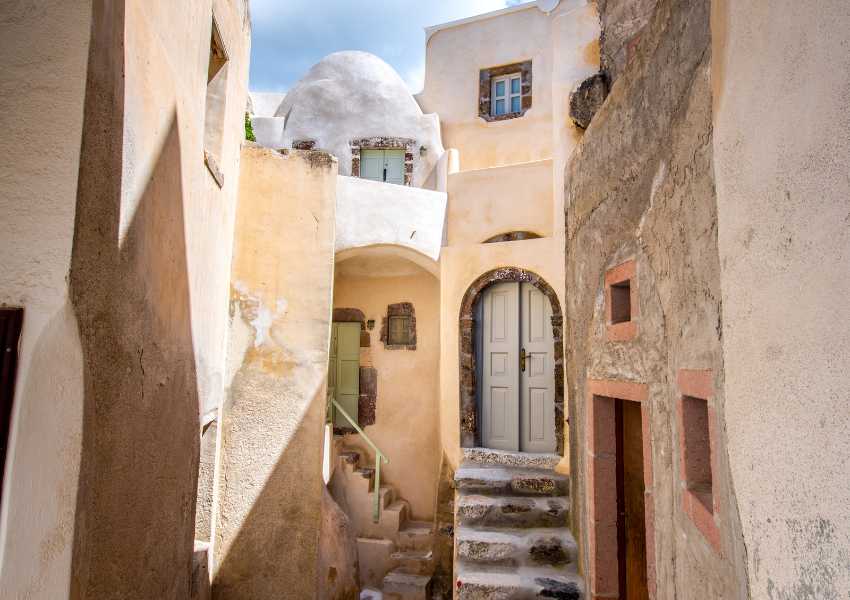 You'll find plenty of small shops and cafes to explore, as well as a number of historic churches and other buildings. The village is also known for its windmills, which are a popular sightseeing destination.
One of the highlights of Emporio is the Kastelli, a medieval castle that was built in the 15th century.
This castle is one of the best-preserved examples of its kind in Greece and is definitely worth a visit. You can climb to the top of the castle for great views of the village and the surrounding countryside.
6. Pyrgos
Pyrgos Santorini is a picturesque village located on a hilltop, offering stunning views of the island and the Aegean Sea. The village is a short drive from Perissa Santorini and is a great place to experience traditional Greek architecture, narrow streets, and charming cafes and restaurants.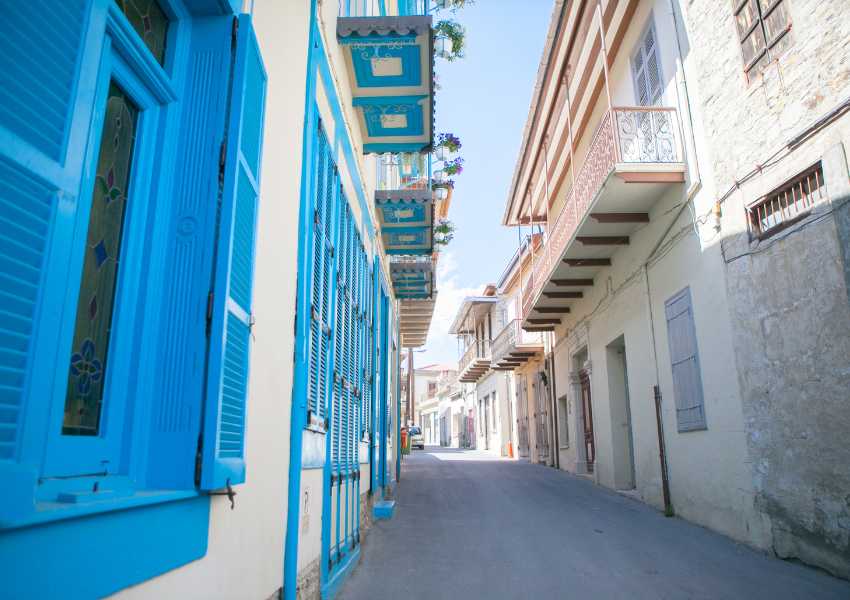 Pyrgos is known for its medieval castle, which was built in the 13th century. The castle is located at the highest point of the village and offers panoramic views of the island. Visitors can climb to the top of the castle and enjoy the stunning views of the surrounding landscape.
Pyrgos is also home to several art galleries and workshops, where you can see local artists at work and purchase unique souvenirs and gifts. The village is known for its ceramics, jewelry, and textiles, which make great gifts to take home.
Where to Stay in Parissa Santorini
Luxury: Aqua Blue Hotel – This luxurious hotel is located right on the black sand beach of Perissa.
It features elegant rooms and suites with private balconies or terraces overlooking the sea, a beautiful outdoor pool, a spa, and a restaurant serving delicious Mediterranean cuisine.
Mid-Range: Meltemi Village Hotel – This charming hotel is located in a quiet area of Perissa, just a short walk from the beach.
It features comfortable rooms and suites with private balconies or terraces, a large outdoor pool, a poolside bar, and a restaurant serving Greek and international cuisine.
Budget: Stelios Place – This budget-friendly hotel is located in the heart of Perissa, just a short walk from the beach and the village's restaurants and shops.
It features simple but comfortable rooms with private balconies or terraces, a small outdoor pool, and a bar serving drinks and snacks.
Where to Eat in Perissa Santorini
When it comes to dining and nightlife, Perissa Santorini has plenty to offer. Here are some of the top places to eat and drink in the area.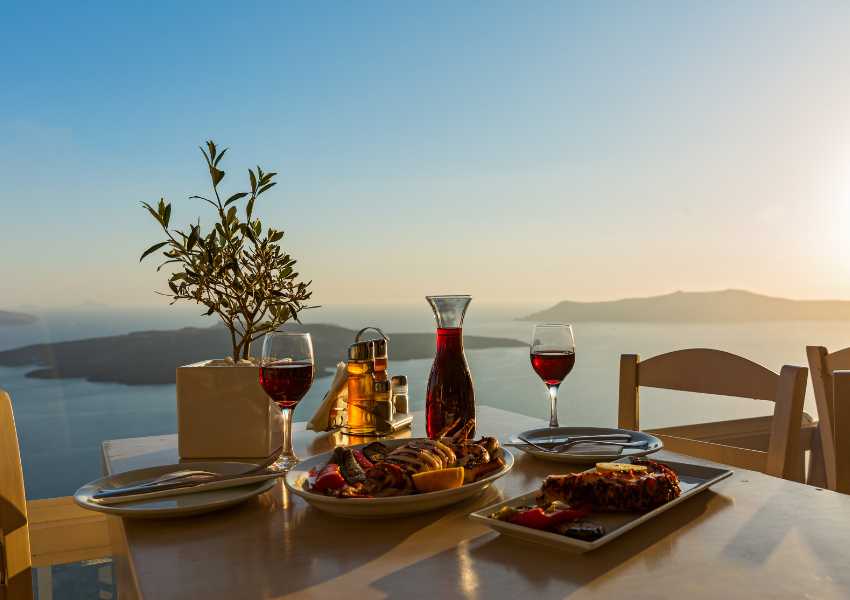 Local Cuisine
If you're looking for authentic Greek food, you won't be disappointed in Perissa. Here are a few places to try:
Taverna Perigiali – This family-owned taverna is located right on the beach, and serves up fresh seafood and other traditional Greek dishes. Be sure to try the grilled octopus and the moussaka.
Kamari Restaurant – This cozy restaurant is tucked away on a side street, but it's worth seeking out. They serve up classic Greek dishes like souvlaki and spanakopita, as well as some international options.
Santorini Mou – This restaurant specializes in gyros, and they're some of the best you'll find on the island. They also serve up other Greek favorites like tzatziki and saganaki.
Nightlife in Perissa Santorini
When the sun goes down, Perissa comes alive with a variety of bars and clubs. Here are a few options for a night out:
Jojo Beach Bar – This beachfront bar is a popular spot for both locals and tourists. They have a great selection of cocktails and often have live music.
Tranquilo Bar – This laid-back bar has a great atmosphere and friendly staff. They serve up a variety of drinks, including some creative cocktails.
Murphy's Bar – If you're looking for a place to dance, Murphy's is the spot. They have a DJ most nights and a dance floor that stays busy until the early hours of the morning.
No matter what you're in the mood for, Perissa Santorini has plenty of options for dining and nightlife.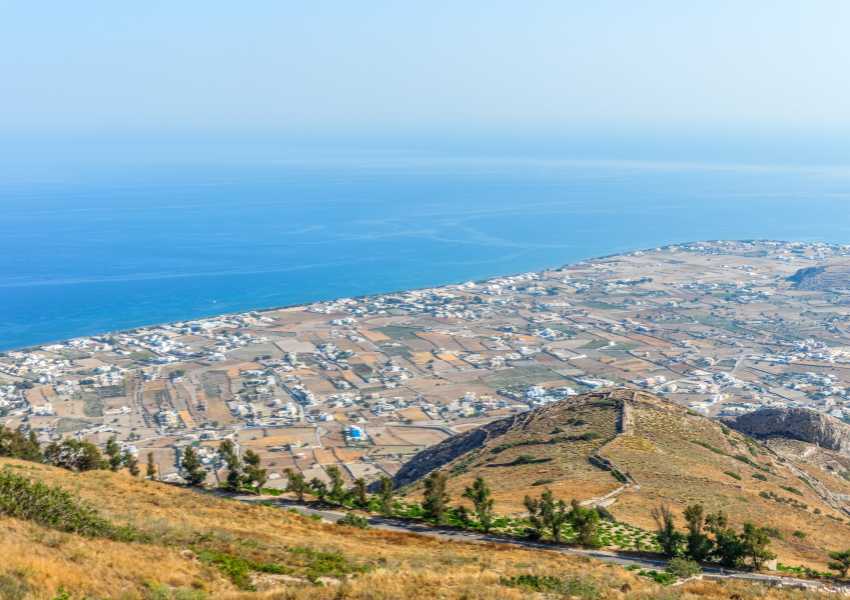 How to Get Around Perissa Santorini
When it comes to getting around Perissa, there are a few options available to you. Depending on your preferences and budget, you can choose to travel by car, bus, or on foot.
Car: If you're planning to explore the island, renting a car is a great option. There are several car rental companies in Perissa, and prices vary depending on the type of car you choose and the time of year.
Keep in mind that during peak season, prices can be higher and availability may be limited, so it's best to book in advance.
Bus: If you prefer not to drive, the local bus system is a convenient and affordable option. The buses run regularly between Perissa Santorini and other parts of the island, including Fira and Oia.
You can purchase a pass that allows you to use the bus system for a set period of time, which can be a great way to save money if you plan on using the bus frequently.
Walking: if you're looking for a more active way to get around, walking is always an option. Perissa is a relatively small town, and many of the main attractions are within walking distance of each other.
Plus, walking gives you the opportunity to take in the stunning scenery and explore the town at your own pace.
Map of Perissa Santorini
Travel Insurance for Santorini
Travel insurance is essential for a safe trip to Santorini.
If you're still on the lookout for travel insurance for your trip, I always recommend HeyMondo for great prices and coverage abroad (they'll cover medical expenses in case of any accidents, travel delays, cancellations, and much more).
Check them out here. You can also get 5% off if you book via this link!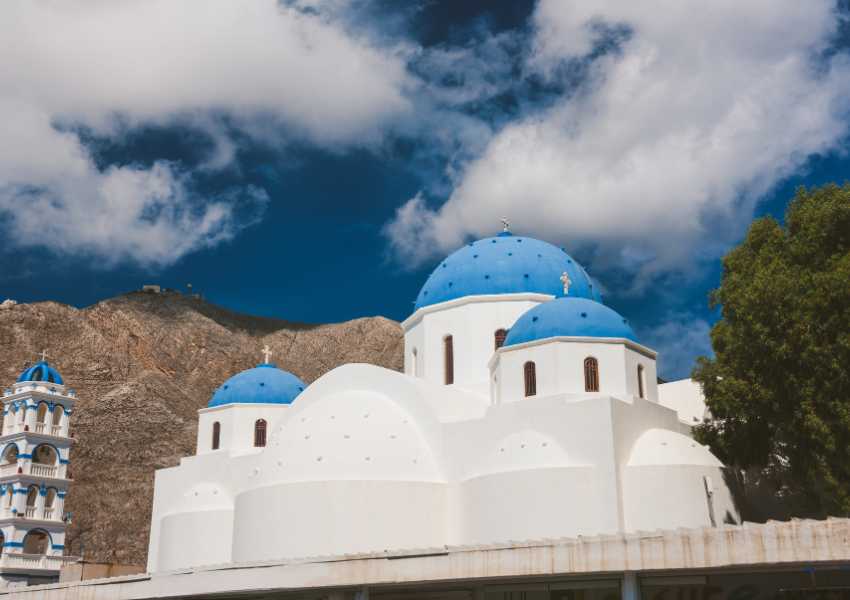 Perissa Santorini FAQs
Is Perissa Beach a good place for families?
Yes, Perissa Beach is a great place for families. The beach is wide and sandy, and the water is shallow, making it perfect for children to play and swim.
There are also plenty of family-friendly activities, such as mini-golf and water parks, nearby.
What are the best restaurants in Perissa?
There are many great restaurants in Perissa, offering a variety of cuisines.
Some of the best include Tranquilo, which serves Mediterranean and Greek food, and Aquarius, which is known for its seafood.
If you're looking for a more casual meal, try Lucky's Souvlakis or Gyros Place.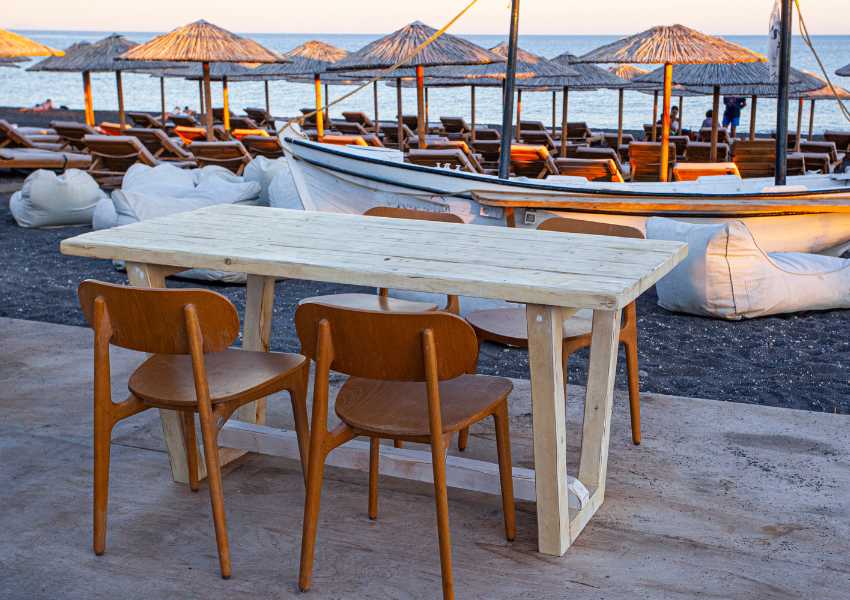 Are there any water sports activities available in Perissa?
Yes, there are several water sports activities available in Perissa, including jet skiing, parasailing, and paddleboarding. You can rent equipment and book lessons at the beach.
What is the nightlife like in Perissa?
While Perissa is not known for its nightlife, there are still plenty of bars and clubs to choose from.
Some popular options include Wet Stories, which has a pool and live music, and Jojo Beach Bar, which has a relaxed atmosphere and great cocktails.
How far is Perissa from the airport?
Perissa is located about 15 kilometers from Santorini Airport. It takes around 20 minutes to drive there by car or taxi.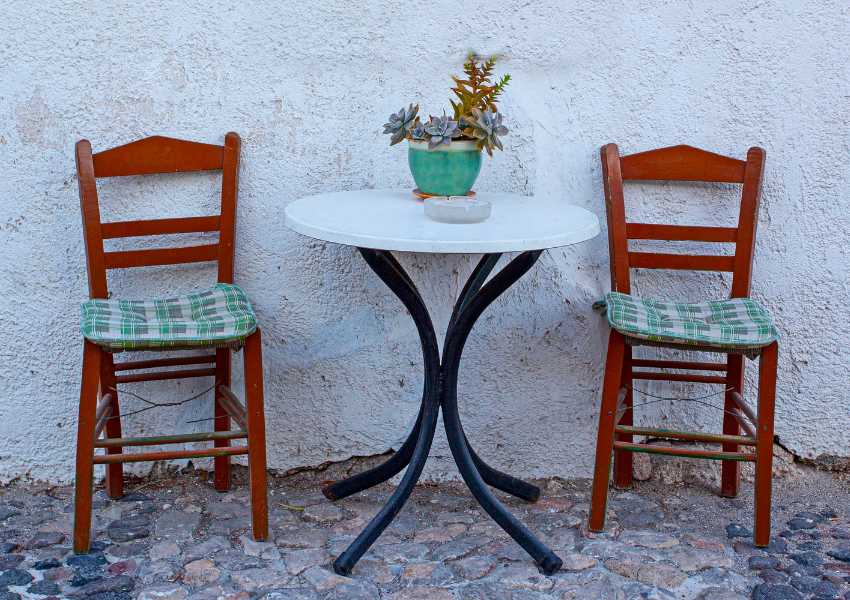 What are some popular day trips from Perissa?
There are many great day trips you can take from Perissa. One popular option is to visit the nearby village of Pyrgos, which has stunning views and traditional architecture.
You can also take a boat tour to the nearby island of Thirassia, or visit the ancient ruins of Akrotiri.
Wrapping Up: Perissa Santorini
Perissa, Santorini is a destination that offers something for everyone. From its beautiful black sand beach and waterpark to its historic sites and traditional villages, Perissa has something to offer visitors of all ages and interests.
Whether you're looking for a relaxing beach vacation or an adventure-filled getaway, Perissa has it all.
The island's unique landscape made up of volcanic soil and stunning coastline, makes it a popular destination for outdoor activities such as hiking, horseback riding, and scuba diving.
During your visit, you can explore the island's natural beauty and experience the unique flavors and traditions of Santorini through activities such as visiting the wineries, taking a cooking class, or enjoying a hot air balloon ride.