White Beach Santorini: Your Ultimate Guide to Paradise
Located on the southern coast, White Beach Santorini is known for its crystal-clear turquoise waters, unique white volcanic cliffs, and stunning scenery.
Surrounded by impressive cliff walls, White Beach Santorini seems almost completely hidden away from the rest of Santorini. The steep cliffs, covered in white and black volcanic rocks, create the perfect backdrop for your beach day.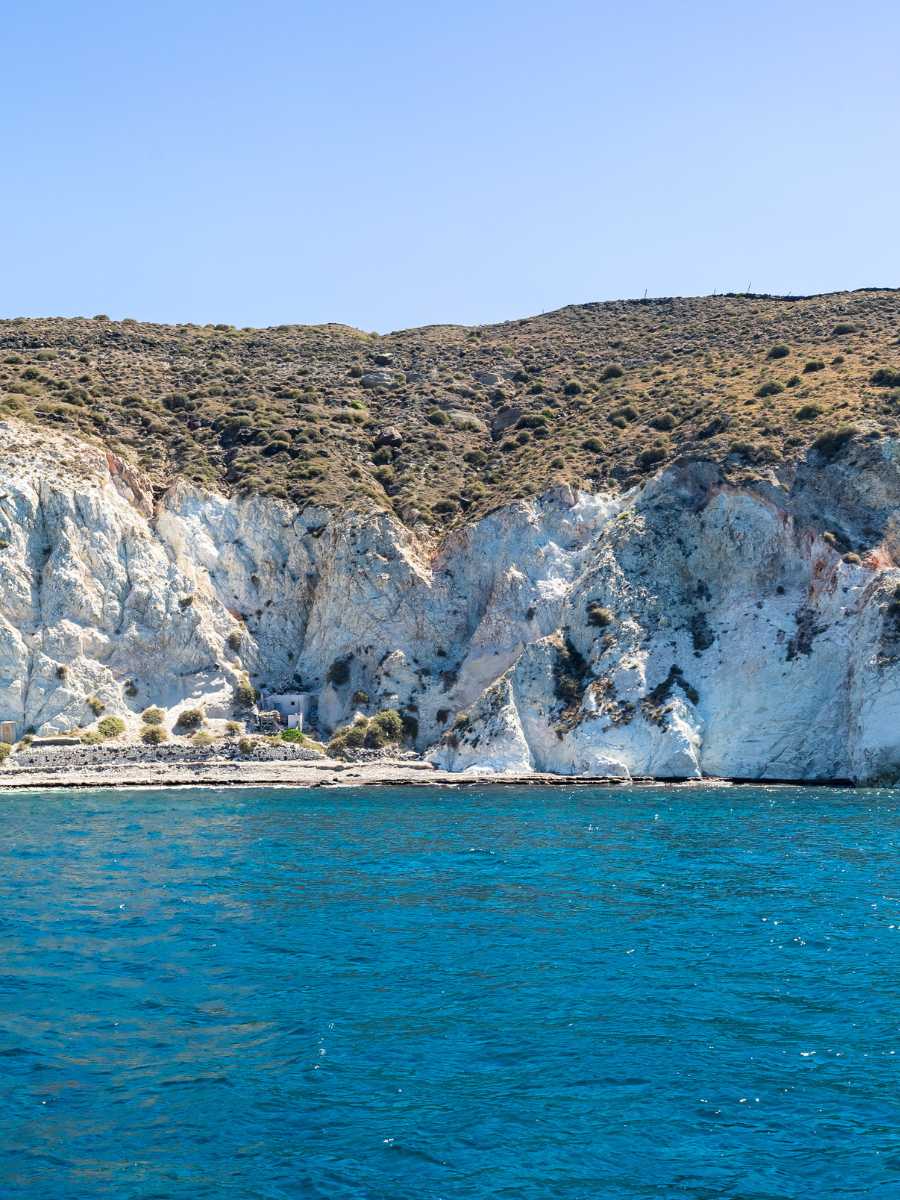 Whether you're a beach lover, a nature enthusiast, or simply looking for a relaxing getaway, White Beach is a must-visit destination that will leave you in awe.
In this post, we'll take you on a virtual tour of White Beach Santorini, share some tips on how to make the most of your visit, and give you a glimpse of what makes this beach so special.
Getting to White Beach Santorini
Water Transportation Options
Getting to White Beach Santorini is a delightful experience by the water. There are several options available to you:
Boat: You can rent a private boat to take you to White Beach. This option offers the utmost privacy and flexibility.
Taxi Boats: If you prefer an affordable water transportation option, consider using taxi boats. They depart from Red Beach Santorini every day.
As part of a tour: Another way to visit White Beach Santorini is by joining a tour that stops there. While you won't get to visit it independently, it's definitely the most effortless way to reach it.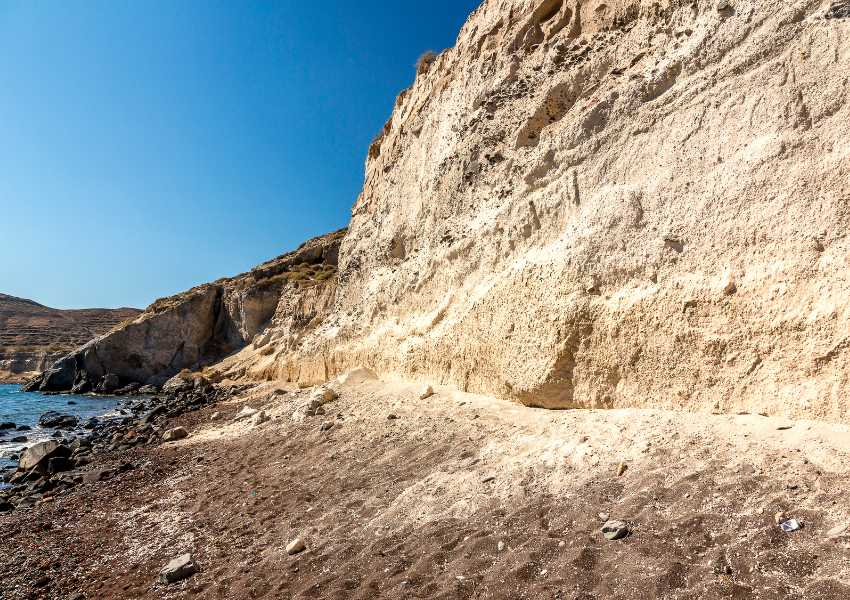 Land Transportation Options
If you prefer keeping your feet on solid ground, here are some land-based options to reach White Beach Santorini:
Car: If you have a rental car, there's a limited number of parking spaces available near Akrotiri, from where you can hike to White Beach on foot. Keep in mind that the path can be a bit rough, and it's essential to wear appropriate footwear.
Accessible Path: White Beach is not directly accessible by car, but you can still drive part of the way. Park at the Akrotiri car park and start your picturesque trek down the cliffside path. The walk takes around 20 minutes, but make sure to be prepared for a slightly challenging hike.
Foot: The most common way to access White Beach is on foot, either by hiking down from the car park or directly from Red Beach. The path offers stunning views of the Aegean Sea and the unique volcanic landscape of Santorini—definitely worth the walk!
White Beach Santorini Map
Things to Do at White Beach Santorini
White Beach Santorini is a hidden gem perfect for those looking to escape the crowds and enjoy a more serene atmosphere.
If you're planning a trip, there are several activities you can engage in to make your visit unforgettable:
Snorkeling is a must-do activity when visiting White Beach Santorini. The crystal-clear waters, filled with fascinating marine life, make it an ideal spot for underwater exploration. Don't forget to pack your snorkeling gear to fully enjoy this experience.
YOU MAY ALSO LIKE:
For a more relaxed day, White Beach offers the perfect setting for a picnic. Bring your favorite snacks and a blanket to spread on the soft, white sand as you bask in the warm sun. Remember, make sure to pack out any trash to help keep the beach clean.
Take advantage of the available sunbeds and sun loungers to soak up the sun while you unwind. Don't forget your beach umbrellas to provide some much-needed shade during the hottest part of the day.
Whatever activities you choose during your visit, White Beach Santorini is sure to exceed your expectations with its stunning natural beauty and ample leisure opportunities.
Don't forget to get travel insurance for your trip! As always, I recommend Safety Wing for great prices and coverage abroad. It starts at only $45 USD per month and will have you covered with everything you may need during your trip! Check them out here.
Boat Tours That Include Stops at White Beach Santorini
If you don't want to deal with logistics, boat tours are a great way to visit White Beach as well as other spots on the island. Here are some of the best tour options:
Catamaran Caldera Cruise with Meal and Drinks
Join an unforgettable sailing adventure to the iconic Red and White Beaches, known for their stunning colors.
Explore the power of the volcano by swimming in the hot springs. Savor a mouth-watering meal with Santorinian wine and BBQ served onboard. As the day comes to a close, take in the breathtaking beauty of the Caldera and witness the incredible views of the sunset.
Private Catamaran Cruise with Food & Drinks
Explore the breathtaking Santorini coastline with a catamaran tour departing from Vlychada Marina. This tour is a bit more expensive compared to others because it's private, but totally worth it if a more personalized experience.
You'll get to visit renowned locations such as Red Beach, White Beach, the volcanic hot springs, and plenty others.
All-Inclusive Luxury Catamaran Small Group Cruise
Experience an unforgettable morning or evening in Santorini aboard our luxurious cruise. Sail to the most picturesque spots around Santorini and take a dip in the hot springs of the volcano.
Enjoy swimming and snorkeling at two stunning beaches in the Santorini caldera. Then, feast on a scrumptious barbecue meal with meat and veggie options, accompanied by unlimited wine, water, and soft drinks.
Things to Do Near White Beach
While visiting White Beach Santorini, you're in the perfect location to explore other nearby attractions. From neighboring beaches to incredible sights, there's plenty to keep you occupied during your stay.
Akrotiri
Akrotiri is a prehistoric archaeological site that provides a fascinating glimpse into Santorini's ancient history.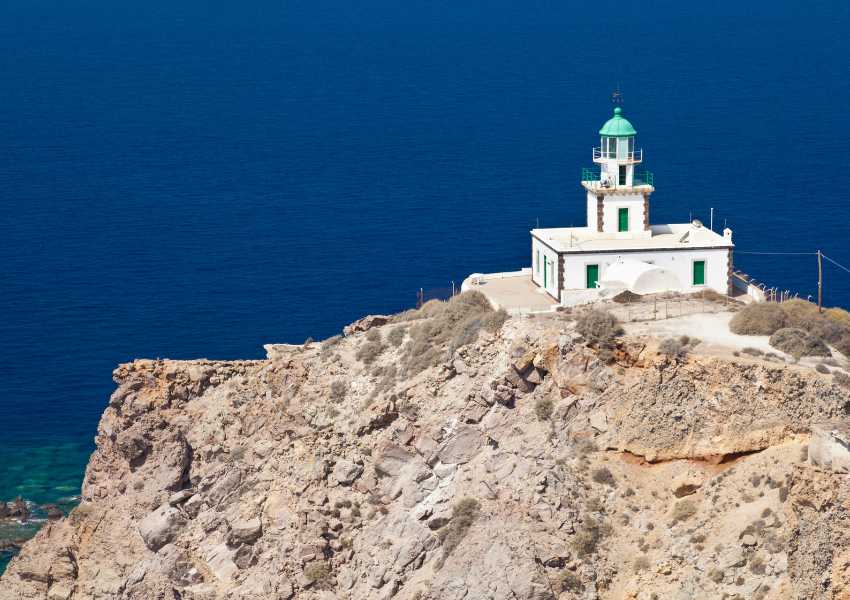 While here, you can wander through the well-preserved ruins and marvel at the advanced city that once stood here, thousands of years ago.
Perissa
Just a short drive away from White Beach, you'll find Perissa Santorini —a lively coastal village with a gorgeous black sand beach.
Enjoy the laid-back atmosphere, indulge in some delicious Greek cuisine at one of the local tavernas, or join a beach volleyball game for some fun in the sun
Red Beach
Read Beach is named for its unique red-hued sand and towering cliffs. This striking beach is perfect for a relaxing swim, sunbathing, or taking some stunning photos.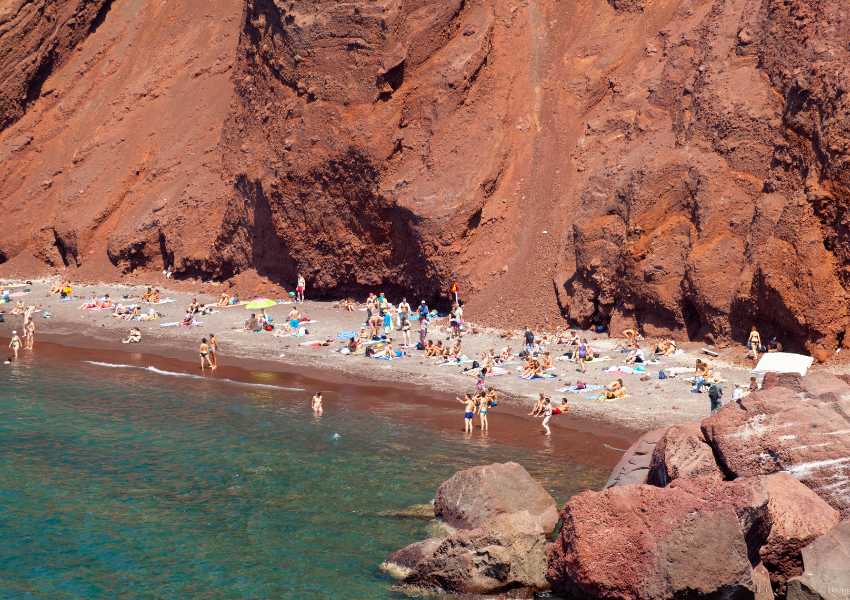 For a more secluded experience, venture over to Kambia Beach and Mesa Pigadia—two lesser-known spots that offer crystal-clear waters, a peaceful atmosphere, and fewer crowds.
Kamari
Kamari is another must-visit near White Beach. This popular tourist destination boasts a long stretch of black sand beach, vibrant nightlife, and a variety of water sports to keep you entertained.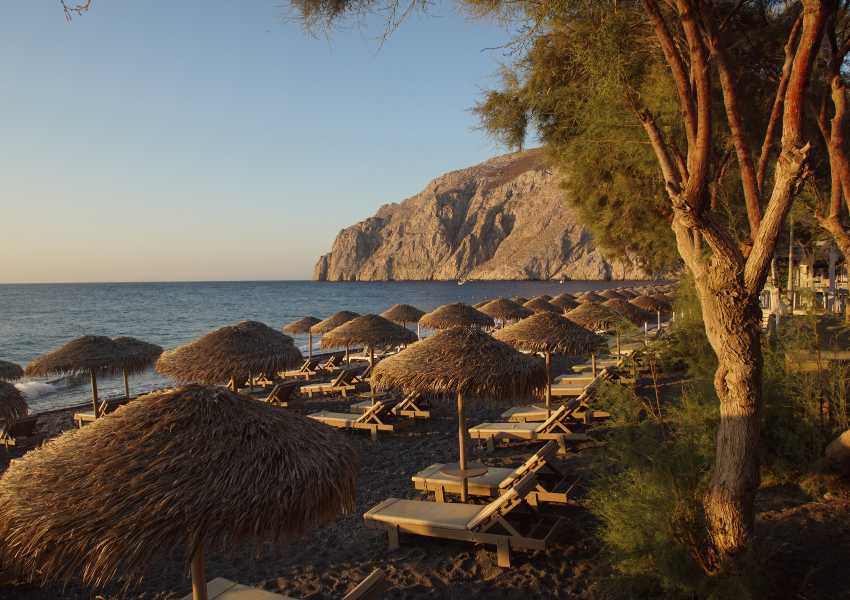 Oia
In contrast, Oia is known for its picture-perfect sunsets and stunning caldera views. Spend an evening strolling through the charming whitewashed streets and enjoy the breathtaking panorama.
Boat Tour
Don't forget to take a boat tour to the volcanic caldera for a closer look at this impressive geological wonder. While there, be sure to explore the active volcano and even take a dip in the surrounding hot springs.
Don't forget to get travel insurance for your trip! As always, I recommend Safety Wing for great prices and coverage abroad. It starts at only $45 USD per month and will have you covered with everything you may need during your trip! Check them out here.
Tips for Visiting White Beach
Visiting White Beach Santorini can be a truly magical experience. Here are a few tips to make the most out of your visit.
1. Prepare for a semi-private experience: White Beach is known for being a more secluded and less crowded spot compared to other popular beaches in Santorini. This means you can enjoy a more relaxed and peaceful atmosphere. However, keep in mind that it might not be completely private, so be prepared for some company.
2. Pack sunscreen and cold drinks: The sun in Santorini can be quite strong, so don't forget to apply sunscreen to protect your skin. It's also a good idea to bring cold drinks to stay hydrated and refreshed during your time on the beach.
3. Keep your surroundings clean: As White Beach is a more secluded location, it's important to maintain its pristine condition by picking up any trash you generate. By doing this, you'll be helping preserve its natural beauty for future visitors.
4. Getting there: Reaching White Beach can be a bit of an adventure, as there's no direct road access. Most travelers opt to take a boat from nearby Akrotiri or Red Beach. Alternatively, you can follow a hiking trail from the main road, but be prepared for a slightly challenging hike.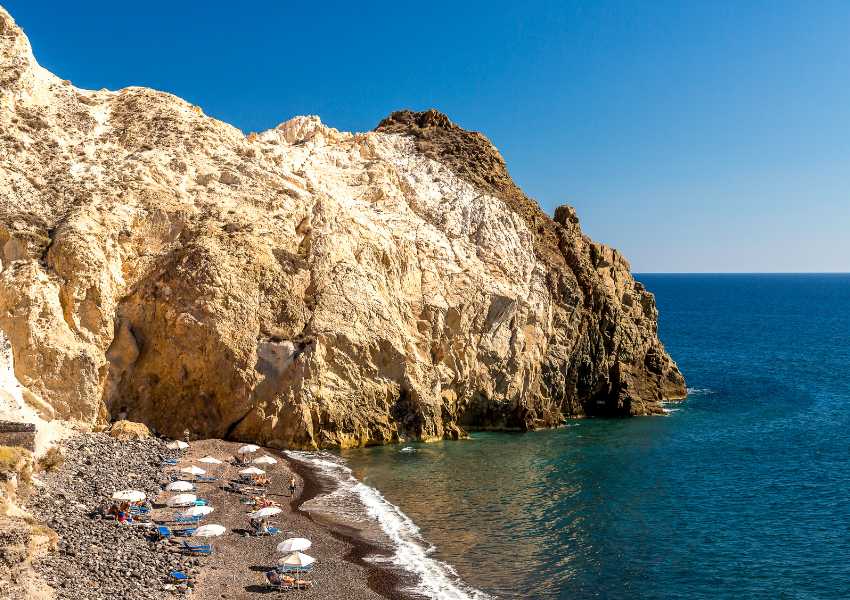 Where to Stay near White Beach
If you're planning a visit to the mesmerizing White Beach Santorini, you'll want to find the perfect accommodation to make your stay unforgettable. Here are some great hotel options that offer a variety of amenities, as well as easy access to nearby attractions:
Cavo Ventus Villa
Cavo Ventus Villa is a beautiful hotel option perfect for couples seeking a romantic getaway.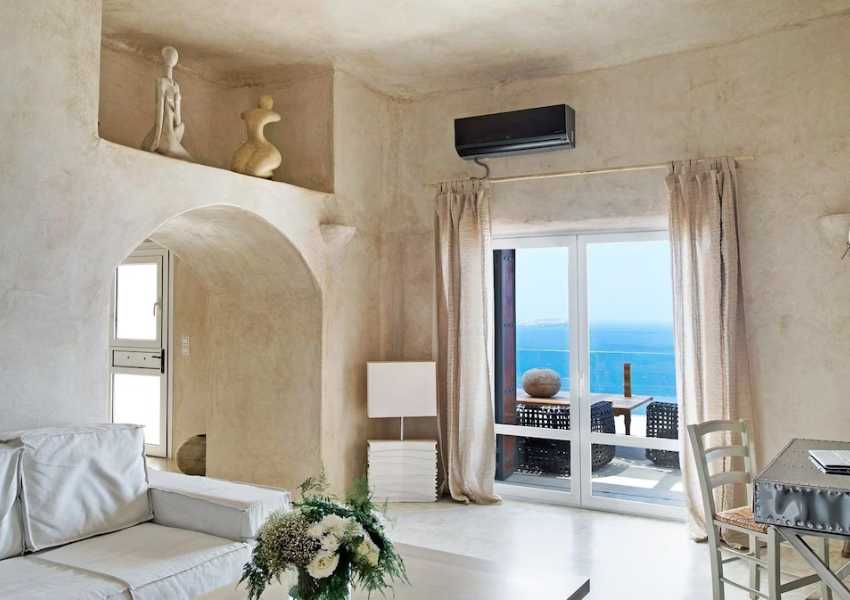 With its stunning sunset views, you can enjoy amenities such as a private pool and jacuzzi, all while being within walking distance of Akrotiri Excavations.
Astarte Suites
Astarte Suites offers breathtaking views of the caldera, with each suite boasting a private veranda and jacuzzi.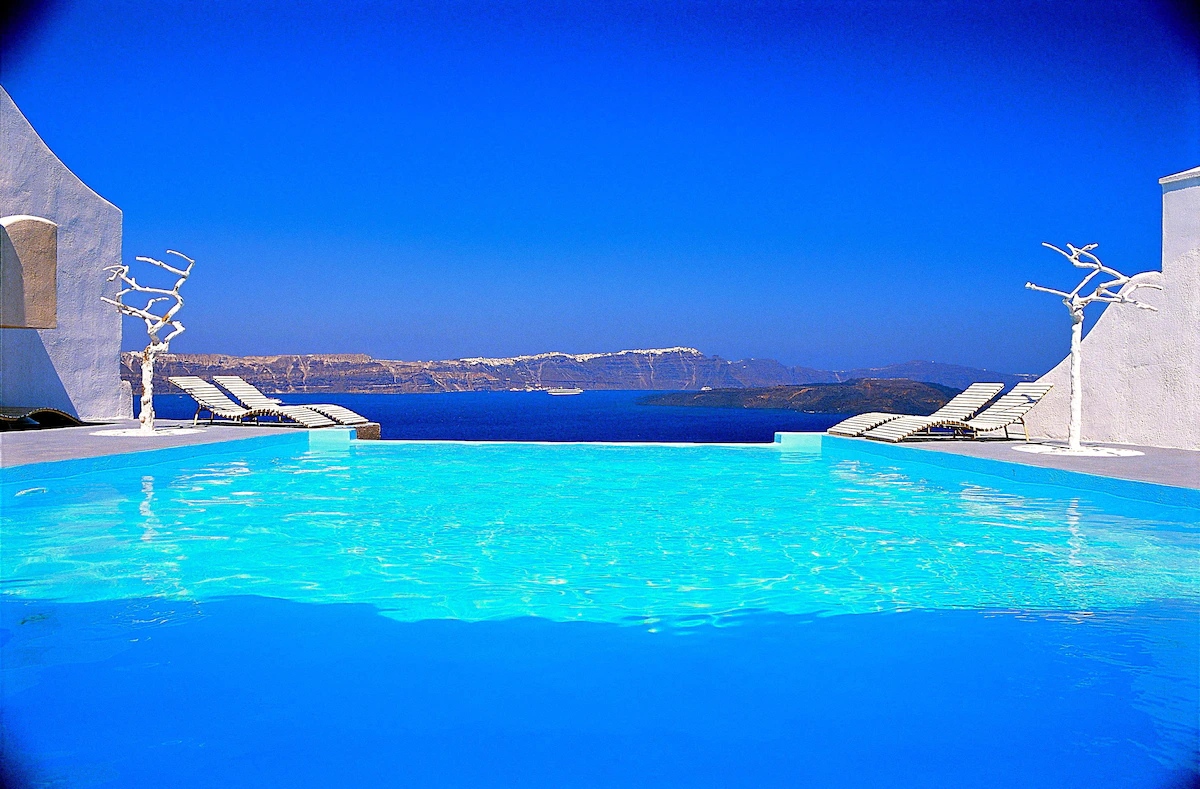 This hotel also provides access to a range of activities, including van tours, kayaking, and catamaran cruises. You might even stumble upon the lesser-known Lefki Ammos beach during your explorations.
Rodakas Hotel
If you're on a budget, Rodakas Hotel is an affordable option with comfortable rooms, a shared pool, and essential amenities.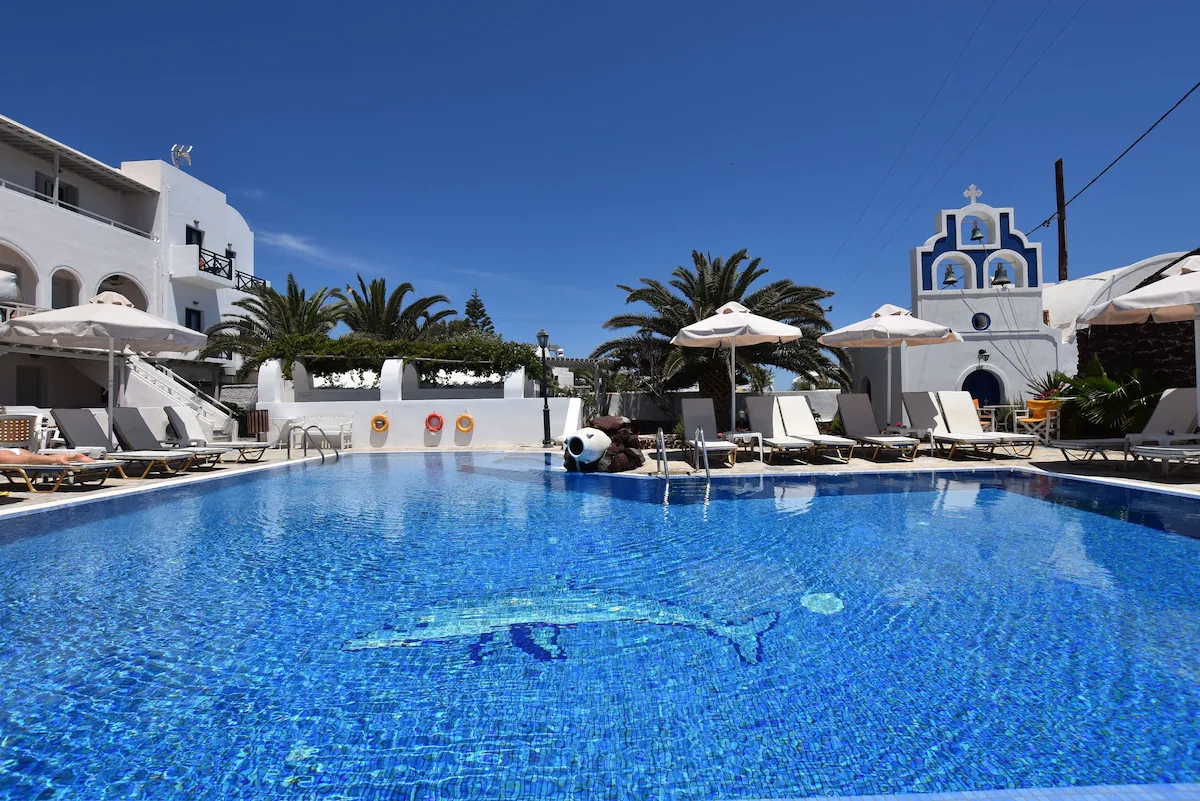 Located just a short drive from White Beach and Akrotiri Excavations, you won't miss out on any must-see sites during your stay.
Travel Insurance for Santorini
Travel insurance is essential for a safe trip to Santorini.
If you're still on the lookout for travel insurance for your trip, I always recommend HeyMondo for great prices and coverage abroad (they'll cover medical expenses in case of any accidents, travel delays, cancellations, and much more).
Check them out here. You can also get 5% off if you book via this link!
White Beach Santorini FAQs
What are the top activities at White Beach Santorini?
At White Beach Santorini, you can enjoy swimming in crystal-clear waters, sunbathing on the white pebble sands, and exploring the nearby sea caves.
You may also want to try snorkeling to observe the beautiful marine life or just relax and take in the breathtaking views of the surrounding cliffs.
How can I reach White Beach Santorini from popular locations on the island?
To reach White Beach, you can take a boat from the nearby Akrotiri or Perissa.
Alternatively, you can hike from Akrotiri through a rough path along the coast. However, be aware that the hike can be challenging and may not be suitable for everyone.
Which beach in Santorini is usually preferred by locals?
While each beach in Santorini has its own charm, locals often prefer the less crowded beaches like Perivolos or Vlychada.
These beaches tend to be quieter and offer a more peaceful experience compared to the popular tourist spots like White, Red, and Black beaches.
What are the differences between White, Red, and Black Beaches?
The primary difference among these beaches is the colors of their sands and surroundings.
White Beach is known for its white pebble sands and white cliffs, while Red Beach has striking red volcanic sand and towering red cliffs. Black Beach, on the other hand, features dark volcanic sand and black pebbles.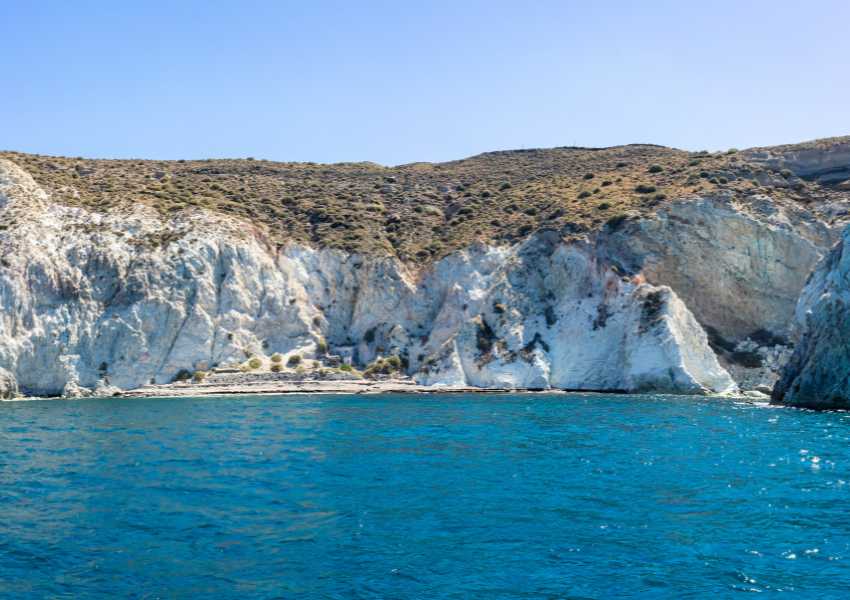 Is there a specific time to visit White Beach for the best experience?
The best time to visit White Beach is during the shoulder seasons from April to June and September to October.
During these months, the weather is pleasant, the crowds are fewer, and you can fully enjoy the beauty of the beach.
Are there any nearby restaurants or facilities at White Beach?
White Beach itself does not have any facilities or restaurants, adding to its secluded charm.
However, you can find some local food and drink vendors near the boat drop-off area. For a wider range of restaurants and facilities, consider visiting nearby Akrotiri village.
Wrapping Up: Visiting White Beach Santorini
White Beach Santorini is a true gem of the Aegean Sea, offering visitors a unique and unforgettable experience.
From the stunning white cliffs to the crystal-clear turquoise waters, this beach is a natural wonder that should not be missed.
Whether you're looking to soak up the sun, swim in the refreshing waters, or simply take in the breathtaking scenery, White Beach has something for everyone.
We hope this blog post has inspired you to visit this beautiful destination and that you'll have an amazing time exploring all that White Beach has to offer.