Street Food In Athens: 9 Delicious Dishes You Need to Try
Greece's capital city has a rich history and culture, and street food in Athens is no exception.
From traditional pies and souvlaki to more modern twists on classic dishes, the street food scene in Athens is a must-try for any foodie.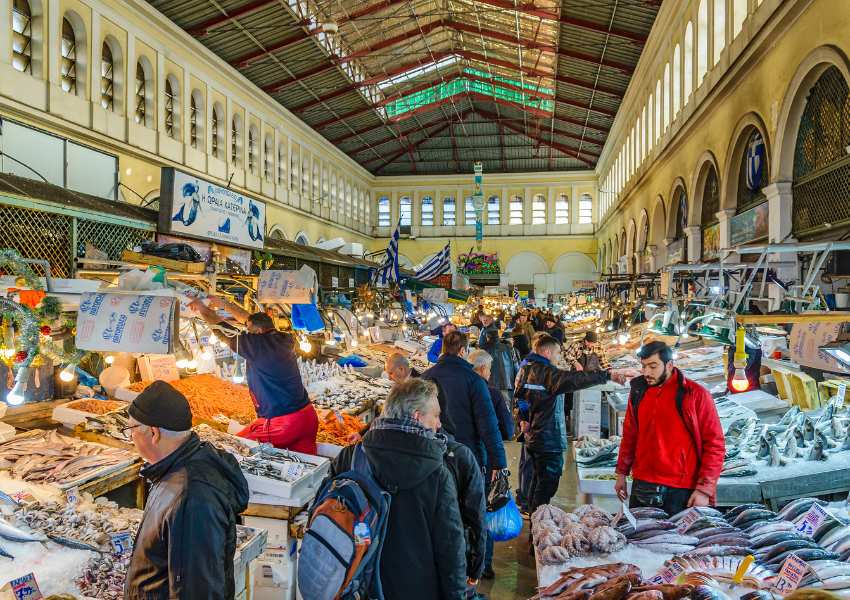 In this blog post, we'll explore some of the best street food in Athens and why it's worth a try.
Is It Safe to Eat Street Food in Athens?
You might wonder if it's safe to eat street food in Athens.
Good news: yes, it generally is! Athenians love street food, and it's a big part of their culture. Just follow some simple guidelines, and you'll have a great gastronomic experience.
First, always go to busy places. This means there's a high turnover of customers, so the food is more likely to be fresh. Keep an eye out for locals lining up; if they trust the vendor, you can too!
Another thing to remember is to check for cleanliness. Look at the vendor's surroundings and their personal hygiene. Do they wear gloves or use utensils when handling food?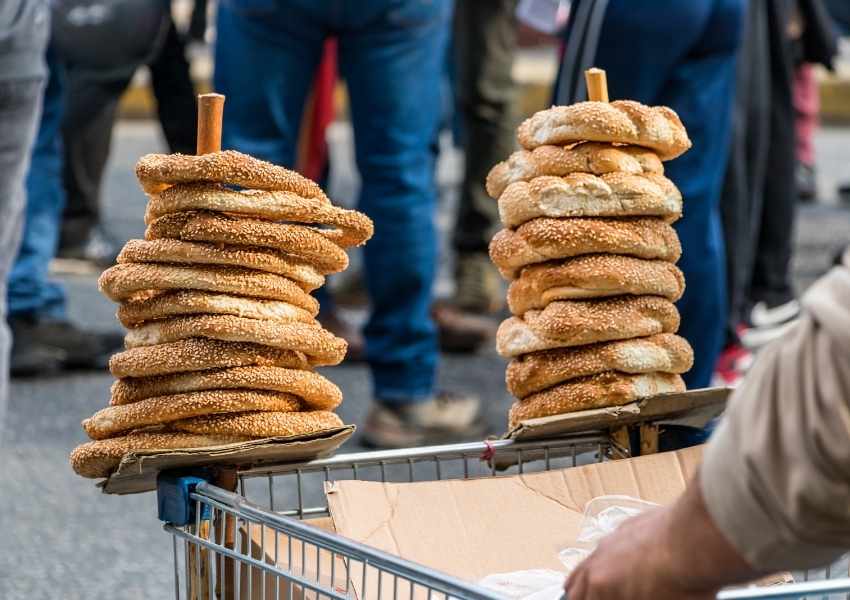 Are the cooking surfaces clean? Observing these details can help you feel more confident in your selection.
While exploring Athens street food, be adventurous but also sensible. If you have a sensitive stomach, avoid dishes that contain raw ingredients or might be too spicy.
That being said, don't shy away from the variety of delicious options available, such as souvlaki, gyros, koulouri, or loukoumades!
Best Street Food in Athens
Athens is a city that boasts a rich culinary tradition, and its street food scene is no exception.
From the famous souvlaki to lesser-known specialties, the street food of Athens is a must-try for anyone visiting the city.
Here is a list of some of the best street food in Athens to try:
Best Street Food in Athens
1. Loukoumades
These little golden balls of fried dough heaven are a must-try when in Athens.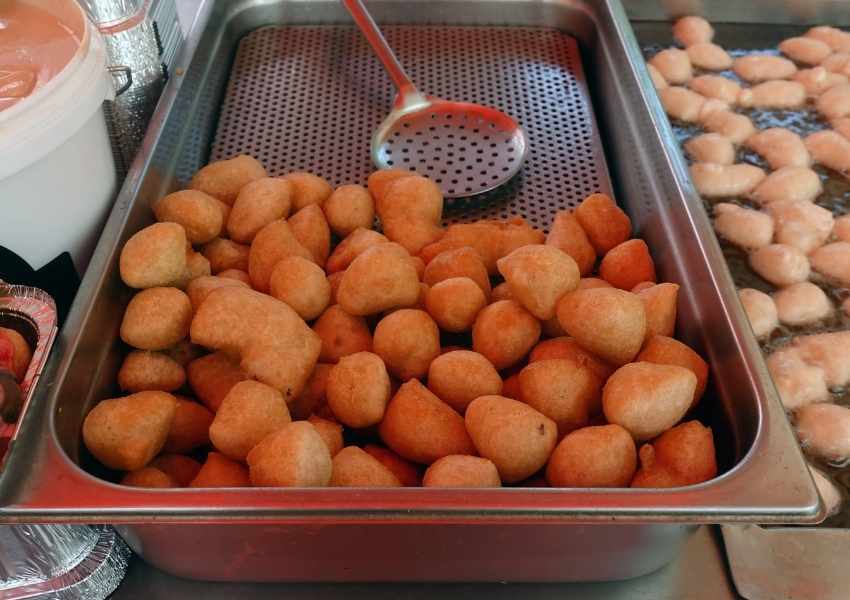 Drizzled in honey and sprinkled with cinnamon and sometimes crushed walnuts, Loukoumades are the perfect sweet treat to indulge in while exploring the city streets.
2. Koulouri
Koulouri, a popular breakfast option, is a chewy bread ring covered in sesame seeds.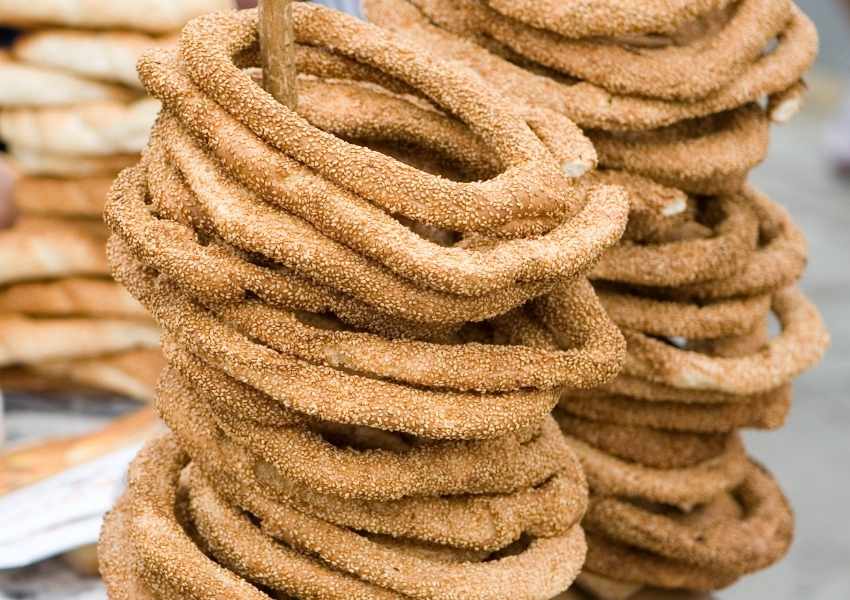 You'll find street vendors selling these tasty snacks all over Athens, perfect for satisfying your hunger while on the go.
3. Gyro
One of the most iconic Greek street foods, the gyro features juicy meat rotating on a vertical rotisserie.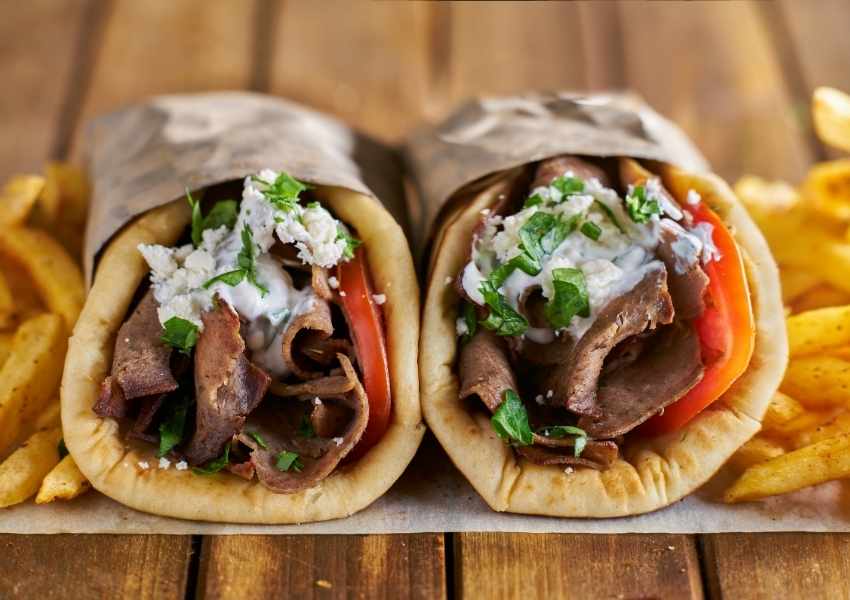 Once sliced, the meat is wrapped in pita bread, along with tomatoes, onions, and a dollop of tzatziki sauce pure deliciousness.
4. Souvlaki
Souvlaki is similar to Gyro, but instead of roasted meat, you'll find skewered, grilled meat, or vegetables, usually served on a skewer or nestled inside warm pita bread, often topped with tzatziki sauce.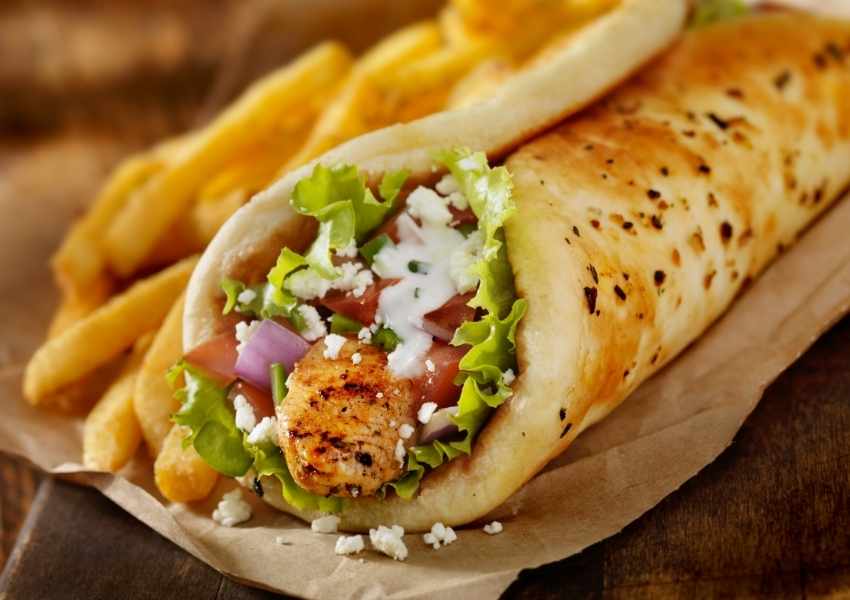 It's easily customizable, making it the ideal grab-and-go meal.
5. Spanakopita
For those seeking a savory pastry, Spanakopita is the answer.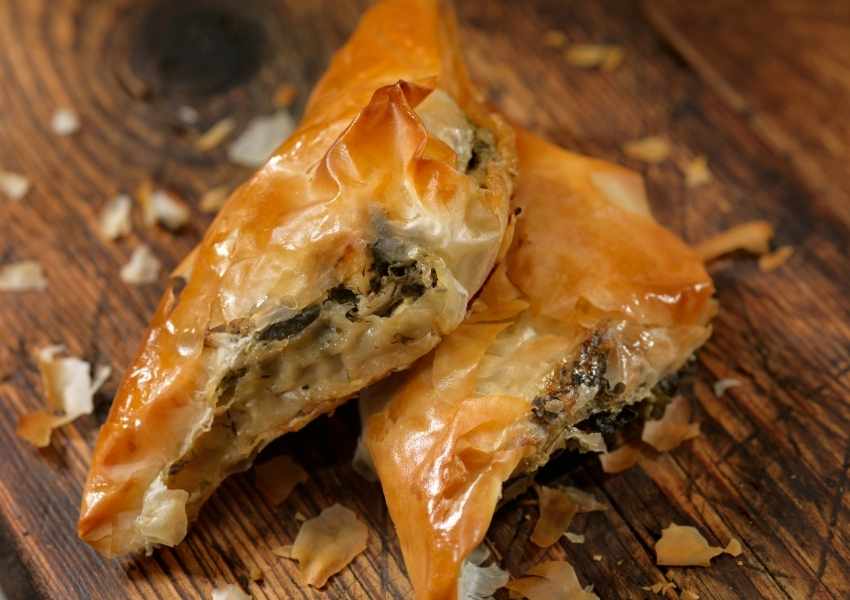 With a flaky, golden phyllo exterior enveloping a delicious spinach and feta cheese filling, this street food favorite can be enjoyed as a snack or light meal.
Don't forget to get travel insurance for your trip! As always, I recommend Safety Wing for great prices and coverage abroad. It starts at only $45 USD per month and will have you covered with everything you may need during your trip! Check them out here.
6. Bougatsa
Another delightful pastry worth trying is bougatsa.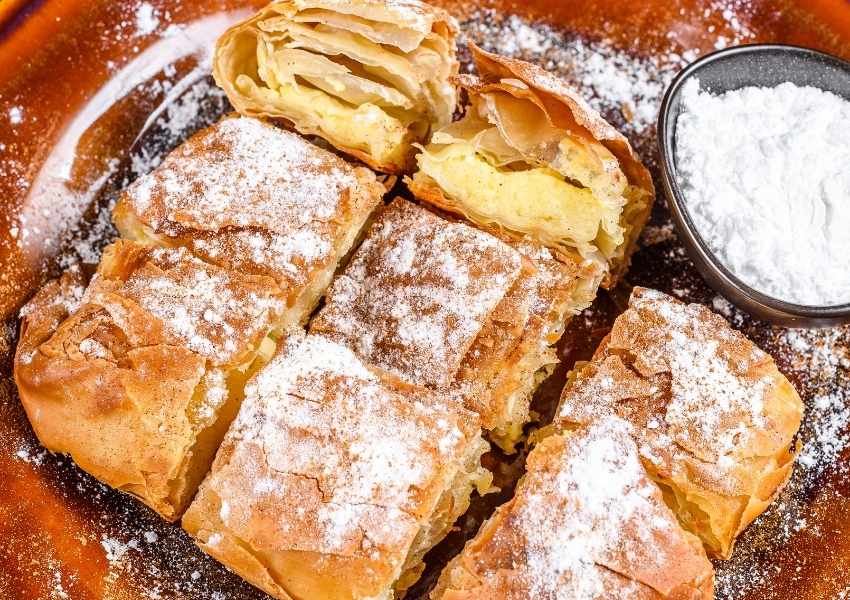 Typically eaten for breakfast or as a dessert, this sweet or savory filled pastry comes in a variety of flavors, including custard, cheese, or minced meat.
7. Sardeles
Grilled or fried to perfection, sardeles are small sardines that pack a flavorful punch.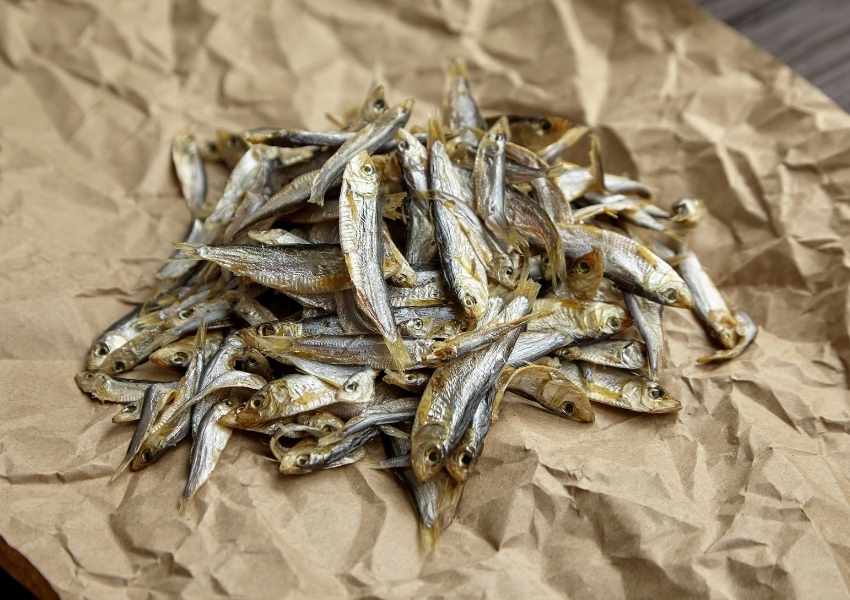 Commonly found in Athenian fish taverns and street food stalls, these tasty bites can be enjoyed on their own or as a topping on a Greek salad.
8. Tiropita
Cheese-lovers, rejoice! Tiropita is a deliciously crispy, triangular phyllo pastry filled with a generous amount of feta cheese.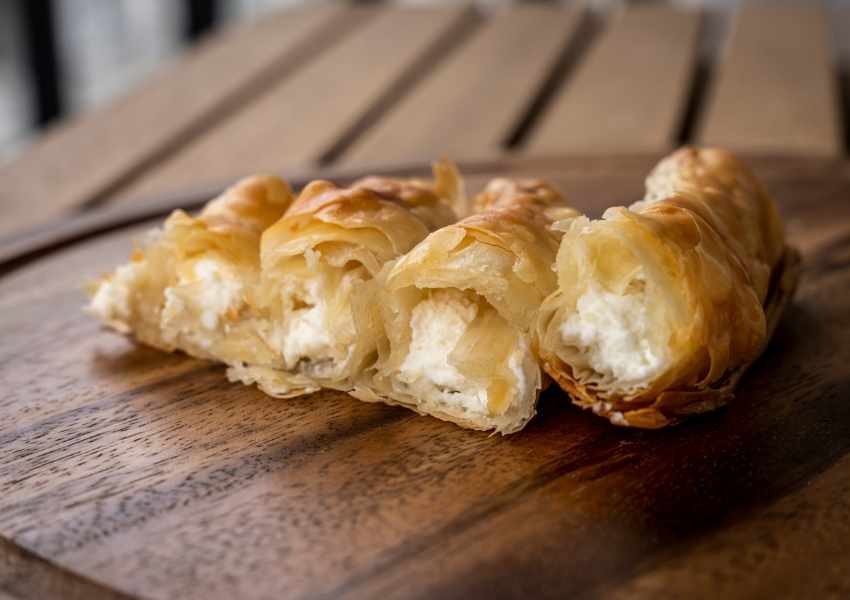 Perfect for snacking or as a quick meal, these are a must-try during your Athenian street food adventure.
9. Peinirli
A boat-shaped open-faced pie, Peinirli is the Greek answer to pizza. Featuring a variety of toppings, such as cheese, ham, or vegetables.
This street food delicacy can be enjoyed slice by slice or as a sharable meal for you and your friends.
Street Food Tours in Athens
This tour offers a unique food experience with a local guide in the center of Athens, exploring the cultural and culinary culture of Greece.
You will taste local delicacies and flavors, including handmade pies, Greek coffee, sesame bagels, meats, cheeses, olives, and extra virgin olive oil.
The tour ends with the famous souvlaki, a must-eat for anyone visiting Greece.
Street Food Tasting Tour
This foodie adventure tour in Athens starts with tasting traditional cheese pie or spanakopita at a pie shop.
You will then try souvlaki with local beer, meat, or vegetables wrapped in pita bread, juicy tomatoes, and tzatziki sauce at a local joint.
The tour continues with a visit to a delightful boat-shaped Greek pizza place and a pastry shop with the best Greek donuts and loukoumades.
You will also explore the lively Psyrri district with street art, vintage shops, designer stores, and cute cafes.
The tour ends with a visit to an old bakery to taste fresh and warm bread sesame rings and sweet local desserts topped with golden syrup, sweet spices, and special flavored ice cream.
Greek Street Food Tour
This food tour in Athens offers visitors the chance to try some of the best Greek street food and explore eateries known only to locals.
You will taste a variety of snacks and street food, including the famous Koulouri, traditional Greek pies, souvlaki in pita bread, and Peinirli, a fluffy Greek-style pizza boat.
The tour also includes trying Loukoumades, the Greek version of donuts. You will explore one of the city's most vivid and artistic neighborhoods while experiencing the best and most well-known street food in Athens.
YOU MAY ALSO LIKE:
Tips for Eating Street Food in Athens
When exploring the vibrant streets of Athens, you'll surely come across various tempting street food options.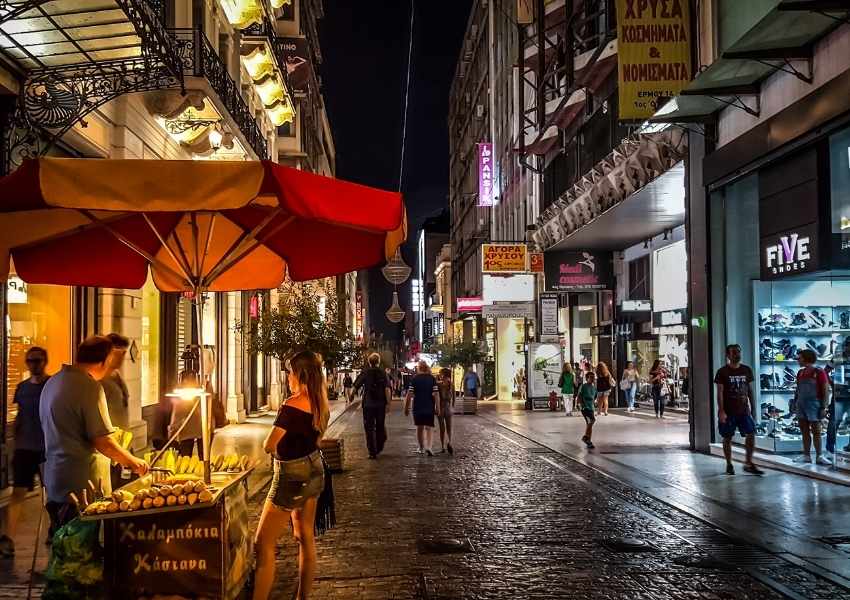 Before diving in, here are a few tips to make your experience enjoyable and worry-free.
1. Follow the locals: They know the best spots, so if you see a crowd of locals lining up for a bite, chances are it's a good choice.
2. Observe hygiene practices: While enjoying street food is generally safe in Athens, it's important to pay attention to the vendor's cleanliness. Look for clean utensils, gloves, and surfaces.
3. Try popular Greek street foods: Greece has a rich culinary tradition, so be adventurous and savor favorites like souvlaki, gyros, and koulouri. Trust us, your taste buds will thank you!
4. Stay aware of food allergies: If you have any dietary restrictions or allergies, be sure to communicate those to the vendors. Many dishes in Greece use common allergens such as nuts, dairy, and gluten.
5. Carry cash: Street food vendors may not accept cards, so it's best to have some cash handy.
Don't forget to get travel insurance for your trip! As always, I recommend Safety Wing for great prices and coverage abroad. It starts at only $45 USD per month and will have you covered with everything you may need during your trip! Check them out here.
FAQs About the Best Street Food in Athens
What are the top dishes to try in Athenian street food?
If you want to taste authentic Athenian street food, make sure to try these top dishes: souvlaki, koulouri, gyros, spanakopita, and tyropita.
Souvlaki and gyros are classics made with marinated meat, while koulouri is a delicious sesame-covered bread ring.
Spanakopita is a savory spinach pie, and tyropita is a mouthwatering cheese pie.
Where can I find the best street food in Plaka?
In Plaka, numerous eateries offer scrumptious street food. Try out Melina's Souvlaki, Kostas (also known for its souvlaki), and the popular Eirini Koulouri for your koulouri fix.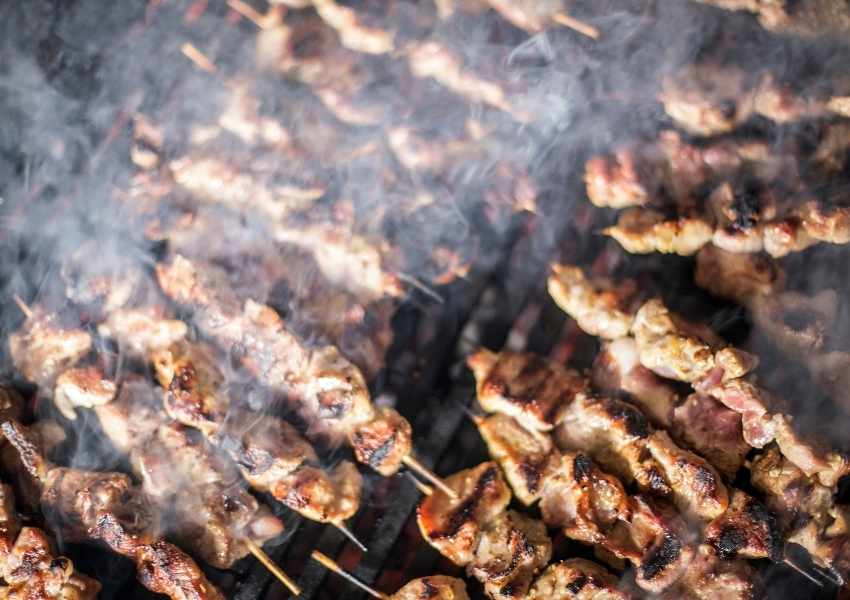 Which popular foods should I look for in Monastiraki?
When you're in Monastiraki, don't miss out on amazing pitas and souvlaki from Savvas and Greeks.
Try meat skewers and wrap pitas from Liosporos Monastiraki or indulge in yummy grilled corn from street vendors.
Can you recommend some local food spots in Athens?
For an authentic taste of Athens, make sure to visit the following local food spots: Oinomageiremata, O Bairaktaris, Ta Karamanlidika Tou Fani, and Lukumades for dessert.
What's a must-try street food near Syntagma?
Close to Syntagma Square, you'll find several street food options. One must-try spot is Ariston Bakery, famous for its delicious pies.
Also, don't miss out on "Uncle Athens," a food truck offering incredible souvlaki and gyros.
Favorite bougatsa places in Athens?
In Athens, many bakeries serve excellent bougatsa – a pastry filled with sweet custard or cheese.
Some favorites include Bougatsa Thessalonikis, Café Ωραία Ελλάς, and Iseris.
Street Food in Athens: Conclusion
From savory to sweet, traditional to modern, Athens' street food scene has something for everyone.
Whether you're exploring the city's central market or wandering through its lively neighborhoods, there's no shortage of delicious and unique street food in Athens to try.