6 Fascinating Things to Do in Aswan Alone
Aswan is located in Southern Egypt on the banks of the Nile, and is abundant with local character and traditional Nubian culture.
It is a great spot to solo travel in Egypt, as it has many Idyllic travel experiences across its many islands on the Nile.
From living the day in the life of a Nubian, to enjoying a high tea experience in a world famous hotel overlooking the world's longest river, Aswan has plenty of activities to fill your solo adventure.
This essential list of things to do in Aswan alone tick every box for history, culture, and relaxation, to ensure your trip to Southern Egypt is an incredible travel experience.
Things to Do in Aswan Alone
1. Learn about the Nubian culture in the Nubian Museum.
The Nubian Museum in Aswan is a very spacious facility, which is filled with historical information and artefacts, offering a brilliant insight into the people of Nubia.
The ancient highlight on site is the giant Ramses II statue, which takes centre stage in the main exhibition room, and captures your attention as soon as you enter the room.
The museum is more regional focused compared to other museums in Egypt, therefore, focuses predominantly on Nubia and its overall history.
It is wonderfully laid out in chronological order, dating back to 11,000 BC and the earliest settlements until the present day.
All of the information is detailed in English and Arabic to make sure you can understand it clearly as you wander along the cabinets filled with the original artefacts.
You will learn fascinating details about important points in the history of the Nubians including the construction of the High Dam, the creation of Lake Nasser and the flooding of Nubia.
Increasing your knowledge of the way locals have lived in the past and present helps you to interact with them on a more personal level.
There are official tours that run regularly, which are a great way to meet other travellers while you explore.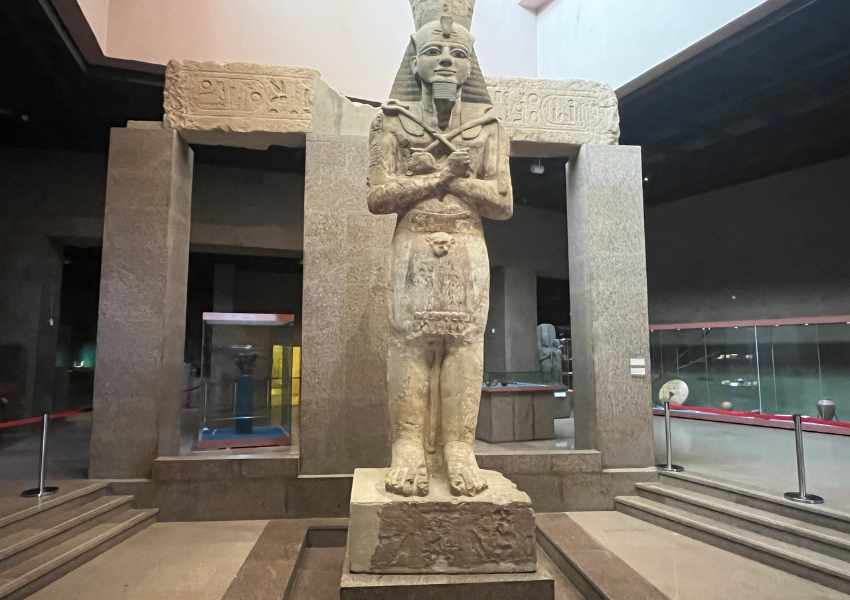 2. Enjoy an elegant lunch in the famous Hotel Cataract.
After you have finished learning about the fascinating culture of the Nubiuan people, it's time for a lunch with a view.
The Old Cataract Hotel is famous because of Agatha Christie's 'Death on the Nile', along with its spectacular British Colonial architecture being world renowned. Historically, famous people such as Winston Churchill and Princess Diana have stayed in the grand hotel..
The Hotel Cataract has been iconic since its construction in 1899, where it has filled the banks of the River Nile with elegance and class.
Dining in the charming '1902 Restaurant' will offer you a luxurious experience, whether you are trying some dreamy dishes, or sampling high tea on the terrace overlooking the Nile, the very attentive staff will make you feel welcome.
Your special afternoon retreat will be complete with a visit to the wellness and spa facilities on-site, where you can undertake ancient Egyptian style therapies, as you relax and recharge from the African heat.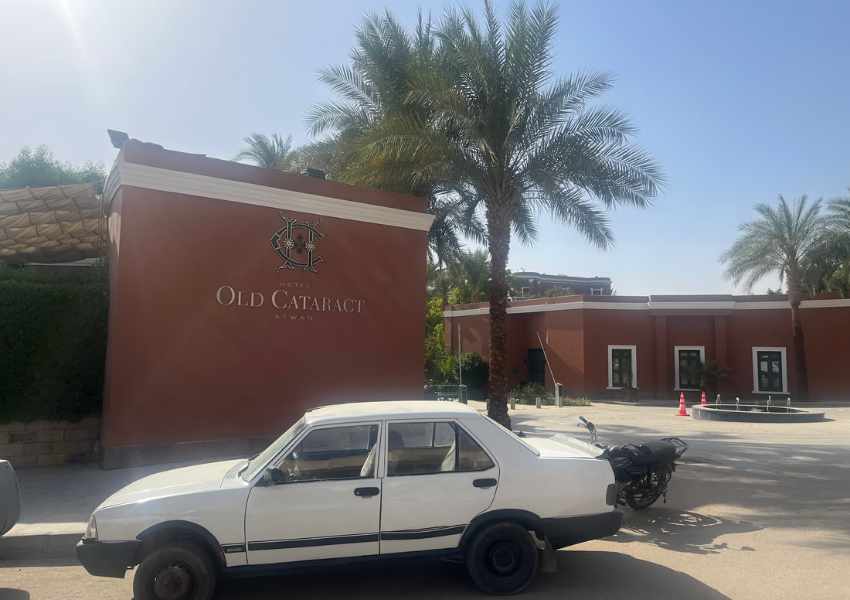 3. Admire the local street art
Egypt is known for its ancient landmarks and historical gems, however, there is a different side to the great nation.
A quirky modern street art scene is rising throughout the different cities. Aswan is filled with colourful murals, which stretch from its main road, 'Kornish Al Nile', to its back streets and bazaars.
The best place to go and find some beautiful murals is the Nubian village, which is abundant with colourful masterpieces that are created by locals.
The Aswan art scene is a combination of contemporary modern art and traditional Nubian motifs. The murals often depict smiling faces from locals, geometric patterns and famous religious symbols, all of which make up some beautiful stories.
The brightly coloured Garb Soheil Village can be seen from your ferry on the Nile, as the whole area is covered in colourful dye, and painted murals.
The mudbrick homes are covered in lime plaster and then decorated in very bright colours, as the locals display their quirky culture to its visitors. Spending a few minutes to stop and admire each piece of art as you pass by, makes for a great free activity to do in Aswan.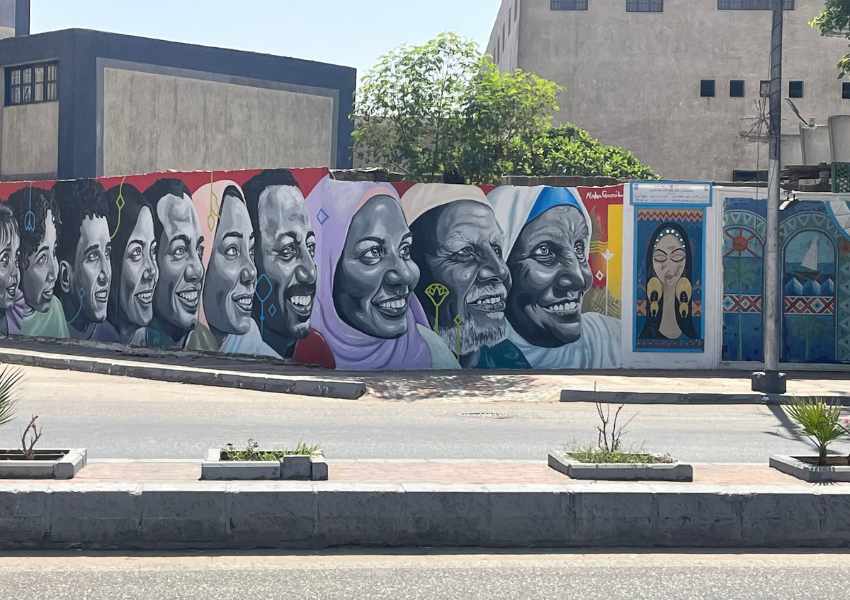 4. Dance with the locals in a Nubian Village home.
Visiting the Garb Soheil Village is a must on your Aswan itinerary, as it gives you a glimpse into the traditional Nubian culture which is fascinating.
Although the activities of the village are staged for tourists, you can still gain a deeper understanding of the Nubian way of life, while making new friends.
Whether you are on an organised tour, or travelling solo, you will be welcomed into the homes for local tea, snacks, and a dance. This is a great place to meet other like minded travellers, as you immerse yourself in the lively joyful atmosphere of one of the oldest civilisations in ancient Africa.
As you sip your tea, the locals start to build the atmosphere inside their home, before they bring out the drums and start to play some African music. They involve all the tourists by getting them to clap to the beat, as they sing and dance. One thing is guaranteed, you will be putting your dancing shoes on!
Don't be surprised if you see some crocodiles during your wander around the village, as it is tradition for Nubian's to hang a crocodile body over the house door to protect its people from the 'evil eye'. There is crocodile art throughout the village, furthermore, some real crocodiles are also kept as pets.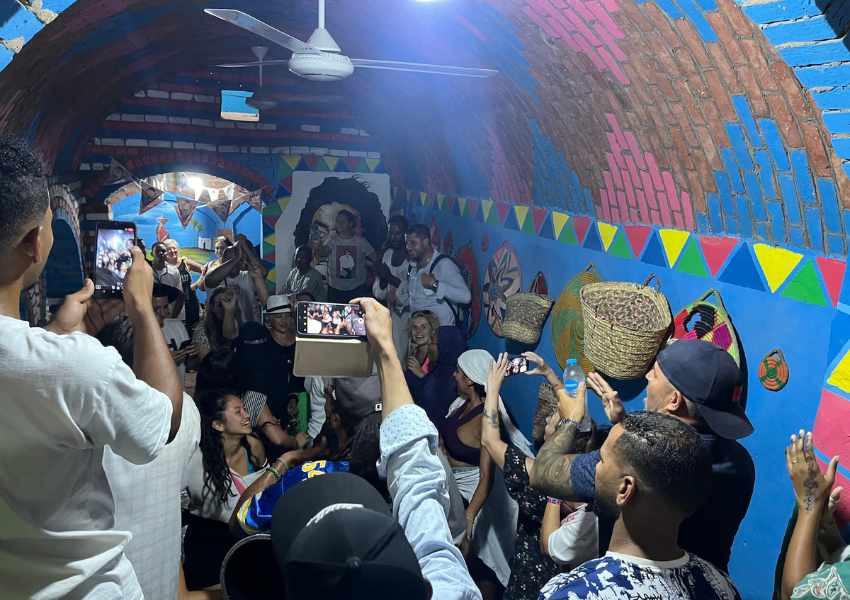 5. Shop at the Aswan Market.
If you want to have an authentic market experience in Egypt, then the Aswan Market is the perfect place to spend your evening.
The bazaar is a central feature of Aswan and runs parallel to the main Nile Corniche, operating day and night. As you wander through the market you will notice many locals shopping for goods such as fresh bread, spices and nuts.
It is less touristy than other famous bazaars in Luxor and Cairo, so offers more of a relaxing vibe. Although it is an outdoor market, there is a roof which can protect you from the boiling sun during the day.
You still need to interact, or even haggle with some of the vendors as you follow the local aroma down the stalls.
It is highly recommended to sit and have an Egyptian style tea with the locals. As you choose your souvenirs and agree on a price, they are more than happy to be polite and accommodate you, if the price is right for them.
If you just want to watch the chaos of daily life in the Aswan market, there are several cafés, which have free WiFi for customers. The perfect spot for an afternoon break while you people watch.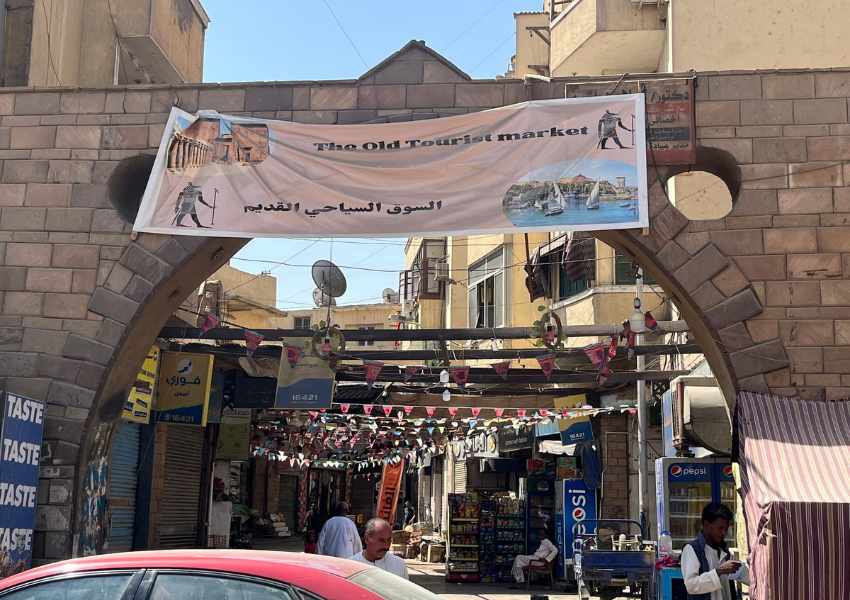 6. Visit the iconic Temple of Philae.
Off to another Island on the Nile for the next activity, but this time to witness the historical brilliance of the Temple of Philae, which has remarkably stood the test of time, despite a turbulent past.
The temple was first constructed thousands of years ago during the reign of Ptolemy II, and was dedicated to the goddess 'Isis'. In more recent times, the temple was in danger of being submerged and lost forever, following the High Dam construction and its resulting flood back in the 1960's.The UNESCO Nubia Campaign project relocated the temple, stone by stone, to the nearby island of Agikia Island, where it now stands strong in its new picturesque setting.
You should grab a taxi and head to the Marina of Philae Temple, which is around 5 miles away from downtown Aswan. This is where you can purchase your tickets, and negotiate a taxi boat to the island. You can expect to pay more as a solo traveller unless you can split the fare with others.
Booking an official tour is a great way to save money, while gaining a deeper understanding about the Temple from a knowledgeable local guide. As you approach Agilkia Island, you will be rewarded with the picture perfect setting of the backdrop of the temple on the Nile.
If you want an Egyptian experience like no other, then you should visit the Temple during sunset, so you arrive in time for the night time sound and light show. Its architectural magnificence is illuminated in the darkness to create a unique story of the ancient civilisations.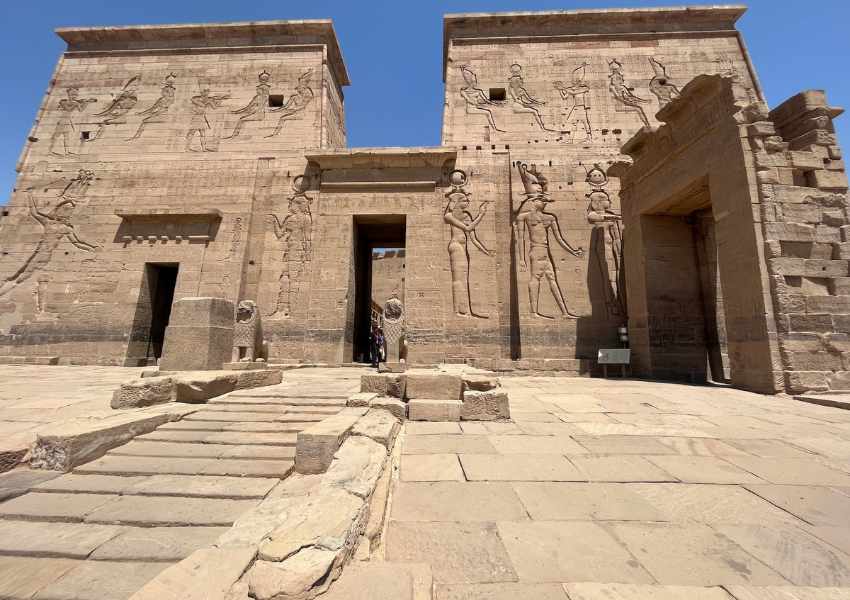 Where to Stay in Aswan
Elephantine Island is a great place for solo travellers to stay in Aswan, as it is home to many traditional Nubian Guest Houses, which are run by the four main Nubian families on the island.
You do have to cross the Nile from the mainland (at a very small cost on the ferry), but you get rewarded with a tranquil break from the chaos of the mainland. The recommended guest houses all have restaurants, air conditioning and lovely local hosts, making for a great travel experience.
Bob Marley Guest House: The sun terrace restaurant is a great place to overlook the Nile as you try some local cuisine, or a refreshing fruit smoothie.
Jamaica Guest House: The bar and restaurant are in a great location overlooking the Nile. This guest house is also very close to the ferry point to the main Island.
Sunrise Shiny Nubian Guest House: A very popular choice for International visitors to Aswan, with a private bathroom, good amenities and a shared kitchen space.
El Prince Guest House: This beachfront accommodation offers guests a private beach area, a garden, and an open-air bath to relax and unwind.
How to Get Around Aswan
The mode of transport you decide to use in Aswan depends on a variety of factors, such as your accommodation location, the time of year you visit, and which activities you are planning. As a solo traveller, it may be trickier to secure a price that isn't over inflated.
Many points of interest are within walkable distance of the main Nile Corniche, so depending on your fitness levels, the temperature, and your budget, you should be able to navigate using maps on your phone.
Taxis are a popular alternative in the summertime, however, you are likely to be charged an over inflated price, after some haggling.
If you are planning on making a trip to the West Bank of the Nile, or to one of the popular islands, you will require a taxi ferry, which can be a motor boat or traditional felucca.
Even if you are charged 'tourist' prices, they are reasonable for the one-of-a-kind experience on the Nile. Similar to Cairo and Luxor, you can also travel around Aswan by horse and cart. The locals will try and capture your attention constantly as they traverse up and down the main road.
Tips for Visiting Aswan Alone
Visiting Egypt alone is a rewarding experience, however, it doesn't mean it is easy, as you try and navigate the cultural differences, haggling, and language barriers.
There is no 'set price' for a lot of things in Egypt, and Aswan falls into this category. As a solo tourist, you are at a significant disadvantage when negotiating with locals, however, if you follow these tips, your experience should be smoother:
Be prepared to haggle with taxi drivers, ferry operators, and even the 'tourist' train ticket booth in the station. Don't be afraid to walk away if you're not happy with the price.
Be aware of your surroundings and take precautions to avoid pickpocketing and other petty theft.
Dress modestly, especially when visiting religious sites.
Learn a few basic Arabic phrases, such as "hello," "thank you," and "how much?" This will help you communicate with locals and get better prices on goods and services.
Don't be afraid to ignore the locals if they start annoying you. This is a good way to stop any harassment that may occur.
Egypt is a country that has fascinated travelers for centuries.
With its rich history, stunning landscapes, and vibrant culture, it's no wonder why so many people choose to visit this incredible destination.
But with so many cities to choose from, it can be difficult to decide where to go.
That's why we've put together a list of the best cities to visit in Egypt. Whether you're interested in exploring ancient ruins, relaxing on the beach, or immersing yourself in local culture, there's something for everyone in these amazing cities in Egypt.
1. Sharm El Sheikh
If you're looking for a fantastic beach getaway, Sharm El Sheikh should be at the top of your list of cities to visit in Egypt.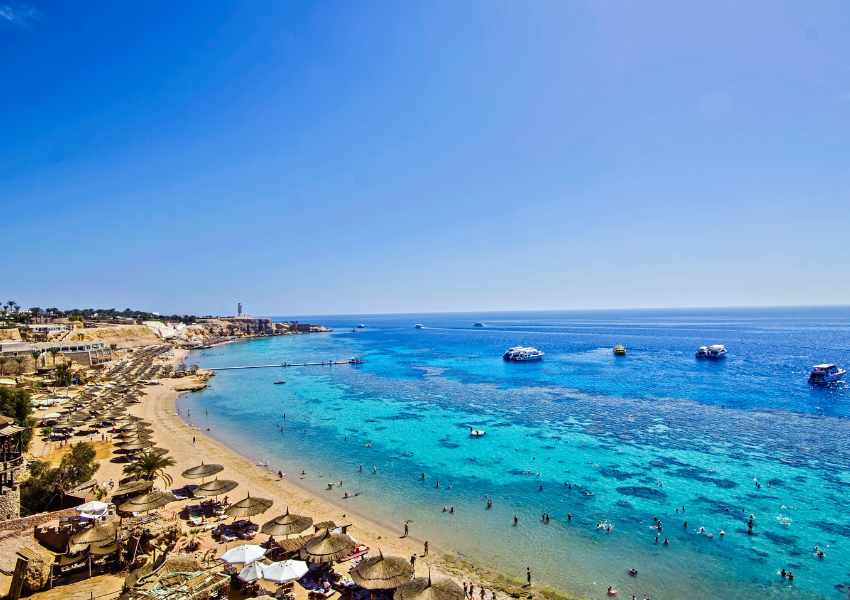 This resort town on the Sinai Peninsula has breathtaking views, stunning coral reefs, and a warm, sunny climate that makes it perfect for relaxation and adventure.
When you're not on the beach, Sharm El Sheikh has lively markets where you can immerse yourself in Egyptian culture.