20 Best Things to Do in Turks and Caicos in 2024
Are you looking for the best things to do in Turks and Caicos this year? You're in the right place.
After exploring the islands, I've compiled a list of the 20 best things to do in Turks and Caicos for your next vacation.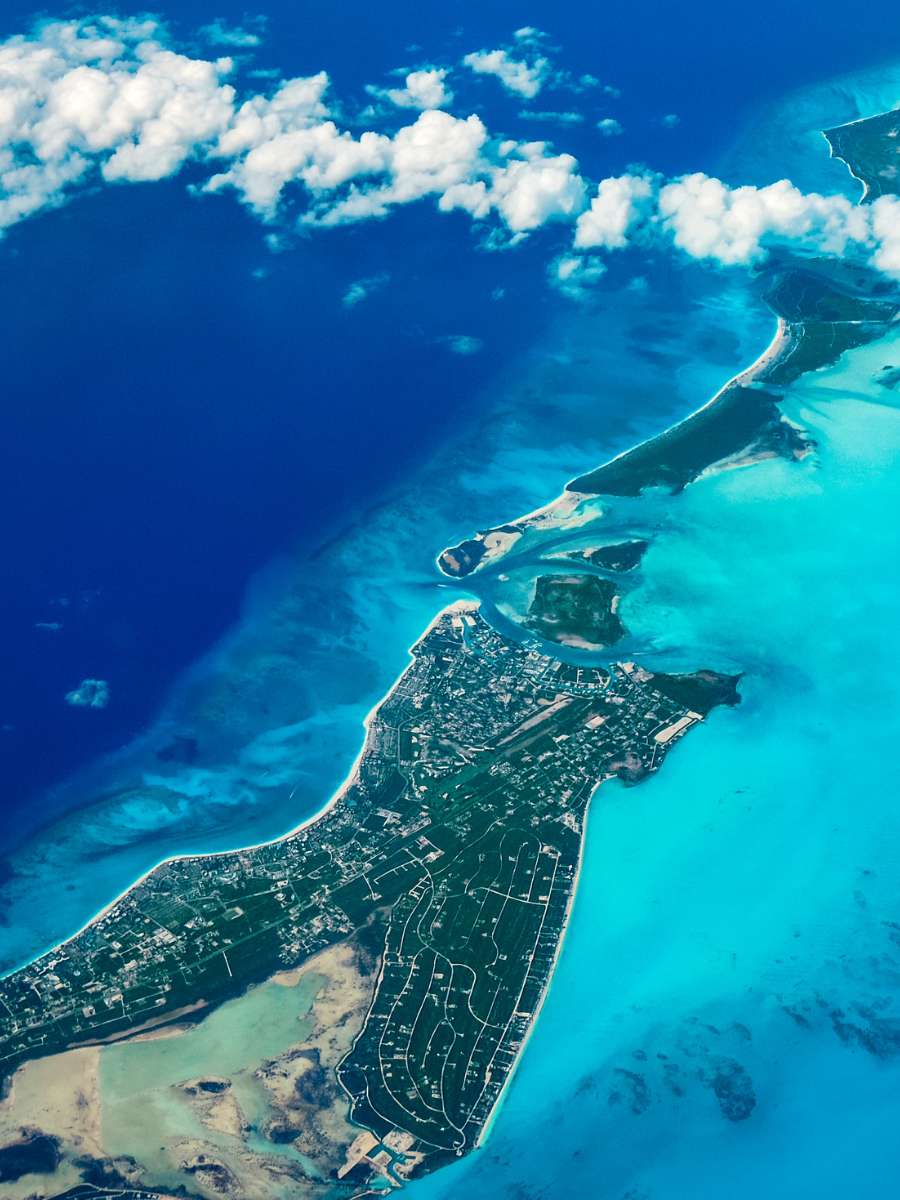 Turks and Caicos is known for being a luxurious beach destination, but that's not all the island has to offer. Turks is filled with hidden caves, deep coral reefs, a rich history, and even whale-watching.
Let's take a look at all the can't-miss things to do in Turks and Caicos.
Top Things to Do in Turks and Caicos
Wondering what to do in Turks and Caicos? From floating in the warm ocean to exploring hidden caves, there are so many things to do in Turks and Caicos.
Explore the land or the sea, island hop, and learn about the history of Turks and Caicos with these 20 incredible Turks and Caicos activities.
Turks and Caicos is a safe destination known for its sparkling turquoise beaches and luxurious resorts. But it also offers a unique history and underground landscape not to be missed!
1. Put Your Feet in the Sand at Grace Bay Beach
It's no secret that Turks and Caicos is known for its bright blue sparkling waters and soft white sand. Grace Bay is considered to be the top beach on the island.
It's lined with resorts, activities, and restaurants. You can spend hours soaking up the sun on this incredible beach. Jump in the warm, clear water to cool off.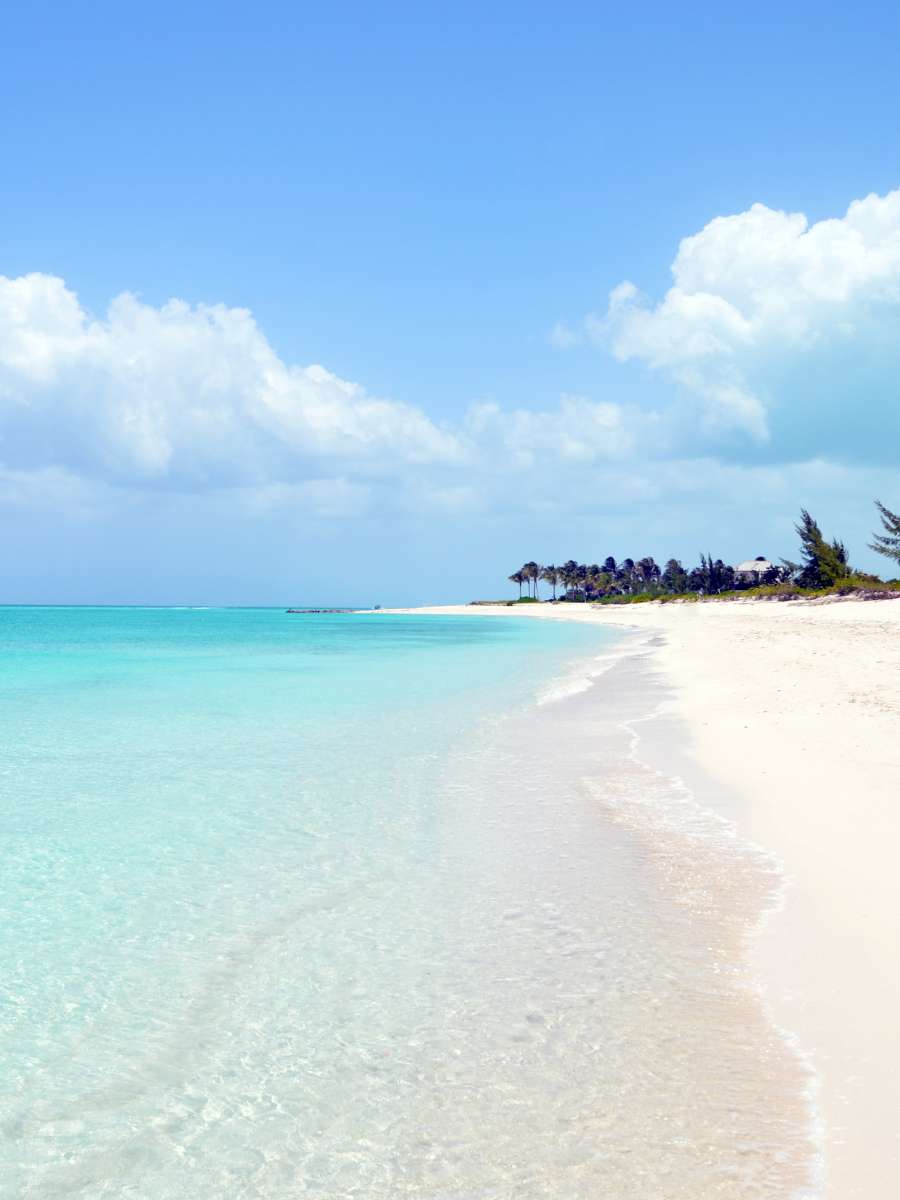 Unlike other Caribbean islands, like Aruba, plenty of offshore snorkeling opportunities exist in Turks.
There's a reef not far off from the Grace Bay shoreline. You can even arrange for a massage on the beach here. Grace Bay is a can't-miss during any trip to Turks.
2. Hang out with Iguanas at Little Water Cay and Half Moon Bay
Little Water Cay, also known as Iguana Island. Managed by Turks and Caicos National Trust, there are certain paths you can explore around the island to explore the iguanas that inhabit the island.
The Turks and Caicos rock iguanas are endangered and protected on this nature reserve.
On the opposite side of the reserve, you'll find Half Moon Bay, a pristine beach on this uninhabited island. Birdwatch, kayak, enjoy a picnic or simply relax on this spectacular stretch of beach.
3. Snorkel the Turks and Caicos Barrier Reef
A little-known fact about Turks and Caicos is that it has one of the largest barrier reefs in the world. The Turks and Caicos Islands have over 50 species of coral and over 200 different species of fish.
Along with sea turtles, sharks, sting rays, and more, snorkeling in Turks and Caicos is an unforgettable experience.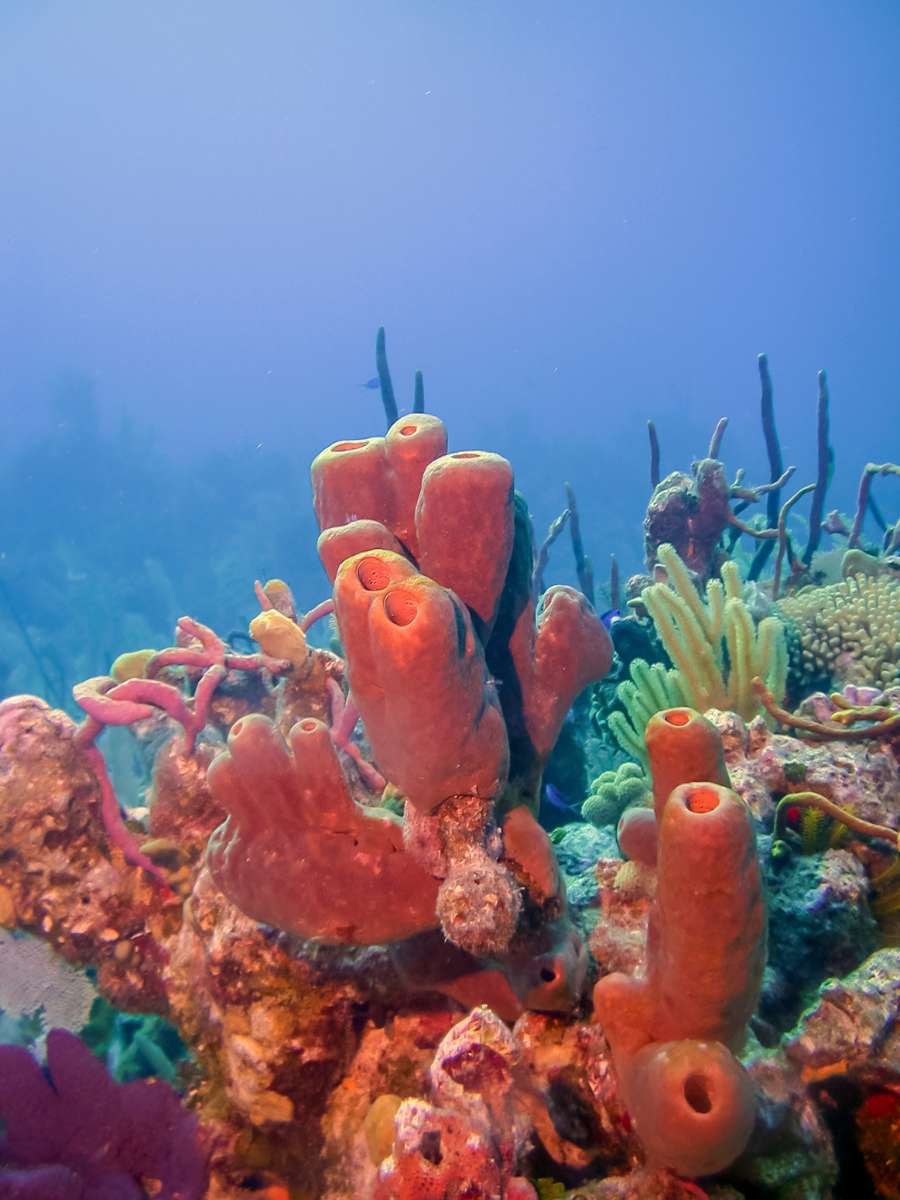 Snorkeling tours will take you to the barrier reefs, Smith's Reef, Princess Alexandra National Park, and Grand Turks Amazing Wall.
Taking a snorkel tour is the best way to find the most incredible coral reefs around the island. Many tours include stops at Little Water Cay or North and Middle Caicos.
4. Chalk Sound National Park
The Chalk Sound National Park can only be explored by kayak or paddleboard.
During your time in Chalk Sound, you can make stops at all the small, uninhabited islands to explore the wildlife.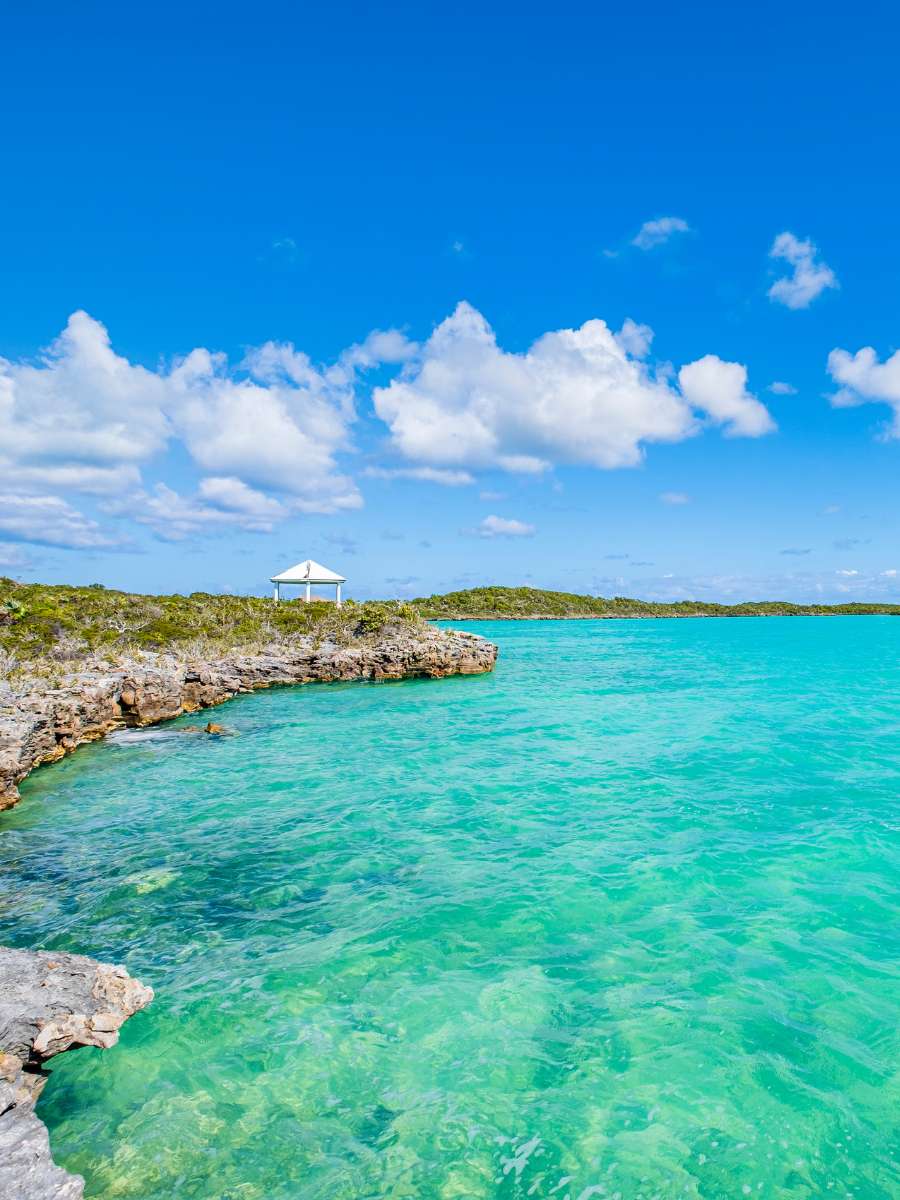 Be on the lookout for the island's famous rock iguanas, small sharks, and unique vegetation. There is also one Chalk Sound Drive road that allows you to explore the National Park via car.
5. Parasail Over Grace Bay Beach
With Grace Bay Beach being one of the most beautiful beaches in the world, seeing it from above is even more incredible than admiring it from the sand.
It's shocking how clear the water is from above. You can sail through the skies with 1-3 people for about 20 minutes. Some parasailing tours include breezy boat rides to the cays offshore, food, drinks, and a whole lot of fun.
6. Sunset Sail
Turks and Caicos is an incredibly romantic destination, perfect for honeymoons and couples' getaways. There's no better way to start a date night than with a sunset sail!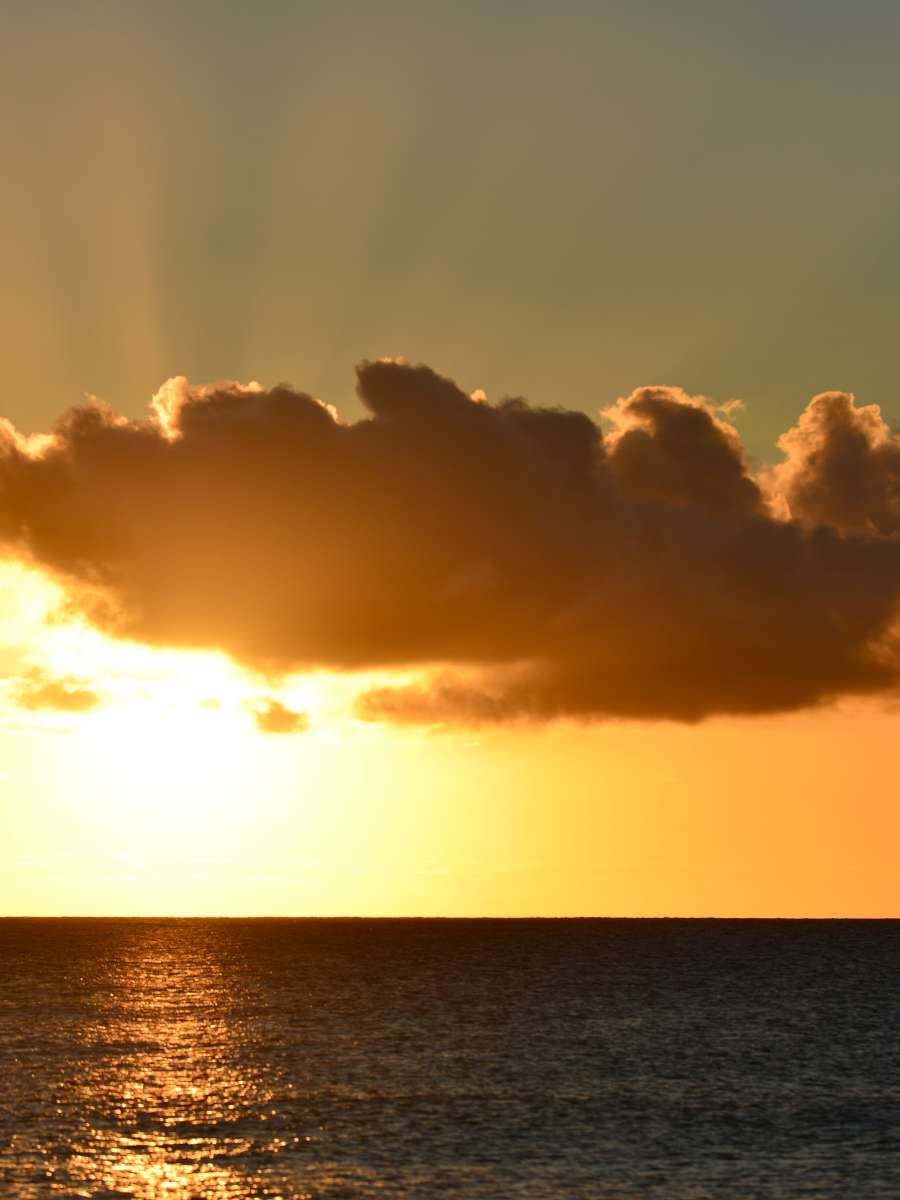 Most sunset cruises in Turks will take you along the coast of Grace Bay offering spectacular views of the beach and even better views of the sunset. Pop the champagne and take in the Caribbean views.
7. Enjoy a Freshly Caught Conch Ceviche on a Boat
Conch is a huge part of the Turks and Caicos economy. If you like seafood, don't leave Turks without trying all the different varieties of Conch.
Many captains in Turks will dive, or let you dive, for your own Conch so you can have a freshly prepared ceviche on the boat. You can also try Conch salad, Conch soup, and fried Conch during your trip.
8. Dive the 7,000 Foot "Amazing Wall" in Grand Turk
Scuba diving this wall is one of the most unique and adventurous things to do in Turks and Caicos for water lovers. There are over 40 dive sites in all of the Turks and Caicos Islands combined. One of the most popular is located in Grand Turk.
The Amazing Wall is amazing for a reason – this 7,000 drop is probably on a diver's bucket list. The healthy coral reefs are home to an incredibly diverse sea life.
You'll find reef sharks, rays, barracuda, tuna, angelfish, and more. You can also snorkel the Grand Turk Wall if diving isn't on your to-do list.
9. Clear Bottom Kayak Through the Mangroves
For vacationers that don't love jumping in the water with wildlife, clear-bottom kayak tours are the perfect option.
Mangrove Cay is located just off the east coast of Providenciales. This makes it a popular spot for kayaking and stand-up paddle boarding. From the clear-bottom kayaks, you'll be able to spot sharks, conch, turtles, and more.
If you're up for a longer adventure, some Mangrove tours will take you to Half Moon Bay and Little Water Cay. On the cays around the Mangroves, you'll be able to spot a variety of birds and the TCI rock iguanas.
10. Swim with Stingrays at Gibbs Cay
Gibbs Cay is a beautiful uninhabited island located just off the coast of Grand Turk. It takes about 25 minutes to get there by private boat or tour.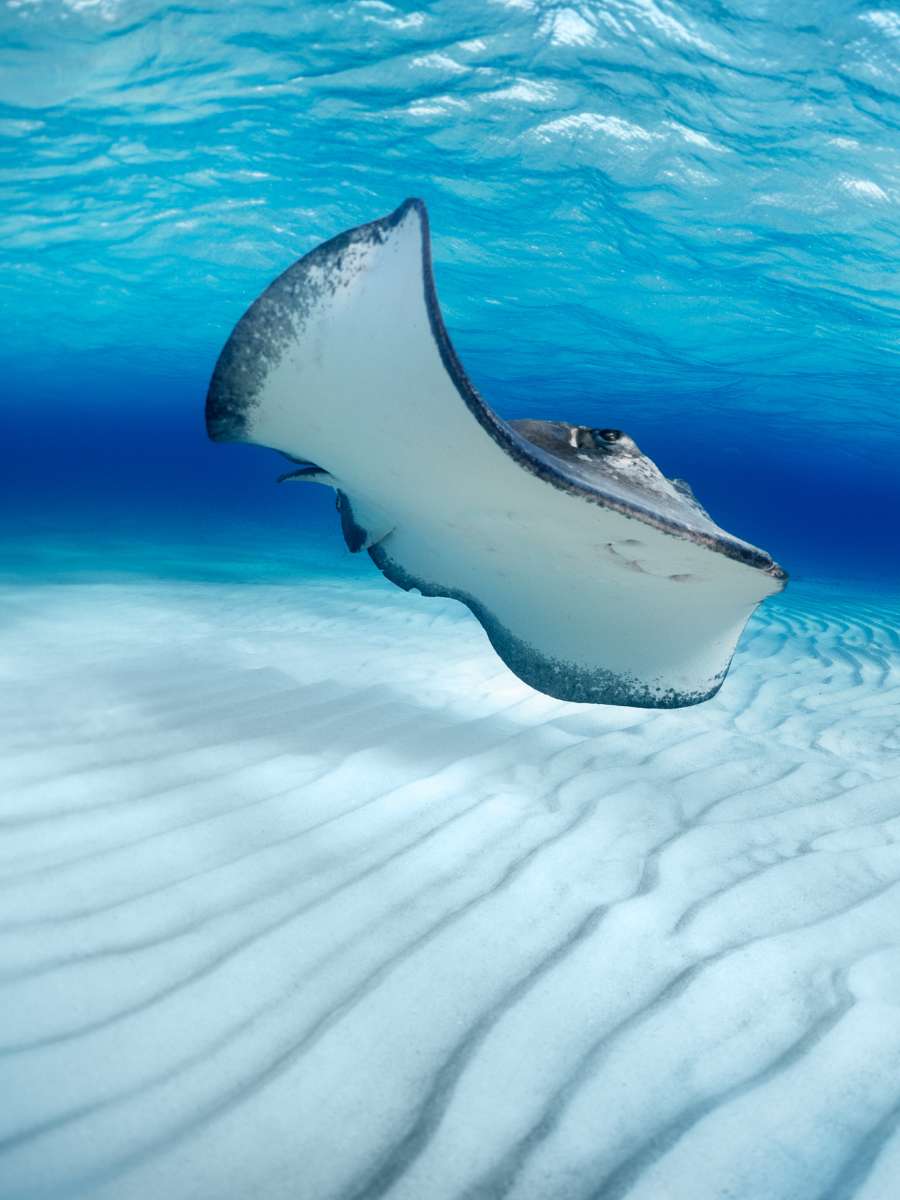 This is the perfect day trip from Grand Turk. When you arrive at Gibbs Cay, you'll be able to swim with large groups of stingrays. Don't worry – they're used to visitors. Swimming with the rays in their natural habitat is an unforgettable experience.
There's also a coral reef nearby with great snorkeling opportunities.
11. Stroll Around Cockburn Town
Cockburn Town is the capital of Turks and Caicos. You'll find it on Grand Turk. It's lined with old-style buildings and great opportunities for historical sightseeing.
You can visit museums, the famous lighthouse, and HM Prison in Cockburn. There are plenty of beaches nearby, and a cruise port, so some days may be busier than others.
Most of Grand Turk is protected under the Columbus Landfall National Park, making it beautifully untouched and a great place to explore.
12. Turks and Caicos National Musem
Located on the coast of Grand Turk with blissful ocean views is the Turks and Caicos National Museum.
This historic landmark will teach you about the Caribbean island's rich history. You can learn about the Lucayan people – the first settlers in Turks and Caicos, the salt industry and its importance to the island, and some of the island's royal history.
13. Tour Her Majesty's Prison
Her Majesty's Prison opened for operation in the early 1800s, and was used as the island's prison until 1994!
The prison is a great stop if you're in Grand Turk for a day on a cruise as it's located right in Cockburn Town and admission only costs a few dollars.
Tours are self-guided, so spend as much or as little time as you want to explore the grounds, cell blocks, bell tower, and more.
14. Visit the Grand Turk Lighthouse
The Grand Turk Lighthouse is a popular attraction in Turks and Caicos. Many Grand Turk tours make a stop here.
It's a National Trust structure that sits 60 feet high and was constructed in 1852. It's notably a great place to spot whales during whale migration season. You can't go inside, but there is a gift shop on-site.
15. Take the ferry to North and Middle Caicos
Most visitors choose to stay in Providenciales, so if you want to island hop to other islands, you'll have to take a boat or hopper plane.
The ferry from Providenciales to North and Middle Caicos is the perfect opportunity to take a day trip and explore the other islands in Turks. The scenic ride takes 25 minutes and costs just $40 one and way, $65 to return.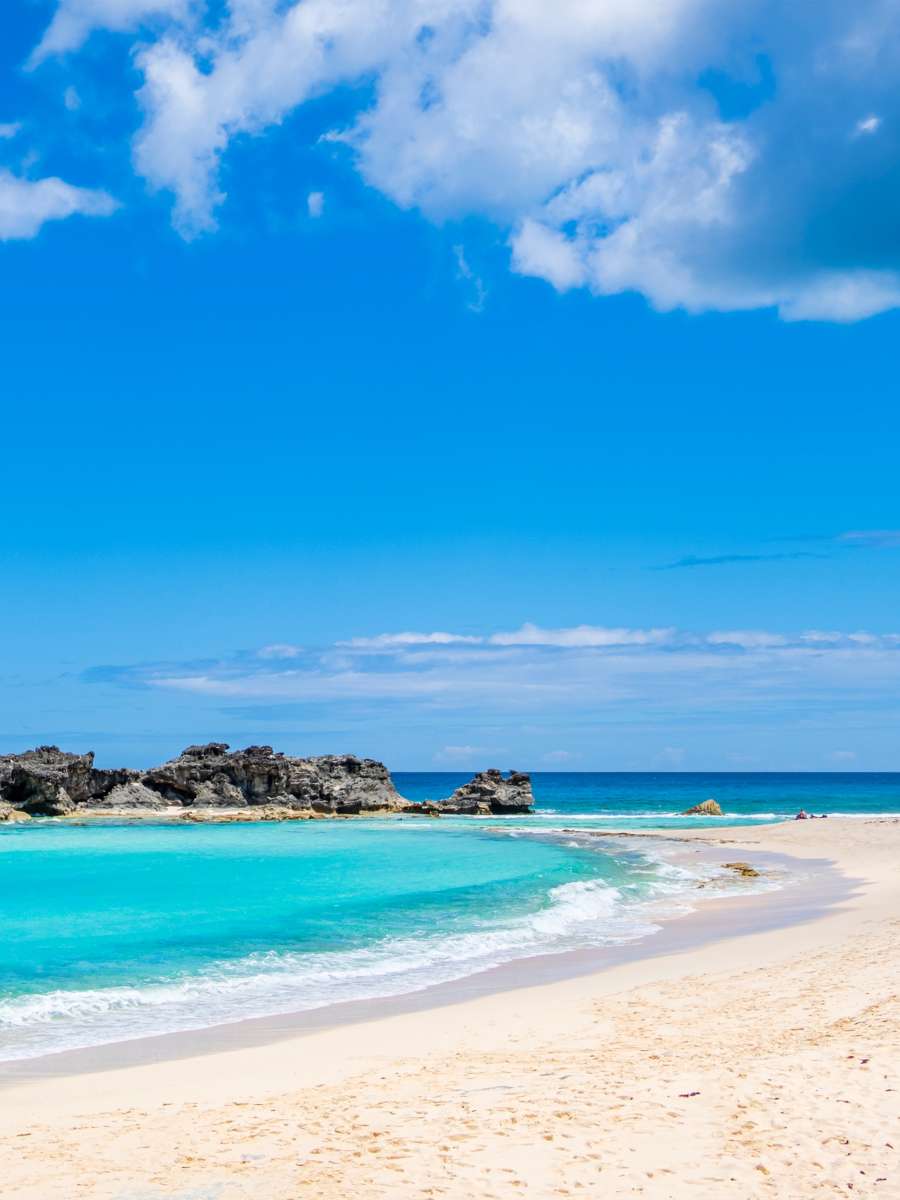 There are so many adventures to take advantage of in North Caicos. Take a walk along the Crossing Pass Trail or scuba dive offshore.
If you have an extra day, taking a day trip is more than worth it. You'll find even more pristine beaches, the Conch Bar Caves, and even some small shops on the other islands.
16. Explore Conch Bar Caves
Explore one of the largest protected cave systems in the Caribbean. The karst cave system supports unique plant and animal ecosystems with a history dating back to pre-Columbian times.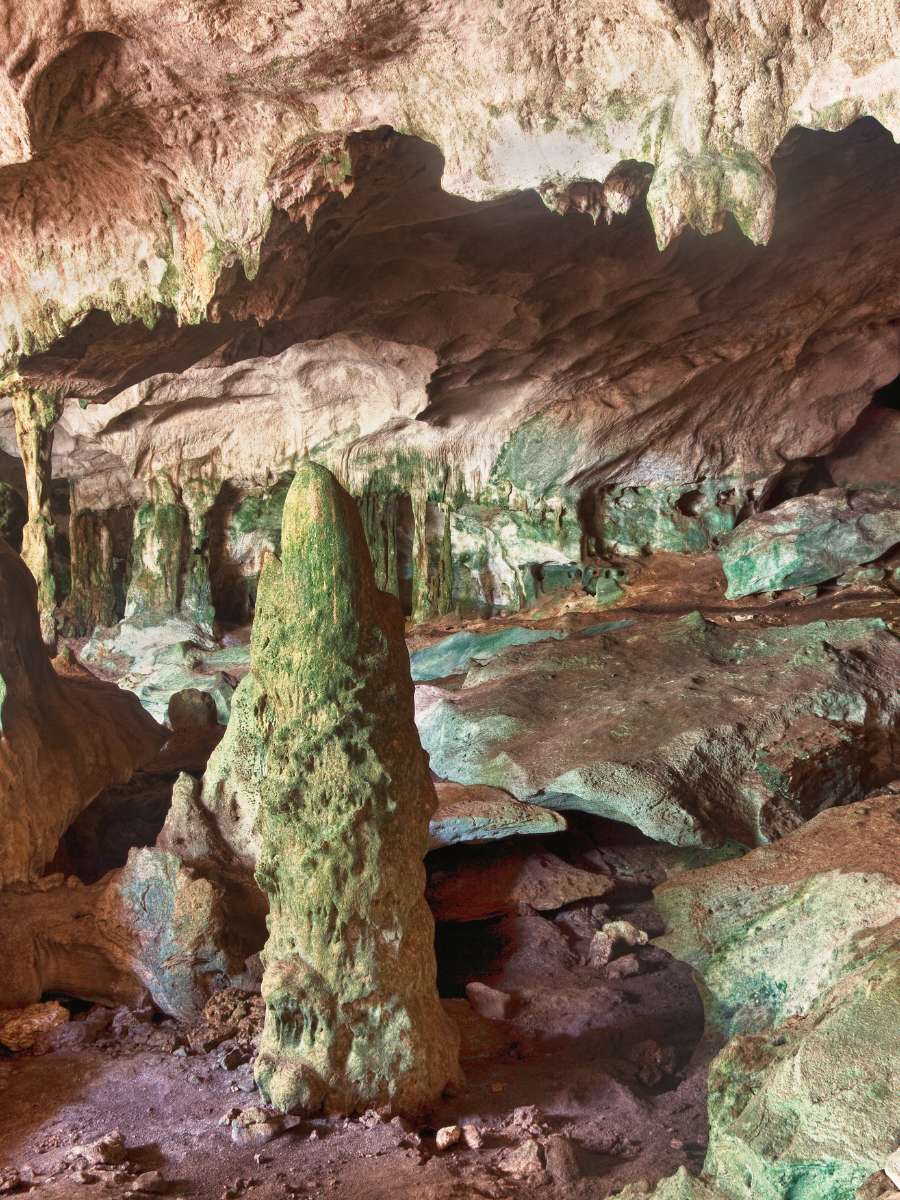 Guided tours start at $30, bring cash if you plan to purchase your tickets on-site. You can only see the caves with a guided tour.
This is a great thing to do in Turks and Caicos for visitors that love off-the-beaten-path adventures.
17. Charter a Boat for the Day
Chartering a boat is a more luxurious thing to do in Turks and Caicos, but a popular one as well!
Boat charters cost between $1,000-$2000, depending on your amenities, time out, and the number of guests. Many charters include snorkeling equipment and an open bar or food.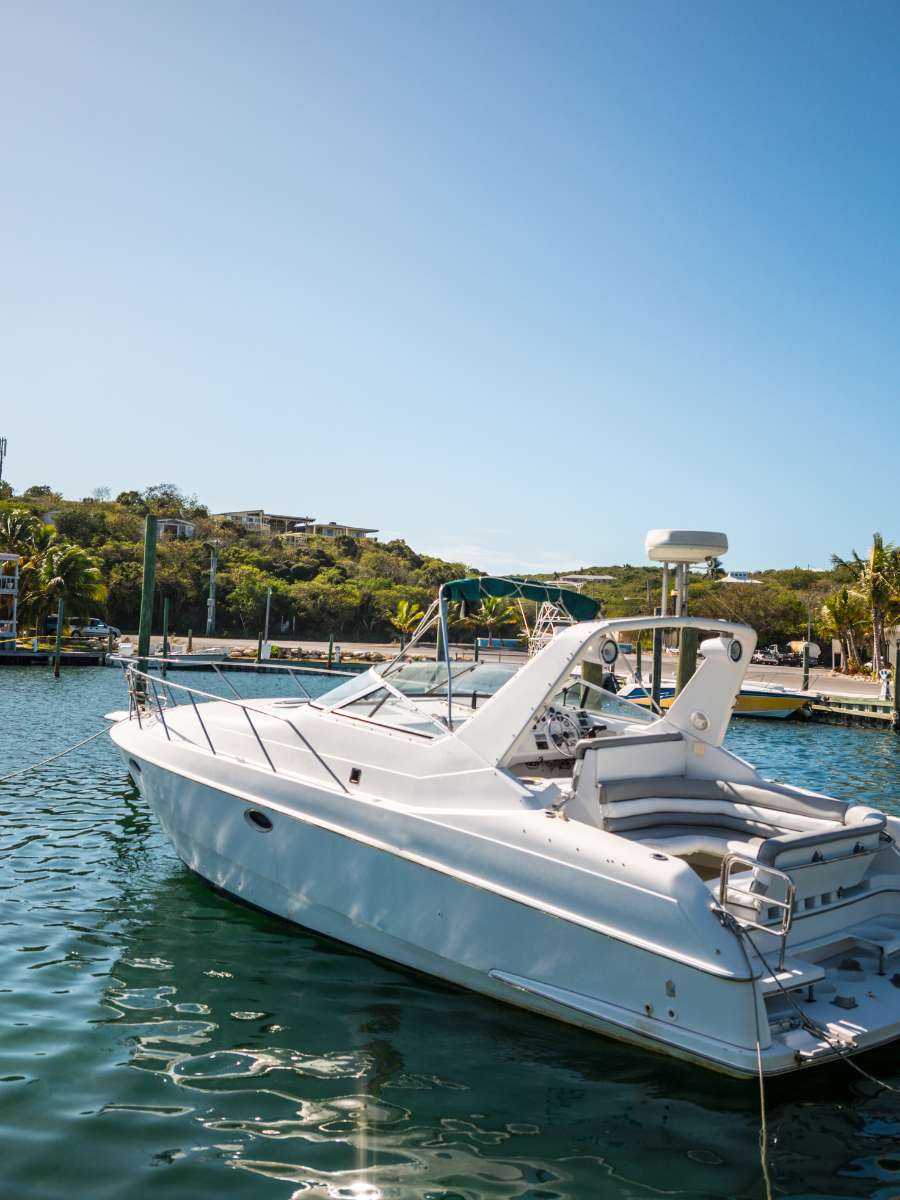 This is a great opportunity to get a private tour of Turks and Caicos with local guides. You can find the best snorkeling spots, island hop and explore the uninhabited cays, or just enjoy the cool Caribbean breeze from the boat.
18. Island Sightseeing Tour
Looking to get your bearings around the island before you go off on your own? An island sightseeing tour is a perfect way to do that!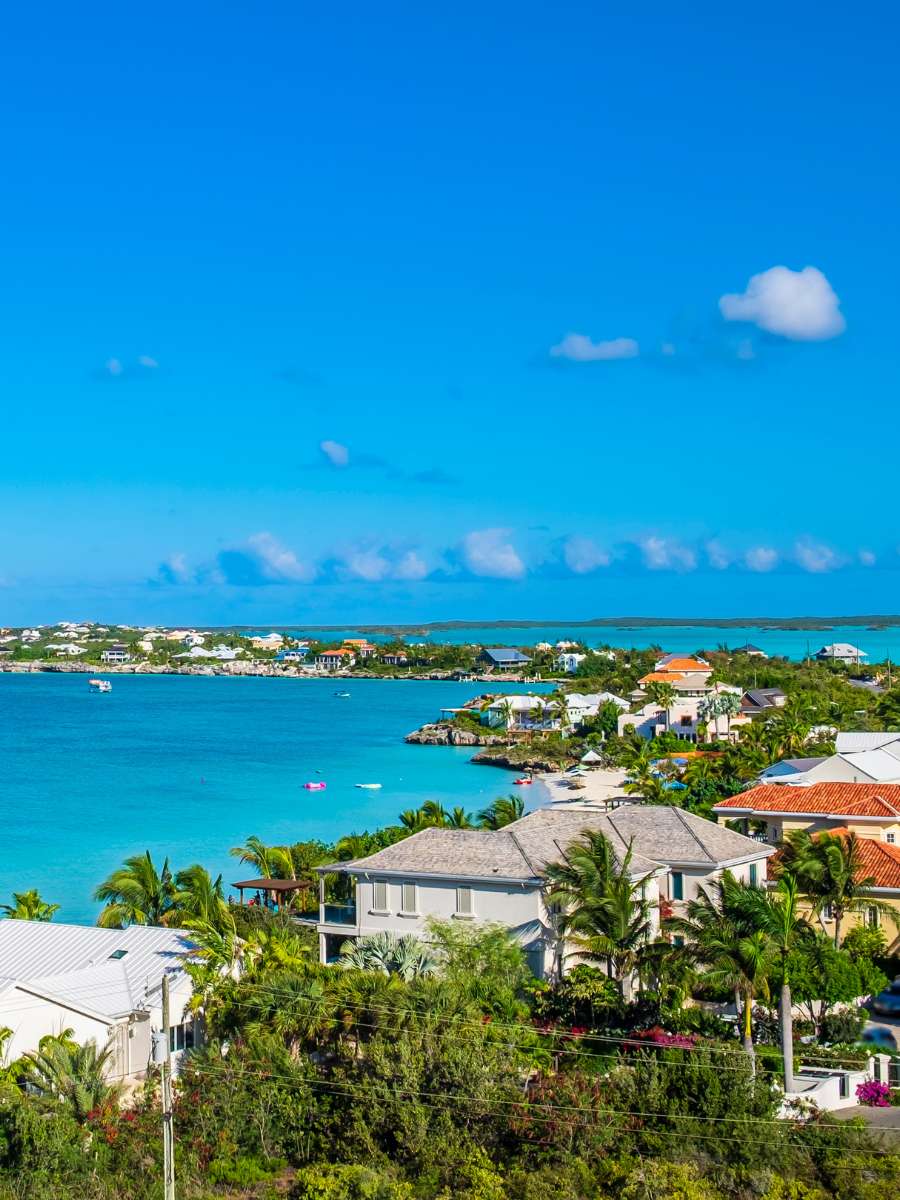 With a local guide to teach you about the area, island history, and hidden gems, you'll get all the insider tips to make your vacation seamless. Island tours usually make stops at the best beaches, restaurants, and attractions in Providenciales.
19. Whale Watch at Salt Cay
From January to February, humpback whales migrate right past Salt Cay. Divers flock to Salt Cay in season for an underwater look at the whale migration. In some cases, snorkeling with the whales is also possible, but it's highly dependent on several factors.
Small boats will go offshore to catch a glimpse of these amazing creatures. There are very few accommodations in Salt Cay, so you'll be better off staying in Grand Turk and taking a boat to Salt Cay.
20. Swim with Turks and Caicos Mascot – JoJo the Dolphin
JoJo the Dolphin is considered Turks and Caicos' famous mascot. This isn't your ordinary dolphin encounter. JoJo lives freely in the waters around Grace Bay.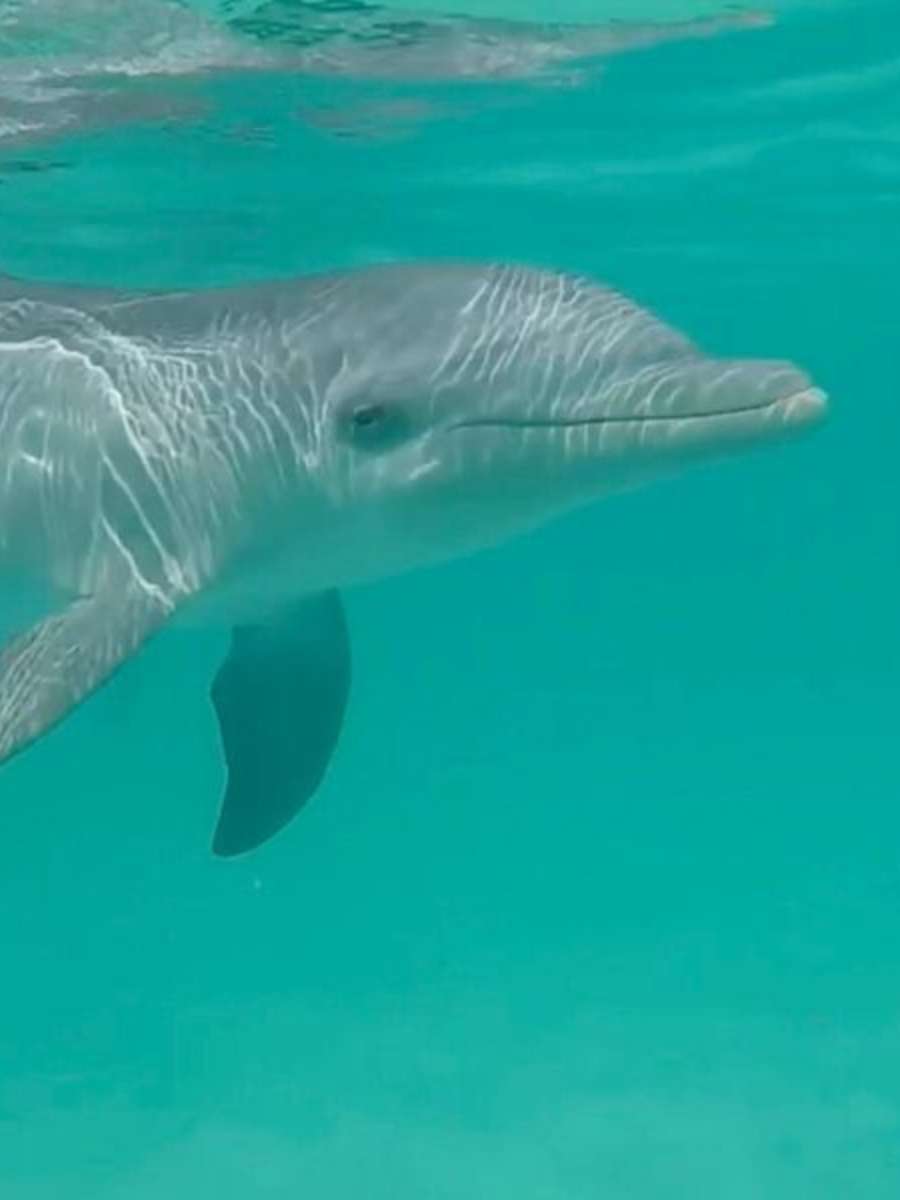 You might find her out and about while you're snorkeling or boating through Grace Bay. If you're lucky, she might just put on quite the show for you!
Summary of the Best Things to Do in Turks and Caicos
There you have it! Are you ready to start planning your next vacation? With all of these things to do in Turks and Caicos, you'll be able to experience everything the island has to offer.
Whether you want to learn about the rich history of Turks or jump into the wide-open ocean waters, the beauty of Turks and Caicos will take your breath away.
Get ready for a Caribbean vacation you won't soon forget!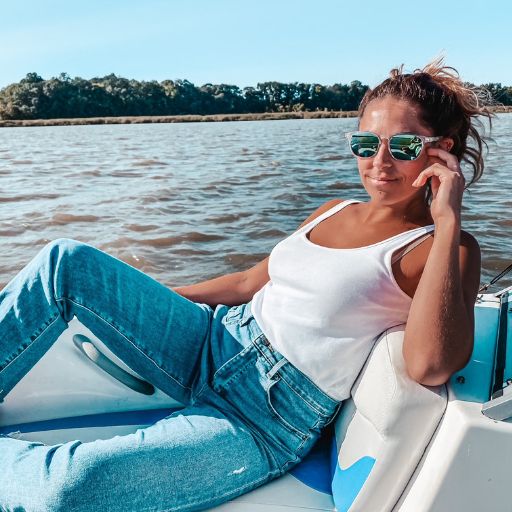 ABOUT THE AUTHOR
A few years ago, Rachel canceled her lease and set out on a travel blogging adventure with carribeanuncovered.com. After over a decade of traveling through the Caribbean islands, she's sharing all of her secrets. Rachel is here to help you find the best islands in the Caribbean and make planning your trip as easy as laying on the beach.