The Ultimate Bandung Travel Guide
Bandung is the third-largest city in Indonesia and one of the most interesting destinations in Java to visit if you want to explore some of the most thrilling natural wonders the island has to offer.
Think striking sulfur volcanoes, incredible hiking opportunities, quirky accommodation options, and amazing city sights. If you love exploring the outdoors but enjoy a good night out as well, Bandung makes for the perfect combination of nature and city goodness.

Things to do when you travel to Bandung
See the most insane crater lake at Kawah Putih
If there's one thing you do when you travel to Bandung, make it a visit to Kawah Putih, an astonishing crater lake set on Patuha volcano. Putih is locally known as the White Crater.
As soon as I stepped foot into Putih, I knew I was in for something really dang special. The striking turquoise tones of the lake made me feel as though I was walking inside a different realm. It was definitely a highlight of my trip to Java!
Even though the actual crater can get quite packed (mostly by locals), there's a really fun canopy walk along the crater. I only came across two people during my whole walk. The "trail" ends at a treehouse-like viewpoint where you can get a much more peaceful view of the lake. You must pay an additional 10,000 IDR to do the walk – a steal for what you get!
And if you want even more privacy, you can hike for around 25 minutes to Sinan Ibu, a viewpoint that no one ever seems to visit! I had the entire place to myself and the most killer 360-degree view of the crater.
Getting to Kawah Putih: Kawah Putih is set some 50 kilometers south of Bandung, but the long drive is worth every second. Plus, the surrounding area has a lot of interesting things to see, so you can pack the day with other beautiful activities after you descend from the volcano.
Getting there is pretty easy – you can either rent a car or scooter and drive yourself or arrange a driver at most hotels and guesthouses in town. Once you get there, you can either walk some 5 kilometers to the rim of the crater or take a shuttle bus for 20,000 IDR each way.
If you prefer to have the logistics of visiting Kawah Putih taken care of, you can also book a tour to the volcano here.
Swim at Cibuni Rengganis Crater
I don't know about you, guys, but volcanoes are something I will never get tired of, and a visit to a totally different volcanic experience was next on my Bandung itinerary.
Cibuni Rengganis is another crater that boasts unreal-looking naturally made hot springs, a few waterfalls you can hike to, and a mud pool. You can easily spend a few hours relaxing, all while being surrounded by the most insane jungle views.
How to get there: Rengganis Crater is easily accessible by road if you have a scooter (note that the last batch of the drive consists of a bumpy dirt road). If you come by car, though, you have to find a place to park your car and walk a few kilometers uphill as the last bit of road is too narrow.
Have lunch on a ship on Patenggang Lake
If you're up for a unique lunch experience, head over to Rancabali, a glamping hotel that is well known for its unique restaurant that was built to look like a ship!
Prices here are on the higher end, but they do also have a few local eateries as well as a weekend market below if you prefer to just wander around the restaurant and then set up a picnic on the shores of Patenggang Lake. Aside from lunch, they also have a lot of interesting experiences on offer, such as boat rentals and offroad adventures through the area.
Did I mention you can also stay here? Rancaballi offers a really cool lakeside glamping experience in the outskirts of Bandung!
Explore Tea Plantations
The outskirts of Bandung are a mecca for plantations of all sorts, but the most scenic ones are definitely the tea plantations! You'll get to see lots of them, especially when driving to and fro the three Bandung attractions listed above.
My favorite plantation in the area was one I found by accident while walking towards the hidden Kawah Putih viewpoint! (pictured below).
Aside from tea, tons of other goodies are grown around Bandung, including coffee, sunflowers, and strawberries. You can visit as many plantations as you wish, many of where you can try your hand at helping out or making your own strawberry milkshakes!
[pipdig_code_1]
Hiring a driver is the easiest way to see as much of Bandung as possible! If you're keen to do that, you can hire one for the day here.
Hike Mount Papandayan
If you are into hiking, a wonderful day trip from Bandung is a visit to Mount Papandayan in Garut, one of the most scenic but lesser-visited volcanoes in Java.
The hike is relatively easy, and it's usually dubbed "the mountain for beginners". Trails are well marked and it's a hike that you don't need a guide to do, but if you prefer to have one, you can book a tour here.
Aside from its striking sulfur crater, something that makes the hike unique is Hutan Mati, an eerie-looking dead forest whose trees were scorched away by lava.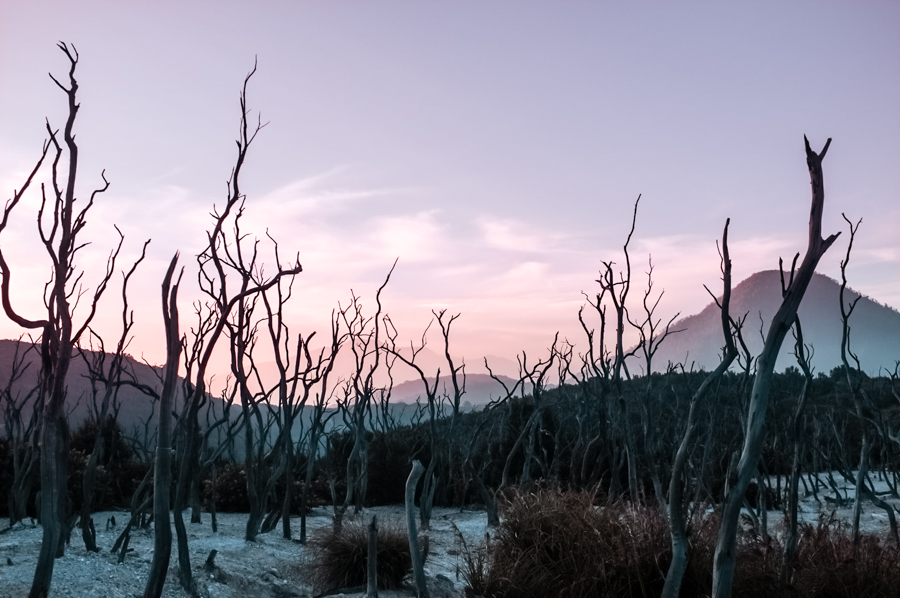 How to get there: The easiest way to get to the volcano is by car, but if you're on a budget, public transportation is possible. First, you must get to Garut by bus at the Cicaheum bus station in Bandung. Once you get to Garut, take a public minibus to Cikajang and tell the driver you're going to Mount Papadayan – he'll know where to drop you off. Once there, you can hop on a shuttle that will take you to the starting point of the hike.
With that said, though, the best time of the day to get to the summit is sunrise, as that will give you the best views. Public transport is unfortunately not an option if you want to get there early, so I either recommend staying in Garut the night before, driving yourself or alternatively hiring a driver to take you to the volcano.
Don't forget to get travel insurance for your trip! As always, I recommend Safety Wing for great prices and coverage abroad. It starts at only $45 USD per month and will have you covered with everything you may need during your trip! Check them out here.
See Deer at Ranca Upas
Rustic mountainside tent campground with a hot-spring pool, outdoor activities & deer.
If you love wildlife, you must visit Ranca Upas when you travel to Bandung! Set in the natural wonderland that is the Ciwidey area, Ranca Upas is famous among locals for the wild deer that roam about.
Aside from that, this rustic mountainside location offers a ton of outdoor activities on the spot as well as a hot spring pool to swim in!
Tip: This is one of the coolest places to stay in Bandung if you like camping and are on a budget! Ranca Upas offers an amazing camping spot (no reservation necessary). If you aren't carrying camping gear with you, you can just rent it from them on the spot. Prices for a double tent start at 150,000 IDR and renting extra gear, like a sleeping bag, costs as little as 5,000.
Marvel at Tangkuban Parahu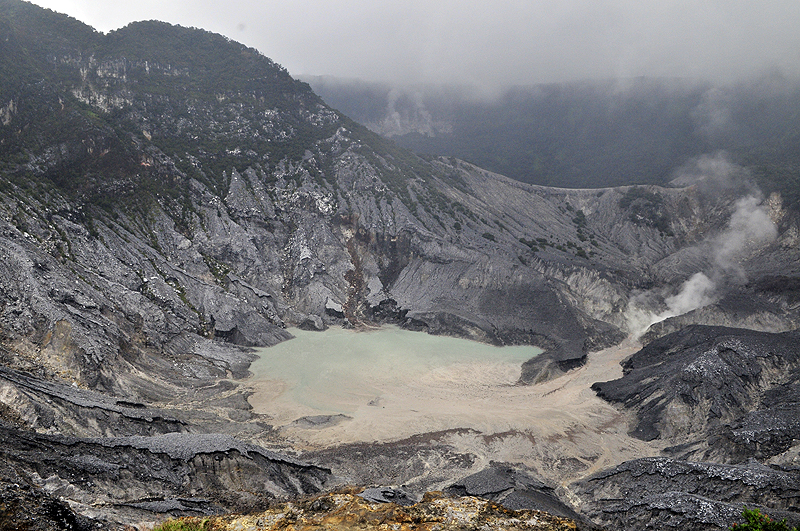 Can you tell I love volcanoes yet? Tangkuban Parahu is another gem of a natural wonder located north of Bandung. Boasting three striking craters, Kawah Ratu, Kawah Domas, and Kawah Upas, this volcano is one of the most active in the area, and thanks to its closeness to the city, it makes for a perfect day trip when visiting Bandung.
Getting there: Getting to Tangkuban Parahu is a bit trickier than the other volcanoes, so I highly recommend booking a tour instead of trying to get there yourself unless you have your own car. This tour offers a visit to the volcano, as well as a relaxing time at some nearby hot springs and a visit to a coffee and a strawberry plantation.
Tips to visit: Try to get there as early as possible to avoid the midday mist. Additionally, I recommend visiting during a weekday to avoid crowds. Plus, the entrance ticket is more expensive during weekends!
Things to do in Bandung City
Do a Photoshoot at Rabbit Town
One thing that has fascinated me about traveling around Java is their selfie culture. And I'm a friggin' travel blogger who has to take hundreds of pictures of a place for a living, so that's saying something.
There are tons of places around Bandung that were created and solely visited to take a picture in, and Rabbit Town is probably the king of them all. I hate to admit it, but I actually had a fun time here, haha!
There are all sorts of themed-rooms that create the perfect photo op, so if you're into Instagrammable spots, Rabbit Town is definitely an interesting place to visit in Bandung City.
My attempt at becoming an Instagram influencer. How did I do?!
How to get there: Rabbit Town is set inside the city, so getting there by taxi, Gojek, or Grab is the best way.
Entrance fee: 65,000 IDR
Hang out in Braga street
Braga Street is often referred to as Parijs van Java ("The Paris of Java") due to its European ambiance, cozy coffee shops, quaint art galleries, chic antique shops, and cozy restaurants and bars.
Some must-visit when exploring Braga Street in Bandung are:
Sumber Hindangan – A vintage restaurant from the 1920s with bread to die for!
Sin Sin Art Shop – An antique shop that dates back to the '40s selling a variety of handmade souvenirs, including traditional puppets.
Toko Djawa – Originally, Toko Djawa was a book shop from the '50s, but it was recently transformed into the cutest coffee shop with a classic atmosphere. It's the perfect place to hang out!
This street is your go-to for a fun night out when you travel Bandung or a prime spot to go coffee shop-hopping if you're a digital nomad and need to do some work while traveling!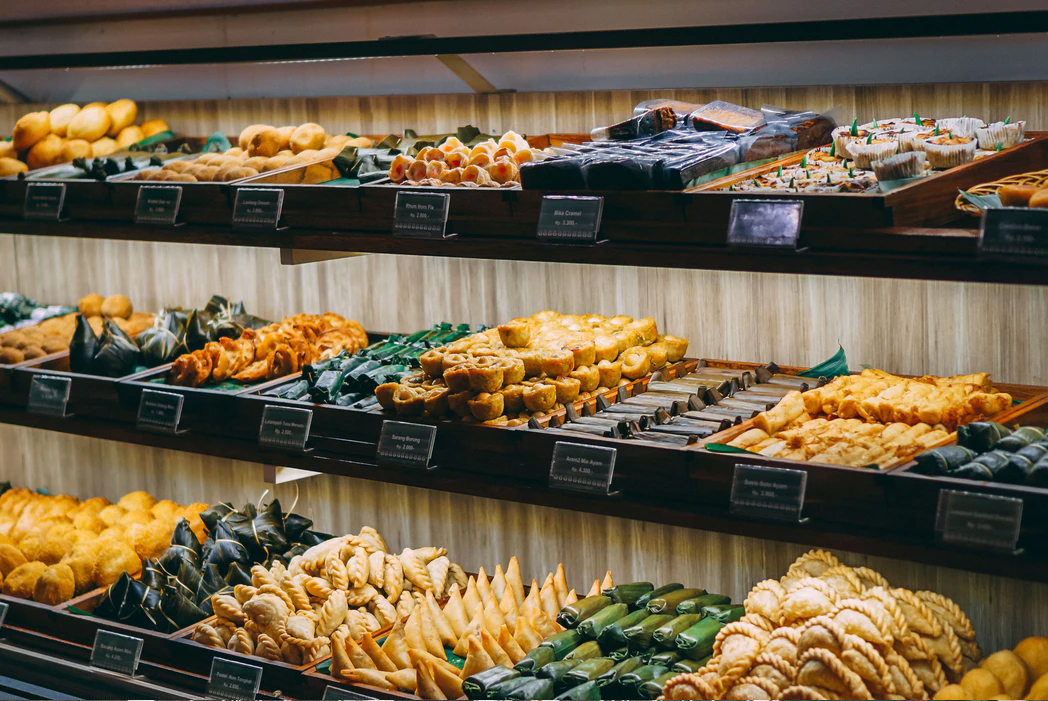 Find Bandung's Doll Maker
It might sound like lame activity, but a great one for those who love a challenge! You have to search really hard and weave your way through alleys to find this artist's workshop. This guy is one of the best handmade doll makers in the country, and he is super friendly and loves showing visitors what his process is all about.
Here's a hint: It's close to Starbucks.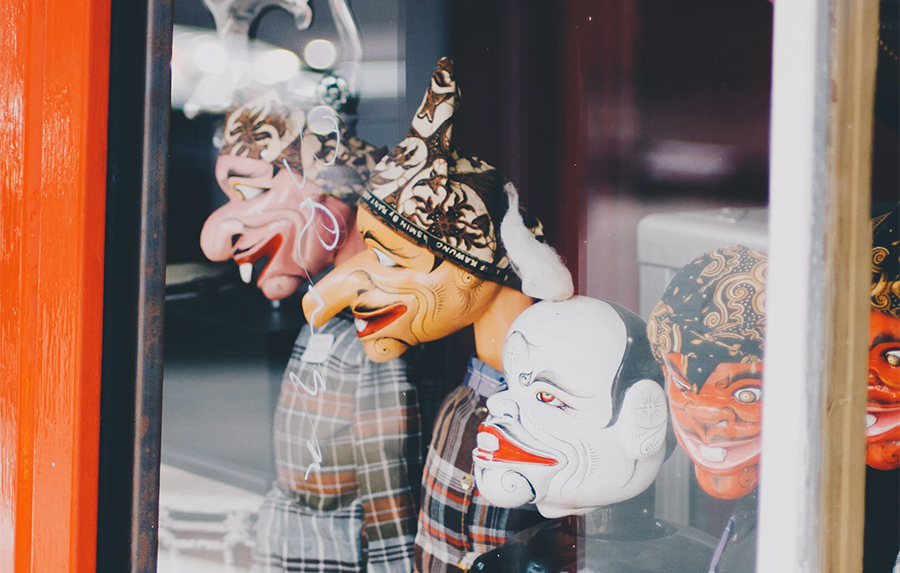 Where to Stay When You Travel Bandung
There isn't a shortage of accommodation options for you when you travel to Bandung. In fact, there are so many that it can be a bit of an overwhelming task. Aside from that, the area you choose to stay in can have an impact on your travel experience, so I'd recommend pinning down the spots you want to visit before choosing a location to stay at when in Bandung. My two favorite spots are Ciwidey for all the nature goodies or Bandung's city center!
Ciwidey Area
If you're traveling to Bandung to check out all its natural attractions, then I highly recommend staying in Ciwidey, which is set south of Bandung. This is where most of the best things to do in Bandung are (like Kawah Putih, Patenggang Lake, and Rengganis Crater, to name a few).
Here are two amazing places to stay at in Ciwidey:
Glamping Rancabali
Set on the shores of Lake Patenggang, Glamping Rancabali is one of those rustic getaway locations in Bandung. Set in Ciwidey, this is the perfect place to stay if you want to have an authentic glamping experience surrounded by all the natural goodness the outskirts of the city has to offer. Think tea plantations all over and mountains as far as the eye can see.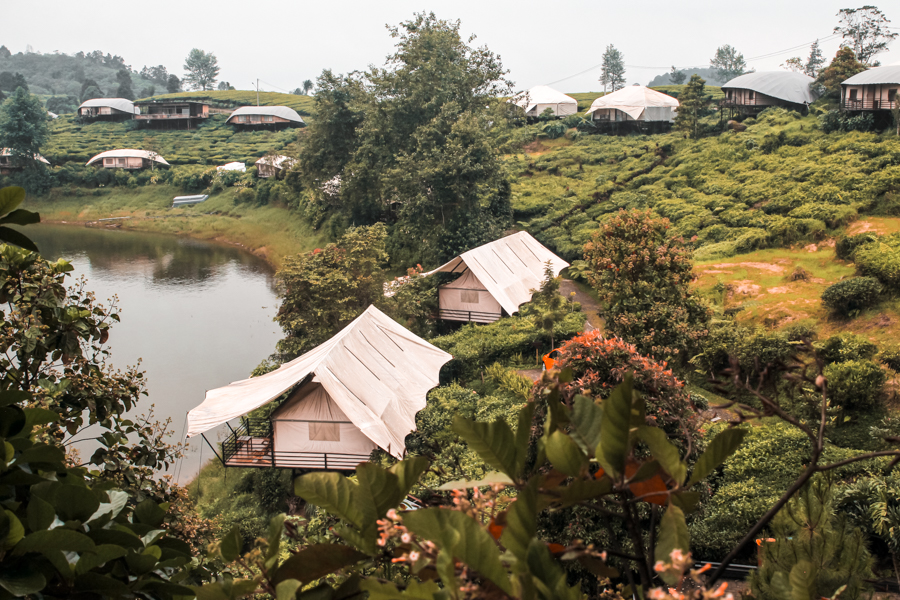 Bubu Jungle Resort
If you want a unique and upscale stay while visiting Bandung, Bubu Jungle Resort is probably your best bet.
Every room at this resort is designed to resemble a gigantic birdcage and it features a pool that overlooks the natural beauty of Ciwidey.
Bandung Town
If you're more of a city kind of person, staying in the center of Bandung is another great option. I recommend looking for accommodation in the Cihampelas area or Braga Street. Here are two amazing (and budget-friendly!) options:
de JAVA Hotel (starting at $37)
Set just a five-minute walk away from Paris Van Java Mall and a short way away from Cihampelas, de JAVA hotel is an affordable luxury option to stay at Bandung city center. The hotel features an amazing rooftop pool to escape the midday heat!
Sukajadi Hotel
If you're into things unique and wonderful, Sukajadi Hotel will definitely please. This hotel boasts an amazing collection of vintage goodies – from trinkets to colonial furniture. It also features a really cozy pool.
How to Get to Bandung
Train
If you're already in Java, the best way to get to Bandung is by train. Not only are train rides around the island incredibly scenic, but they're also very comfortable.
PT Kerata Api is the official name of Java's train operator, and you can easily find a direct train from pretty much anywhere in Java to travel to Bandung, including Jakarta, Jogyakarta, and Surabaya. Getting anywhere by train in Java isn't exactly a fast process, but the breath-taking views really do make up for it.
One thing to note is that trains in Java don't have numbers, but they have names instead, with the highest standard of comfort being offered by "Argo" trains. For booking trains online in Java, I usually relied on TravelLoka, one of the most popular online booking platforms in Indonesia.
Fly
Bandung has a small airport and getting there by plane is possible from other parts of Java and Indonesia as well as Singapore and Kuala Lumpur served by AirAsia.
Another option is to get to Jakarta Airport, which sits roughly 3 hours away from Bandung. From there, you can take a bus to Bandung directly at the airport or take public transport to Gandir Train Station and catch a scenic train ride to Bandung city center.
Travel insurance for Bandung
Don't forget about travel insurance to travel to Bandung! Bandung is a prime spot for adventurous activities in Java, so having travel insurance to back you up is essential. As always, If you're still on the lookout for travel insurance for your trip, I highly recommend Safety Wing. It starts at only $45 a month and will cover you throughout your trip!
How long to stay in Bandung?
Bandung is a mecca for activities, and you could honestly spend two weeks here without getting bored. I recommend allotting at least three days to explore the highlights of Bandung, but if you have more time, stay longer.
If you have a limited time to travel Bandung, then I recommend you choose an area and tackle its attractions. Both north and south of Bandung have a ton of attractions to cover, but the city is so immense that getting from place to place can be time-consuming, and traveling from north to south will take valuable time away from your itinerary. If it's your first time here, I'd recommend focusing on Ciwidey, which is the southern side of Bandung. Here's where you'll be able to find Kawah Putih, hot springs, and more.
Try to visit top attractions (like Kawah Putih), during a weekday and avoid public holidays at all costs. Bandung is a popular weekend getaway destination for Jakartans, so visiting during a weekday gives you better chances to avoid the crowds.
How long to get around Bandung
Scooter: The easiest way to get around Bandung is definitely renting your own vehicle. I recommend a scooter to get around if you're traveling solo or as a couple, as scooters let you weave your way through the ruthless Bandung traffic. Scooter rentals start at 100,000 IDR per day.
Apps: If you're not confident driving, then you can easily move around the city using apps like Grab or Gojek. They're both a cheap and reliable way to get around. Download both apps to have more options and to be able to compare prices.
*** Note that this is the best way to get around IN the city, but for activities that are further afield, it can get tricky to find a ride back to the city.
Hire a driver: I don't think hiring a driver is necessary to go sightseeing around Bandung's city center, but it's definitely the best option to visit locations that are outside the city if you don't want to drive yourself. Having a driver to take you around and wait for you while you visit places means you can tackle as many places as possible. If you're keen to do that, you can hire one for the day here.
And that's my travel guide to Bandung! I hope you find it helpful to plan your trip to the Flower City. I promise you'll love it!
Pin my Bandung travel guide for later!
Disclaimer: This post contains affiliate links. That means that, if you purchase something through my links, I might earn a commission at no extra cost to you. This helps me keep the blog running, so thank you! 🙂