Backpacking Java: A Volcano-Packed Itinerary
What can I say about backpacking Java? If you'd ask me what I thought of the island a year ago, I would have told you I hadn't liked it. Not even a little bit.
My first time in Indonesia was a complete disaster. I caught dengue fever, I caught bedbugs, I lost my phone, my computer broke and I wasted two days trying to find a place to get it fixed. It rained all the freakin' time that even when I did manage to hike Mount Ijen using my weak, weak dengue-ridden body, I couldn't actually see anything other than clouds.
Oh man, I was so PISSED OFF with Indonesia. I remember being on my flight out to Borneo and being all like, byeeee.
But, but, but – I'm very much aware that an experience at a place is circumstantial, so the following year, I thought: Okay, Java, let's try this one more time. And so, I flew there 🙂
I'm really glad I gave Java another chance because my second trip there was pretty freakin' awesome. I hiked volcanoes, saw insane sulfur lakes, and weirdly enough, my favorite activity was actually sitting by the window on the train – you can't beat Java's repertoire of sensational views.
So, yeah, Java. I gave you another go and I'm so glad I did! I know it wasn't your fault that I had a negative experience at first. Well, except maybe the bedbugs lol.
But in all seriousness, I had a fantastic trip the second time around, and here's my full backpacking Java itinerary that you are most welcome to copy. Honestly, there's a lot I didn't get to see, because, there's SO MUCH to do in Java. I really don't think I'd get to do everything it has to offer even if I dedicated an entire year to it, but I felt that this was a pretty well-rounded introduction to the island.
Anyway, enough of my whining and onto the good stuff!
Backpacking Java: A Ten Day Itinerary
Day 1: Tidung Island
Jakarta's busy scene isn't everyone's cup of tea, so if you'd rather skip the bustle and hustle of the Indonesian capital, you can always hop on a boat and get to one of Jakarta's thousand islands instead! This is the perfect way to start backpacking Java, as it's pretty relaxed and the ideal way to unwind, especially if you were on a long flight to get here.
The Thousand Islands are a chain of small islands located north of Jakarta, most of which aren't inhabited. Tidung Island is one of the few that does have tourist facilities and so, you can either stay there, or use it as a base to go island-hopping to smaller islets around it (I recommend the latter!).
How to get there: There are several ports in Jakarta to get to Tidung Island. If you're on a budget, you can head to Muara Angke port, where you'll find motorboats that take around 3-4 hours to get to the island. If you want to get there faster, though, you can head to Marina Ancol, and hop on a speedboat from there (1.5 hours).
Days 2 & 3: Bandung
Next, get back to Jakarta and hop on a train to get to Bandung, the third-largest city in Indonesia. This was my favorite stop when backpacking Java, so make sure not to skip it. We're not here to explore the city, though. Instead, you'll use Bandung as a gateway to some of the most insane-looking volcanoes Java has to offer.
Two days isn't much to explore Bandung's surroundings, so start the day as early as possible. While there is so much to do here, my biggest recommendation is to visit Kawah Putih, an insane-looking sulfur volcano crater locally known as the White Volcano. Cibuni Rengganis is another crater you much visit while in Bandung – it boasts a set of natural hot springs you can soak into with the most insane views surrounding you!
If time allows, you should also check out Mount Papandayan, one of the lesser-known volcanoes in Java! Aside from the beautiful crater at the top, what makes Papadayan so special is the eerie-looking dead forest that surrounds it.
There are so many more things to do in and around the city, so I recommend you check out my Bandung travel guide for more ideas for your itinerary.
YOU MAY ALSO LIKE:
Where to stay in Bandung
The city of Bandung has tons of accommodation options, but I'd actually recommend booking a place to stay in the adjoining village of Ciwidey. The entire area is full of the quirkiest hotels you can imagine, including a glamping hotel next to a lake you should definitely splurge on or a super budget campground where wild deer roam about (Ranca Upas).
If you prefer to stay in the city, though (it does have a pretty bustling nightlife scene), then go for a guesthouse in the Cihampelas area or right on Braga Street.
Don't forget to get travel insurance for your trip! As always, I recommend Safety Wing for great prices and coverage abroad. It starts at only $45 USD per month and will have you covered with everything you may need during your trip! Check them out here.
Day 4: Train to Yogyakarta
After an adventure-ridden couple of days, getting to ride the long train journey to Yogyakarta is a perfect way to unwind. One of my favorite things to do in Java was sitting by the windows on trains and enjoying the striking views the island has to offer.
There are several trains available throughout the day, and the journey can take anywhere from seven hours to up to ten depending on what route you book. For exact timetables and online bookings, you can head over to Traveloka.
Days 5, 6 & 7: Yogyakarta
Yogyakarta is sort of like the art capital of Java, and if you're anything like me, you won't be able to get enough of all the street art and wall murals splattered all over the town.
Day 1: There's so much to do in and around Yogyakarta, which is why'll you'll need to dedicate at least three days to it if you want to scratch more than just the surface. On the first day, you can explore the city center – some of the highlights are Sumur Gumuling, a pastel-colored underground mosque, as well as Taman Sari, a bathing complex, and of course the many art galleries around town! Moreover, I also recommend checking out a few Batik shops and the museum if you want to learn more about this traditional Javanese fabric. Yogyakarta is a student town, so it has a pretty bustling nightlife which you can enjoy at Malioboro street.
Day 2: You'll rise at 4 AM to visit Yogyakarta's most famous sights: Prambanan and Borobudur. Prambanan is the largest complex in Indonesia, and its a Hindu temple, whereas Borobudur is Buddhist. Expect to spend at least two hours exploring each temple and make sure you make a quick stop at the Chicken Church near Borobudur. Yes, it's exactly what it sounds: A church shaped like a chicken. You can have a coffee and a quick bite here as well.
Day 3: You can choose between heading to some of the nearby beaches, hiking Mount Merapi (ask at your hotel about it, since the hike is not always possible due to the volcano's constant eruptions), or visit the dreamy Kalibiru National Park.
Where to stay in Yogyakarta
I stayed at Nextdoor Homestay, a small but lovely guesthouse with a cozy pool, lots of outdoor space, and lovely decoration. I really enjoyed staying here and found it great value for money. The breakfast was delicious and their team was so helpful and accommodating. They even packed my breakfast for me one evening because I was leaving Yogyakarta very early in the morning! You can book your stay here.
Day 8 & 9: Malang
Take the Malioboro train to Malang as early as possible so you can get there in time to explore the city. Malang is such a gem of a place! Most people don't really have it on their Java backpacking itinerary, but it was one of my favorite places on the island. One of the must-visits is Jodipan, a village splattered with bright colors where you can get lost in for a couple of hours. Next to it, there's yet another village that is completely painted in shades of blue like the city of Chefchaouen in Morocco.
If you have extra time and want to explore the city, I highly recommend checking out the Coban Rondo Labyrinth as well as the Angkut Museum, where you'll find tons of vintage cars, old airplanes, and train carriages.
The following morning, head to Tumpak Sewu, one of the most the best waterfalls in Southeast Asia (and that's saying a lot because the area is home to some of the best ones in the world!).
Day 10: Mount Bromo
From Malang, you can start your visit to Mount Bromo already, which I'm sure is one of the reasons you're planning a trip to Java in the first place. Every single guesthouse and hotel in Malang offers Bromo tours, so you don't have to worry much about the logistics from here.
The journey to Bromo typically starts at 2 AM so you can reach the top for sunrise, so make sure you take your last afternoon in Malang easy and get lots of rest.
After you've descended Bromo, you can continue on to Kawah Ijen or Bali, or you can hop over to Surabaya Airport, where you'll find international flights to other spots in Indonesia and Southeast Asia.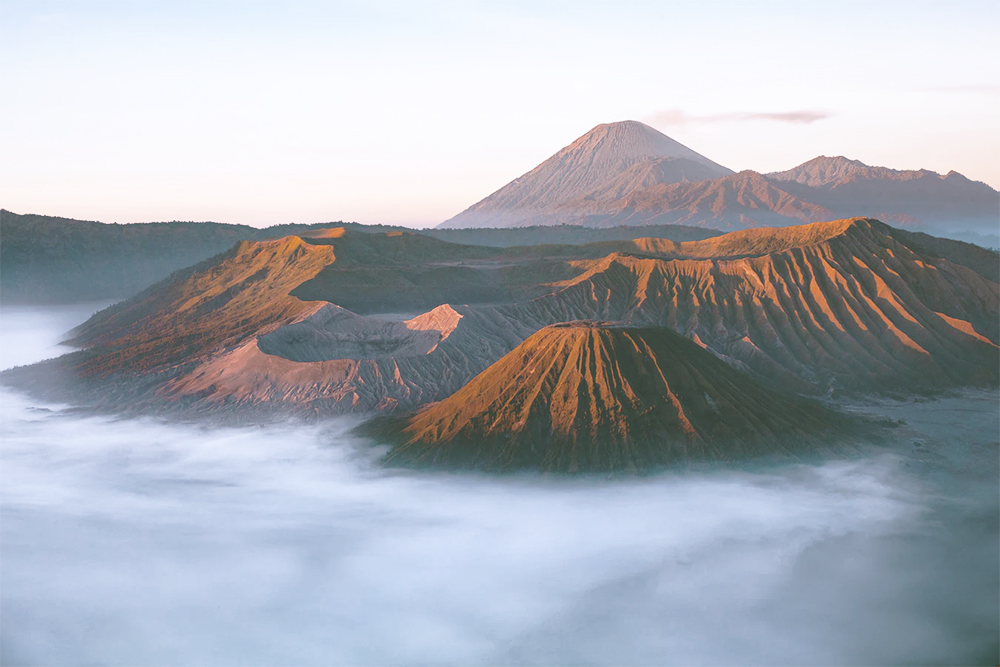 Why is Mount Ijen not on this Java itinerary?
I know, I know. Kawah Ijen is probably the most quintessential spot in Java. I realize it seems pretty weird that I didn't include it in my itinerary.
Here's the thing. While you definitely should visit if you really want to and have the time to spare, Ijen would actually be the spot in Java that I'd skip if you are short on time in Indonesia. I know it's on everyone's Java bucket list, but I honestly didn't like the experience at all. It gets really crowded, and I somehow felt like we were making the miners' jobs even harder than it already is because they could barely wade their way through the crowds of visitors (read more about the sulfur miners of Ijen here).
Don't feel bummed, though, because the volcanoes around Bandung are very similar and much less crowded than Mount Ijen anyway!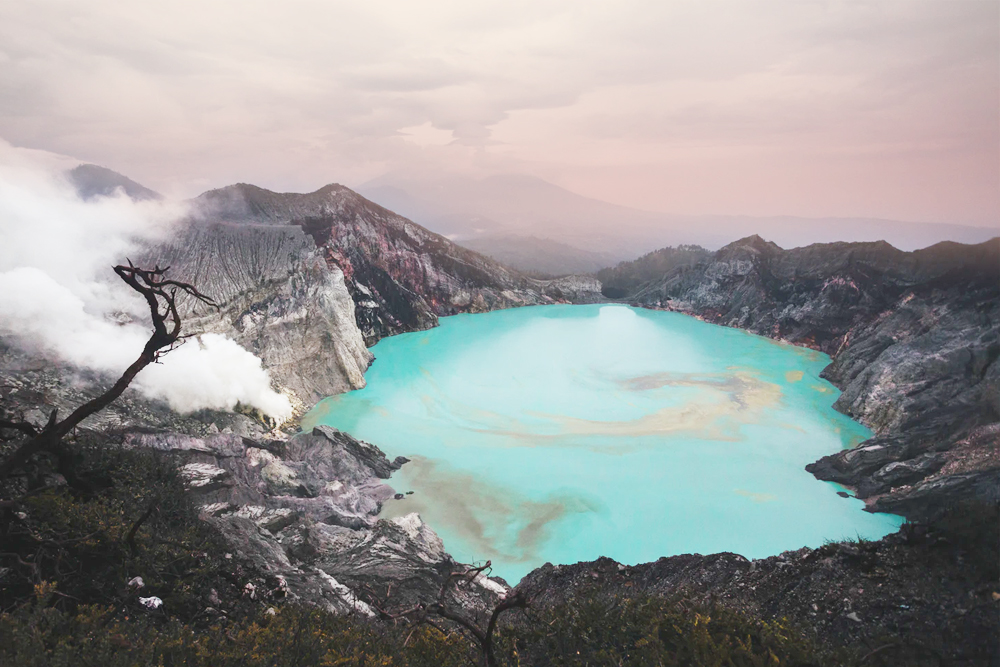 Tips for backpacking Java
Don't let the hot weather in the cities fool you. Java can be a pretty cold place, especially when in high altitude, so make sure you pack warm clothes as well, especially for Mount Bromo.
Java has a majorly Muslim population, so avoid wearing revealing clothes. I found that a long skirt/dress and a cute top always did the trick while still keeping me fresh.
Always carry toilet paper with you because it's not really available at toilets here (or do as they do as use your left hand to wipe!). Toilet paper is widely available in shops because it's sort of used like napkins here, so you won't have trouble finding it.
Because of what I said above about toilet paper, make sure you use your right hand for everything (paying, handing out stuff, eating, etc). It's seen as extremely impolite to use your left hand in most of Indonesia.
Tap water in Java isn't safe to drink. If you want to keep it safe, buy purified water or better yet, get yourself a GRAYL bottle. It's a water bottle that purifies tap water in just a few seconds! It saves you money in the long run and helps you reduce your plastic footprint.
Getting around Java
The absolute best way to backpack Java is by train. I loved, loved, loved doing it – they never get boring! There are several classes available and I usually went on the economy trains, which I found very comfortable. Most trains have plugs, too!
You can book all your train journeys using Traveloka, that's what I did. They take card payments, but it doesn't work with every card, so if you do struggle to get your payment processed, you can just get a booking code and make the payment at corner shops like Alfamart.
Travel insurance for backpacking Java
Backpacking Java is pretty-action packed, so having good travel insurance is a must. There are tons of insurances out there that don't really cover adventure activities like hikes over a certain altitude, so make sure you double-check your policy.
If you're still on the lookout for travel insurance for your trip, I highly recommend Safety Wing.
Have more time in Indonesia and not sure what to do after backpacking Java? A super cool place to head to next is Sumatra, where you'll get to see yet another side of this diverse country, and ORANGUTANS! Head over here to read all about seeing orangutans in Sumatra.
Disclaimer: This post might contain affiliate links. This means that, if you make a purchase through my links, I might earn a commission at no extra cost to you. This helps me keep the blog running, so thank you!
PIN THIS POST FOR LATER!