Things to Do in Bukit Lawang: Orangutans, Humongous Flowers, and More!
Confession: I had no idea Bukit Lawang even existed until just a few days before I actually got there.
Okay, no, I didn't just randomly hop on a flight to get to Bukit Lawang, but I was already backpacking Java and had booked flights to return to visit Borneo, because orangutans are, like, one of my favorite animals (even though I say that about all animals).
But then my flight to Borneo was canceled and so, I decided to fly to Sumatra instead!
2020 has been havoc of all sorts (and I'm sure you guys agree with me!), but one of the few good things that happened was getting to spend three entire weeks in Bukit Lawang. I'm so, so thankful for that.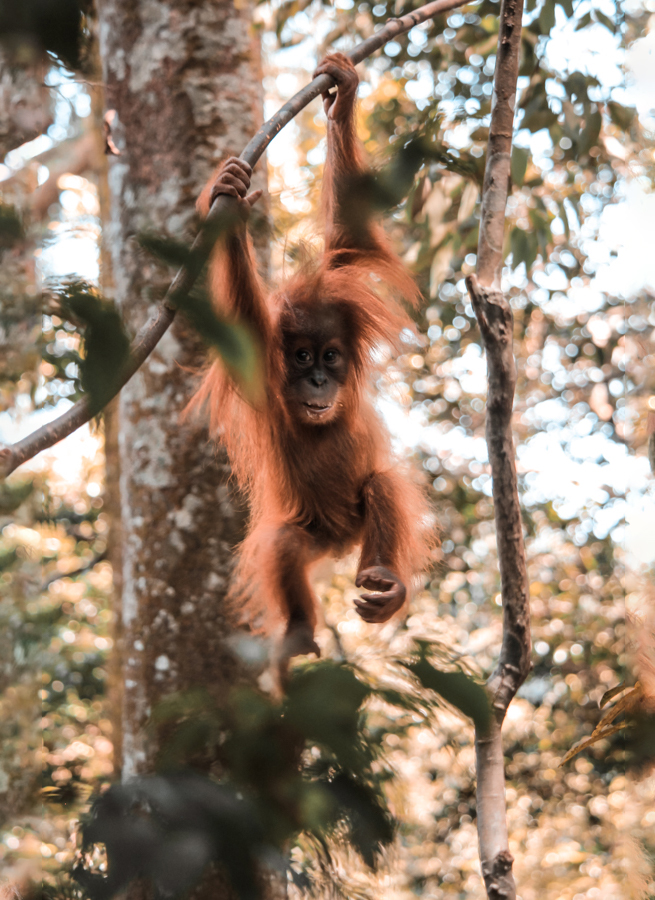 I got to see wild orangutans. I got to sleep in the jungle. I stood next to one of the tallest flowers in the world. I got to stay at the most amazing lodge where orangutans would randomly stop by. I could go on forever, but seriously, for wildlife enthusiasts like myself, a place like Bukit Lawang is pretty hard to beat.
Not only is getting to see orangutans roaming freely in the jungle one of my best travel stories to date, but the overall experience of staying in such a fascinating place in Sumatra was a life highlight.
Most of the people I met here were only staying for the orangutan trek and continuing to other destinations in Sumatra, but there's so much more to do here and I hope this guide inspires you to linger a while longer.
Things to do in Bukit Lawang
See Sumatran orangutans in the jungle
The chance to see Sumatran orangutans is probably the main reason you're even visiting Bukit Lawang, so of course, a trek through Gunung Leuser National Park had to be at the top of my list of things to do.
Because I stayed so long here, I actually did a few treks. Most tour companies in Bukit Lawang offer half-day treks, all the way up to five day long treks. In case you're wondering what trek to pick, here's an overview of what they're like!
---
See semi-wild orangutans (one & two days treks)
You're probably wondering what semi-wild means, exactly, so let me just quickly explain that: The orangutans that reside around Bukit Lawang weren't always wild. Back in the 70's, Bukit Lawang was famously known for its orangutan rehabilitation project – its aim was to release captive orangutans into their natural habitats.
Once they were released back into the jungle, they continued to be monitored and given food from a feeding station. A few years later, the orangutans were able to survive on their own, so the feeding station was closed and they lived happily ever after! This is all thanks to the work of the Sumatra Orangutan Conservation Programme (SOCP).
So, yeah. Pretty cool, huh? That said, though, some of those orangutans don't really stray too far from the village, and so, it's not too hard to spot them. Yes, they even have names, and tour guides are pretty well acquainted with the personalities of each orangutan around the area.
Half day treks usually last 7-8 hours, and you'll be back in the village around 3:00 in the afternoon. On the two day trek, you'll get to spend one night at a camp in the jungle next to the river. They both end with a tubing adventure down the river. I found them both to be pretty much the same experience, except for the camping.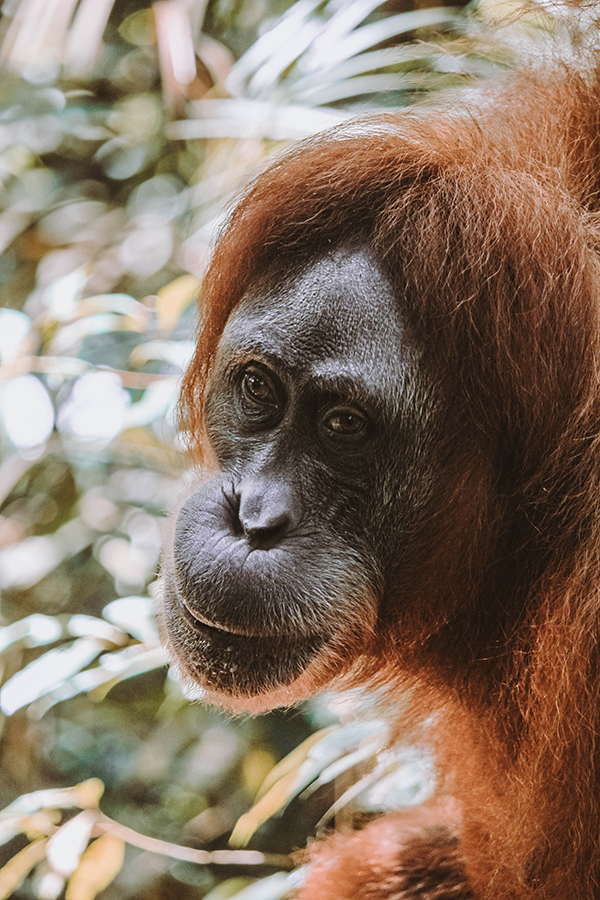 ---
3+ day treks
If a two-day adventure isn't enough, you can always opt to book a longer trek! These treks tend to be much more relaxed, as most people just do the two-day trek, so if you book a longer one, you'll get to enjoy the jungle without randomly stumbling across other tour groups.
Plus, three-day treks take you much deeper into the jungle, so you'll get to see wild orangutans, as well! Most tour companies offer treks up to five days – I didn't do such a long one (but definitely plan to the next time I visit), but going that deep into the national park gives you chances to see other animals like elephants and hey, if you're like, extremely lucky, maybe even a Sumatran tiger!
Of course, while orangutans are the stars of the show, you'll get to see a ton of more animals during your treks! I was so lucky to get to see gibbons, a hornbill chilling on a tree, lots of macaques, and my new favorite monkey species, the Thomas leaf Monkey.
Search for the biggest flower in the world!
One of the things about Sumatra that I found extremely enthralling was how everything always looks a bit, surreal? Like, it's either too big, or too colorful, or too small.
Sumatra is home to the largest flower in the world, the Rafflesia, and it looks like this: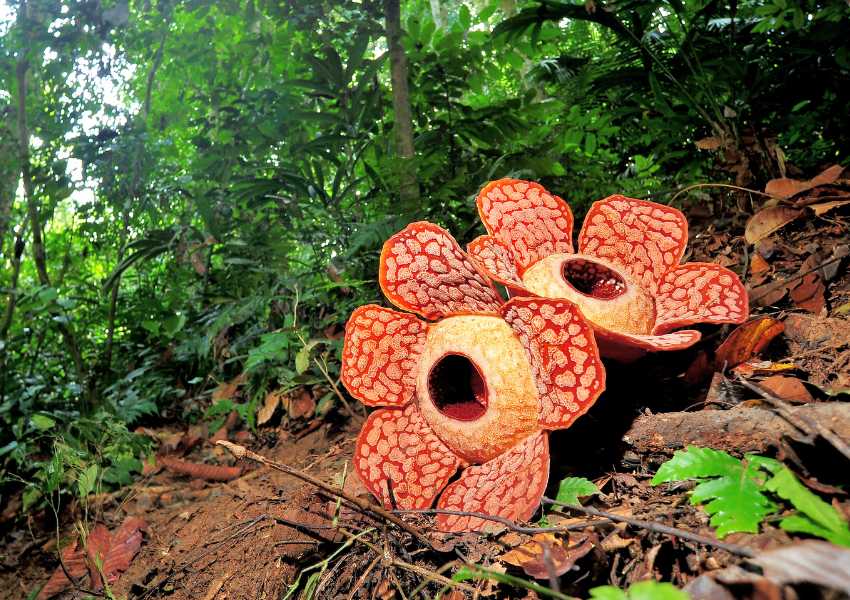 How awesome is that?! It's often called the "corpse flower" or the "monster flower" because of its foul smell that attracts insects. I didn't get to see one, unfortunately, because the rafflesia bursts into flower and pretty much dies within a few days.
So yeah, getting to see one is pretty much a matter of luck. I actually arrived two days late to see one that had just died, bummer! Ask your guides about it, and they'll contact someone in the nearby villages to check if someone has seen one in the last few days. If you do get to spot one, take a picture and send it to me, I'll be very jealous! 🙂
And one the tallest flowers, too!
As if being home to the largest flower in the world wasn't enough, Sumatra also has one of the tallest flowers, too! It's called the Titan Arum and much like the Rafflesia, getting to see one is a matter of luck because it blooms and dies within a few days.
I got to see one but it hadn't bloomed yet, but look at how humongous it was already! I trekked for around four hours in the jungle to get to see this beauty, and it was totally worth it. I hope to see it in full bloom the next time I visit.
Check out this amazing video to learn more about the Rafflesia and the Titan Arum, they're extremely fascinating creatures!
See hundreds of bats inside a cave
If you're up for something different, but you still want to explore the nature around Bukit Lawang, then a side trip to the Bat Cave is a must!
I've never seen so many bats in my life – there were hundreds of them all over. I also got to see spiders, centipedes, birds, and even fish.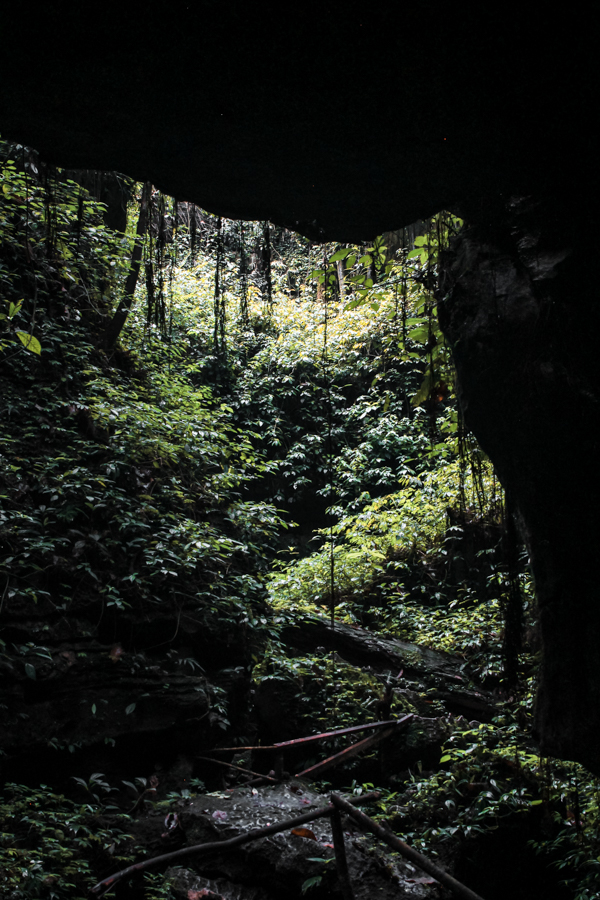 The cave looks pretty small at first, but it's actually made up of three different chambers, which look pretty mystical on the spots where the sun shines through the sinkholes.
Getting to the bat cave takes a 25-minute walk through the forest starting from Ecolodge, you can get there independently (use maps.me), but you can also book the day trip with an agency in Bukit Lawang if you prefer (they usually include a BBQ at Landakan river after visiting the cave).
Don't forget to get travel insurance for your trip! As always, I recommend Safety Wing for great prices and coverage abroad. It starts at only $45 USD per month and will have you covered with everything you may need during your trip! Check them out here.
If you decide to get to the caves on your own, there are guides waiting to take you in at the entrance. Even though you technically can explore the cave on your own, I highly recommend hiring a guide, especially if you want to get deeper in – it's dark and tricky! The entrance fee is 25k, which includes a guide and a flashlight.
Make coconut oil
Coconut oil is super important in Bukit Lawang – for cooking and skincare purposes alike, and you can learn to make your own at a traditional homestay.
You can book a coconut oil class with Sumatra Orangutan Discovery.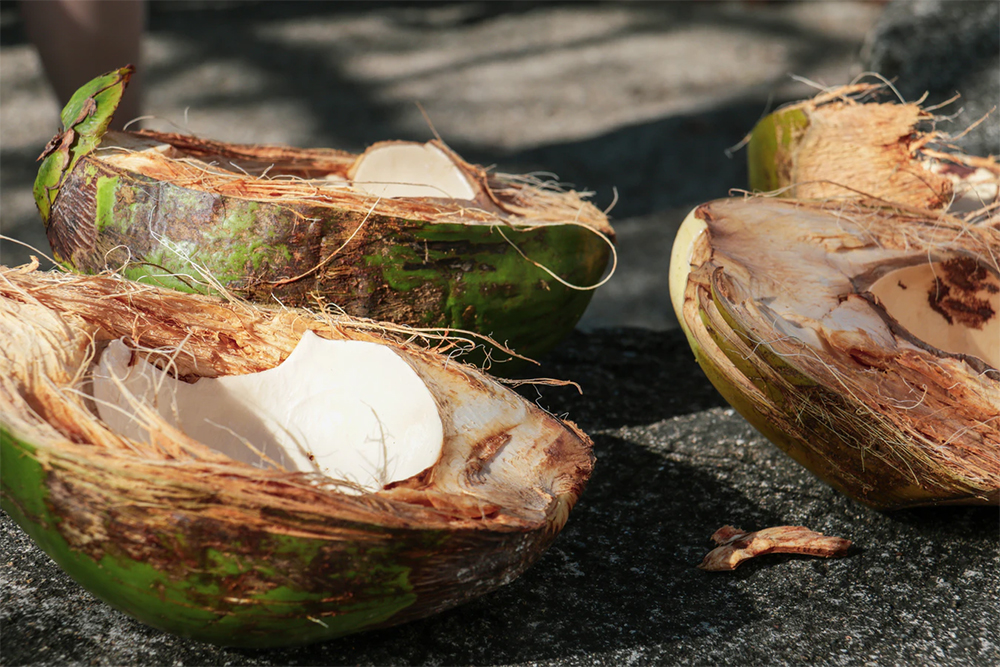 Learn how natural rubber is made
I think one of the most humbling aspects of Bukit Lawang is how interconnected they are with nature. Mosquito spray? Not a thing here, they know which plants to grab and rub over their skin to keep them away! Traditional medicine is also very much a thing in the village, so don't be surprised if you get a headache and the people at the hotel offer you a natural remedy instead of paracetamol.
With the increase of palm oil plantations, many residents of Sumatra have lost their homes, and while many do work in the palm oil industry, there are others that make a humble living by extracting natural rubber from trees. This isn't an activity per se, because you'll see these trees all over Bukit Lawang, but do take a minute to observe how rubber is extracted! They cut genty into the rubber trees and let it drip overnight into a coconut bowl. I found it fascinating, and also, it's stinky, so your nose will let you know when you're near a rubber plantation.
Take a cooking class
Sumatran food is super tasty! From the classic Nasi Goreng to spicy curries and delicious desserts like Bubur jagung, food doesn't really get boring here if you try a different dish every day.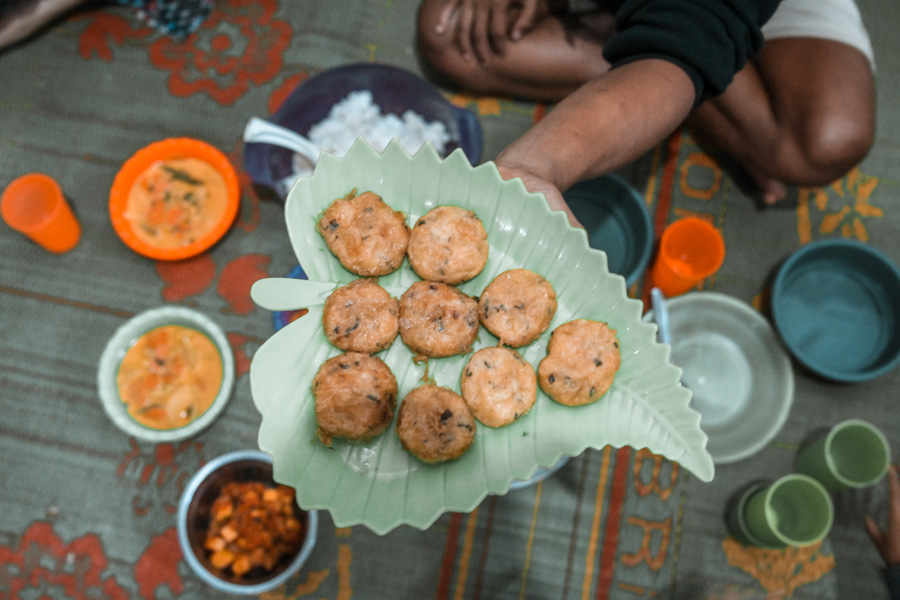 I'm not a great cook and one of my goals this year was to learn how to make a few dishes from my trips, so I decided to book my first ever cooking class! Not only was getting to prepare three different Sumatran dishes a great experience, but the class took place inside the cook's home and we later ate the food we prepared with his family, so it was a great way to get immersed into the day to day life of the village.
I booked my cooking class with Sumatra Vibes, because they offer cooking classes for vegetarians, but if you'd rather learn how to make meat-based dishes, you can book with Ellie at Sumatra Orangutan Discovery.
Explore the village
If you ever get tired of endlessly trekking the jungle and want to relax a bit, you should definitely spend a day or two just exploring the village – there are so many things to do here despite its small size!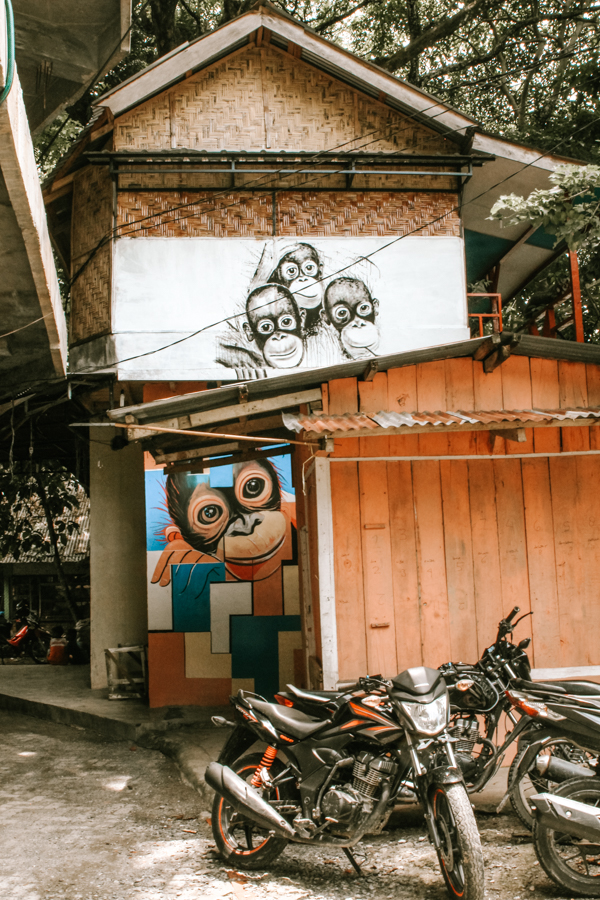 Here are a few of the best things to do in Bukit Lawang:
Friday market – Every Friday, a typical market is held in the village next to Bukit Lawang (near the bus station). I definitely recommend heading here to get a taste of the cultural aspect of life in the area. It runs until 4:oo pm, but I recommend getting there early in the morning as there is more going on and you'll also get to see how the farmers bring in the rubber to sell.
Movie night at Ecolodge – If you're up for a quiet night, Ecolodge hosts movie nights every Saturday. You don't have to be a guest to join.
Shopping in the village – Bukit Lawang is home to many artists, so you can buy all sorts of trinkets and souvenirs to bring back home. I bought two orangutan paintings as well as a few dresses!
Go on a night trek
The jungle is a completely different world at night, and I was set on getting to see a slow loris during my visit. Most companies don't advertise night treks, but asking goes a long way! I ended up asking Ellie, the co-owner of Sumatran Orangutan Discovery and she organized it for me and even joined in. Sadly, I didn't get to see a slow loris (they're really hard to spot), but we did see snakes, glow worms, and many birds!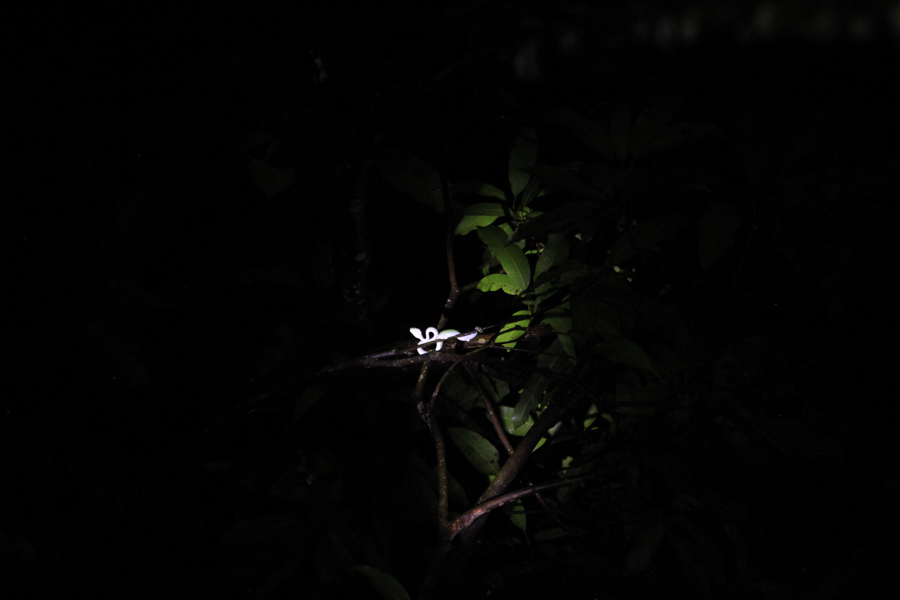 Where to stay in Bukit Lawang
I spent three weeks in Bukit Lawang, and I stayed at several different accommodation options in order to review them for you, guys! All in all, I felt accommodation in Bukit Lawang provides great value for money. You can stay at some pretty fancy places for anywhere between $23-$30 USD a night, but if you're on a budget, you can find very nice private rooms for as low at $4 a night!
On The Rocks
If you want to stay right in the heart of the jungle, then On The Rocks is your go-to! It's set right on the outskirts of Gunung Leuser National Park, so staying here is for those who want the real deal. It's still pretty luxurious, but extremely affordable and offers the best views EVER.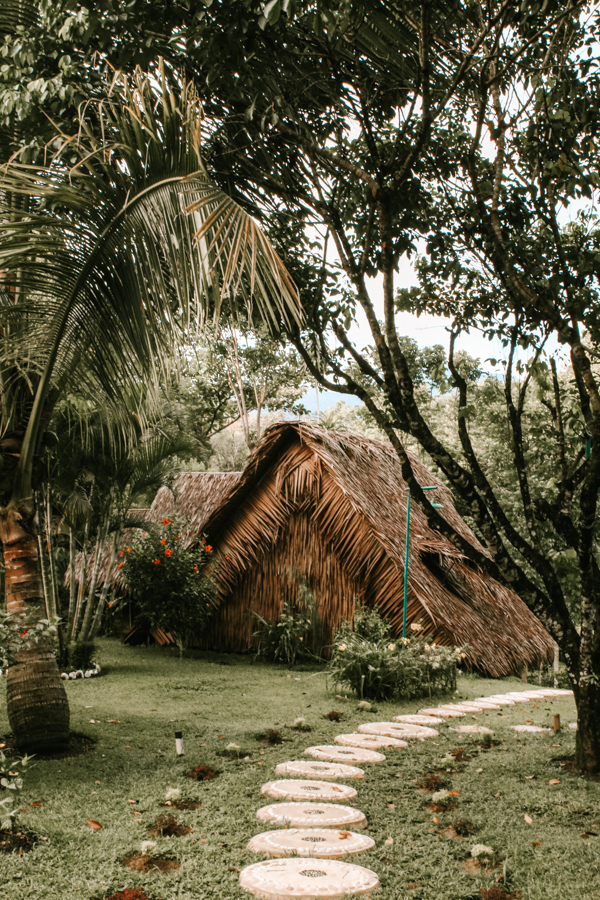 I stayed here two nights and was super lucky that a mama orangutan and her baby decided to set up their nests right on a tree in front of the lodge's restaurant. Also, on my very last day, a troop of Thomas Leaf Monkeys decided to play outside my room's balcony!
The downside of staying at On The Rocks is that it's not in town, and to get up there you have to climb a pretty steep flight of stairs. It's totally fine in the evening (the way was well illuminated), but expect to sweat like crazy if you want to climb up there during the day. You've been warned! It's totally worth it, though. Book your stay at On The Rocks here.
Sumatra Vibes
If you're looking for a budget place to stay OR a place that will give you more of a local feel, then you can stay at Sumatra Vibes eco-house.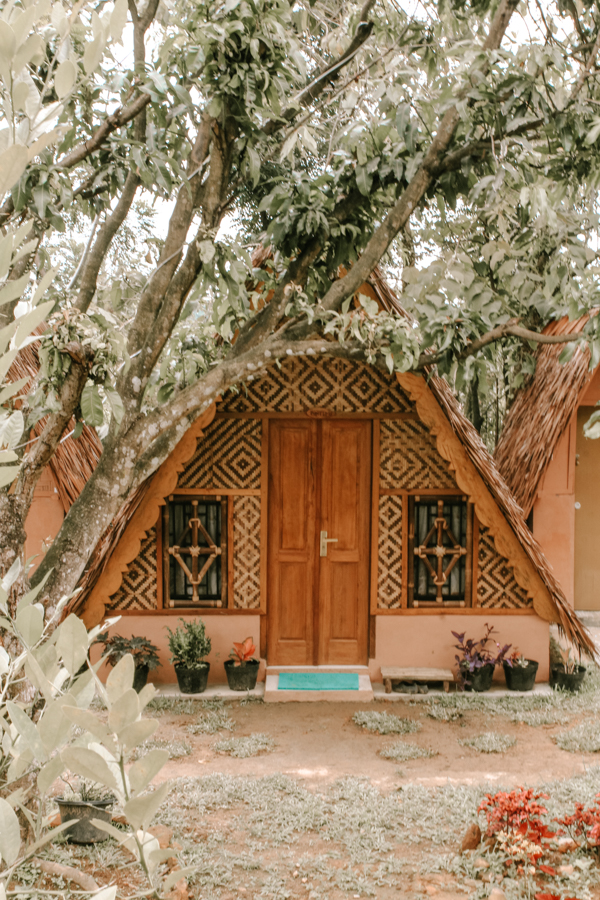 Their Sumatran styled huts are located in a lush garden and everything is made out of locally handcrafted wood and bamboo. The price for a room for trekking guests is of 50,000 IDR/night or 100,000 IDR/night if you don't book your treks with them. I really enjoyed staying with Peggy and Risky, they always went above and beyond to make my stay as comfortable as possible, and even invited me to a wedding one night! Book your stay at Sumatra Vibes here.
Ecolodge
Ecolodge is probably the most luxurious place to stay in Bukit Lawang (but still very affordable). It's set on the best location in the village (right between the jungle and the river). I absolutely loved it there!
They also have an amazing bamboo-style restaurant, which was the highlight for me – the upstairs area is usually empty and has hanging chairs and poufs to chill at – it's a great place to meditate, kick in a yoga session, or sit down to read a book at. The WiFi is great here, too, so it'd be my #1 recommendation for digital nomads (all seats at the restaurant have plugs as well!). Book your stay at Ecolodge here.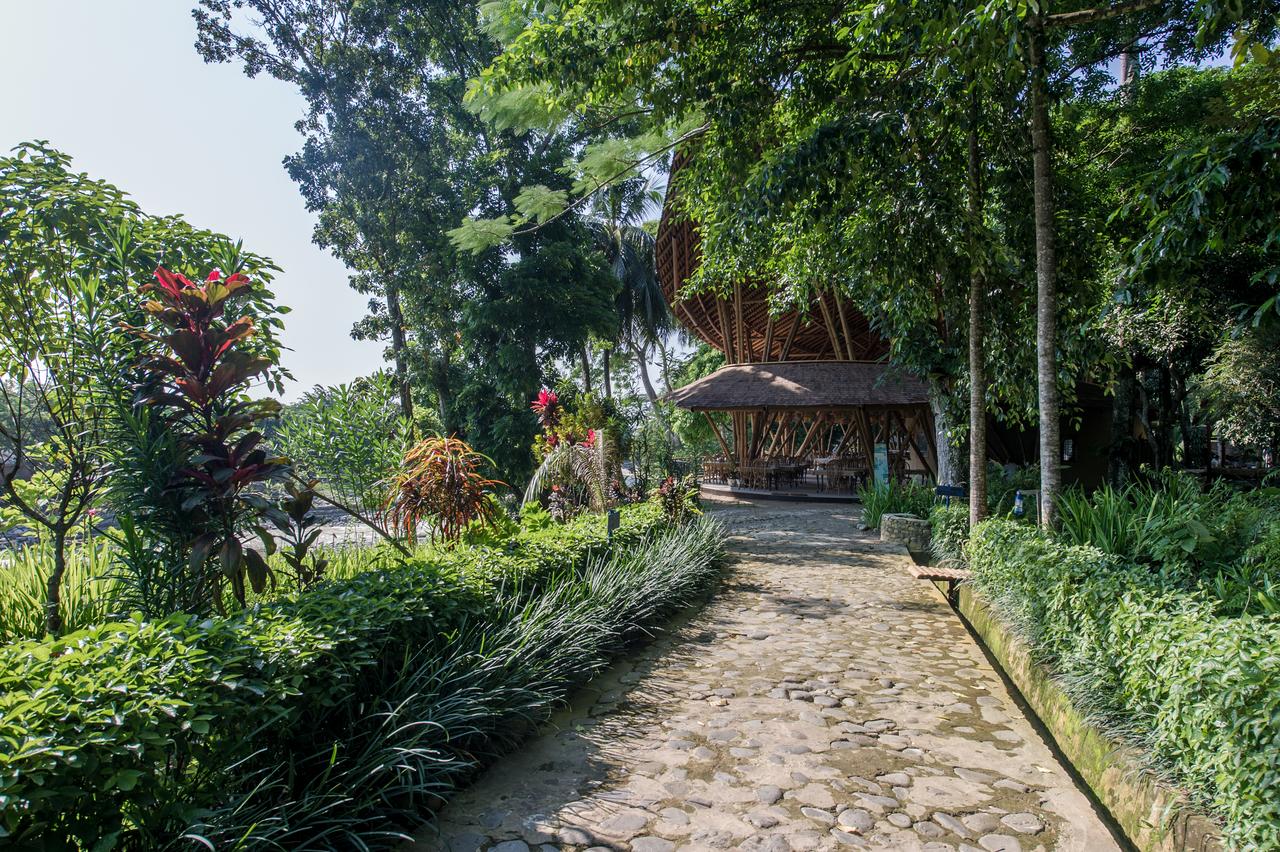 Note: I'd avoid staying here during the weekends. The restaurant across the river LOVES hosting karaoke nights and it gets extremely loud. I feel sorry for Ecolodge, because it's really not their fault, but it is what it is.
Villa Paradise
If you're looking for something a tad more quiet and away from the hustle and bustle, Villa Paradise is a great option. This small hotel is located on the outskirts of Bukit Lawang in a much more relaxed area and offers just three bungalows, so you can expect a really peaceful stay.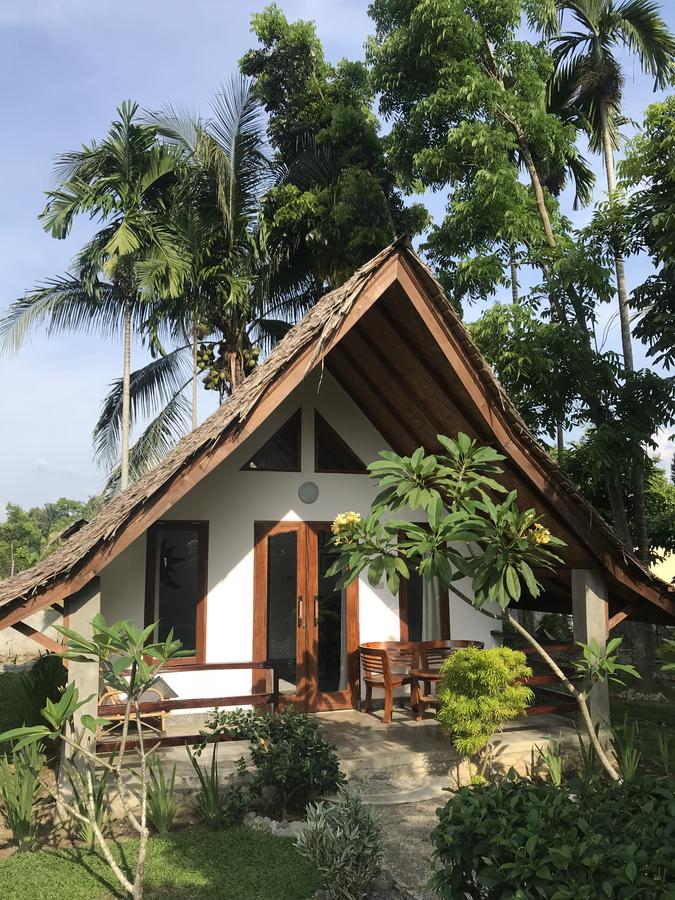 It's also great if you don't want to worry about macaques coming over to steal your stuff, ha! I stayed here for the first three nights in Bukit Lawang and really liked it, especially their outdoor showers. They offer free bikes to use, so getting to Bukit Lawang is not an issue. Book your stay at Villa Paradise here.
Medan to Bukit Lawang: How to get there
To get to Bukit Lawang, you must fly into Sumatra first. The nearest airport is Kualanamu International Airport in Medan. Several airlines provide direct flights to Medan from other parts of Indonesia, as well as Kuala Lumpur and Singapore. To find the cheapest fares, I recommend heading over to Skyscanner.
Once in Medan, you have several options to get to Bukit Lawang:
Public Bus: If you're on a budget, a private bus is the cheapest way to reach Bukit Lawang, but the journey can take up to six hours and it's not exactly comfortable. From the airport, you can catch an ALS bus to Binjai, which runs every 30 minutes (40K IDR). Once in Binjai, you'll find small buses going to Bukit Lawang (30K IDR approx).
Another option is to get to the center of town to Pinang Baris station, where you'll find direct buses to Bukit Lawang. The journey takes about 4 hours in total.
Tourist bus: A faster and more comfortable option is the tourist bus, which you must arrange with a tour agency in Bukit Lawang. A driver will pick you up at the airport so as long as you arrive within their schedule. Cost: 200K per person. If you arrive at night, I recommend staying near the airport and then taking the tourist bus the next morning. I stayed at My Studio Hotels.
Private transfer: You can book a private transfer upfront and get picked up at any time, anywhere in Medan, and transferred directly to Bukit Lawang: Cost: Around 600k per car.
Recommended Tour Companies in Bukit Lawang
Orangutan treks in Bukit Lawang can be both ethical or unethical, and it will all come down to which company you decide to book with,
One of the things that appalled me during the treks I did was watching guides feeding the orangutans, as well as provoking Jackie (one of the most famous semi-wild orangutans of Bukit Lawang) to grab tourists' hands. Jackie wasn't always wild, so she is used to humans and has learned to "kidnap" tourists in exchange for food, so a lot of guides tempt her with food in order to give guests their "selfie" experience.
Here's a video of what I mean. It DOES look like an amazing experience (of f*cking course I'd like to hold hands with an orangutan, who wouldn't?!), but it can be very harmful to them. Jackie recently had a baby, who *is* wild, so it's likely that he'll start imitating her behavior. This would affect his ability to survive in the wild on his own. Moreover, the chemicals in our sunblock/mosquito spray can hurt them, not to mention that orangutans share 96.4% of our DNA, which makes them prone to catching diseases from us (and vice versa).
DO NOT just book your jungle trek with anyone. There are tour companies in Bukit Lawang who actually care about the well-being of the orangutans, two of which are Sumatra Orangutan Discovery and Sumatra Vibes. They have a strict no feeding/no touching policy, which is essential!
Things to know about visiting Bukit Lawang
There are not ATMs in Bukit Lawang, so make sure to bring enough cash. The nearest ATM is located in Bohorok, which is a 15-20 minute ride away, so it's not a huge issue if you do run out. Another option if you don't want to drive out is to withdraw money at Ecolodge (they charge a 5% fee).
Power outages are common, but I didn't really feel like they affected my stay at all. Most of the time, they lasted an hour, tops.
I didn't have issues finding good wifi. I mention it because I did read a ton of guides on other blogs before I got there and everyone seemed to mention WiFi was hard to come by, but I didn't struggle at all. If you, like me, work while traveling and need good WiFi and a cozy place to work, I recommend heading over to Ecolodge – it has great coffee, fast wifi, kickass views, and plugs on every corner!
The bridges aren't as scary as they look. Sometimes to get from A to B, you're going to have to walk over hanging bridges to get to where you want to go – it might seem super scary (or maybe I'm just a complete wimp) but they're completely safe. After a while, I was riding my bicycle over them like it was nothing!
Don't stay here just for the orangutan trek! Most people who visit Bukit Lawang just stay here for two days in order to do the orangutan trek, but I recommend staying at least five days if you have the time. I stayed for three weeks and didn't get bored at all. As you probably noticed above, there are a ton of activities and things to do in Bukit Lawang.
Shoes for jungle trekking: If you're going to do the jungle trek, I really recommend purchasing a pair of rubber shoes here! Seriously, they're AMAZING for it and super cheap. They're definitely not a fashion statement, but they're the best shoes to trek in the national park – all the guides use them.
Travel insurance for Sumatra
Sumatra is a wonderful destination, but it comes with its own dangers. You don't want to hurt your leg while jungle trekking and need to be transferred to Medan or Jakarta without any insurance. → If you're still on the lookout for travel insurance for your trip, I highly recommend Safety Wing.
I hope my guide to Bukit Lawang helped you plan your trip to this wildlife paradise! I know I'll definitely head back there at some point, so feel free to leave any comments with extra tips + fun things to do if you come across any during your time here!