The Most Underrated Places in Southeast Asia You May Have Never Heard Of
Phuket, Bali, Chiang Mai, Borocay. We've all heard of these destinations (and love them just as well!), but there are so many underrated places in Southeast Asia that deserve just as much love.
Whether you're planning your first trip to the area or have already visited the main spots and want to go somewhere new and less crowded, here are some of my top picks you may have never heard of before!
Underrated Places in Southeast Asia
---
Bukit Lawang, Sumatra, Indonesia
I'm actually really shocked at myself because I genuinely had no idea Bukit Lawang even existed until earlier this year. As you may know, I'm a huge wildlife enthusiast, and getting to see animals in the wild has been the driving force of my travels.
Sumatra is the epitome of paradise for people like myself, and Bukit Lawang is just one of those places that's hard to get enough of. The village borders with Gunung Leuser National Park, which is home to many, many animals, but most importantly: ORANGUTANS!
It was like a dream come true getting to trek in the jungle in search of our furry cousins and getting to see them right where they belong, doing all sorts of… orangutan activities. Plus, Sumatra is home to such a huge array of wildlife, and while orangutans were definitely the stars of the show for me, I got to see so many more incredible creatures that call the jungles of Indonesia their home.
READ MY GUIDE TO BUKIT LAWANG HERE
Bandung, Java, Indonesia
Bandung is actually the third-largest city in Indonesia, so I wouldn't necessarily call it an off-the-beaten-path destination. That said, though, most people who travel to Java usually focus on exploring the eastern side of the island as the most popular attractions are located there.
This year, I had the pleasure of backpacking Java from west to east, and while I did love the east, Bandung was the highlight of my time on the island. Seriously, it's surrounded by volcanoes, striking sulfur crater lakes, rice paddies as far as the eye can see, and all sorts of quirky accommodations!
I found that the volcanoes here were even better than Java's popular ones (i.e. Mount Ijen), but much, much less crowded. I often found myself being the only foreigner in most of the spots I visited.
Atauro Island, Timor-Leste
It might just be me, but I never even realized that Timor-Leste was in the area until just a couple of years ago. It's definitely the most underrated place in Southeast Asia, but it does welcome visitors with open arms precisely for that reason!
I'm not exactly sure why it's not on everyone's bucket list, because the beaches here are some of the best in the world, and places like Atauro Island are the living proof of that! If you're a diver, you'll fall head over heels in love with the island, and if you aren't, well, you'll definitely rejoice with the opportunity to spend days on end at the beach with no one around.
The best way to get around the island is on foot, but you can also hire a fishing boat to take you to the different villages spread all over the coast.
Maluku Islands, Indonesia
The Maluku Islands, also known as the Moluccas, is an archipelago made up of paradise-like islands and islets east of Sulawesi. They're definitely one of the most remote places ¡n Indonesia, but that makes them all the more worth a visit!
Aside from the crystal-clear waters and insane-looking beaches, another reason to visit the Moluccas are its national parks, the incredible diving, and snorkeling opportunities, and the endless array of spices the islands are home to
Bako National Park, Malaysian Borneo
I was really amazed at how untouched Bako National Park felt. Located in the district of Sarawak in the Malaysian side of Borneo, a visit to this gem of a place is a must, especially if you love wildlife and solitary hikes through nature.
Although Bako is relatively small, it boasts a ton of different landscapes and it's also home to some of the most fascinating animals in the world, including Proboscis monkeys, who are famous for their ridiculously long noses!
The best part? You can visit Bako at your own pace – there are over 10 different hiking trails, all of which are marked and you don't really need to join a tour to explore the park. I loved heading out on my own on the trails, and I barely crossed paths with other visitors (which was sometimes a bit unnerving as well, but hey!).
Don't forget to get travel insurance for your trip! As always, I recommend Safety Wing for great prices and coverage abroad. It starts at only $45 USD per month and will have you covered with everything you may need during your trip! Check them out here.
Raja Ampat, Indonesia
Have you noticed how much of Indonesia is on this post? I can't get over how diverse the country is! It's like, every new spot you visit feels like an entire different country.
If I were to imagine what paradise looks like, my mind would instantly go to Raja Ampat. It's located in the West Papua region of Indonesia, which is the easternmost part of the country and one that many people don't really get to. The entire area is made up of jungly islands, and the beaches are just other-worldly. Don't even get me started on the colorful array of coral and marine life living under the waves, which makes it a prime destination for divers and snorkellers alike!
Tunku Abdul Rahman Marine Park, Malaysian Borneo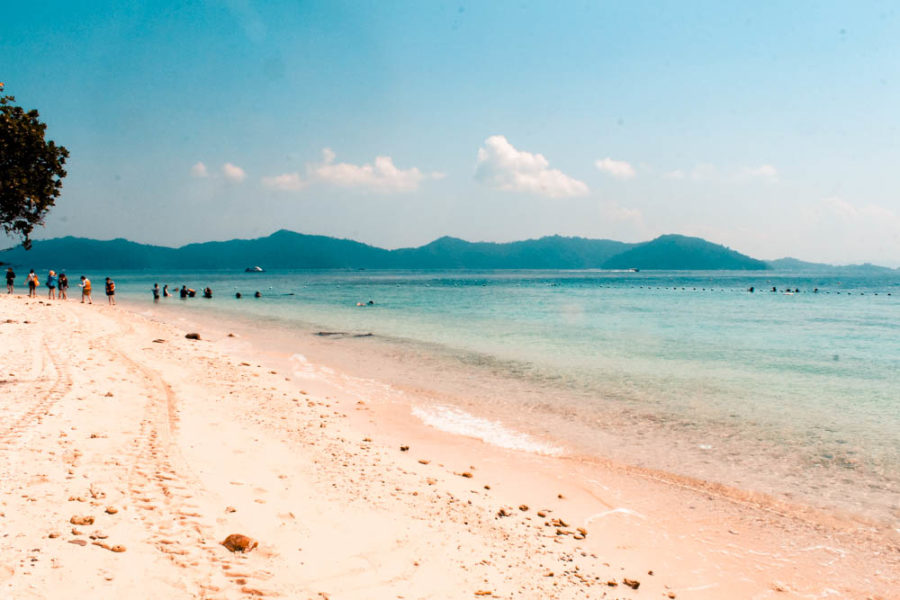 I feel like I've listed quite a few paradise beach spots here, but the problem with those is that it *can* get a bit expensive to get there, so I decided to list a more budget option as well!
Tunku Abdul Rahman National Park is made up of five islands, three of which cater to tourists and two others that are more remote and even allow camping if you're up for an adventure. Getting here is a breeze from many spots in Asia, including Kuala Lumpur and Singapore – all you have to do is fly into Kota Kinabalu, and once there, a 20-minute boat ride from the jetty station will have you on the islands!
READ MY GUIDE TO TUNKU ABDUL NATIONAL PARK
Derawan Archipelago, Kalimantan, Indonesia
Derawan is yet another underrated place in Southeast Asia that just happens to be another paradise on the list for underwater lovers. Set on the east of Kalimantan, the Indonesian side of Borneo, these islands are considered some of the best destinations for diving.
The best thing to do in Derawan is definitely explore its underwater world, but you'll love love love spending days on end island-hopping around its spectacular white sandy beaches.
And that's the list! What are some other underrated places in Southeast Asia that deserve a visit?
PIN THIS POST