Trekking Nyiragongo Volcano in the Congo: Everything You Need to Know
Every since I first step foot in sub-Saharan Africa back in March 2017, I had been debating whether to trek Nyiragongo or not.
On one hand, I was afraid I would fail to make it to the top. For someone who gets short-breathed after climbing two flights of stairs, an 8-kilometer trek sounded impossible. Plus, the costs of the DRC visa and the permit to actually be allowed to do the trekking where undoubtedly out of my budget.
But I did it at the end. When an idea gets into that little head of mine, it is hard to shake it off. And so, I began planning everything. I noticed the lack of Information online when I Googled certain questions I had. I decided to write a guide answering all questions I had to hopefully save you loads of worries and doubts.
Let me get this out of the way first: If you are wondering if the money is worth it, I will get that out of the equation and tell you that IT IS WORTH EVERY DAMN CENT.
If you are wondering whether you can make it or not: you CAN. Like I previously mentioned: I am incredibly unfit, so unfit that climbing two flights of stairs gets me short-breathed. The hike is paced for slow people to make it, it might take you a few hours more than if a group of professional trekkers did it, but that is absolutely fine.
ARRANGING A VISA FOR THE DRC
Let's start with the formalities. I could imagine that arranging a visa for the DRC is difficult considering the current situation of the country.
Luckily, when you book the permit to climb Nyiragongo, you are automatically eligible for a special visa that Virunga will arrange for you. This costs $105 USD. Once you have booked your trek, you just have to head over here and fill in the form.
Virunga states that it can take up to 14 days to get your visa but what they forget to mention is that you don't actually NEED the visa approval to cross the border from Rwanda (if you fly into Goma, then you do Need the visa approval).
If you do cross from Rwanda, all they want to see at the border is a printed confirmation of your visa application (which Virunga will send to you by email two days after you apply for it at most) as well as your printed trek Permit.
Important note: This visa is only valid if you cross the border from Rwanda.
Keep in mind as well, that you need a Yellow Fever Vaccination card to be able to enter the DRC. If you don't have it, you will be required to get a shot right there at the border, and that will set you back $70 USD.
WILL MY EAST AFRICA VISA BE CANCELLED WHEN I RETURN TO RWANDA FROM THE CONGO?
I see this question being asked a lot. YES. Your East Africa visa will be void when returning from the Congo. You need to make sure you have arranged a new visa to get into Rwanda beforehand.
British and Americans can easily get it on arrival at the border without any prior arrangements. However, most other nationalities Need to apply for an e-visa online to re-enter Rwanda. You can do so here. On this website, you can also a apply for a new East Africa visa if you need one.
GETTING TO THE DRC FROM RWANDA
Most people who climb Nyiragongo cross the border from Rwanda. If you only do the trek, you can literally stay in Gisenyi (the border town in Rwanda) the night before, and cross the border to the DRC before the trek begins on the same day (it starts at 10:30, so there is plenty of time). Gisenyi is a lovely lakeside town that is worth spending a few days in either before or after the trek to relax.
I stayed here two nights before I crossed the border and not only was it relaxing, it was also where I actually got to meet people who were going to be doing the same trek as I. Most backpackers in Gisenyi are headed there, so it is also a good place to find partners to carpool with and save money on transportation costs or simply make a few friends. Another pro of staying in Gisenyi rather than Goma is that it is much, much cheaper.
From anywhere in Gisenyi, you can literally walk to the border at GRAND BARRIERE. Take note of this, because there are two Gisenyi-Goma border crossings (the other is called Petit Barierre) and your Virunga Visa is ONLY accepted at Grand Barriere.
Everyone I met who was headed to Congo was quite confused as to which border was which, so, in case you are wondering, it is the one next to the lake 😉
The border crossing is very smooth, I had no issues whatsoever. Make sure you have with you your Yellow Fever Vaccination and printed copies of your visa order confirmation and your permit to trek the volcano.
Note the border is only open between 8:00 am until 7:00 pm. You must cross in and out of Congo between that time frame. Since you have until 9:30 am to show up at the base of Nyiragongo to join the group, it is possible to cross the border into Congo on the same day of your trek.
COSTS OF TREKKING MOUNT NYIRAGONGO
Note that these prices are for those who opt to book their trek directly with Virunga National Park's official website.
The permit to climb Mount Nyiragongo costs a whopping $300. It includes two rangers to guide you through the trek and a cabin to sleep in on the night of your trek (at the summit).
And then you need a visa (more on the below). It costs $105.
Aside from that, you will need to get to the base of the trek somehow. The base of the trek stands about a half-hour drive away from the city of Goma. Virunga can take you from Goma on their official car, they will pick you up at the border with Rwanda or in your hotel in Goma and drive you back for $28 (per person, each way). That is $54 in total.
It doesn't really get much cheaper than that. If you are brave, you can hire a taxi in Goma, but you will get stopped by police and get asked for a bribe.
If you really want to save money, you can try arranging for a car in Gisenyi. I arranged mine with an official agency that operates from Discover Rwanda Boutique Hostel that charged $50 for a return journey per car, (so if you are coming with a friend or two, it will be significantly cheaper). They will drive FROM GISENYI – this means they will cross the border with you, and drive you straight to the volcano. This is very useful if it is your first time in Congo, as it can be quite scary having to wait for Virunga to come to get you while you awkwardly wait at the border.
THE UNWRITTEN EXTRA COSTS
There are extra costs and options that you might want to budget in.
First of all, remember that your rangers expect a tip. This is completely optional, but the unofficial tag is $10.
Secondly – porters. I opted to hire a porter because there wasn't a realistic way I would get to the top without a bit of help. Everyone in my group hired one. The price is of $24 and they will expect a tip on top of that. So, calculate $34 in total. You can hire a porter directly at the base camp.
Next is the meal plan – you can book this at Virunga's official website for $75.
A gear + meal plan costs $100, also bookable directly at their website.
WHAT EQUIPMENT SHOULD I BRING TO TREK NYIRAGONGO?
→ You don't need hiking shoes. I, as well as several others in the group, were wearing running shoes. I could see how they might come in handy, especially water-proof ones, but they are not necessary. If you don't have them, don't sweat it.
→ There is a gear package which you can book through the Virunga website. This includes a backpack filled with enough warm clothes, a fleece, a sleeping bag, a rain poncho and other goodies that are quite helpful when you arrive at the top. If you don't book it, then bring the following:
→ A rain poncho, because the chances of it raining at least once during the trek are of 99.99999%
→ A sleeping bag. I brought one that I bought for $14 in Kigali a few days before, that was enough for me.
→ A change of clothes, because you might get wet during the trek. Pack several layers of clothes, because it gets damn cold up there.
→ As many pairs of socks as you possibly can fit into your bag. This was a total game changer for me because they kept me warm and cozy. I also recommend bringing warm mittens and a beanie for extra warmth (especially if you are like me and want to stay the whole night out watching the lava lake).
→ A blanket. This is not necessary if you bring a proper sleeping bag, but it was very useful to wrap myself up during the night while starting at the lava lake.
→ A walking stick. I didn't find it particularly useful on the trek up, but it saved my knees on the way down. They sell some pretty cool ones with carved designs at the base camp for $5. It also makes for a cool souvenir to bring back home. If you do the gorilla trek the day before, then you might want to buy it there, because those were waaaay prettier than the ones at the Nyiragongo base.
→ A torch/lantern. You will need it when walking to a from your cabin as well as when going to the toilet (the situation is not ideal. More on that below). I used my phone's, which sufficed, but I would have preferred to have a proper one while up there.
→ A bottle of wine. Seriously, if there is one thing I wish I had brought with me was that. How cool would it have been to celebrate making it the summit while sipping wine and staring at you know… the largest lava lake in the world?
SLEEPING ARRANGEMENTS AT THE SUMMIT
→ An insulated cabin at the summit of Nyiragongo to sleep in during the night of your trek is included in the $300 permit fee. These cabins are small and designed for two people, but if there are few people in your group, you might be able to get one all to yourself.
→ The cabins are quite cold and only a bit insulated so, as previously stated, bring enough clothes to keep you warm.
→ You will get a basic mattress and not much else, no blankets or anything, so do bring a sleeping bag (unless you purchase the gear package).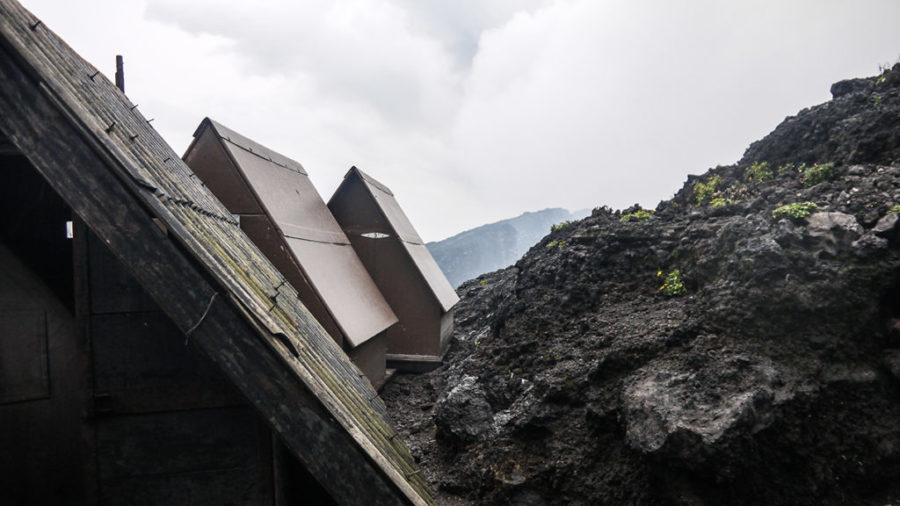 → I will talk about the toilet situation because I think it is quite important to note that. Try to pee as much as possible when there is still light. For some reason, the Virunga people thought of it as a good plan to place their toilet downhill and within pretty hard reach of where people actually will be (I had already wondered if they were sadistic b*stards when I saw their transport prices, and this toilet thing just confirmed it). It takes an actual (very short, but quite dangerous) trek down to reach the toilet. Also, there are no doors. It is a Western-style toilet, though. Oh, there is no toilet paper either, so do bring a roll.
There was another toilet being built closer to the cabins, but I have no clue when that will be finished, but it was still not that close. I honestly told Eireen that I would just pee outside my hut when I needed to, and we both did (not sure if it is technically "allowed", but hey.)
MEAL ARRANGEMENTS
→ There is a meal package you can book at the Virunga website. I didn't book it, but Eireen did and she shared her dinner with me (coolest person ever!).
What it includes is the following:
→ Snacks and water for the trek. There isn't a proper lunch included, so I do suggest you pack a sandwich for the trek.
→ Tea or coffee for when you arrive at the summit. It was LOVELY being so cold and sipping tea inside the cabin while we all gathered around the fire.
→ A delicious dinner.
→ A delicious breakfast that includes CHEESE. Like, PROPER cheese. I had no idea Congo was known for its cheese, but it does make sense considering it was a Belgian colony. Seriously, it is worth booking the meal package just for this reason.
If you don't book the meal package:
→ Most people in our group didn't book the meal package but they managed all right. They brought some bread and things to spread on it. What I did was asking the staff at my hotel in Goma to pack me a bit of rice and cooked bananas for $5. This was enough for lunch and still had some left over for dinner. Most Virunga lodges do this, as well. If you ask me, though, I think booking Virunga's meal package is worth it as it also gives you access to a warm place where you can dry up any clothes that might have gotten wet during the trek (I hung my jacket over the cooking fire. The jacket was advertised as being waterproof but wasn't, after all. This was a lifesaver because I would have probably caught hypothermia during the night if I hadn't been able to dry it up).
WHAT THE TREK LOOKS LIKE
THE WAY UP
The trek usually starts between 10:00 to 10:30 am. Virunga asks that you show up at 9:30 am to ensure you are there on time.
A FEW THINGS I'D LIKE TO POINT OUT:
→ Everyone in my group made it, even the 75-year-old man who was traveling with his daughter. Surely, he struggled a bit, but he didn't have an incredibly hard time. We all made it to the top eventually. If you feel like the pace is too fast for you, don't be afraid to tell your ranger that he should slow down.
→ The trek can take anywhere between 5 and 7 hours, depending on the pace of the group. REMEMBER: If you feel the pace is too fast for you, tell your ranger to slow down. I know I said this before, but don't be shy, we have all been there. The rangers do this trek at least once a week, which means their bodies are incredibly used to it and they might often forget that it is a first time for you. Don't be shy and let them know. If there are people in your group that are used to trekking a lot and might be going way faster than you, don't be afraid either. It doesn't matter if it takes one or two hours more to reach the summit, because you will have the whole night to watch the lava! The trek is designed to adjust to the pace of the slowest person, don't forget that if you happen to be that person (and if you aren't, please remember this as well. It is not meant to be a competition).
→ The trek is divided up into five sections: Base 1, Base 2, Base 3, Base 4, and Summit. Between each section, there are rest stops with benches to sit on and relax. Usually, we rested for about 15 minutes in each rest stop, but if you feel you need more time, don't afraid to say it.
The first section takes about 1 hour and it is on moderately easy ground. It can be a bit muddy, so do try to take it slow. Incredibly, even though this is technically the easiest section, I struggled a lot here. I guess I was getting acclimatized. This section is particularly beautiful because you walk through the lush jungle, the kind of green jungle that you imagined Congo looks like.
The second and third sections are quite… fun. The ground is made of wobbling lava rocks from the previous eruption, so that can get quite interesting. The good thing for slower trekkers is that everyone will have to be watching at the ground and walking carefully to avoid tripping, so the pace will significantly lower. Both sections take about 45 minutes each. On the third rest stop, you will stop for a bit longer to have lunch.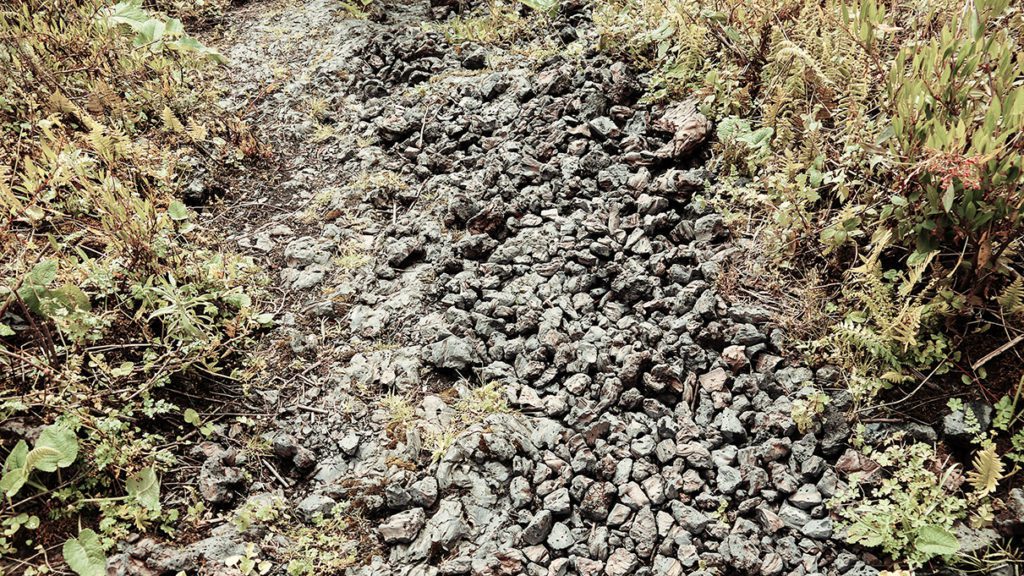 The fourth section begins getting harder as it goes upward and upwards through rocky ground. After an hour or so, you will get to the fourth and last rest stop, which is a small cabin.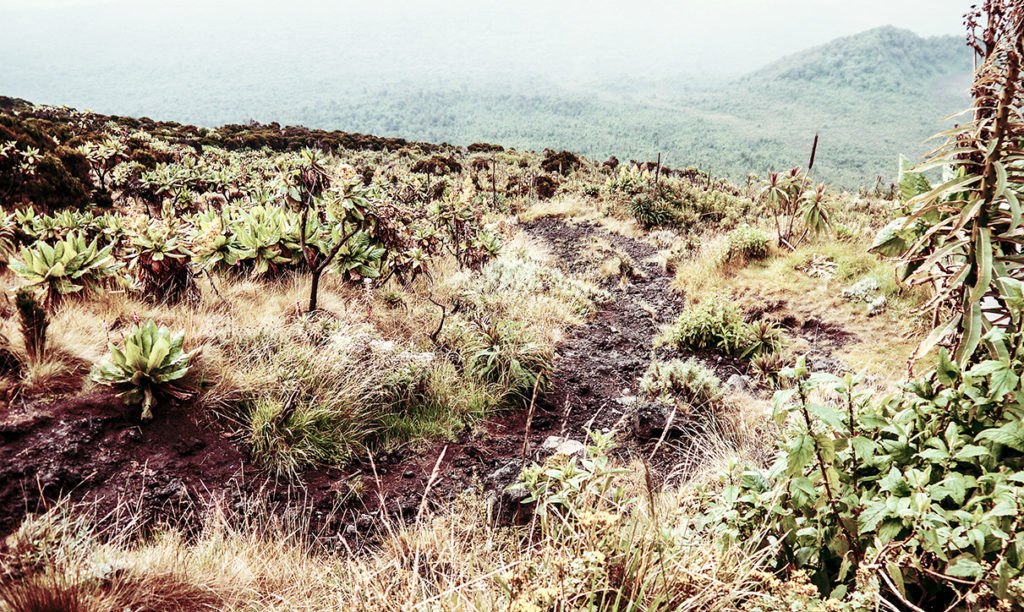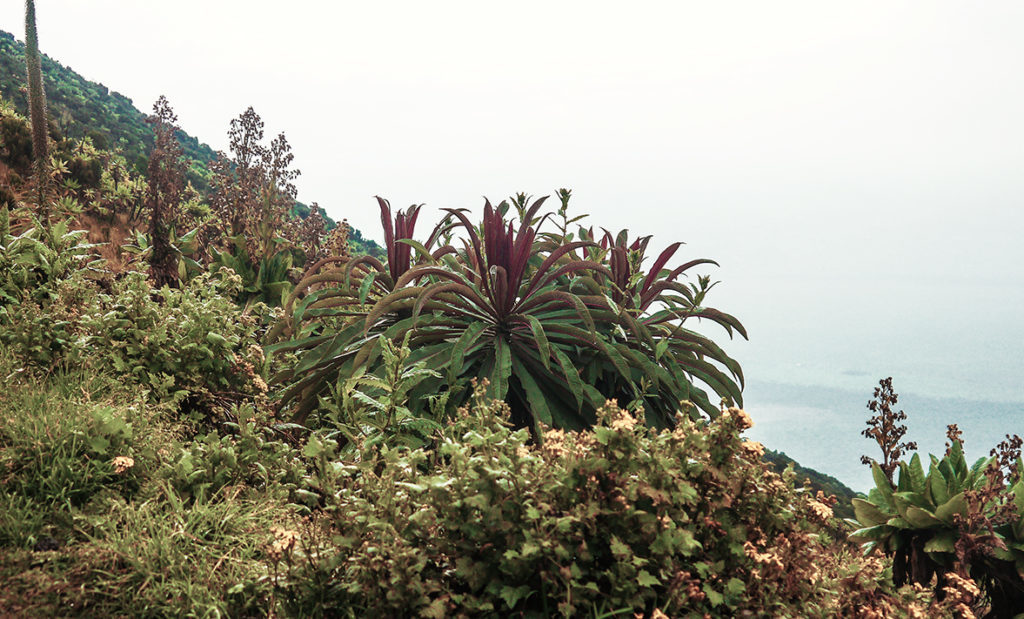 And then comes the last and hardest section! It takes only about 25 minutes, but it feels like a proper climb. From here, you can already see the summit and the cabins where you will spend the night, so that will give you the energy needed to fight through it.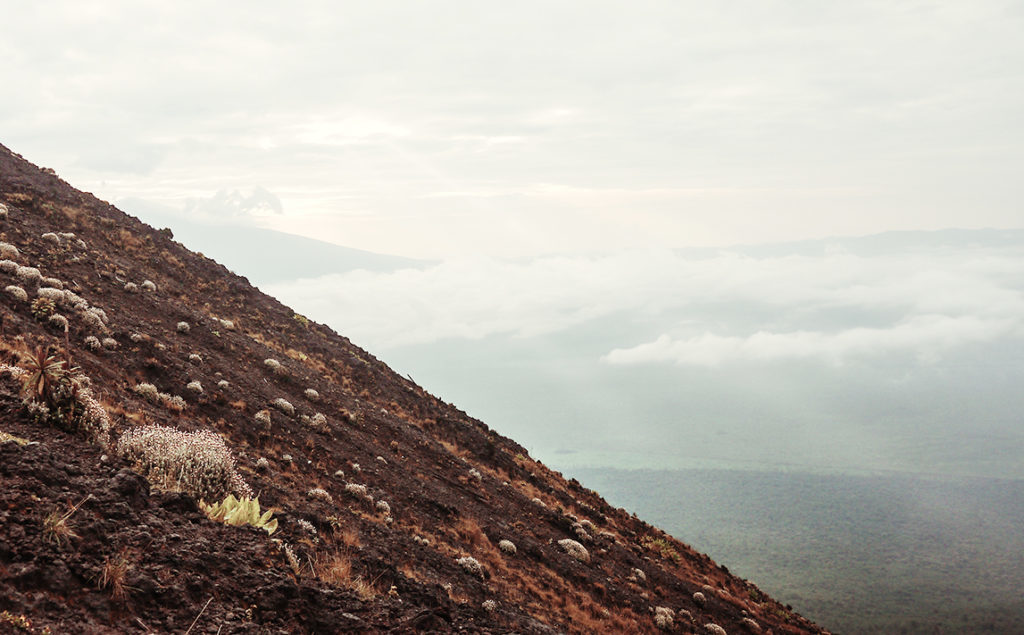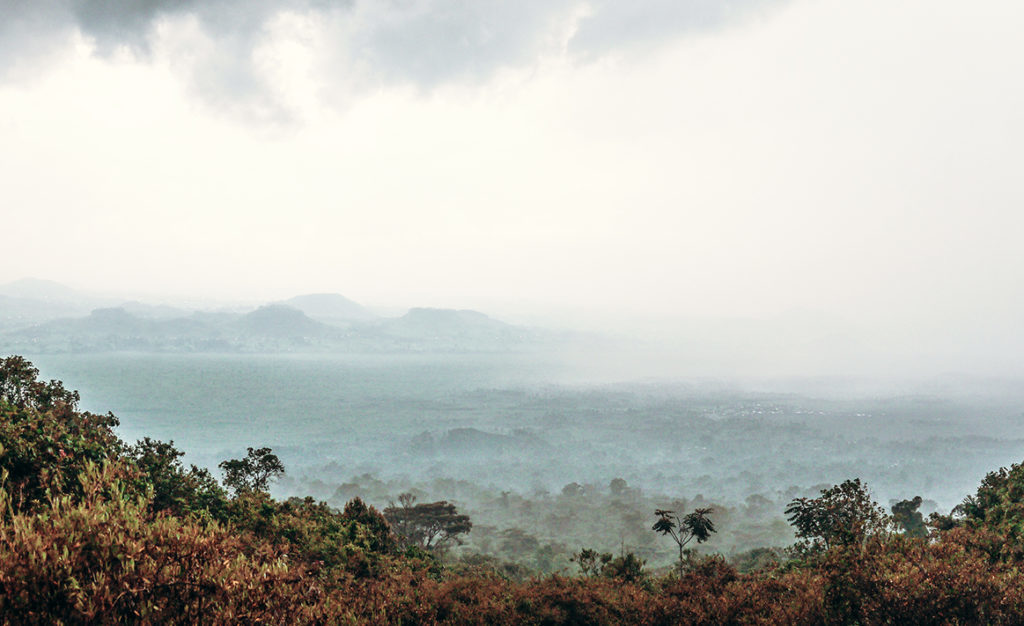 THE WAY DOWN
As I mentioned in the story, the trek down is actually what I struggled the most with. The lava rocks make it really easy to fall over, so you really have to watch every step of the way. I have terrible knees because I have been sitting in very awkward positions ever since I have memories, so it was very, very painful for me. A walking stick will be your best friend here.
The trek down begins between 6:00 and 7:00, depending on when the group decides to leave. It is scheduled for you to arrive down to the base between 10:00 and 11:00 (so the next day's group can start their hike).
Here's the thing: You might reach the top and not be able to see anything
Ummm… yeah. We got to the top only to be able to catch a 3-minute glimpse of the lake before clouds hovered over it and then there was nothing. It could also happen that it starts to rain.
But that doesn't mean that everything is lost.
If THIS happens, use the time to rest. It WILL clear up. Set your alarm to a few hours later. The lava lake will come into view at some point.
I was lucky that the sky cleared up only an hour later after I thought that horrendous cloud would spoil the night of my life, but the group that did the trek the previous day before my was hit with a storm that made it impossible for any person with a bit of common sense to stay outside their cabin. What they did was, they used this time to rest, set their alarm for a few hours later, and came out around midnight to see the volcano in its fullest glory.
If you reach the summit and there is nothing to see, don't be disheartened. Nature can be a bitch, but you won't leave without getting to see the lava lake at one point or the other.
WHERE TO STAY BEFORE THE TREK?
You don't actually need to stay the previous or the following night in the DRC. You can cross the border on the same day as your volcano trek, sleep on the summit of Nyiragongo, and cross the border back to Rwanda the next day.
You have three options:
1. STAY IN GISENYI (RWANDA) AND CROSS THE DRC BORDER IN THE MORNING
I loved staying at Gisenyi because it has such a great vibe. It is a very sleepy town that felt very safe and relaxed. I stayed in Discover Rwanda Hostel, a boutique-style hostel that was very comfy. It is located inside a huge house that belonged to the Dutch ambassador some time ago and sits right in front of the lake. The menu is delicious and I just absolutely loved staying there. They also stored my luggage for free during the time I was in the Congo.
They are a non-profit organization, meaning the money you pay for your booking goes to creating training and career opportunities for genocide survivors and vulnerable people.
They have dorms for $17 as well as private rooms for $50. Check it out here.
2. STAY IN GOMA
Most people don't do this because it is not really necessary unless you are also doing the gorilla trek in the DRC. However, I found Goma to be an incredibly interesting city that deserves the time of the day. There aren't many budget options available, unfortunately. I stayed at one of the cheapest places I found, which was Hotel la Versailles. It seemed very old-fashioned, but the whole staff went above and beyond for me to feel safe and have a comfortable time there. The downside to this hotel is that they have no generators and Goma often has controlled power cuts, so you might be left without electricity for a few hours. I felt very safe there as a solo female traveler.
3. STAY IN ONE OF VIRUNGA'S OFFICIAL ACCOMMODATIONS
If you are looking for a relaxing time with gorgeous views, you can choose to stay in one of Virunga's camps close to the volcano. The first and most famous one is Mikeno Lodge, which costs $319 USD (including all meals) but there is a new camp that is more budget-friendly: Kibumba Tented Camp, which is located just at the trailhead of Nyiragongo and costs $140 including meals during your stay. You can view and book these options at Virunga's official website.