After an action-packed week in Diani Beach, I was wondering if visiting Uganda was even worth the long bus trip.
I based myself in Kampala for two weeks before my feet began feeling restless again. My budget was slowly fading away, and while the thought of gorilla trekking fascinated me, doing it in Uganda was way out of my budget.
But I knew I wanted to do something while in Uganda other than diving my nose into my computer screen.
I began googling around for wildlife activities to do on a budget in Uganda, and Ziwa Rhino Sanctuary quickly became a new item in my bucket list.
While the entry fee to the sanctuary was relatively inexpensive, the transport options listed on the website where way on their hundreds.
Here's the thing: At this point, I had already spent more than a month in East Africa and one of the many things I'd learned is that there's always a bus that will take you wherever it is that you want to go. There's always a goddamn bus.
The next morning, I went in search for that bus. An hour later, my ass was plastered on an uncomfortable green rubber seat. I was finally on my way to Ziwa Rhino Sanctuary, where I would spend the day accompanying rangers on foot to observe the only White Rhinoceros that exist in Uganda today!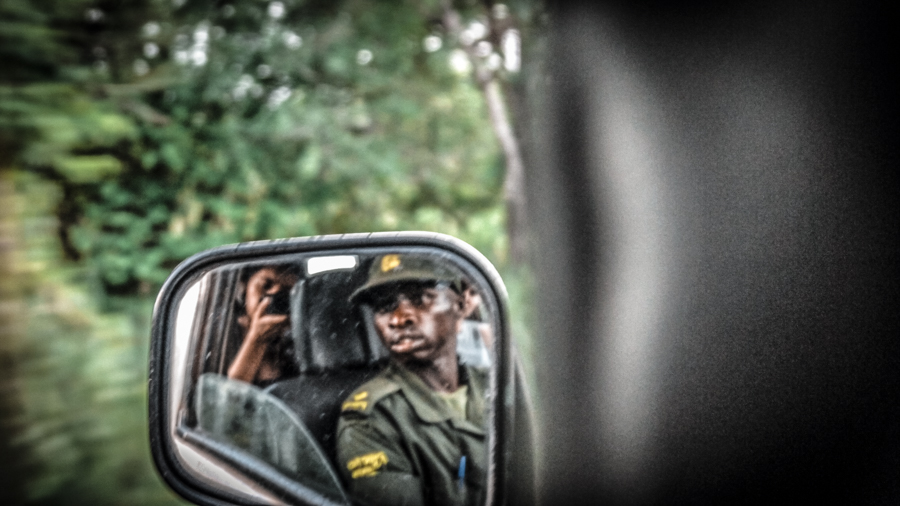 Ugandan buses are the one place on earth where you will never go hungry. There is no need to pack a lunch even when traveling longer distances because the driver will make sure to make a few stops along the way. During those "layovers", crowds of people will surround the bus to sell their products.
Two and a half hours later, the bus made a stop. I heard the driver shouting "mzungu!", the local term used in much of East Africa to refer to a white person. This was my stop.
I jumped out of the bus and then: nothingness.
Before my eyes was an empty road, and extending from it, a narrow dirt street. Not much else other than a few guys sitting on their motorbikes who seemed to ignore my presence.
"Ughhh… rhinos?", I nervously asked the group of young guys sitting at the front of a closed shop.
One of the guys approached me and exclaimed "six thousand". I knew for a fact that the sanctuary was about seven kilometers away from the Nakitoma, the name of the "village" I was now in. At six thousand, the price for a 7-kilometer ride was the equivalent to $1.60, which felt ridiculously low.
Getting to Ziwa Rhino on a budget involves a bumpy motorcycle ride
"We are definitely not in Kampala anymore", I said to myself as the motorcycle zig-zagged its way through the dirt road.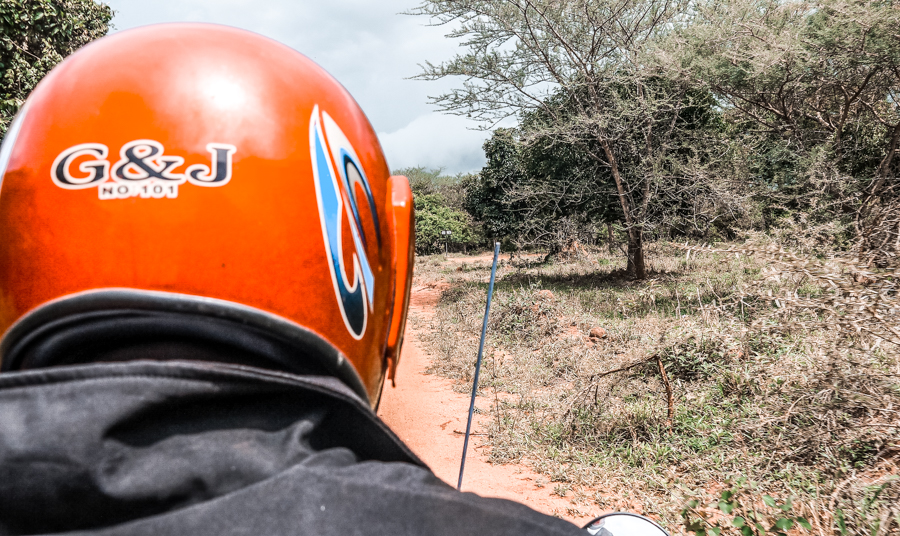 As we made our way through the wilderness, sights of massive dinosaur-like birds and herds of bulls surrounded us. The feeling of "I am in Africa. I really am!" filled my body and at this moment, all I could feel was contentedness.
And then, I stepped on rhino poo.
But let's first get the backstory.
A brief history of Ziwa Rhino Sanctuary
Rhinos vanished from Uganda as a result of the Bush War in the eighties. The sanctuary's mission since its opening in 2005 has to repopulate the country's national parks with these mighty animals. Many of the rhinos that live in the sanctuary were donated by zoos from abroad and some were bred inside the sanctuary. Today, there are 22 rhinos in the sanctuary – the only ones that exist in Uganda.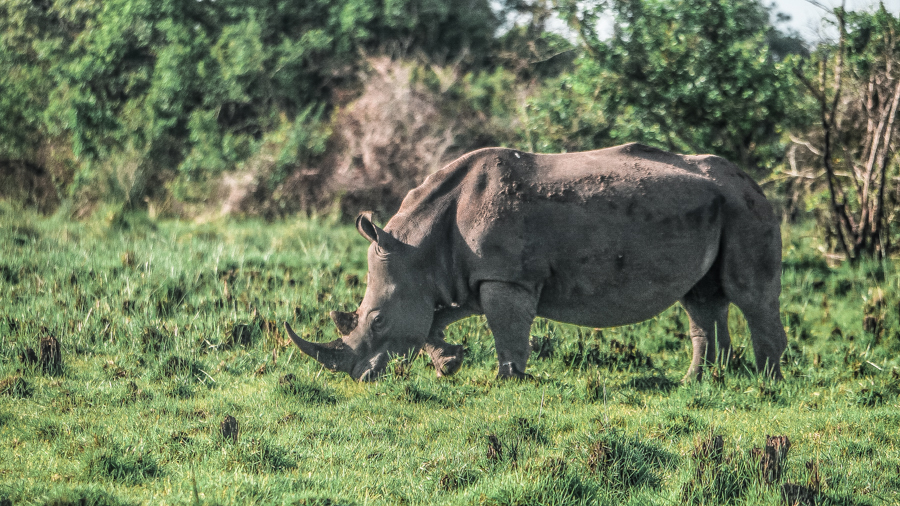 When I arrived at the sanctuary, I was the only person around aside from the team and a newly-arrived wildlife researcher from Scotland.
I sat at the restaurant for a while, unsure what to do next. Soon enough, I was told my trek was scheduled at four and that there would be a couple from Germany joining me.
Rhinos take a break from their daily activities (which are basically just eating and mating) when the sun is at its fullest because they can't stand the heat, so there are morning treks and late afternoon treks available only.
Once our trek began, our guide, Opio, was super knowledgeable and was able to answer all our questions. He knew the names of the rhinos, their stories, and behavioral patterns like the back of his hand. It is not a surprise, really – when he is not guiding treks, his job is to follow and observe the rhinos twelve hours a day to watch out for poachers and document the rhinos' behavior.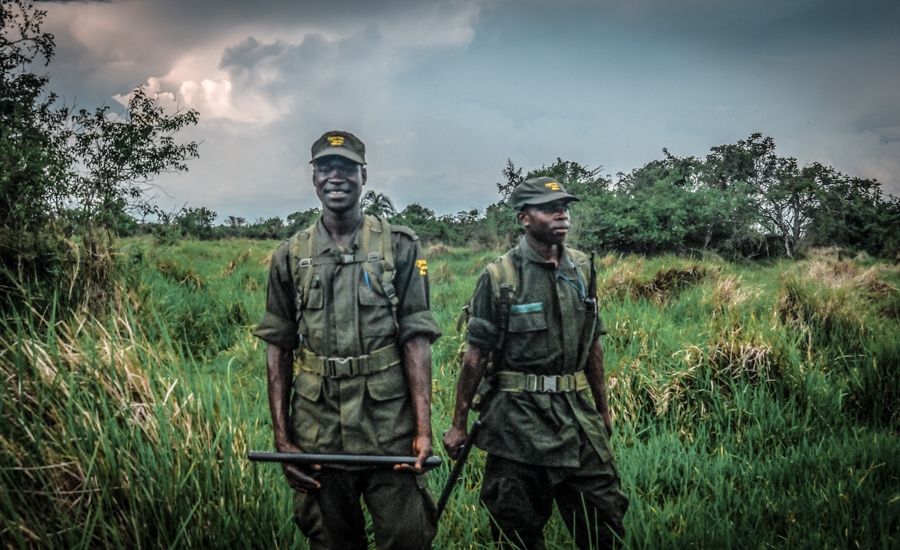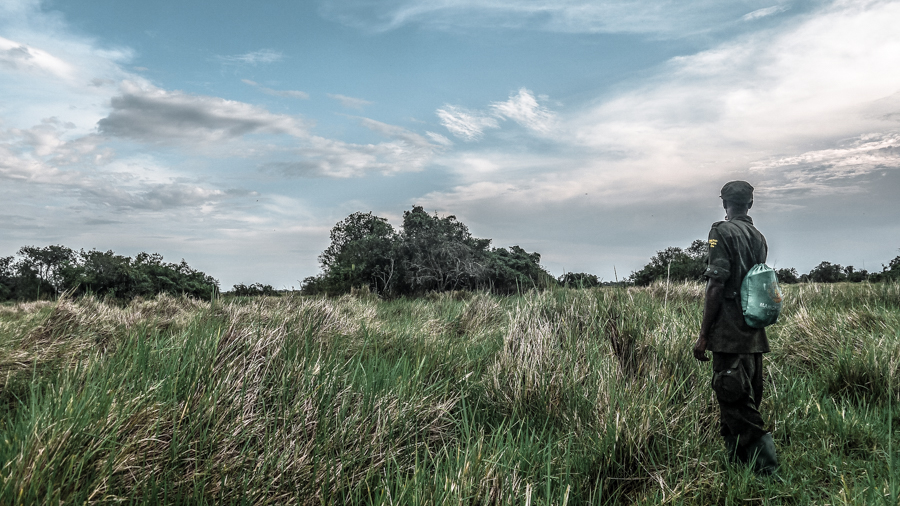 We walked for several kilometers, stopping by only whenever we were able to spot a rhino. During our two-hour trek, we were able to see just eight of the twenty-two rhinos that live at Ziwa, including a mamma and her baby! It's amazing how big the place is and how freely the rhinos are able to roam!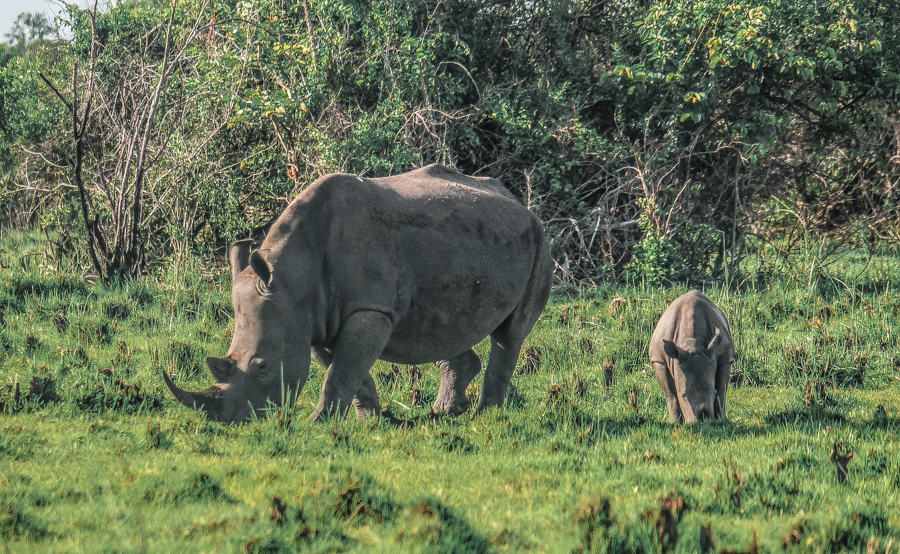 And there is so much more to the sanctuary than rhinos – it's also the home to many other species like baboons, bushbucks, warthogs, and even cheetahs. Hippos are also stars of the show, but we weren't able to spot any – just the footmarks of one!
Because we did the 4 pm trek, we were able to finish it off watching the sun disappear into the wilderness. There is something so magical about African sunsets and this one was definitely one of my top ones ever!
And yep, that's when I stepped on rhino poo. The sanctuary hands out rubber boots to visitors, but I sort of forgot my socks and, since I'm a super aloof person when it comes to footwear, I decided I'd just do the trek in flip-flops. Just another of my dumb ideas to add to the list.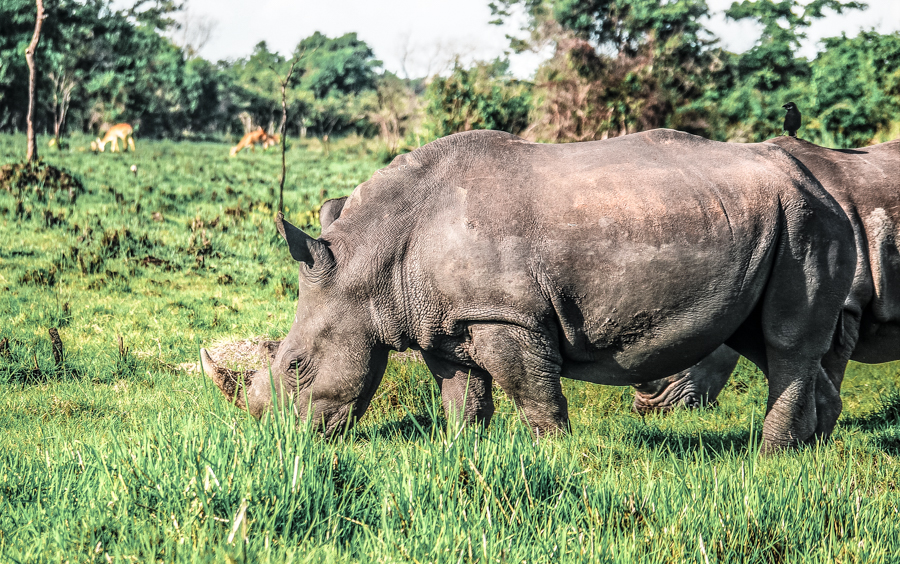 This trek was a highlight of my East African trip – I would do it again in a heartbeat! (I know you're probably rolling your eyes right now while mumbling, "oh, Daniela found another highlight in her trip through Africa". I know, I know.)

Lastly, I leave you with all the gritty details you'll need to visit Ziwa Rhino Sanctuary independently and see rhinos on a budget.
How To Get To Ziwa Rhino Sanctuary From Kampala
The way to get to Ziwa Rhino on a budget is to head over to the Link Bus Terminal in Kampala. Find the bus going to Masindi, purchase your ticket, and tell the driver to drop you off at Nakitoma. Once at Nakitoma, find a motorcycle (you can also e-mail Ziwa beforehand and ask them to arrange a pickup from Nakitoma).
Here's a map of where both Nakitoma village and Ziwa Rhino Sanctuary are.
Bus from Kampala to Nakitoma: 13,000 UGX ($3.50 USD)
Mototaxi from the drop-off station to Ziwa Rhino Sanctuary: 6,000 UGX ($1.60)
The Cost of Trekking With Rhinos at Ziwa
Trekking with rhinos in Uganda is cheap compared to most other wildlife activities in the country. The cost for the trek came down to $45 USD including the entry permit to the sanctuary and a guide.
Moreover, because the sanctuary is so massive and rhinos move about freely, it could happen that they are so far away to reach on foot. In this case, you'll have to hire a car and driver to take you nearer to where they are for $25 USD per car (not per person).
They accept card payments, so it's not necessary to bring much cash.
Can I Visit Ziwa as a day trip from Kampala
Yep! The average trek lasts anywhere between 1.30 – 2.30 hours. However, it is possible to stay at Ziwa for a night. There are also many other activities offered such as canoe rides to watch Shoebills, night walks and whatnot, so there is plenty to do to keep you busy for a couple of days!
Is there accommodation close to the sanctuary?
There is a guesthouse inside Ziwa Rhino Sanctuary for all kinds of budgets. There are bungalow style-rooms for $40 pp. If you are more on a budget, you can sleep in their budget accommodation (shared showers and a basic bed, but still quite okay) for $15pp. Additionally, you can choose to camp for $10pp (own tent) or $15pp (rented tent from the sanctuary).
There is also a small and quite basic restaurant inside the sanctuary.
How hard is the trek?
Not hard at all. I am not exactly proud of my current physical condition and I was able to do it without problems. The terrain is mostly flat, so it is easy-peasy – I did it while wearing flip-flops.
What should I pack for the trek?
Not much, really! I wore jeans and a t-shirt. They also offer rubber boots as part of the trek for free, so no special footwear is required. They do recommend wearing dark clothes as anything that's too bright (especially red) can upset the rhinos and cause them to charge at you.
And that's how to visit Ziwa Rhino Sanctuary on a budget! Have you guys ever been so close to a rhino?
Read next:
Things to Pack When Backpacking Africa
Eight Awesome Things to Do in Kampala
Like this guide? Save it for later on Pinterest!