Travel Guide Of Things To Do In Corfu For Families
Are you traveling to Greece this summer and looking for the best things to do in Corfu for families?
Having just returned from the idyllic Greek Island, we believe it's the perfect destination for a family vacation.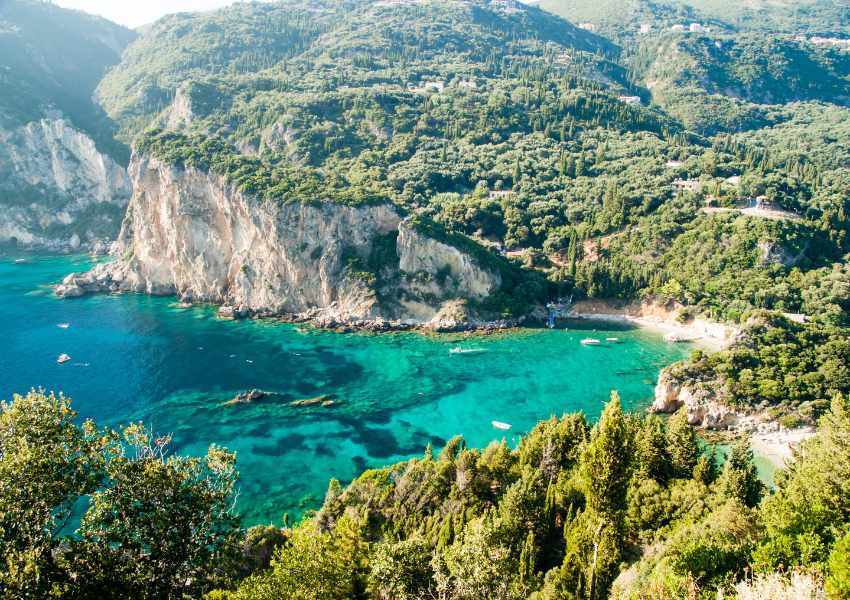 Initially, we had reservations about whether the Greek Islands were suitable for kids, but Corfu surpassed our expectations!
In this travel guide, we'll share essential tips and the best ways to explore Corfu with your family.
How to Get To Corfu
Flying is typically the most convenient way to reach the Ionian islands. Corfu, nestled in the Ionian Sea, is situated off the northwestern coast of mainland Greece.
It's the second-largest Ionian Island and is positioned near Albania, separated only by narrow stretches of water.
Navigating through Corfu airport is a breeze due to its modest size. Moreover, it's conveniently close to the old town of Corfu.
However, be forewarned that during summer, the airport can get quite busy. It's prudent to arrange your airport transfers in advance to avoid any last-minute hassles.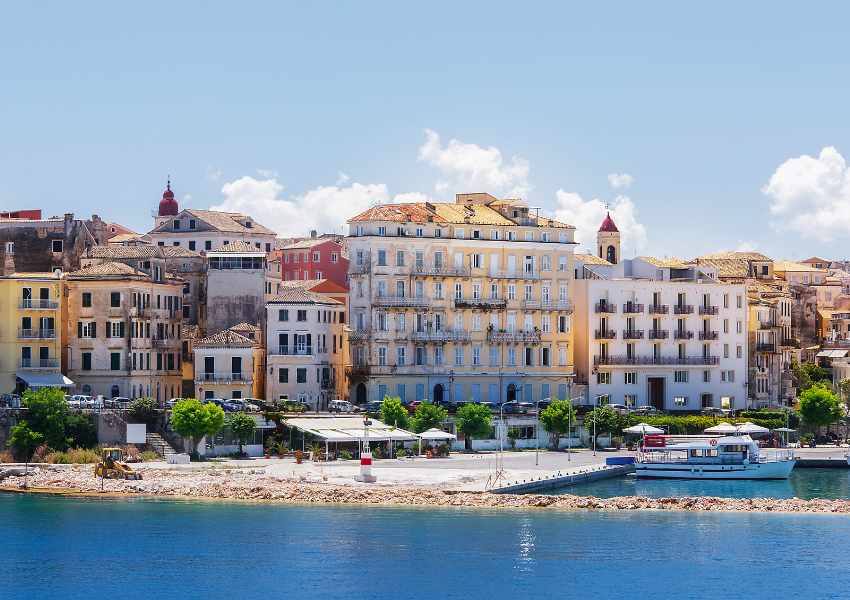 What is Corfu Known For & Why It's Great for Families
Wondering if Corfu is a suitable destination for young kids? This island brims with exploration opportunities. Notably, it's home to two iconic fortresses!
Corfu's renown largely stems from its historic Old Fortress, rich Greek Mythology, and pristine waters.
The UNESCO World Heritage-listed old town enthralled us for days. Visiting the Old Fortress was a highlight, with our kids particularly captivated by the ancient cannon.
For those who love the beach, Corfu's tranquil, clear waters are ideal. They provide a safe environment for kids to play, cementing Corfu as both a stunning and family-friendly destination.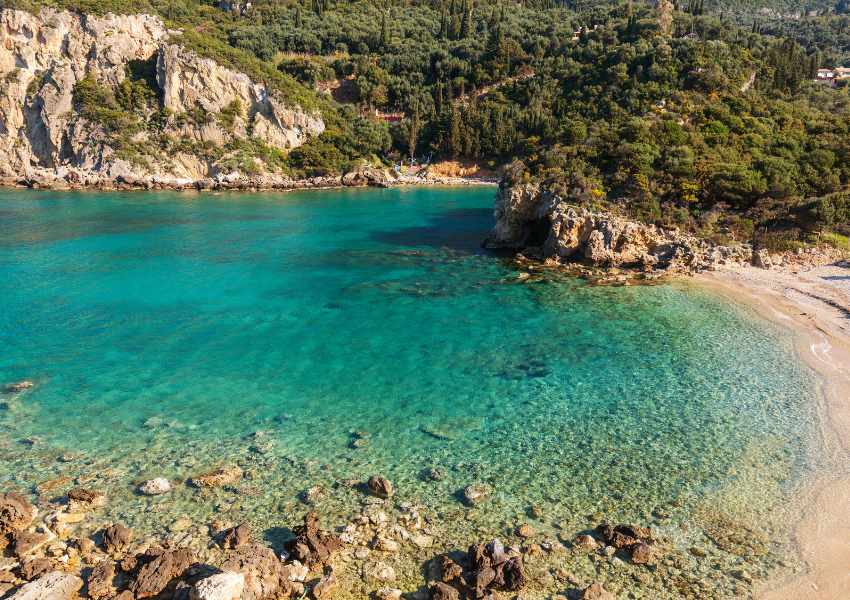 Is Corfu Expensive?
While prices have surged in recent years, Corfu is still more affordable compared to other popular Greek destinations.
Islands like Santorini and Mykonos are way more expensive. Reasonably priced accommodations are abundant, and local eateries won't break the bank.
Roaming the historic Corfu old town is free, and kids will be fascinated by the numerous statues. However, you should consider for your travel budget the potential expenses like fuel if you plan to drive around the island or for boat excursions.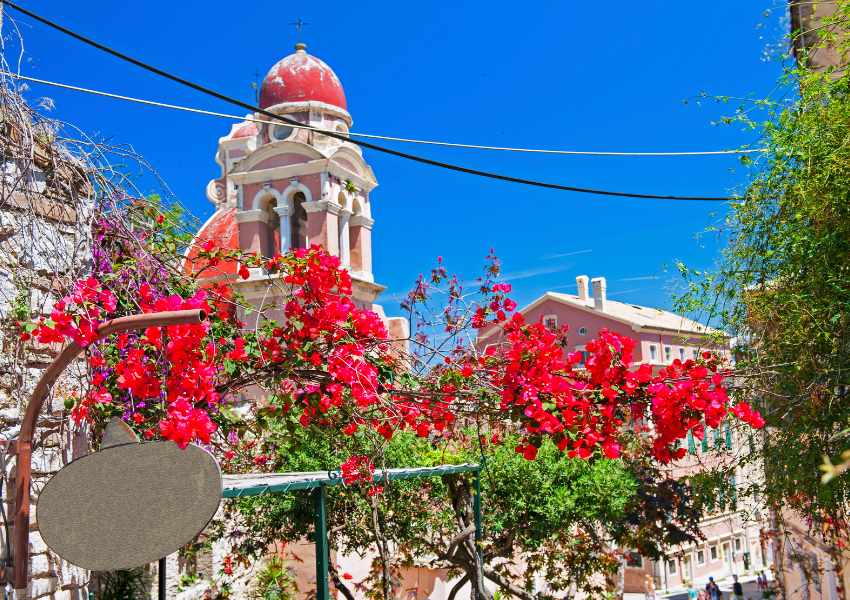 Best Way To Get Around Corfu?
Renting a car is the most efficient way to travel around Corfu. The island boasts numerous traditional villages and pristine beaches, many of which are not accessible via public transport.
It's advisable to book your vehicle early since larger cars can get booked up quickly.
Fortunately, many rental sites offer free cancellation up to a certain point. Better to reserve early than risk missing out.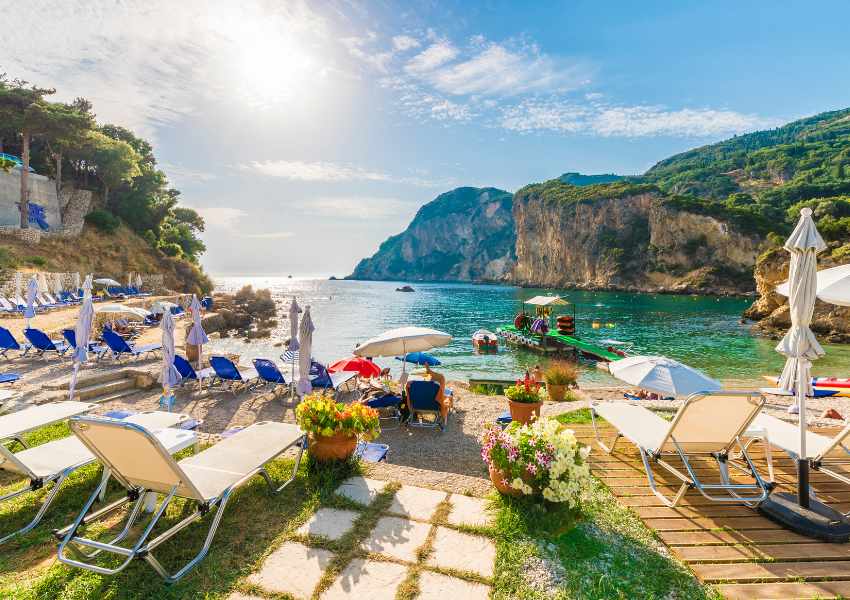 Best Things to Do in Corfu with Kids
UNESCO World Heritage Site
Meandering through Corfu's Old Town lets kids encounter centuries-old architecture, and narrow streets that whisper tales of ancient eras. It's an open-air history lesson waiting to be explored.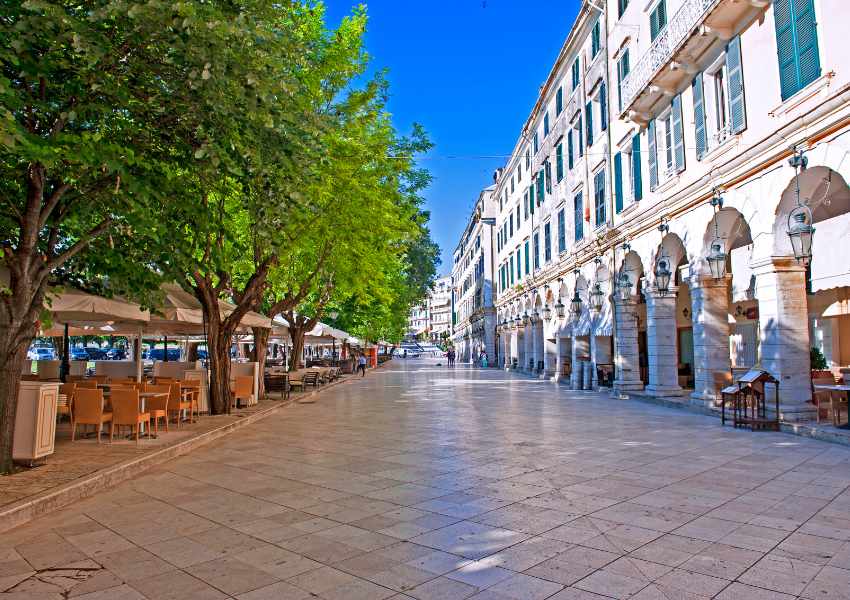 The Old and New Fortresses
These impressive fortifications, standing sentinel over Corfu, offer panoramic views of the city and the sea. Children can imagine tales of knights and battles as they roam the fortress walls. The old fortress was a lot more fun than the new fortress. Find information on both here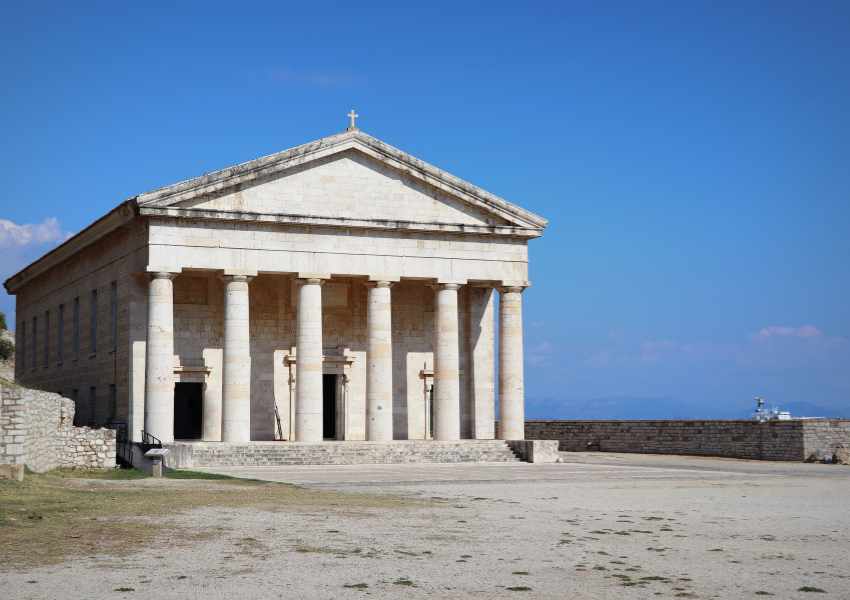 Archaeological Museum of Corfu
For families that love a bit of history, the Archaeological Museum is a must on your Corfu itinerary, you will find artifacts dating back to ancient times. This museum offers children an opportunity to connect with Greece's distant past.
Corfu Museum of Asian Art
Situated in a regal palace, this museum showcases exquisite Asian art pieces. It's a great opportunity for kids to broaden their horizons and experience cultures beyond Europe.
19th-century Achilleion Palace
Once the summer residence of the Empress of Austria, this palace is adorned with statues and gardens that reflect Greek mythology, providing an enchanting backdrop for kids to learn and play.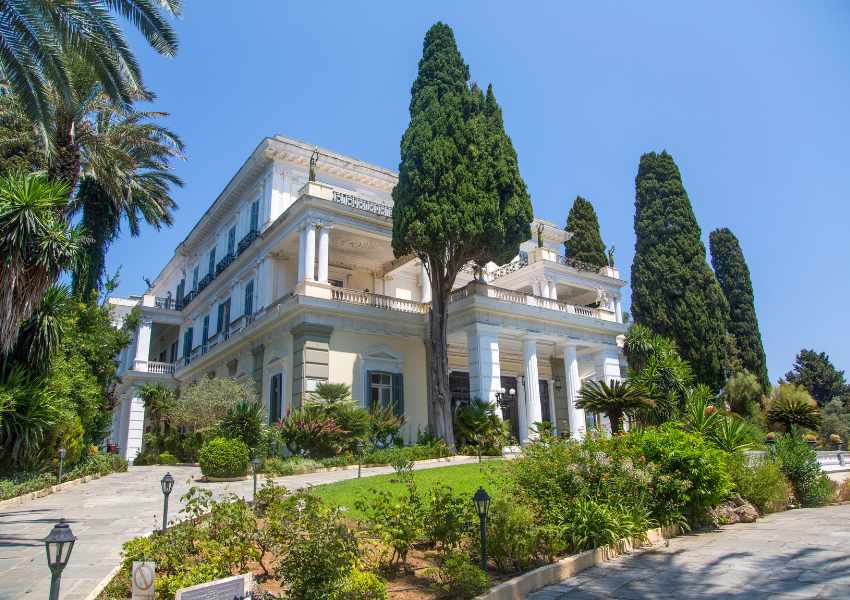 An ideal day trip if you have rented a car in Corfu.
Casa Parlante Museum
This unique museum offers an interactive experience, bringing the 19th-century daily life in Corfu to life with animated figures and authentic sounds. Kids will be mesmerized by the dynamic displays, making history feel alive and relatable.
The Beautiful Beaches for Families
Some of the best beaches in Corfu offering an idyllic playground for families to bask, swim, and play are places like Sidari Beach and Canal d'Amour. A great place to spend the day with facilities and calm waters, ensuring a comfortable and fun day out with kids.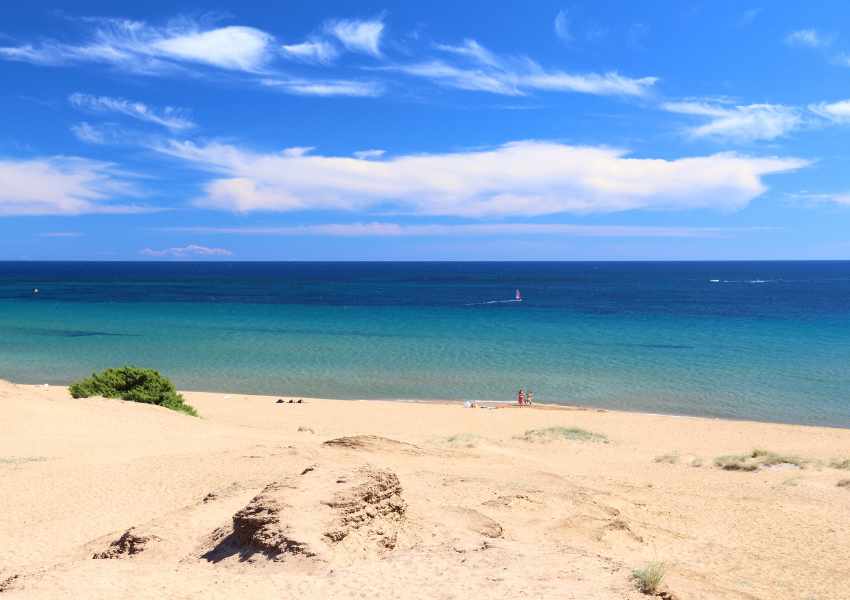 Many of Corfu's sandy beaches have gentle slopes into the sea, allowing young children to wade and splash around safely, giving parents that much-needed peace of mind.
Don't miss out on the mesmerizing sea caves of Corfu! These natural wonders, sculpted by the sea over millennia, are perfect for adventurous families to explore by boat trip!
Visit All the Natural Beauty & Iconic Landscapes
Panoramic views from Mouse Island and Vlacherna Monastery: Looking for a quick day trip out of the old town for the whole family?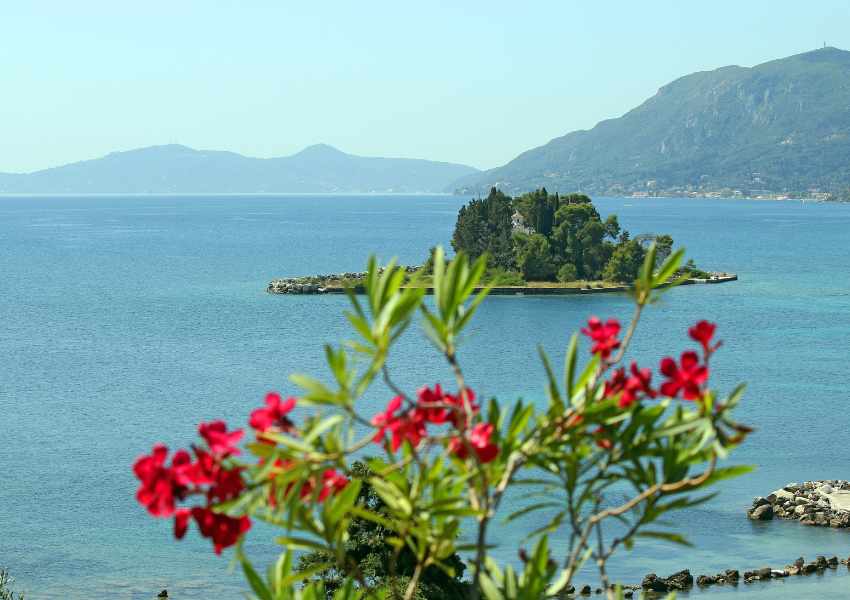 Both iconic landmarks offer breathtaking views of Corfu's coastline and the Ionian Sea, while the kids might not appreciate the views, they will love it when they can see a large plane fly over ahead just before landing!
From the old town of Corfu, it is only a 20-minute drive to Mouse Island!
Olive grove adventures
Dive into Corfu's rich olive heritage by wandering through ancient groves. These serene spots tell tales of the island's age-old relationship with olive cultivation and offer a unique opportunity to learn about the olive oil-making process.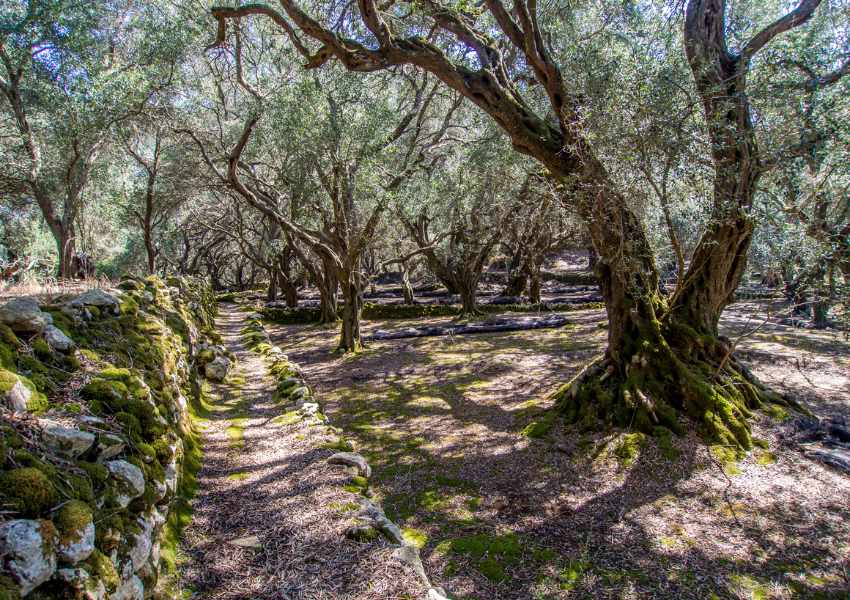 Cypress trees and beautiful gardens to explore
Corfu's landscape is dotted with towering cypress trees and lush gardens. Families can take leisurely strolls, breathe in the fresh air, and appreciate the diverse flora that makes this island a green paradise.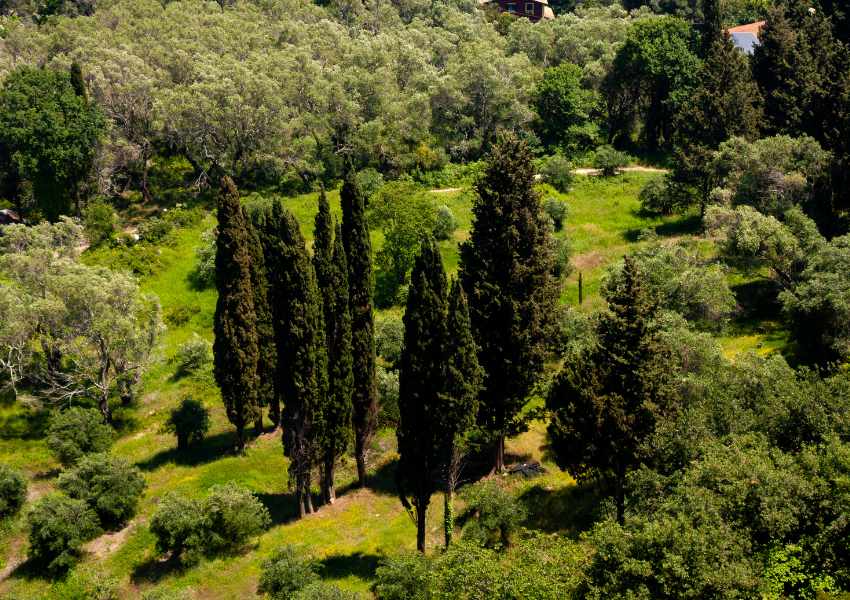 Best Places for Water-Based Family Activities
Boat Tours of the Ionian Sea
Embark on a mesmerizing journey around Corfu's coastline, allowing your family to soak in the island's beauty from the tranquil waters.
Thrilling Water Sports
Ideal for teens and older kids, Corfu offers a plethora of water sports, from jet skiing to paddleboarding, ensuring an adrenaline-packed day on the water.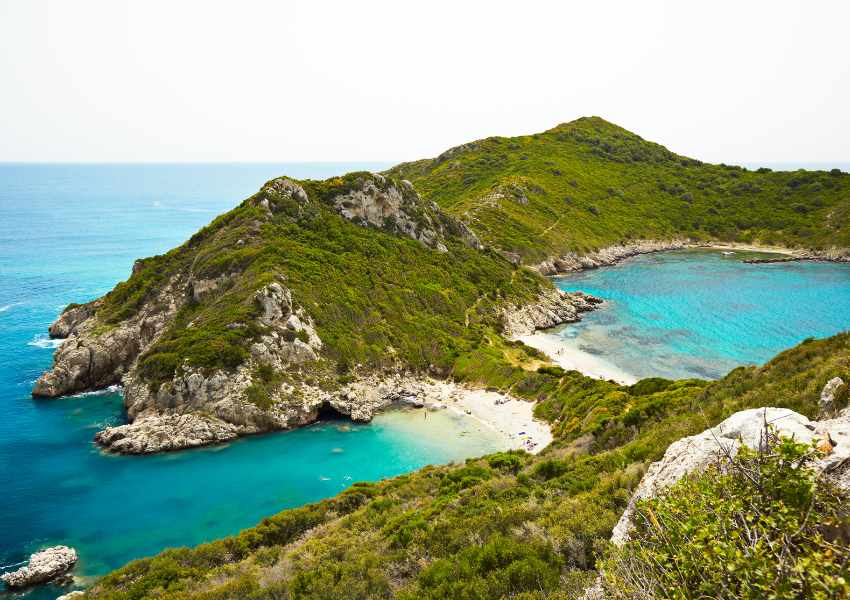 Corfu Aquarium
Dive into an underwater world without getting wet. Let your family be enchanted by the diverse marine life and learn about the creatures that inhabit the depths of the Ionian Sea.
Refreshing Fun at the Water Park
Splash around, float down the lazy river, or ride the exciting waves in the pool. It's a surefire way to cool down and provides endless entertainment for kids and adults alike.
Extra Activities & Unique Experiences
A day at the Corfu Donkey Rescue
This heartwarming sanctuary provides care for abandoned and mistreated donkeys. Families can spend a day here, learning about these gentle creatures, and their stories, and even partake in their care routines, offering kids a lesson in compassion and conservation.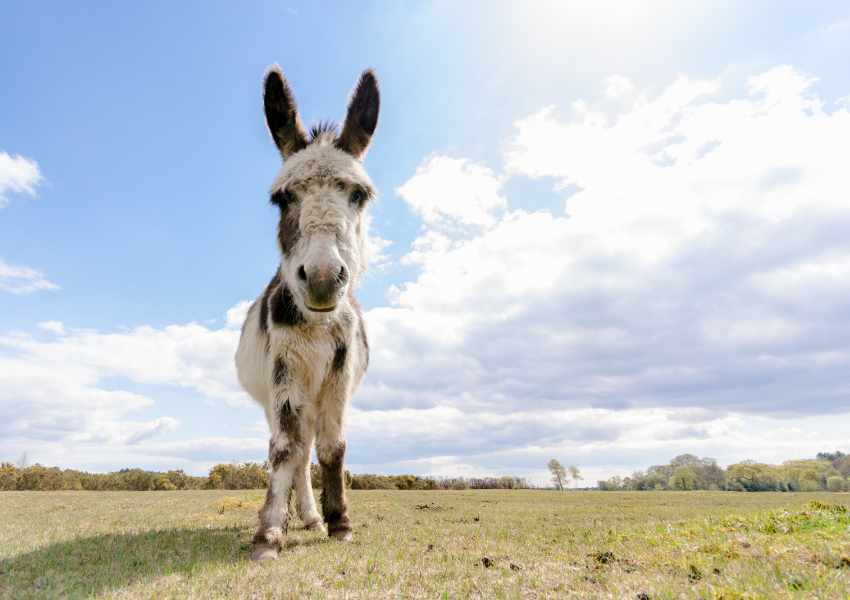 Horse riding along the coast
Experience Corfu's scenic beauty from a unique vantage point atop a horse. Guided rides take families along the island's serene coastlines and through verdant landscapes, making it a delightful and adventurous bonding experience.
Walking tours
Dive deep into the heart of Corfu with guided tours tailored for families. As you wander through Corfu's history and the charming streets of old Corfu town, local stories, and architectural wonders come alive, offering both education and enchantment for all ages.
Tips for Families Traveling to Corfu
Timing is Everything: Consider visiting during the shoulder seasons when the weather is pleasant, and attractions are less crowded, offering a more relaxed experience for family travelers.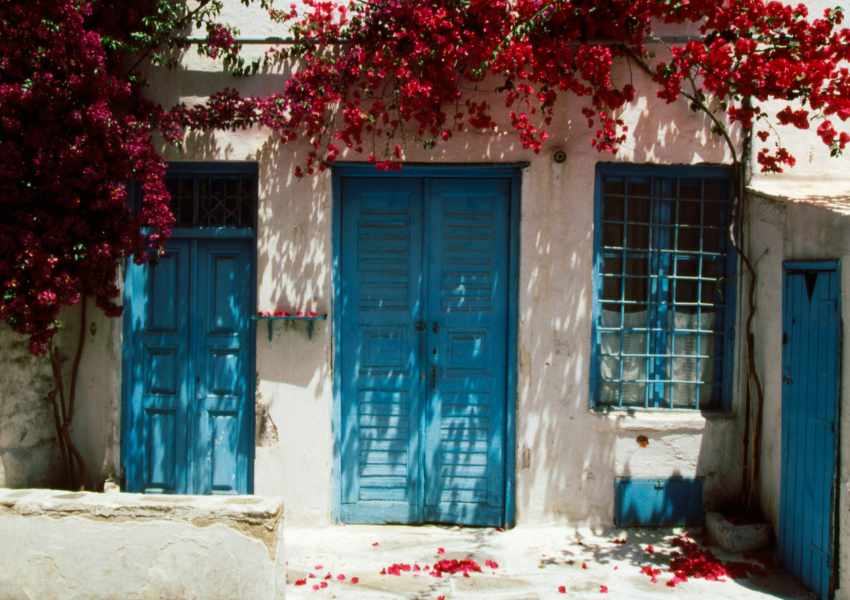 Selecting the Perfect Spots: With so much to offer, prioritize destinations in Corfu based on your family's interests. Whether it's historical sites, beaches, or local markets, choose spots that cater to both adults and kids for a memorable vacation.
Dive into Local Insights: Consider tours guided by locals and embrace recommendations that can lead to hidden gems and experiences that ensure you enjoy Corfu to its fullest potential.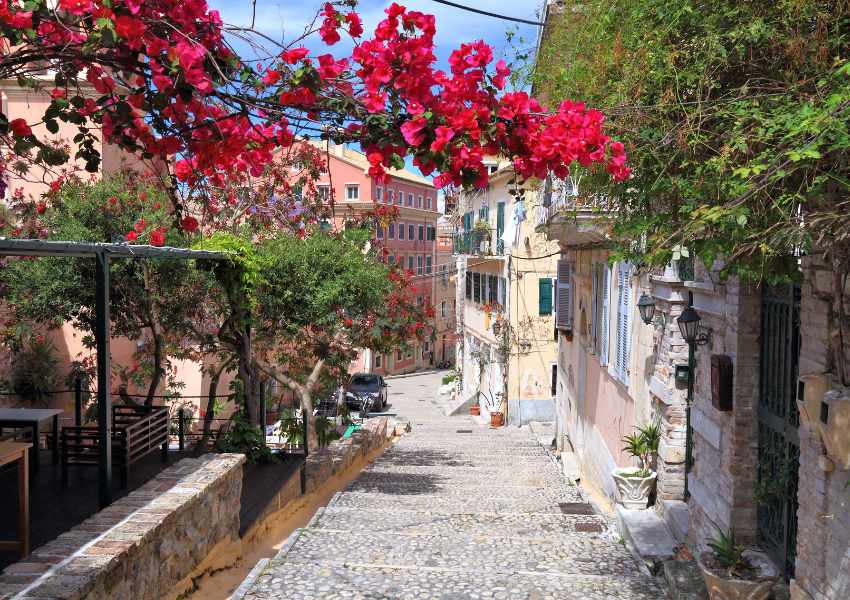 Best Places to Stay For Families in Corfu
The right accommodation can elevate your family trip to Corfu. For beach enthusiasts, numerous family-friendly resorts lie along the island's scenic coastline.
These resorts provide direct access to the shimmering Ionian Sea and often feature amenities tailored for kids, such as dedicated pools, play zones, and activities.
However, if you're staying by the beach, consider renting a car for convenience. For our family, the convenience of beachfront living—building sandcastles, sunbathing, and indulging in watersports—was unparalleled.
If history and culture are more your speed, you'll find some of the best places to stay in Corfu near or in the Old Town are perfect. This UNESCO World Heritage site offers a variety of family-friendly lodgings, from boutique hotels to cozy bed-and-breakfasts.
For a serene getaway, Corfu's mountain villas or countryside lodges might be right up your alley. Amidst olive groves and cypress trees, these accommodations offer a tranquil escape from the usual touristy hubs.
With vast spaces for children to play and stunning views for adults, it promises a refreshing family retreat.
Wherever you decide to stay, Corfu's welcoming atmosphere assures a memorable family holiday.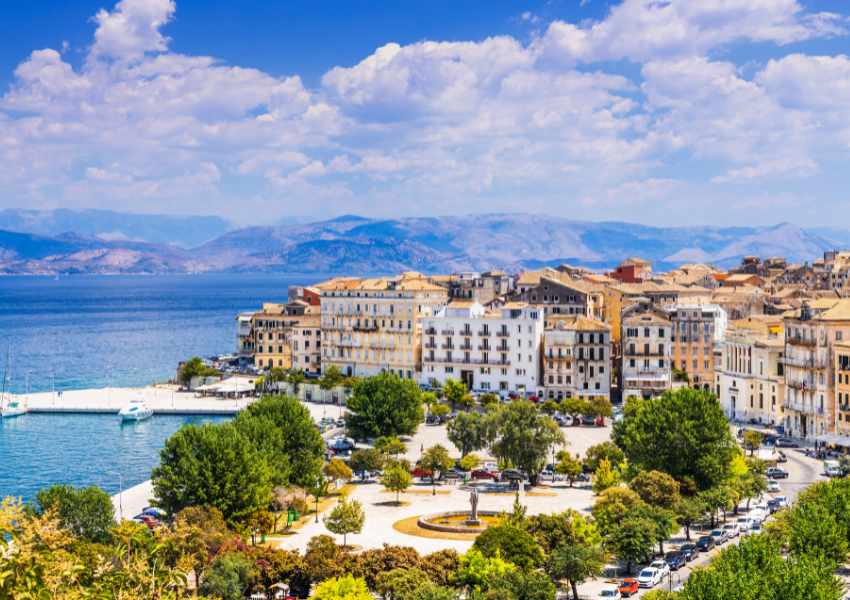 Final Thoughts on Things to do in Corfu for families
We are so pleased we chose Corfu for our family holiday. You will be in great company as other families make it their destination of choice.
Greece is the most welcoming place and will be returning year after year!