Planning a trip to the French capital and wondering what to pack for Paris in the summer? I've put together the perfect Paris summer packing list for you!
Did I mention it's a carry-on only packing list? I'll show you how I pack for most of my trips, including tricks on how you can take EVERYTHING you need to pack for a summer in Paris in just a carry-on.
This carry-on packing list for Paris in summer works for short and long trips!
Packing in a carry-on, especially when visiting places during the summer is possible regardless of the length of your trip. My mantra is that dressing for a trip should be the same as dressing when you're home. You don't use a different piece of clothing every day, do you? Nope – you wash clothes, reuse items, and mix and match to create different outfits!
Plus, if you happen to feel like you're lacking a piece of clothing, you can buy it anywhere (psst. I also wrote this post on my favorite thrift shops in Paris!) and 2) Washing your clothes is possible everywhere in France.
Here's my carry-on packing list for Paris in Summer:
Clothes + Accessories
Underwear
7 pairs of socks
5-6 t-shirts
1 pair of jeans
2 skirts/shorts
2-3 dresses (one maxi dress – they always help you look put together and they're great for pictures!)
1 cardigan or a light sweater
2 bikinis (optional)
1 pair of comfortable sandals
1 pair of sneakers. Wear them on the plane so they don't take up space in your luggage.
1 pair of nice shoes for nights out (optional).
A day bag. I travel with a 20-liter backpack from Quechua (I love their products and have been using them for years already. I also use my Quechua day bag pretty much on a daily basis when I'm home and after a few years, it's still going strong!).
Don't forget to get travel insurance for your trip! As always, I recommend HeyMondo for great prices and coverage abroad. Check them out here. You can also get 5% off if you book via this link!
YOU MAY ALSO LIKE:
Toiletries
I never pack too many toiletries because Paris has supermarkets and you can find everything here. Here's what I do bring:
Travel-sized shampoo or dry shampoo.
Travel-sized conditioner
Travel-sized toothpaste
Toothbrush
Hand-sanitizer
Pro tip #1: If the brand of shampoo you usually use isn't available in France, you can get this set of travel bottles and fill them with your shampoo or conditioner of choice. In case you're wondering, that's because you can only fly with liquid bottles that are less than 100 ml for security reasons. Using those travel bottles will ensure they don't get thrown away at the airport when you go through security.
Electronics
Phone + charger
Universal travel adaptor. France uses a Type C plug, so you'll need an adapter. I recommend getting a universal travel adapter like this one.
Headphones
Portable charger so you can charge your phone on the go and never run out of battery, I've always used this one from Anker. I'm also currently obsessed with this phone-charging passport holder by Lovie Style.
Useful extras
Travel towel. If you plan on staying at Airbnbs and hostels when in Paris, I highly recommend bringing a travel towel. They're super light and take almost no space in your luggage. I recommend this one from Youphoria.
A book (if you don't have a Kindle).
Pen (always useful)
Travel-sized umbrella and/or poncho. An umbrella like this one or a poncho are always good to carry just in case it rains.
Organizing
Packing cubes. Packing cubes are key when it comes to packing carry on as they compress air and save you tons of space. I love this set of packing cubes from Ebags.
Travel Insurance For France
→ If you're still on the lookout for travel insurance for your trip, I highly recommend Safety Wing.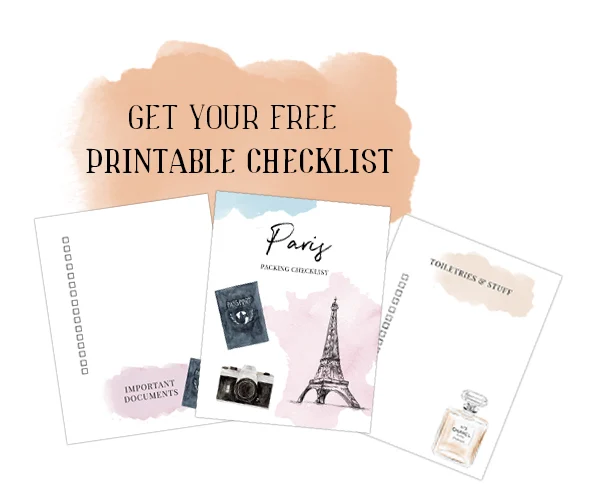 Want to get my free packing checklist? Type in your email in the form field below and I'll send it right over!
Note that by typing in your email, you're subscribing to my newsletter – I'll be sending you occasional emails with new posts and adventures, but you can also unsubscribe at any time if you wish to!
Disclaimer: This packing list contains affiliate links. That means that, if you decided to purchase through them, I might earn a commission at no extra cost to you. This helps me keep this blog running, so thank you!