Things to Do in Colombia Alone: The Solo Traveler's Guide
ARE YOU LOOKING FOR THE BEST THINGS TO DO IN COLOMBIA ALONE? I'VE GOT YOU COVERED!
Colombia is a country full of exciting experiences to have when traveling alone. From its bustling cities and traditional towns to its stunning landscapes and vibrant culture, Colombia has it all!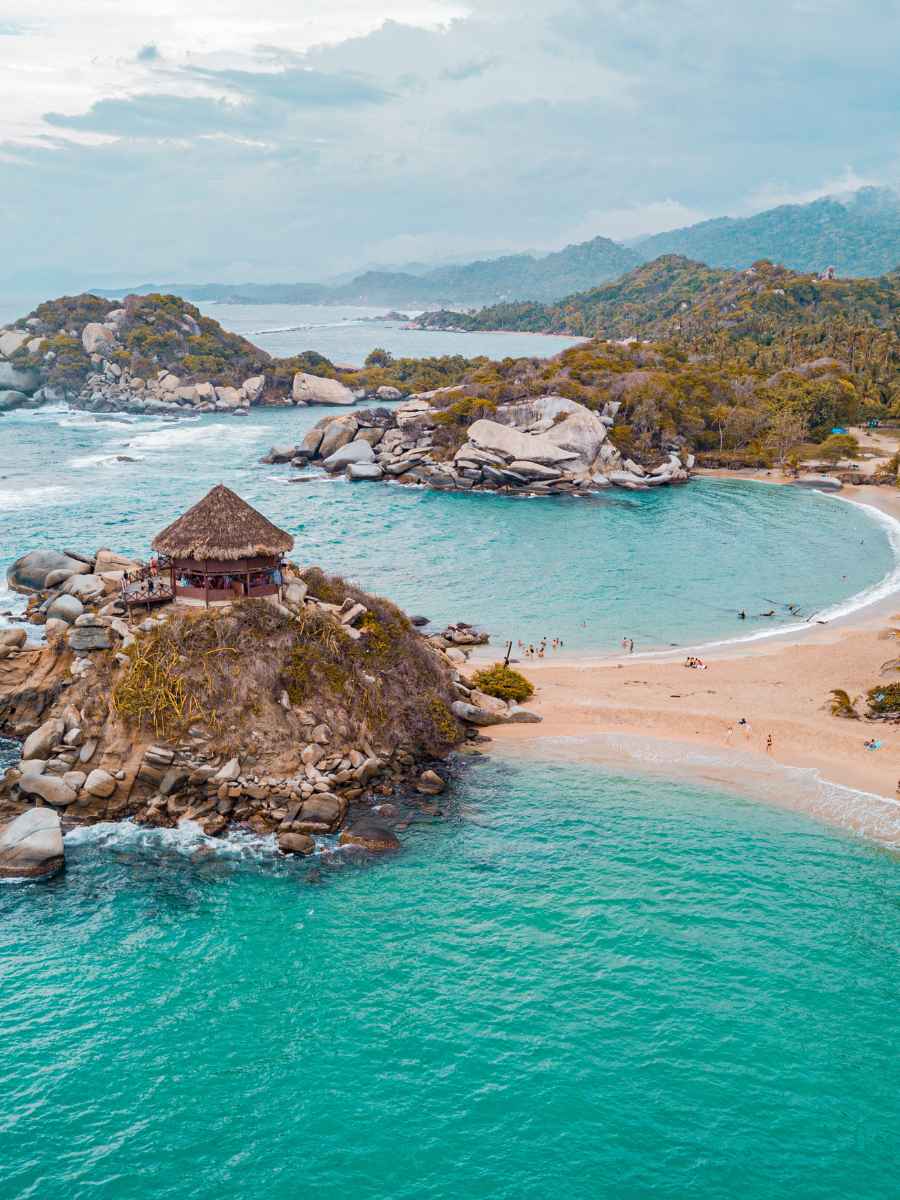 Here are some of the best things to do in Colombia alone, from the most popular attractions to hidden gems that only locals know about.
Things to Do in Colombia Alone
Whether you want to sample local cuisine, go on an adventure tour, or just relax and take in the sights—you can find it all here.
Here are some of the best things to do in Colombia alone, to have an unforgettable experience!
Explore the Cocora Valley and the Coffee region
The Cocora Valley is a must-see when it comes to things to do in Colombia alone. It's home to towering wax palms, the tallest species of palm tree in the world.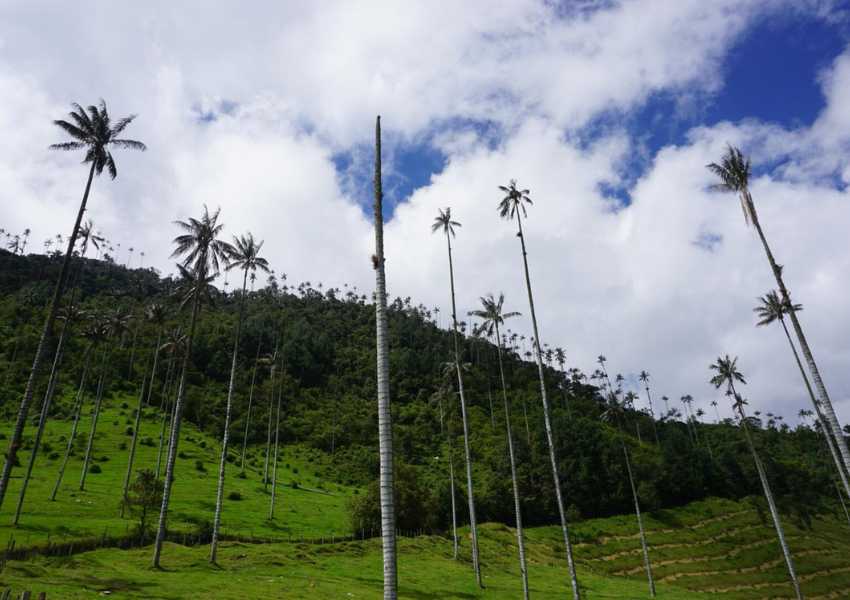 Hiking through this beautiful valley is an unforgettable experience that no traveler should miss out on. You can take time to admire the breathtaking views and explore the surrounding cloud forests, making for a great day trip or a longer stay in the area.
This Valley is situated in Salento, and a trip to Salento wouldn't be complete without taking part in one of their famous coffee tours. You'll learn about the history and culture of Colombian coffee (also known as "Tinto"), visit local farms, and get to sample some of the finest brews in the country.
No matter what, Colombians have the power to make you feel welcome, even if you are traveling alone!
Cartagena: the Caribbean Jewel
No solo trip to Colombia would be complete without visiting Cartagena, located on Colombia's Caribbean coast.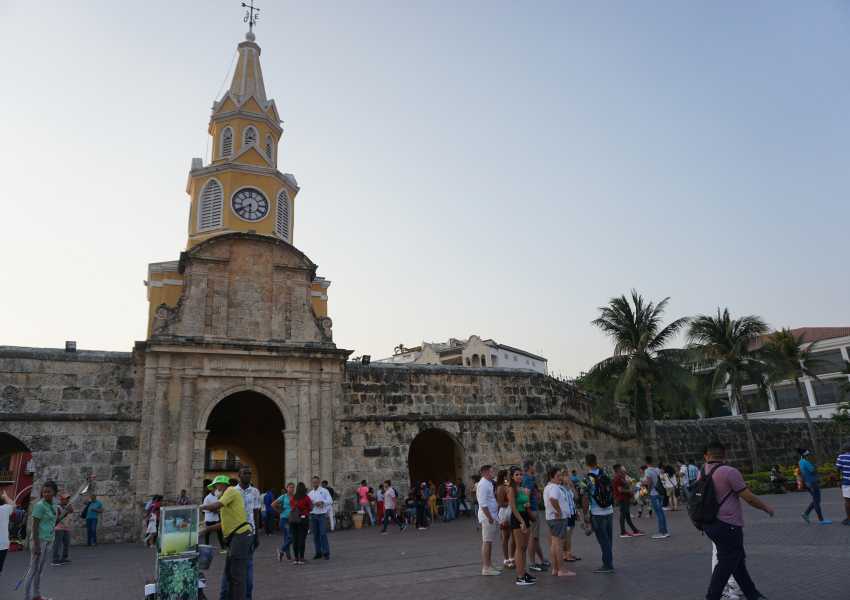 This city is easy to walk around and has many historical sites, cultural attractions, and lively nightlife. You can discover the colonial architecture of the old city or rent a boat to explore the Caribbean Sea and visit the various beaches and islands such as the Islas del Rosario.
There are plenty of things to do in Cartagena that will make your solo trip adventure in Colombia even more memorable!
USEFUL TIPS: Are you wondering about the safety of Cartagena? Don't worry, this article explains that Cartagena is safe and provides local useful tips for your solo trip.
Parque Nacional Natural Tayrona
You don't want to miss exploring this other Caribbean jewelry with stunning natural scenery.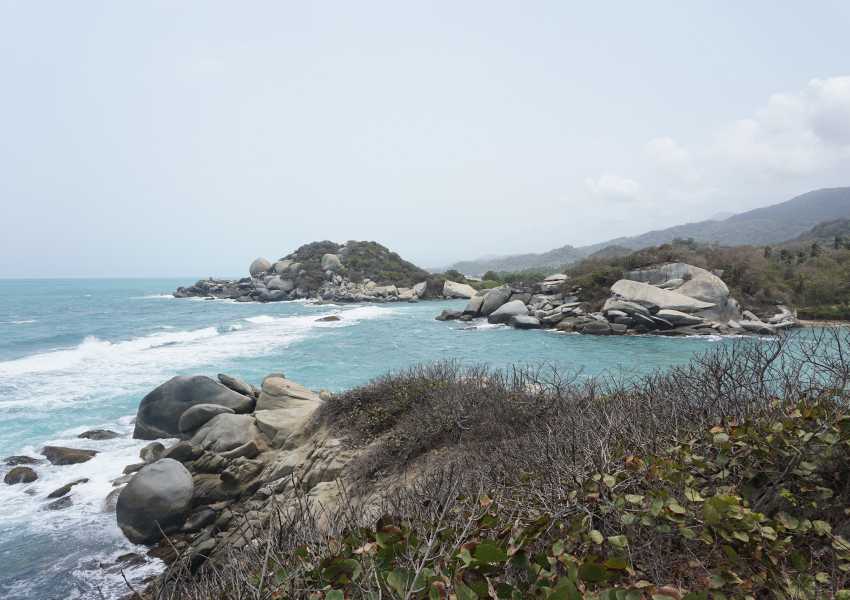 Located on Colombia's Caribbean coast, the park offers miles of pristine beaches, dense forest, and stunning views of the mountains and sea. This natural wonder is giving you just peace and security even you are alone, you won't feel it.
You can relax on the beach, take a hike through lush jungle trails, or do some bird-watching and spot some of the many species of birds that call this park home. If you're feeling adventurous, there are several activities available such as horseback riding or visiting the indigenous village inside Tayrona national park.
No matter what your interests may be, Parque Nacional Natural Tayrona is a great place to explore and experience Colombia alone! And for sure, find some peace and quiet!
Adrenaline sport in San Gil
When we travel alone, we often push ourselves to step out of our comfort zone and take more risks. Therefore, San Gil is another destination that is highly suggested for people traveling solo in Colombia.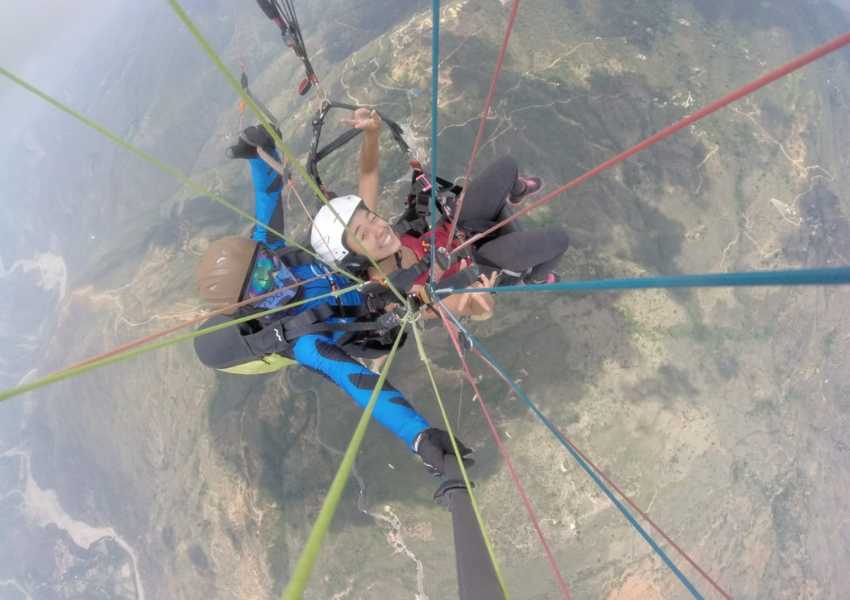 Indeed, San Gil, located in the Santander department of Colombia, is a great destination for the adventurous traveler. There are plenty of outdoor activities to enjoy such as canyoning, thrilling white-water rafting session, paragliding… the list goes on, you name it!
If you're looking for an adrenaline rush, then look no further – San Gil has it all for your solo trip!
Let yourself be enchanted by Medellin
Known as the "City of Eternal Spring" due to its temperate climate and vibrant city life, Medellín offers plenty for solo travelers.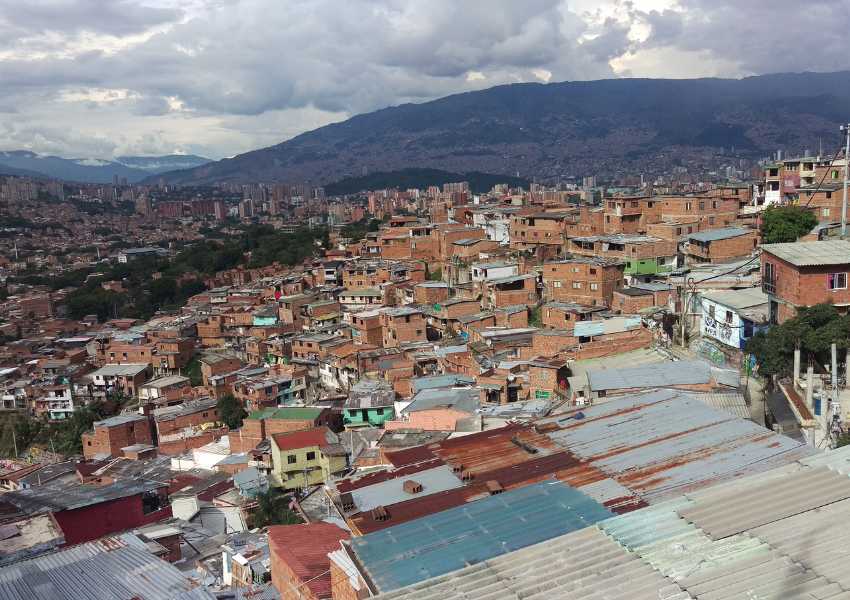 Solo travelers can explore the city's diverse culture through its many museums, art galleries, and musical festivals. You can also take a ride in the world-famous cable car system to get up close and personal with the stunning views of the Andes Mountains, or discover the vibrant nightlife scene.
Additionally, Medellín is not only safe but also very friendly towards solo travelers. The city has a vast network of hostels, restaurants, and bars that make it easy for you to meet new people and exchange stories about your travels.
Whatever you choose to do, you'll be sure to find something in Medellín that will make your solo trip to Colombia even more memorable.
Get lost in the Amazon Rainforest
The Amazon Rainforest is one of the most awe-inspiring places in all of Colombia. It's home to an incredible variety of wildlife and plants, as well as incredible waterfalls, rivers, and breathtaking views.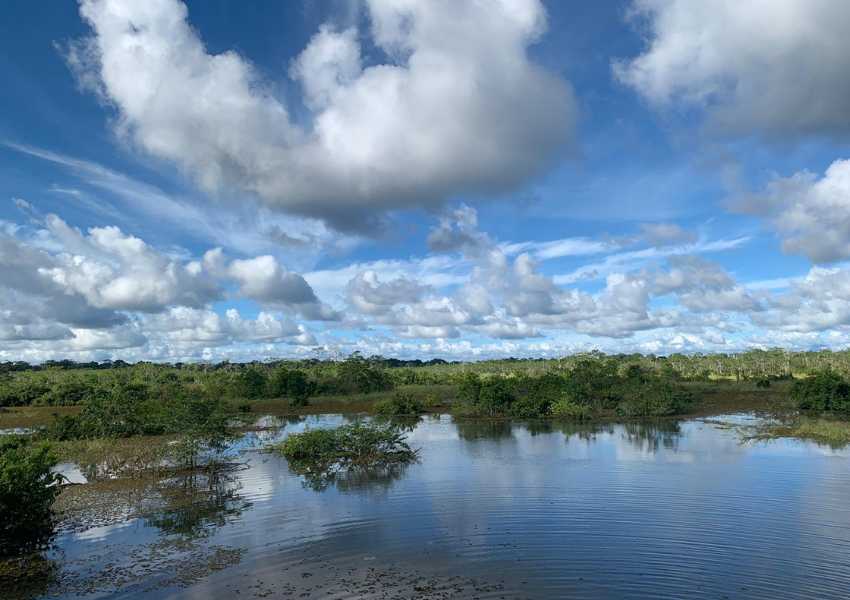 Solo travelers have a unique opportunity to experience the wonders of nature in this vast expanse. The best way to experience it is by connecting with locals and learning about their culture. Becoming so part of the forest and feeling it even more deeply!
With all there is to do and see, it's no wonder that this destination has become increasingly popular for even solo travelers that want to find back themselves. So why not make it part of your next solo trip to Colombia?
Villa de Leyva
Located in the Boyaca department of Colombia, Villa de Leyva is known for its cobblestone streets and colonial-style buildings. It's also home to several cultural attractions, including historical monuments, churches, museums, and galleries.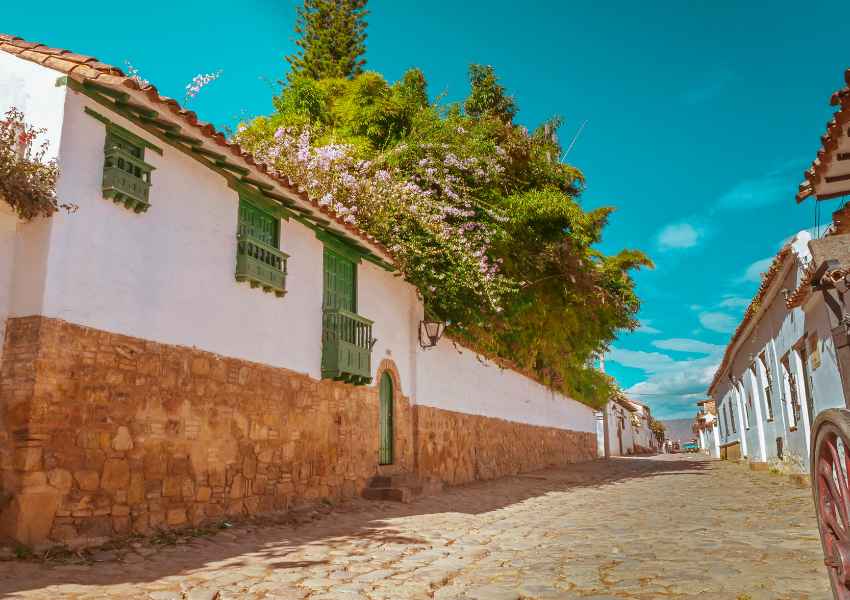 Villa de Leyva is an ideal destination for solo travelers looking to explore Colombian history and culture. The town has a relaxed atmosphere and friendly locals, meaning it's the perfect place to take some time for yourself.
You can explore its many sights on foot, such as the Plaza Mayor or the Paleontological Museum, or hike up to one of its famous nearby hills to admire the stunning views.
No matter what your interests may be, Villa de Leyva is sure to provide you with a memorable and enjoyable solo trip to Colombia.
Fun fact? Villa de Leyva is an old town in Colombia, but Mompox is actually the oldest. However, I would not recommend traveling there alone for safety reasons.
Cali
If you're a solo traveler, don't miss the chance to visit Cali, Colombia, the salsa capital of the country. You'll be enchanted by the music, and its rhythm will stay with you forever.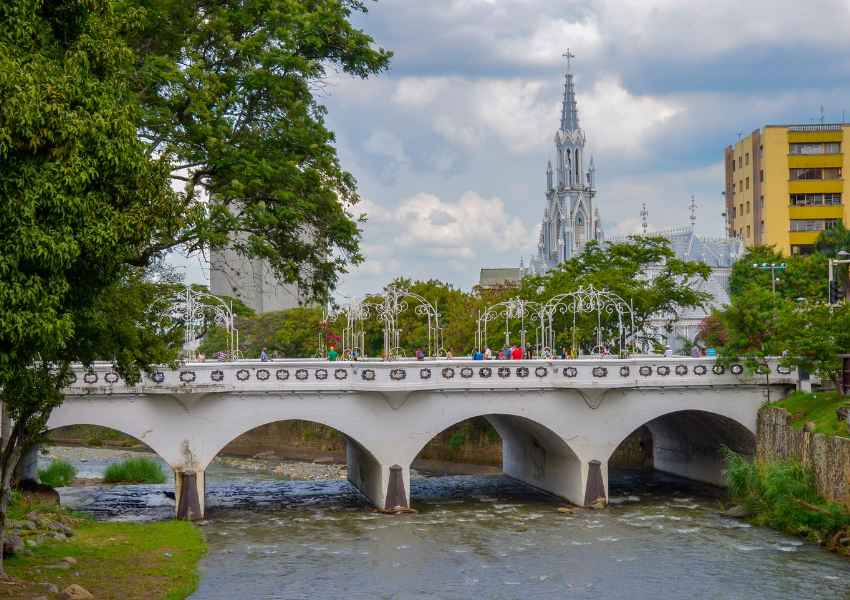 With that said, even if you are going out salsa dancing alone, you'll surely find people to dance with you. Dancing is a cultural expression that involves others without any flirting.
It's also a great place to experience some of the best food tours that offer a taste of exotic fruits that you may have never tried before. And, it would for sure blow your mind, trust me!
Where to Stay in Colombia
When traveling alone to Colombia, there are plenty of accommodation options available. From luxurious hotels and all-inclusive resorts to glamping sites and tents in the wild.
But for the people traveling solo in Colombia, one of the best options is a hostel.
Hostels offer an affordable way to stay and meet other travelers from around the world. They also provide a social atmosphere and often have common areas where you can hang out, chat, play board games, watch movies and even cook. Some hostels offer tours of the city, so you can easily explore Colombia's culture and attractions.
Staying in a hostel is also great for meeting new people, making friends during your trip, and getting tips from locals about favorite spots to visit. Hostels are usually located in the heart of cities, providing easy access to public transportation and main attractions.
So if you're planning a solo trip to Colombia, be sure to consider staying at one of the many hostels available throughout the country! It's an affordable way to explore the country while meeting other travelers and getting local knowledge.
USEFUL TIP: You can even gain a deeper insight into Colombian culture by using Couchsurfing and staying with locals.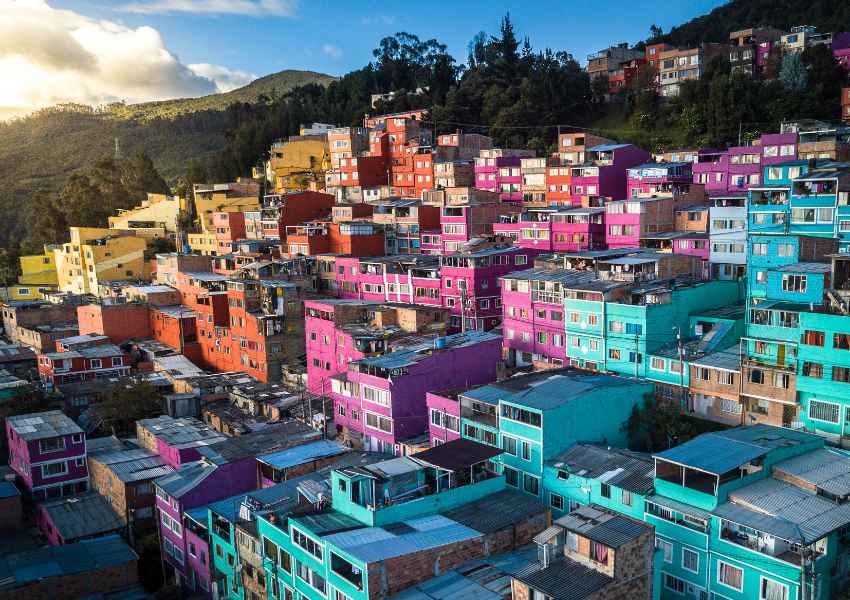 How to Get Around Colombia
It all depends on your budget, the time you have, and the level of comfort you wanna have when traveling.
If you're looking to save money while traveling in Colombia, consider using the country's extensive bus system. While it may take longer than other forms of transportation, it's a reliable way to get around and see the country.
If you have money but are short on time, you can consider taking flights around Colombia. This is because most major cities and small towns in Colombia have daily flights that connect to other destinations in the country.
Renting a car is a great option as it gives you the freedom to explore Colombia at your own pace and schedule. Traveling by car is safe in Colombia, as the country's motto is "the land of a thousand rhythms" which represents its relaxed way of life. So, there's no need to worry.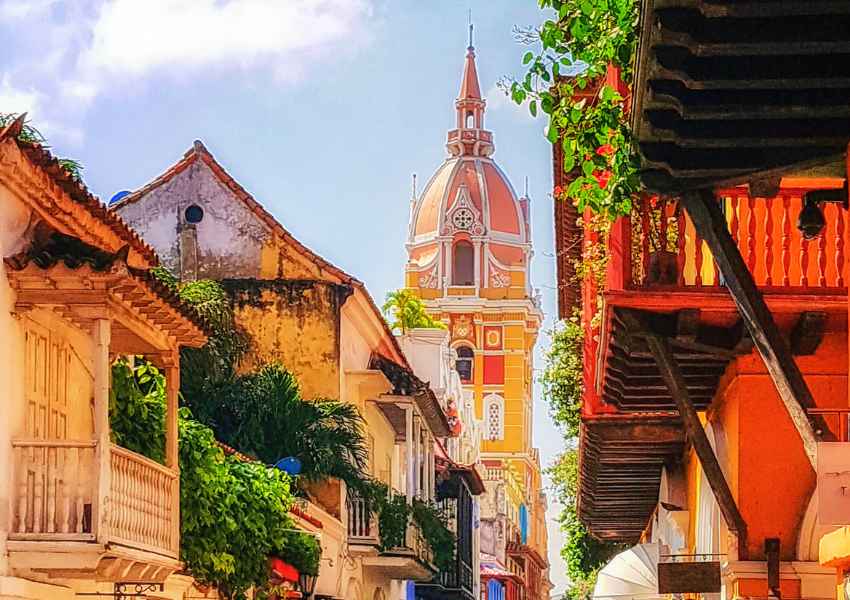 Best Time to Visit Colombia
The best time to visit Colombia really depends on your preference and what you want to do during your trip. In general, the recommended time to visit Colombia is from October through the end of March.
For those looking to go beach hopping along the Caribbean coast, December through March is considered the best time but also the peak season. Coastal areas experience milder temperatures compared to other parts of the country at this time, making it an excellent opportunity for those seeking to escape the cold and engage in sunbathing.
For those wanting to explore the Amazon rainforest, the dry season from October through March is the best time to visit. During this period, you'll have better visibility since there are fewer mosquitoes and less risk of flooding due to the lower rainfall.
The best time to visit Colombia inland such as Cali and the Andes part in Colombia is from January through April. This period coincides with the dry season, meaning that there are fewer chances of heavy rains, allowing for a more comfortable experience when exploring these stunning destinations. During this time, temperatures remain relatively mild and humidity is lower compared to other times of the year.
Plus, this is the time of year when many festivals and celebrations are held in Colombia's smaller towns, making it an ideal opportunity to get to know the local culture. These colorful festivals and parade celebrations are also to be found in Mai or early June!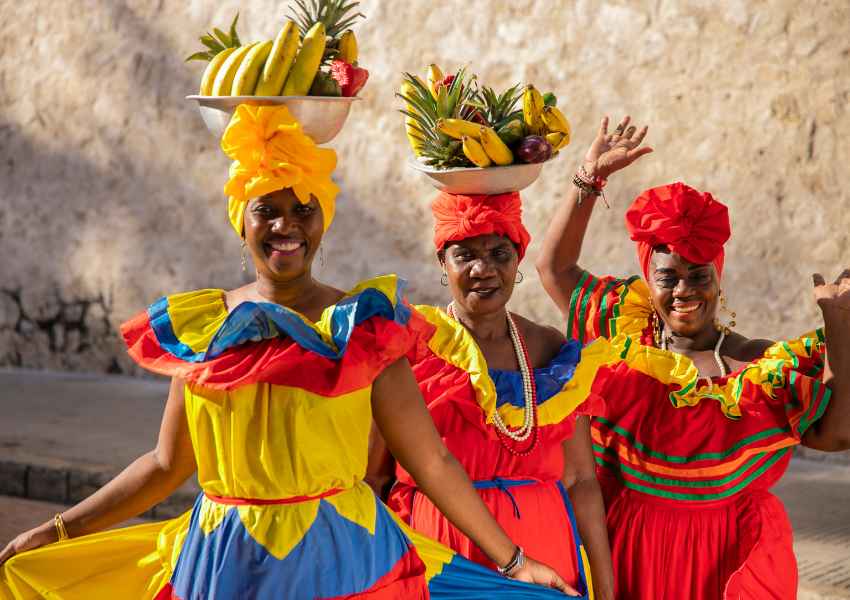 Tips for Visiting Colombia Alone
With these tips in mind, you'll be sure to have an amazing and safe time exploring Colombia alone!
Safety Tips
When visiting Colombia alone, it's important to stay vigilant at all times and be aware of local customs, minimizing so the appearance of looking like a tourist as much as possible.
This also means that you should avoid carrying valuable items such as jewelry, watches, and other luxury electronics with you, and instead leave them at home or in the hotel safe.
Regarding safety, I ease my mom's worries when I travel by sharing my real-time location with her using the "Life360" app. This is how I ensure my safety while enjoying my solo trip. Better to be safe than sorry!
With that said, don't forget to purchase a good travel insurance policy before you depart for Colombia. This way, you'll be protected in case of an emergency and can focus on enjoying your trip to the fullest.
In addition to the tips mentioned earlier, I recommend downloading an offline map to ensure you always know your direction. This will prevent others from recognizing you as a tourist. Also, carry a copy of your ID with you in case you get lost or are asked by the police for identification at a checkpoint.
Having a basic understanding of Spanish is important because it will allow you to communicate better with the locals and navigate easily without any problems. While it's not mandatory, it will definitely make the locals view you in a different way (they won't screw you up).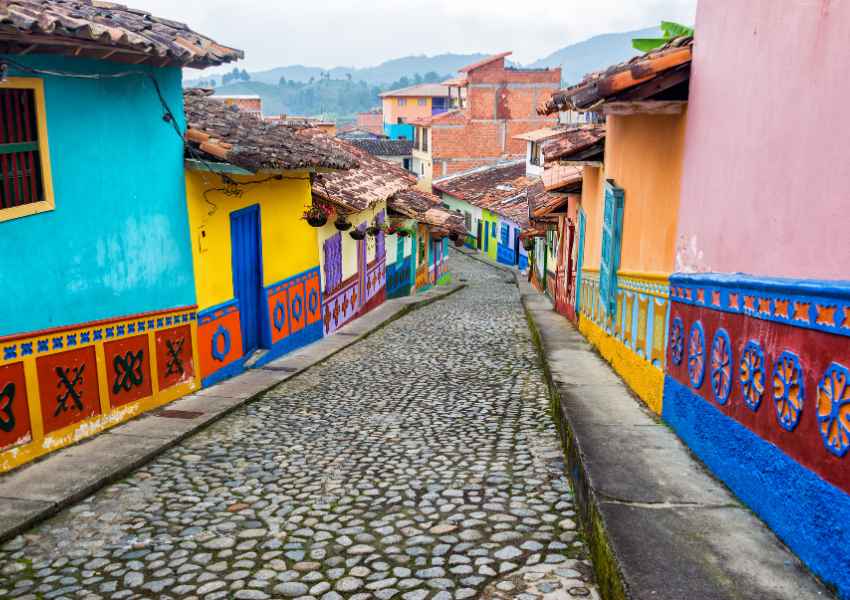 Tips on Saving Money while Traveling Colombia Solo
Saving money while traveling solo is definitely possible!
Following these simple tips will help you save money while traveling solo in Colombia, so you can ensure that your trip is as enjoyable and memorable as possible!
Take Public Transportation: Taking public transport is for sure making saving a bunch of money. So make sure to take advantage of buses when you traveling in Colombia (if you can).
Stay in Hostels: If you want to explore Colombia without spending too much, staying in a hostel is a good option. They're cheaper than hotels and you can also meet new people if you're traveling alone. Another option is Couchsurfing, which is free and provides a more authentic local experience.
Cook your Meals: Eating out is always fun but preparing your own meals will help save a lot of money. You can buy basic ingredients from the local supermarkets and prepare food in the hostel kitchen. You can always do some research or ask the locals in order to find out about the best local eateries that offer delicious cuisine at affordable prices.
Book Early: Booking flights and hotels in advance can save you a lot of money, so make sure to plan ahead and book as early as possible.
Group Discounts: Staying in hostels can also have the advantage of getting discounts on specific activities or attractions if you are getting a lot of people together. So, if you can gather a big group of people, you can save some money.
Use a Budget App: Having a budget app such as Tricount helps you stay on track with your spending so you don't overspend while exploring Colombia.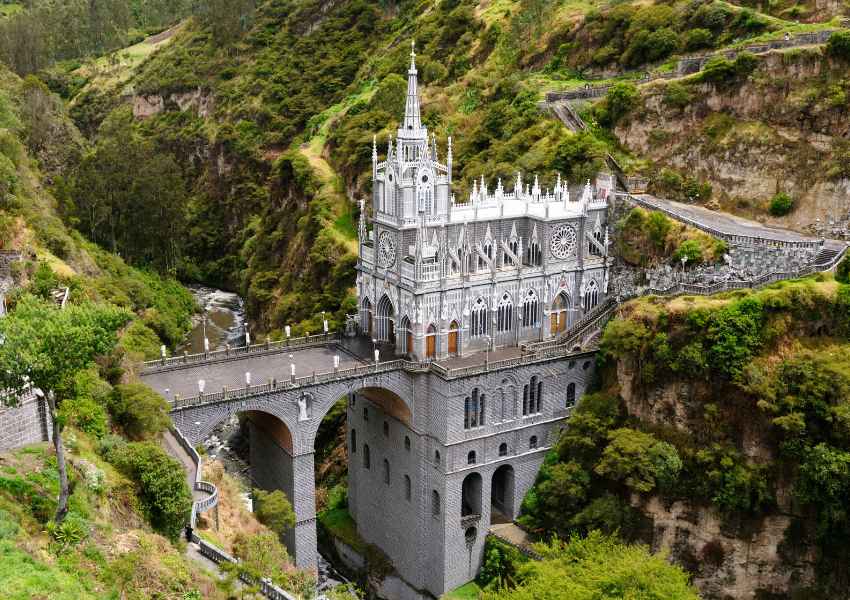 Things to Bring
When visiting Colombia, it's important to pack the essentials so that you're prepared for whatever adventures await.
Here is a list of things you should not forget when visiting Colombia:
Sunscreen and bug spray to protect yourself from the sun and insects.
A universal adapter as the electrical outlets in Colombia are different from those in other countries.
Although the tap water in Colombia is safe for drinking, it is recommended to carry a reusable water bottle to avoid plastic waste.
Comfortable shoes, such as sneakers or hiking boots, depending on what activities you plan on doing.
Raincoat and umbrella for those unexpected showers (weather is unpredictable).
When traveling around Colombia, it is recommended to exchange US dollars for Colombian pesos to have easy access to money since US dollars are not accepted in the country.
First aid kit with basic items such as bandages, antiseptic cream, and painkillers.
A small daypack to carry your belongings while exploring the different attractions in Colombia.
Camera or phone to capture all of your amazing memories!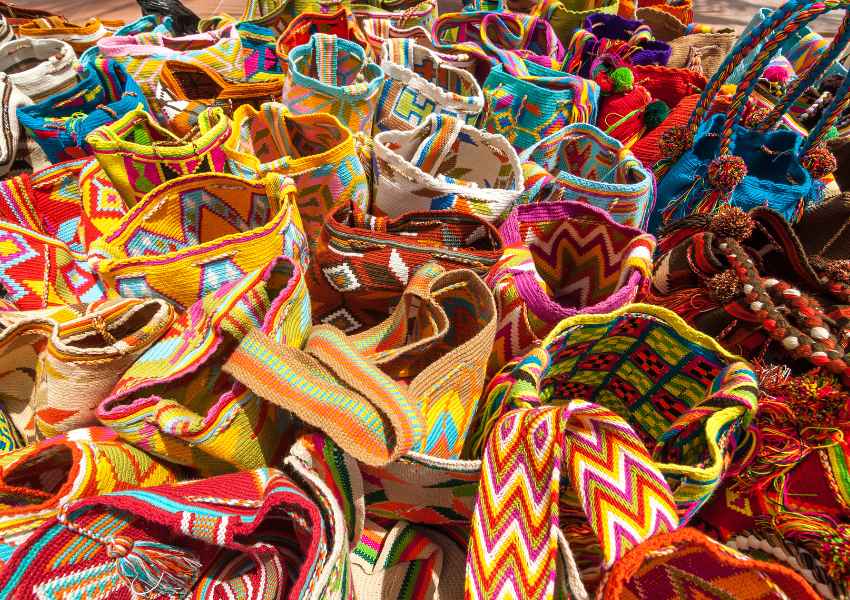 Is Colombia Even Safe for Solo Travelers?
Yes, Colombia is safe for solo travelers! Despite its turbulent past, this country has been through an amazing transformation over the past few years and is now one of the most exciting and vibrant countries in South America.
The locals are incredibly friendly and welcoming, making it easy for solo travelers to explore the country in a safe and secure environment. The infrastructure is good, with plenty of transportation options available such as buses, taxis, and car rentals. And not to mention that there's no shortage of amazing things to see and do here!
From strolling around the cobblestoned streets of Cartagena to exploring the lush Amazon rainforest, Colombia is a country full of incredible experiences for solo travelers (and not only).
The cost of living is also very affordable in Colombia and you can easily find budget-friendly accommodations such as hostels or Airbnb's. Along with cheap and delicious tasty local food available at the food stalls. Keeping so your budget around $20-30 USD per day.
If you had concerns about safety in Colombia, I hope this paragraph helped you reassuring that Colombia is actually a perfect solo travel destination.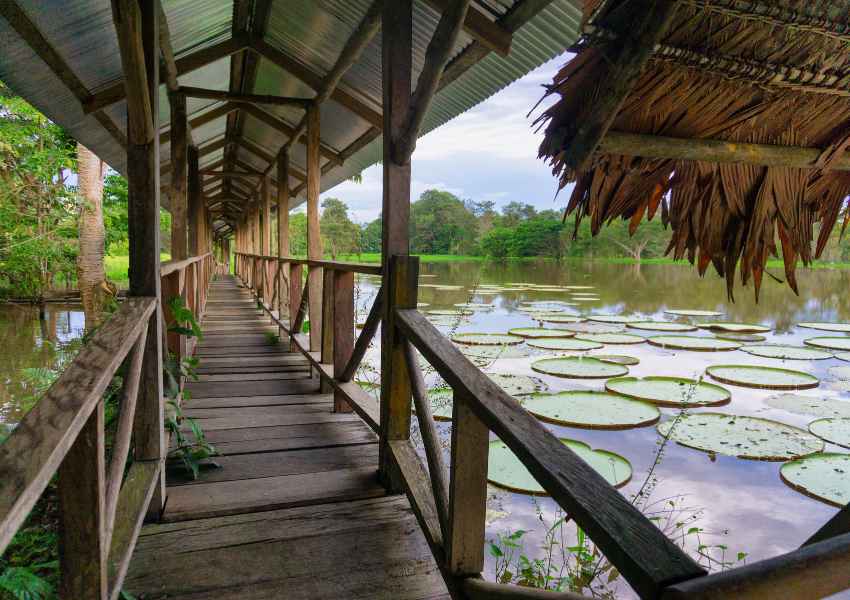 Things to Do in Colombia Alone: Conclusion
Visiting Colombia alone is an experience like no other, providing a unique opportunity to explore the country's stunning landscapes, friendly locals, and vibrant culture.
Colombia is truly a unique destination that offers endless possibilities for solo travelers. Whether you're an adrenaline-seeking adventurer or simply looking to soak up the sun on its pristine beaches, you're sure to find plenty of things to do in this incredible country.
And with all the safety tips in mind, you'll be sure to have an amazing time traveling through Colombia without worrying about safety or breaking your budget.
So pack your bags and get ready to explore the wonders of Colombia alone!
ABOUT THE AUTHOR
Giorgy, the owner of G-Extreme Travel, aims to add some fun and lightheartedness to people's lives. One of their experiences is going off-grid and immersing oneself in Colombia as an undercover tourist, while leaving the comfort zone behind – all with a silly twist. She assists more than 100,000 people each month in planning their adventures and trips in Cartagena, Colombia.