Kota Kinabalu is such an underrated city.
It has such a relaxed vibe, a killer food scene, and plenty of hipster coffee shops where I'd go to work every evening.
But this post isn't about Kota Kinabalu, so why am I *still* gushing about my new-found love for the city?
No, this post is about Adul Rahman Marine Park. Or put into simpler (and easier to pronounce) words, Kota Kinabalu's islands.
They look roughly like this: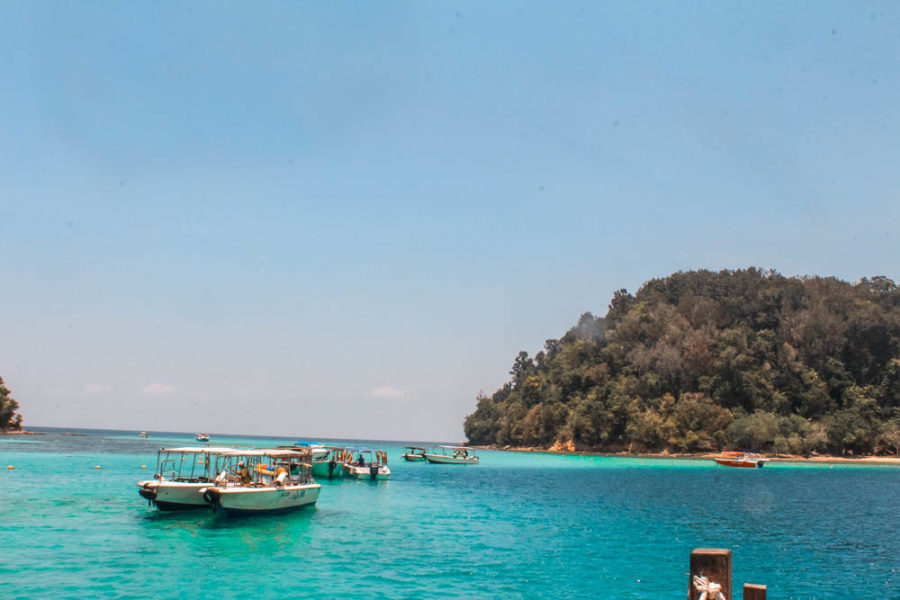 Interested yet?
Just twenty minutes outside of the city's coast sits Abdul Rahman Marine Park, a set of five paradise-like islands that are a must on any Borneo itinerary.
I spent two glorious days island-hopping my way through the marine park and in this post, I'll show you how to do the same!
How to get to Tunku Abdul Rahman Marine Park
Getting to Tunku Abdul Rahman Marine Park is incredibly simple, fast, and cheap.
Head over to Jesselton Point Ferry Terminal in the northern end of Kota Kinabalu, where you'll find tons of boats ready to take you to the island of your choice. It costs RM 17 per person to take you to an island and once there, you can catch another ferry to take you to the next for the same price. The earliest departure is at 7:30 am and the last leaves at 4:30 pm. The last boats return to Kota Kinabalu at 5 pm.
Another option is to book a tour at the boat terminal. These take you to three islands at most and usually cost around 60RM including a snorkeling mask. This is the easiest way to explore the islands if you're short on time as they will take you, wait an hour or so on each island, and then move on to the next one.
Note that there is an Environmental Conservation Fee of RM20 to pay ONLY on the first island you arrive. You'll get a ticket after paying – make sure you don't lose it as you'll have to show it again when you arrive at the next island!
An overview of the islands at Tunku Abdul Rahman Marine Park
Gaya
The largest and most popular island to visit due to its accessibility. Gaya has a lot to offer, from scenic hiking trails through dense forests, turquoise waters, and diving facilities. Due to its popularity, resorts have sprawled over the island and if you want a luxury stay on the marine park, you'll find a few great spots here like Gayana Marine Resort and Gaya Island Resort.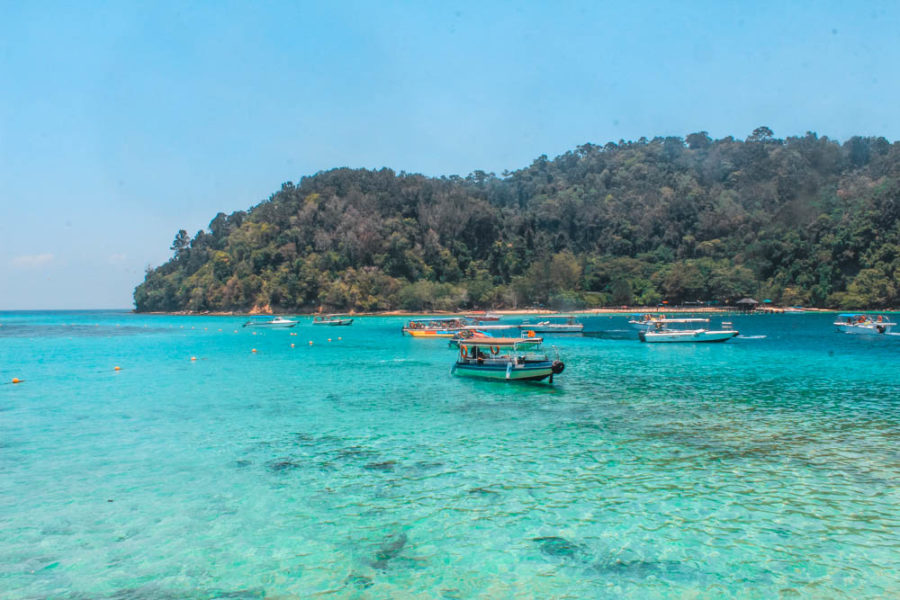 Mamutik
My favorite of all the ones I visited! Mamutik remains quite underdeveloped with the only amenities being a public toilet and shower. You'll also find open diving courses here.
Manukan
A one-kilometer stretch of white sand beach and pine-tree forest. Manukan is heavenly but is also one of the most developed islands on Tunku Abdul Rahman Park and the most popular one for Kota Kinabalu locals (tip: avoid going here on weekends if you don't like crowds!). Sadly, due to its popularity, the coral around it has been totally destroyed, but you can still find some cool fish when snorkeling near the jetty area.
Moreover, if you like to hike, there is a one and a half kilometer jungle trail starting at the base of the dock.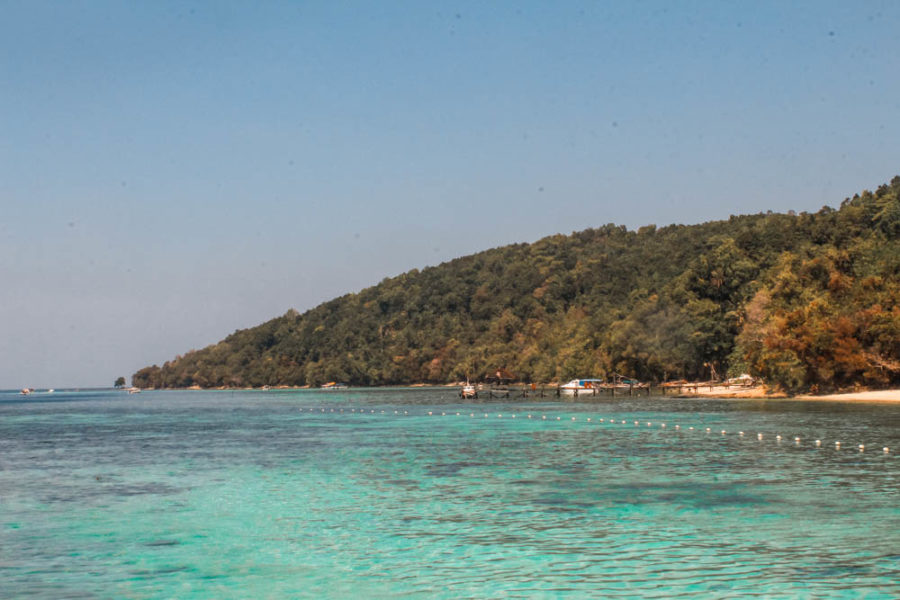 Sapi
This is the tiny island next to Gaya and it's also super popular for snorkelers and divers. You can also camp here if you're feeling adventurous! While the main beaches here tend to get crowded with day-trippers, if you head further afield, you'll find the best beaches on Tunku Abdul Rahman Marine Park!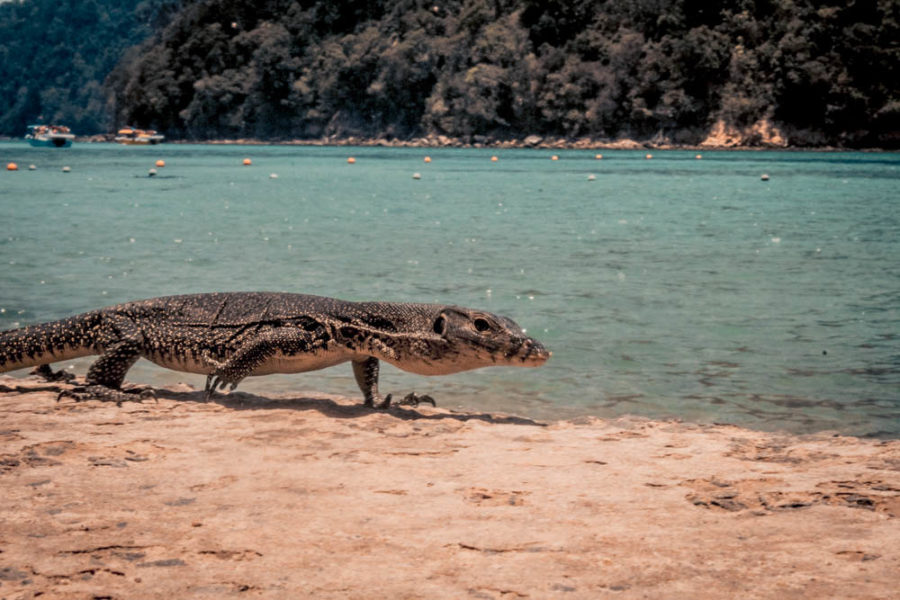 Sulung
And last but not least, the most secluded island in Tunku Abdul Rahman Marine Park. This island is completely inhabited and due to its remoteness, it's the least developed as well. I didn't get to visit because I was unable to find a boat to take me – most of them focus on taking people to all the other four and maybe that's a good thing. Although Kota Kinabalu's islands are paradise-like, you can clearly see how tourism is taking a toll on them. Perhaps it's best to leave Sulung alone?
Tips for visiting Kota Kinabalu's Islands
1-3 hours are usually enough to explore the islands at Tunku Abdul Rahman Marine Park. You can easily visit a few of them in one day or all five if you start early. However, I recommend allowing two days so you can relax at the beaches, swim, and also take advantage of the hiking trails.
Sunscreen is a must! The sun is unforgiving here. As always, make sure it's reef-safe sunscreen.
Remember that the last boats return to Kota Kinabalu at 5 pm.
Bring snacks. There are a few restaurants on the bigger islands like Gaya and Manukan but I found them overpriced and honestly, the food wasn't great.
Bring lots of water!
The best time to visit is during weekdays if you don't like huge crowds. Visiting the islands is a popular activity for Kota Kinabalu locals and they can get pretty crowded on weekends and public holidays.
More tips on Borneo travel
Ever since I left Borneo, I've been keeping busy writing useful resources to help you plan your trip to the island. Head over here to check out all my posts about Malaysian Borneo.