Picture this: A cozy outdoor jacuzzi overlooking rolling pastures backdropped by the Drakensberg Mountains. A home away from home cottage surrounded by nature and days on end spent getting pampered at a spa.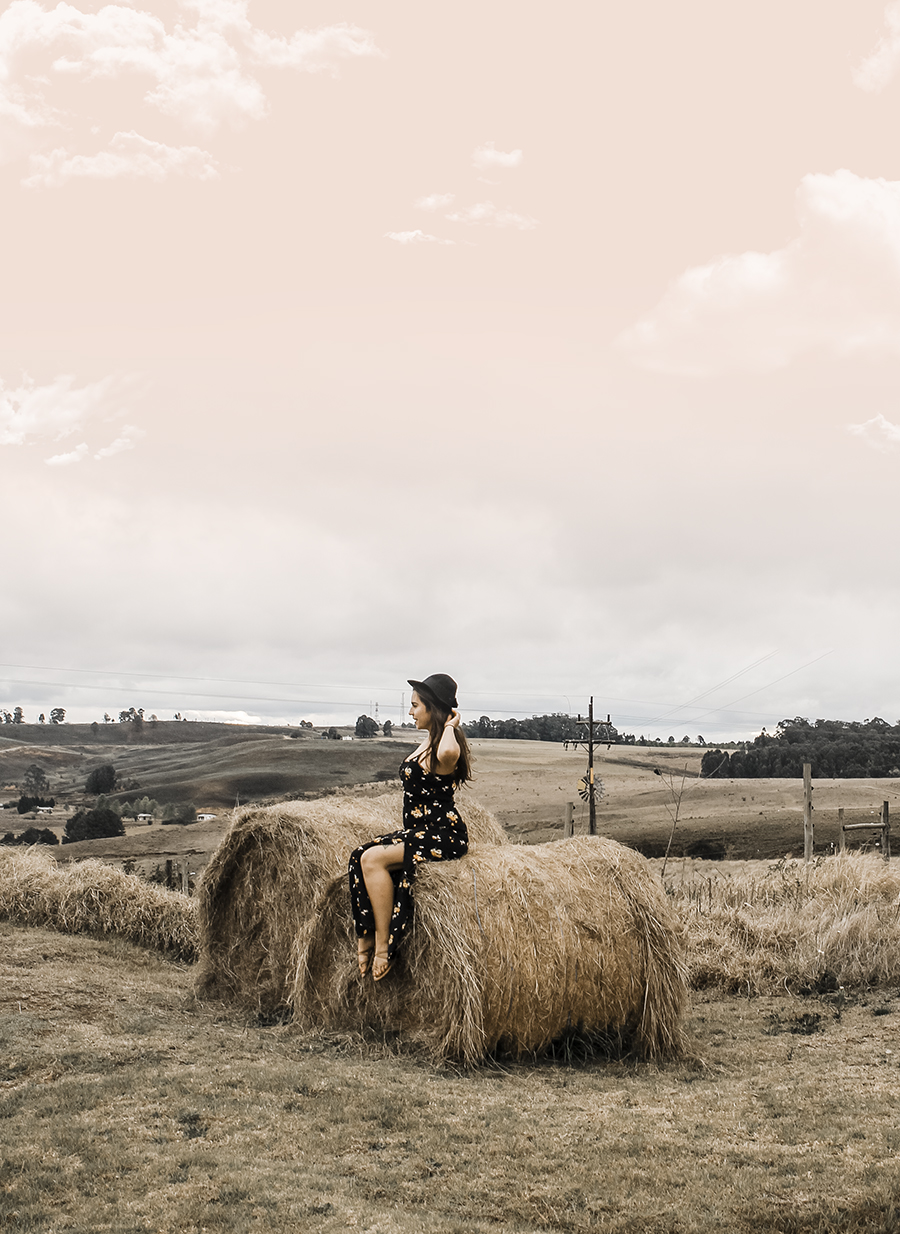 Sold yet?
If a romantic spa respite is what you're after, Brahman Hills is your best bet! Situated next to Blue Crane Nature Reserve, one of the lesser-known reserves in KwaZulu Natal, this cozy property is the perfect place to get away from it all and fully soak up all that countryside goodness the Midlands has to offer.
The Cottages
After a welcome introduction to the common areas of the lodge, we were shown to our home for the following couple of days, the Oribi Cottage.
One of my favorite things about staying at Brahman Hills was their attention to detail. Every self-catering cottage is named after an animal, and the decoration's theme is made to match.
I couldn't believe my eyes when we opened our glass sliding back door and saw our private deck. The cottages at Brahman Hills are set on the adjoining reserve and you can expect total privacy, killer views, and wildlife passing by while you take a soak in what I can only call the most amazing jacuzzi in the world.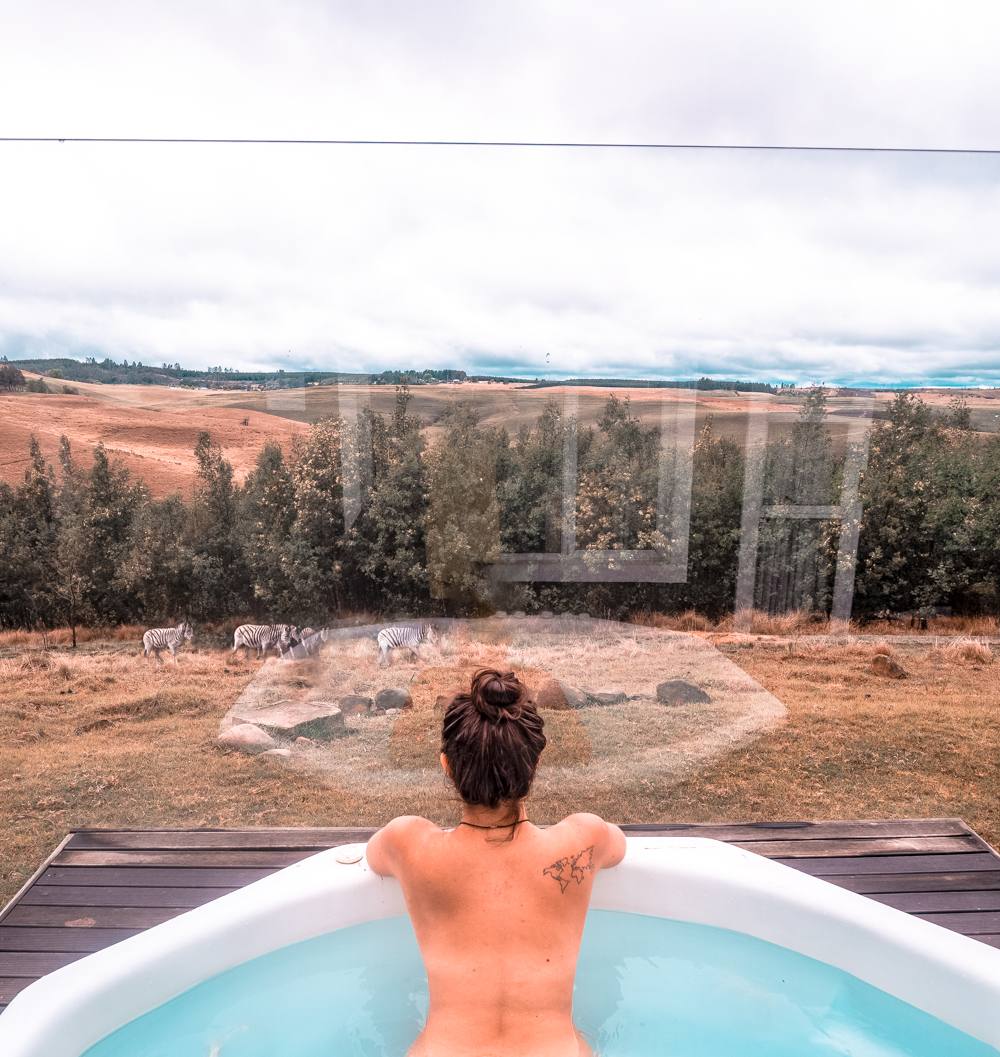 Can you spot the zebras? Bel and I were just chilling and they suddenly showed up!
And don't even get me started on the bathroom! When you get tired of relaxing on your private deck (as if!), you can take a shower or soak in the bathtub with yet more views of the reserve.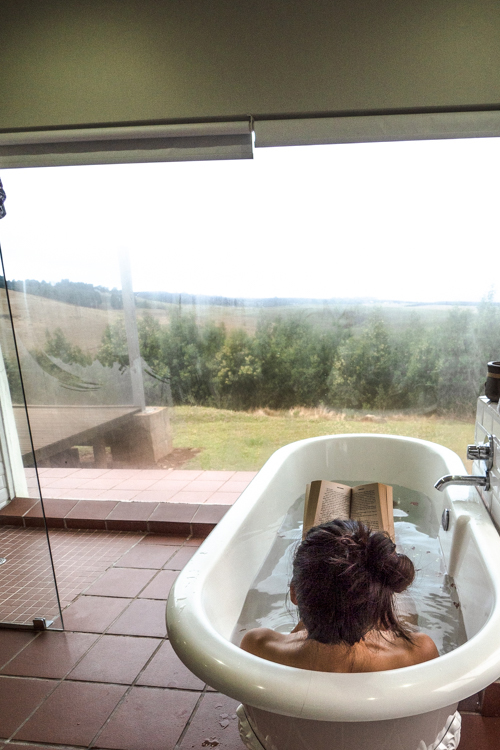 And yep – that includes more zebras! I mean, going on safari is great and all, but does anything beat watching wildlife do their thing from the comfort of a salt bath?
Dining
Brahman Café
Even though the kitchen in our room was incredibly well-equipped, we didn't actually use it much as the dining experiences at Brahman Hills are just too good to pass up.
We had two delicious breakfasts at Brahman Café, a homey lounge set on The Barn inside the property. On the first morning of our stay, we enjoyed their breakfast buffet (which has a ton of vegetarian options) and on the second morning, we both ordered from their a la carte menu.
The cheese platter was my personal favorite, and I also recommend ordering a cappuccino here – it's the best cup I've ever had!
89 on Copper
I've said it before and I'll say it again: One of the highlights of our stay at Brahman Hills was the food. On arrival, we were greeted with the most amazing three-course dinner at 89 on Copper, a cozy restaurant set on the property's wine cellar.
The restaurant is snug and can seat up to twenty-six guests, but since we had just flown into Durban and driven for two hours to get to the resort, they were happy to let us have dinner a bit earlier and we had the entire cellar all to ourselves.
After dinner, or if you just fancy a drink, you can opt to head over to Copper, an adjoining bar also situated in the wine cellar beneath the Barn. Their wine and cocktail menu is insane! We didn't actually stay for a drink here as we were incredibly tired after a rough travel day, but once I told the barkeeper that I was from Mexico, he offered me a ton of tequila-induced drinks, ha!
All throughout our trip through South Africa, Bel and I kept joking on how we should maybe consider dating and eventually getting married. Our entire trip was so honeymoon-like with the most intimate dinners and luxury stays that um, yeah, I mean, it wouldn't be exactly the worst idea to date a fellow travel blogger!
The Chapel
Speaking of weddings – Brahman Hills is a popular venue in South Africa to host one. Brahman Hills boasts one of the coolest wedding settings I've seen – a lakehouse glass chapel! We took a quick peek and quickly fell in love with the idea, so much that Bel concluded this is where she'll host her wedding one day.
The Spa
Staying at Brahman Hills is all about getting pampered, so a few hours at the spa were next on our itinerary.
With eight luxury treatment rooms and a choice of therapies, you can easily spend hours here and not get bored. We chose one of the signature treatments and enjoyed a heavenly 60-minute long massage followed by a bath. Before leaving, we were treated with chocolates and a cup of coffee. Heaven!
We'd just spent a week traveling Swaziland + doing a ton of outdoorsy experiences, and a day of getting pampered was just what I needed to get my energy levels back to normal. Seriously, the massage was so good that I actually zoned out for a while!
One thing I really loved about the spa at Brahman Hills was that they use natural eco-friendly products, all of which are sourced in the Midlands.
They offer a ton of different treatments as well as packaged stays which include time at the spa, so I recommend checking out their official website to see what specials they have going on.
Things to do around Brahman Hills
Even though hanging out at the property is a perfect way to spend a day or two, there are also many things to do in The Midlands if you need a break from all the pampering. When we weren't at the spa or eating our weight at the Brahman Café, we were checking out The Nelson Mandela Capture Site or exploring the boutiques at Piggly Wiggly, a cute little market boasting boutique shops and eateries on the Highgate Wine Estate.
If you're feeling adventurous, you can also go and check out Howick Falls, a 95-meter high waterfall and one of the top attractions in Natal Midlands. Legend has it that the pool at the bottom of the waterfalls is the home of Inkanyamba, a giant snake-like creature!
Staying at Brahman Hills was the best way to get a feeling of what this area of South Africa has to offer. Whether you're a local looking for a weekend getaway destination where you can forget all those adulting woes or if you're currently doing a road trip through the country and want to break the long drive between Durban and Johannesburg, Brahman Hills is definitely your go-to!
Sold? Book your stay at Brahman Hills here!
Disclaimer: This post was written in collaboration with Brahman Hills. However, all opinions are my own.
PIN THIS POST FOR LATER