Chimfunshi: The Most Amazing Chimpanzee Sanctuary in Zambia
I never knew there was so much left to look forward to in Africa until I heard about Chimfunshi, a chimpanzee sanctuary way up north in the Copperbelt region of Zambia.
I had hiked an active volcano and slept on the rim of the largest lava lake in the world, I had trekked the jungles of the Congo to meet mountain gorillas in the wild, I had spent a week living in an authentic Maasai village and my car had gotten chased and almost trampled by an angry elephant in Tanzania. I mean, how could anything in this world make me feel excited after the madness that had been the last six months of my life backpacking Africa?
I was completely beaten up and looking forward to spending my last days in the continent chilling by my hostel's pool before my flight out of the continent.
But then I ran into Karo, a Polish girl who was doing a similar route in Africa. I first met her in Tanzania, and we both happened to run into each other again in Malawi. While we were catching up on our journeys, she mentioned this chimpanzee sanctuary in the Congolese border with Zambia she had heard about.

My visit to Chimfunshi: The best ape sanctuary I've visited in Africa so far
A few days later, we found ourselves venturing into northern Zambia to meet the chimps. As we got deeper into the Copperbelt Region, our phone signals completely faded, the pavement on the road turned into dirt, and all we could see in either direction was a chunky forest.
The Copperbelt region in Zambia is rarely visited by tourists. There isn't actually much there other than copper mines and unimpressive landscapes, but we had both grown obsessed with the idea of seeing human's closest relatives that we didn't mind the long journey to and fro.
As we looked out the windows of the bus for any sign of life, we were laughed at by the passengers in a language neither of us could comprehend. There was virtually nothing around, our signal was void, and the sun was setting quickly. In silence, we were both plotting where we would spend the night and whether or not it'd be safe to pitch our tent on the roadside.
But as it always does, things worked out in the end. We spotted Chimfunshi's sign on the road and sighed a sound of relief.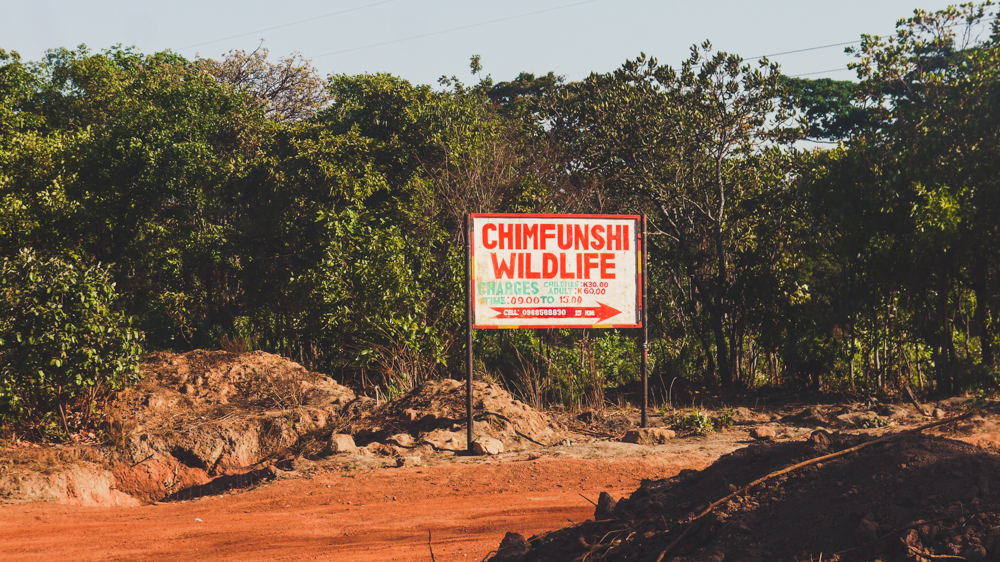 The following day, we were driven around the massive sanctuary to see the chimpanzees eating, climbing trees, and more often than not, throwing rocks and branches at the car.
I tend to be very skeptical of animal tourism, but Chimfunshi has been one of the few places I've visited with animals involved that didn't leave me wondering if I had just contributed to some evil scheme.
The chimpanzees have an area of 4,200 hectares to roam around. We only saw around 20 chimps from the 120 that reside there because most of them prefer to stay away and just roam around in what really is the jungle and natural habitat. The only difference from an actual forest is that it's gated to prevent poaching.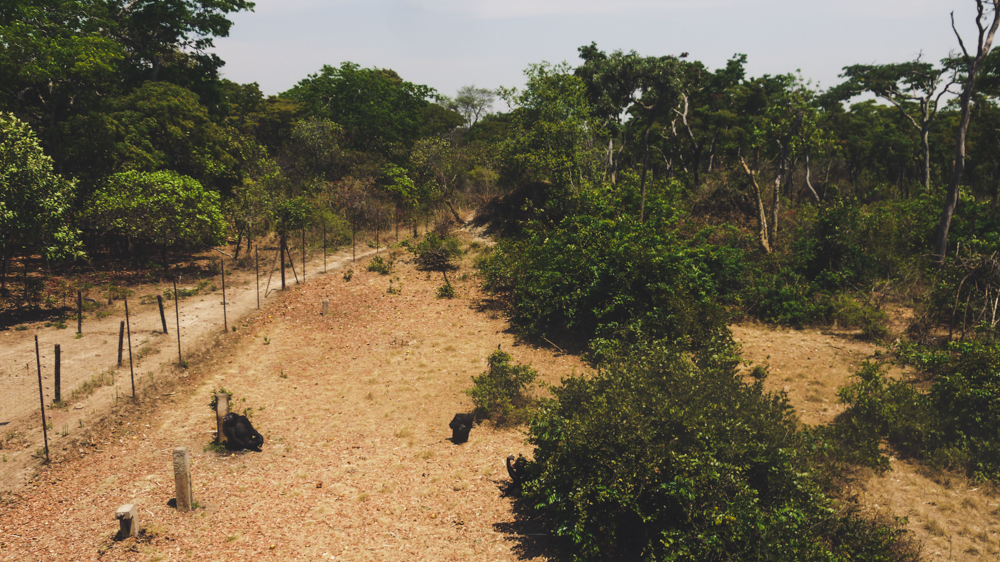 I was so impressed by how similar to humans they are. You could see how each chimp had a distinct face and their personalities really radiate through their facial expressions and actions. Some chimps were shyer and kept to themselves, while others didn't hesitate to throw sticks at us.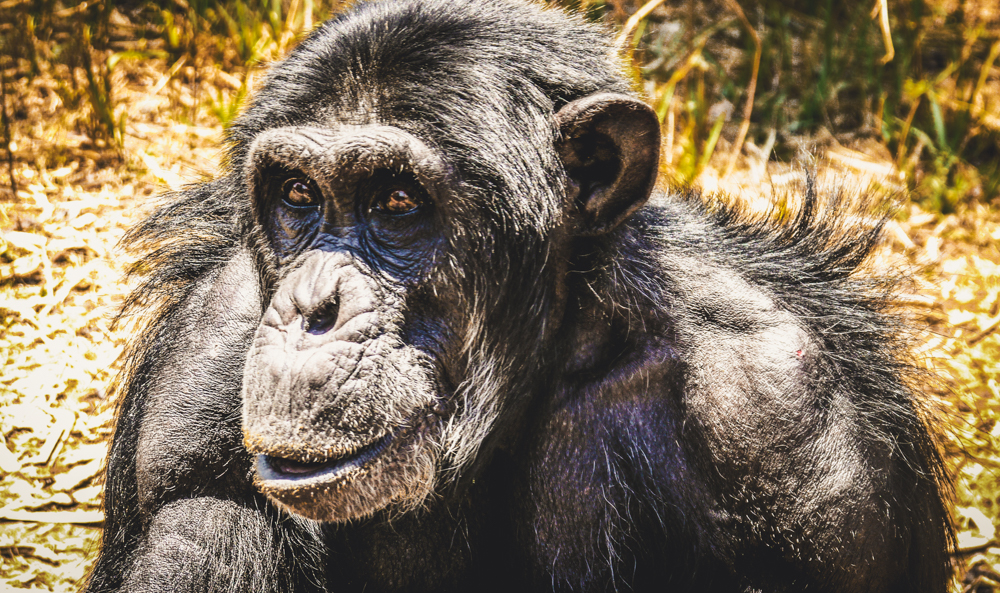 It was kind of like watching life inside a Kindergarten – you can tell right away who the bullies are, who the rejects are, and who owns the place around there.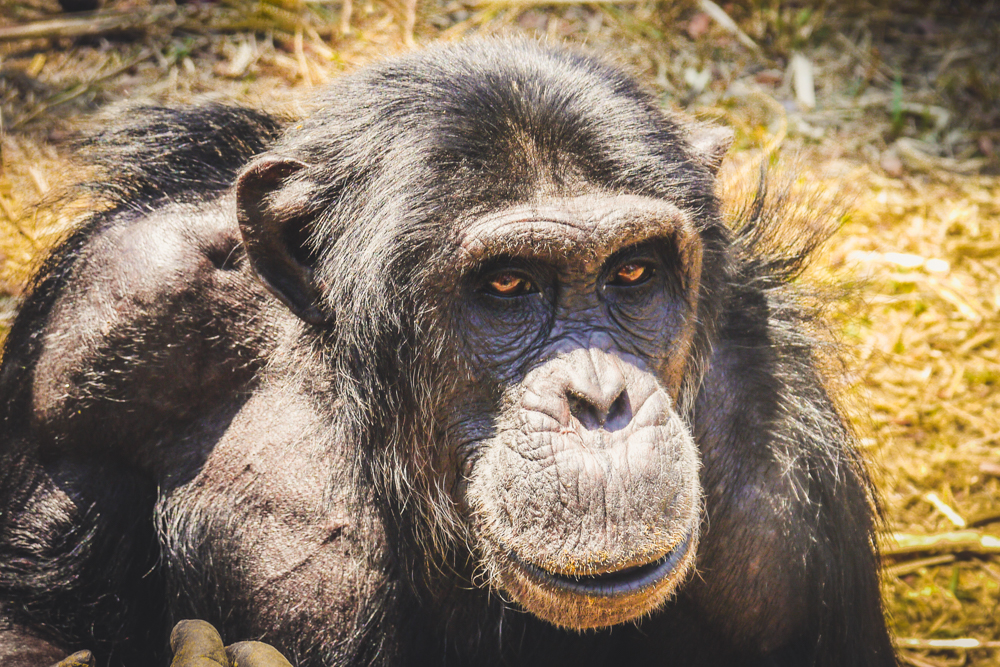 Chimps use facial expressions, hand gestures, and body language to communicate. It's common to see them grooming each other, greeting their mates by kissing them, and even holding hands!
One of the highlights of our visit was watching the chimps eating. The team at Chimfunshi invited us to take part in the feeding routine. Getting us there meant we were a few minutes late than what is their usual lunch time, and the chimps were FURIOUS about the delay and they were throwing tantrums as they demanded their food.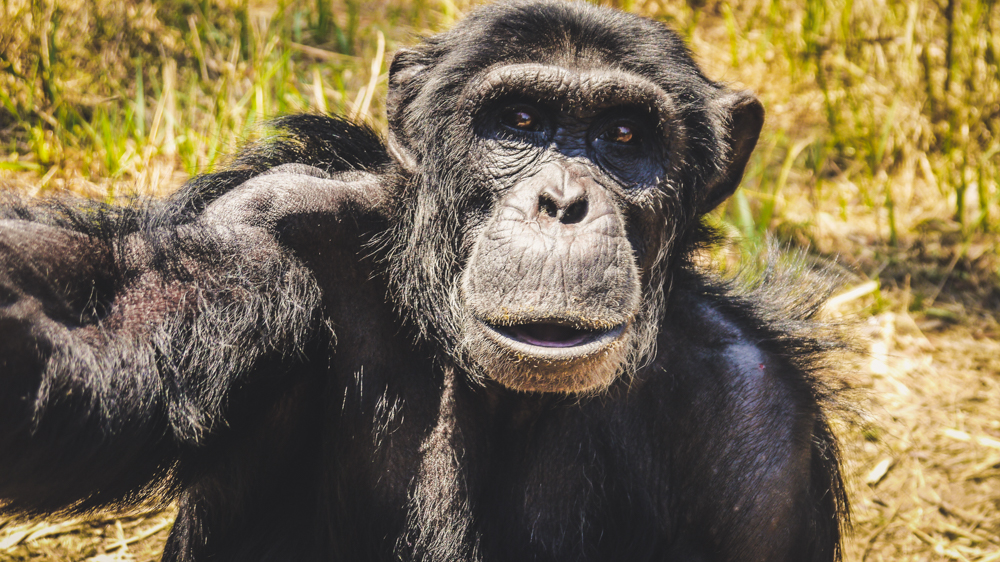 And once they got their food, it got even more hilarious. Some would actually gather around in groups and engage in what seemed like a pretty gossipy conversation.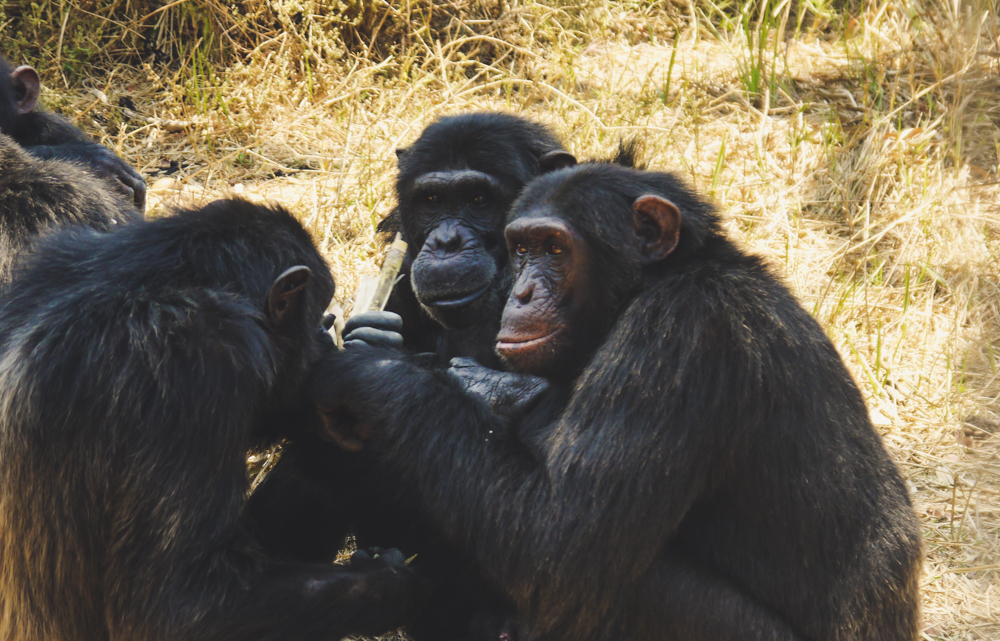 Others would cut their meal into pieces to share with the rest and it was just incredibly heart-warming to see them stuffing food into each other's mouth.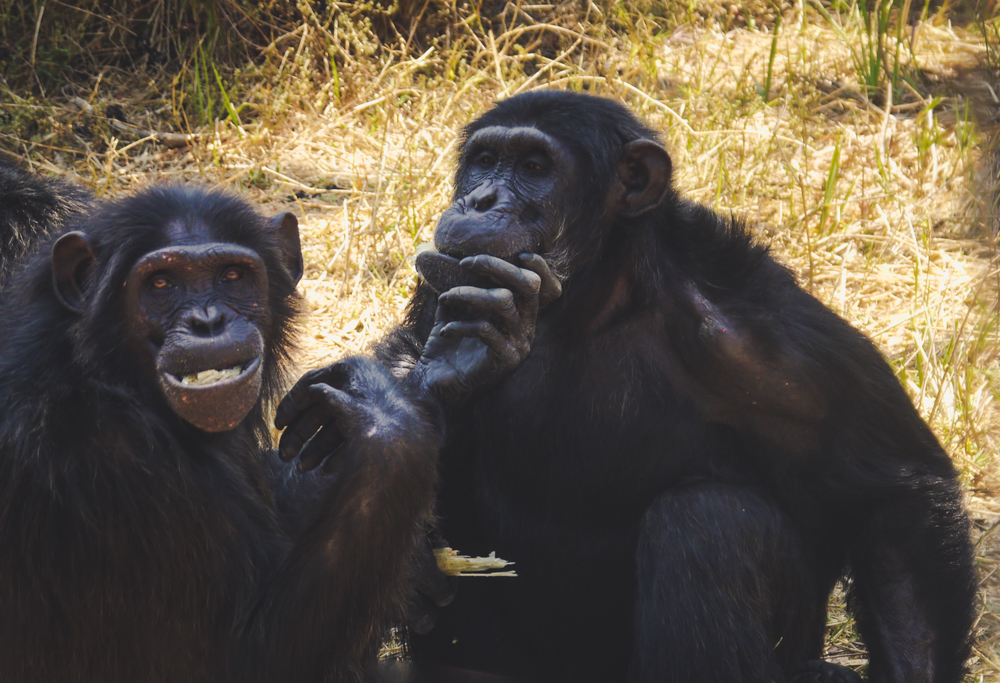 And of course, a few wanted their share all to themselves and refused to share their scrumptious snacks.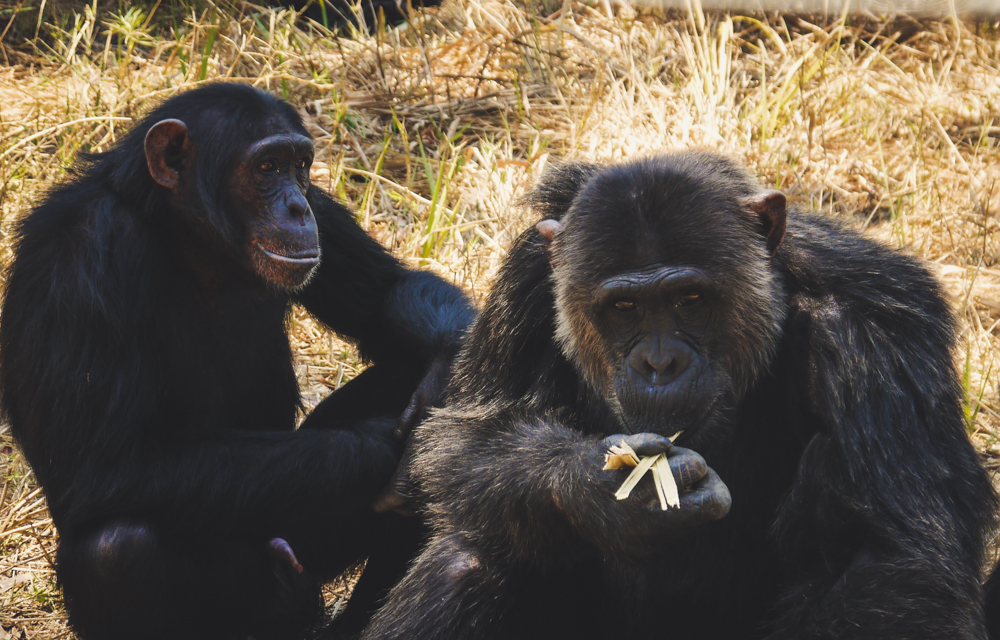 Chimps are one of the few species that use tools. They use sticks to fetch ants from the ground, stones to crack nuts open, and leaves to drink water.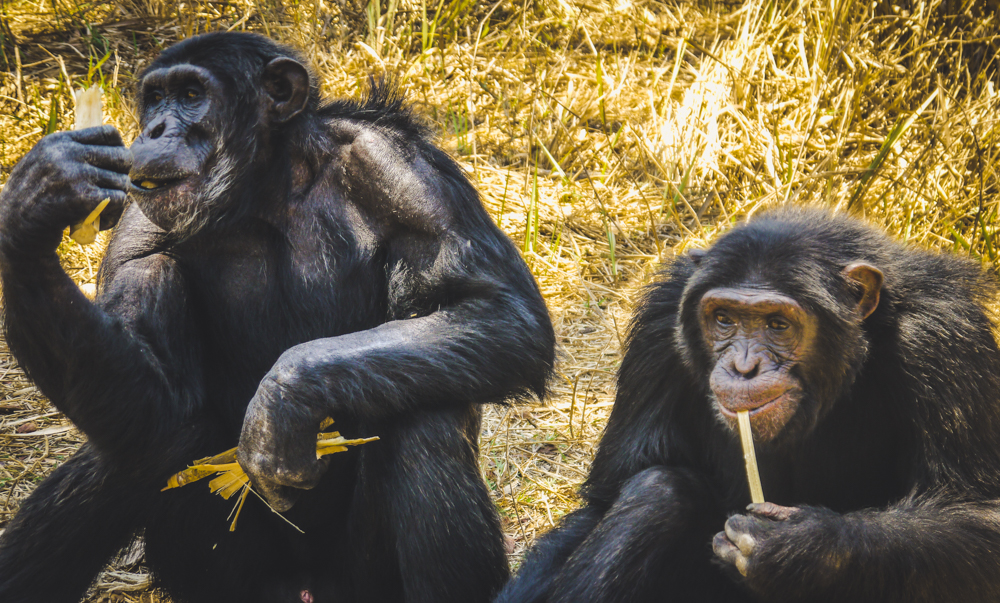 Another highlight? Getting the chance to meet the legendary Sheila Siddle. Together with her husband, she transformed her family's cattle ranch into Chimfunshi after a ranger brought in an injured chimpanzee.
Sheila is known for inviting Chimfunshi's guests in for a cup of coffee, and she will not hesitate to tell you the wildest of stories of her life in Zambia. It all began when she was just a little girl and her parents decided to immigrate and build a farm on the shores of the Kafue river, driving all the way down there from the UK.
If you visit Chimfunshi (and you definitely should), make sure to ask her about Billie, the Siddle's hippopotamus and partner in crime.
And the chimps? They were amazing. I was so in awe at their human-likeness that I began dreaming of becoming a primatologist. Since I was little, I always envisioned myself working with wild animals so don't be surprised if I slow down on my travels and enroll in university again, as this thought has not been able to leave my mind ever since my visit to Chimfunshi.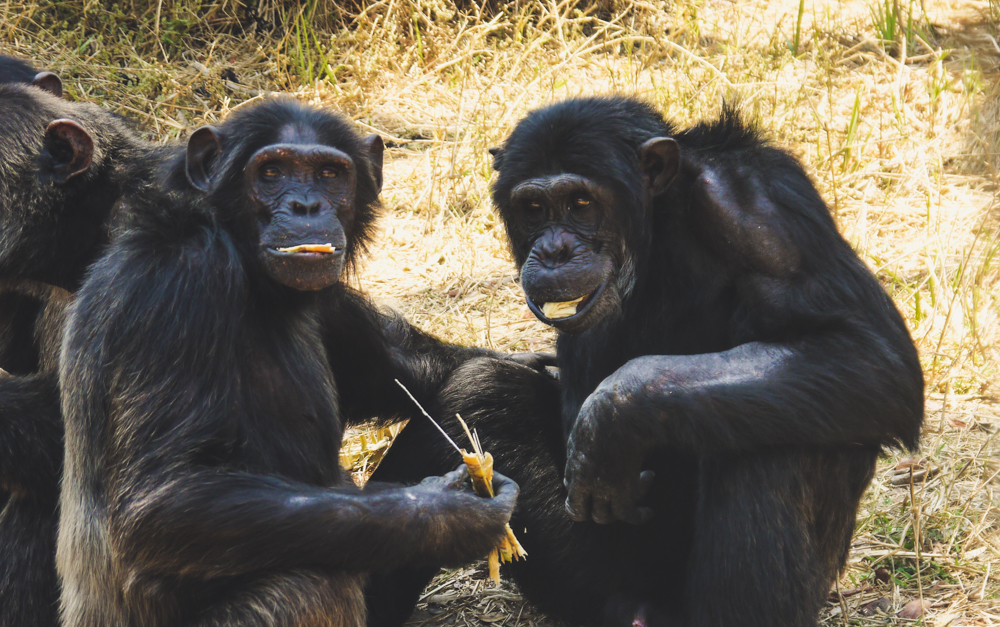 My favorite thing about Chimfunshi was how raw and untouristy the experience felt. Karo and I were the only visitors there aside from the volunteers who resided at the sanctuary.
How to visit Chimfunshi
Getting to Chimfunshi
BUS
From Lusaka's main bus station, take a bus to Chingola. There are many companies going there, and they leave twice an hour or so.
I recommend leaving as early as possible (6 or 7 am) to make sure you get to the sanctuary before dark. The cost of the bus ticket should be around 180 ZMK.
The journey to Chingola lasts around 7 hours. Buses in Zambia are comfortable and spacious. Trust me, if you've been backpacking in other African countries, these coaches will feel like the epitome of luxury.
Food is sold along the way, including French fries, hamburgers, hot dogs, etc.
Once in Chingola, switch to a minibus headed to Solwezi. Although the sanctuary is not far from Chingola, the ride can take anywhere up to two hours as the road is unpaved.
Ask the driver to drop you off at Muchinshi. You'll need to contact Chimfunshi to arrange a pick up from there, or you could technically also walk the road that leads to Chimfunshi, but it's 15 kilometers long and with not much to see.
It's quite forested so you can catch some shade. However, if you decide to walk, you'll need to spend the night in Chingola and take the minibus to Muchinshi the next morning to avoid walking in the dark.
PLANE
The nearest airport to Chimfunshi is in Ndola. From the airport, you can rent a car and drive to Chimfunshi or follow the steps above to reach it via bus.
What to Bring to Chimfunshi
You don't really need much here. Karo and I left our backpacks stored in our hostel in Lusaka and brought only a few essentials. We went shopping for ingredients to cook our food and brought our tent.
If you spend the night here, you will definitely need:
→ Toilet paper
→ Flashlight
→ Food to cook your meals
→ Mosquito repellent
Water is available for sale in reception, and we were told that the tap water is actually safe to drink. However, if you're skeptical, you can always bring a few bottles from Lusaka or get yourself the GRAYL (I recommend it for anyone traveling to Africa). It's a bottle that purifies water in just a few seconds.
Costs of visiting Chimfunshi
Entry to Chimfunshi Sanctuary: $6
Accommodation: Cottage: $30 per person or Camping: $15 per person
Transportation within the sanctuary: $15 per person
Pickup from Muchinshi: $10 *This cost is for those who arrive in Chimfunshi using public transportation. Munchinshi is the junction that connects the main road to the sanctuary and this is where the bus will drop you off. You can either pay $10 to get picked up or walk 15 kilometers from this point.
Things to know before visiting Chimfunshi
→ Whether you're camping or staying at their cottages, you are free to use the sanctuary's kitchen. It's honestly one of the most well-equipped kitchens I've used when traveling – everything is provided including coffee, condiments, utensils, etc.
→ They sell refreshments at the reception (water, a few snacks, sodas, and beer)
→ There is purified water in the kitchen. You can also drink from the tap, it's purified and safe to drink in the sanctuary.
→ There is no phone signal here, but they do offer wifi at an extra cost.
→ It's a really untouristic place. When I went there, we were the only visitors during the entire day aside from the volunteers who were working at the sanctuary.
→ The sanctuary is HUGE and the things to see are spread all around. You're going to need to bring your own car or book the sanctuary's transport in order to get around unless you are comfortable walking very long distances (I'd say it's approximately 25 kilometers in total back and forth from the accommodation area to the main things to see like the orphanage and feeding center).
In addition to that, the accommodation area is located 15 kilometers from the main road, so you will also need to walk unless you bring a car or book a transfer from Chimfunshi.
→ The legendary Sheila Siddle lives here and she will probably invite you to meet her and offer you a cup of tea or coffee. Ask her about Billie (her rescued hippo) and she'll go on for hours. She is an extremely interesting person and it's worth visiting the sanctuary *just* to chat with her.
Accommodation in Chimfunshi
You can spend the night at Chimfunshi. They offer large tents (dorm style) and private cottages for $30 per person. If you're on a budget, you can also bring your own tent and camp for $15 per person – this is what Karo and I did. Whichever option you go for, you'll get access to all the same facilities as their *incredibly well-equipped* self-catering kitchen and common areas.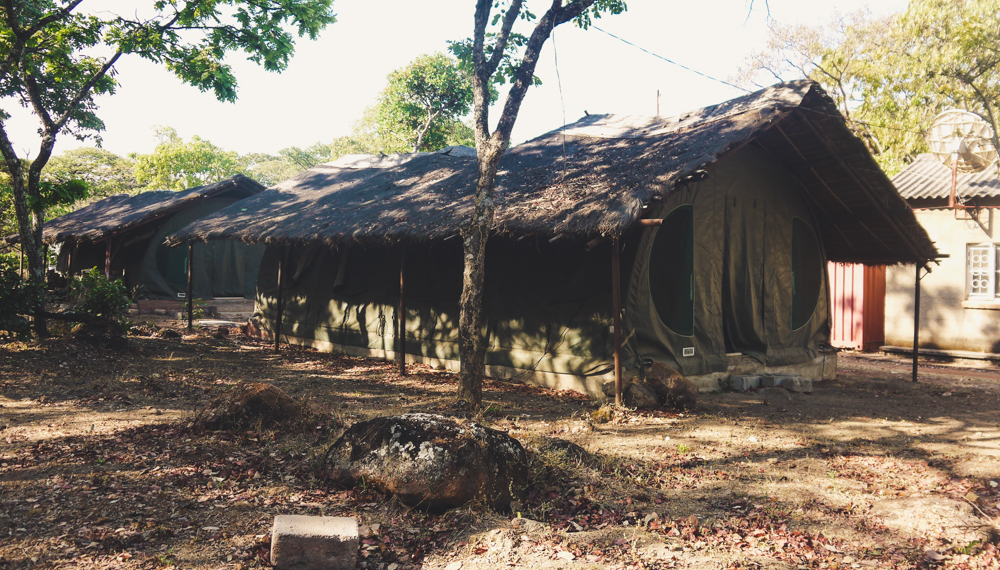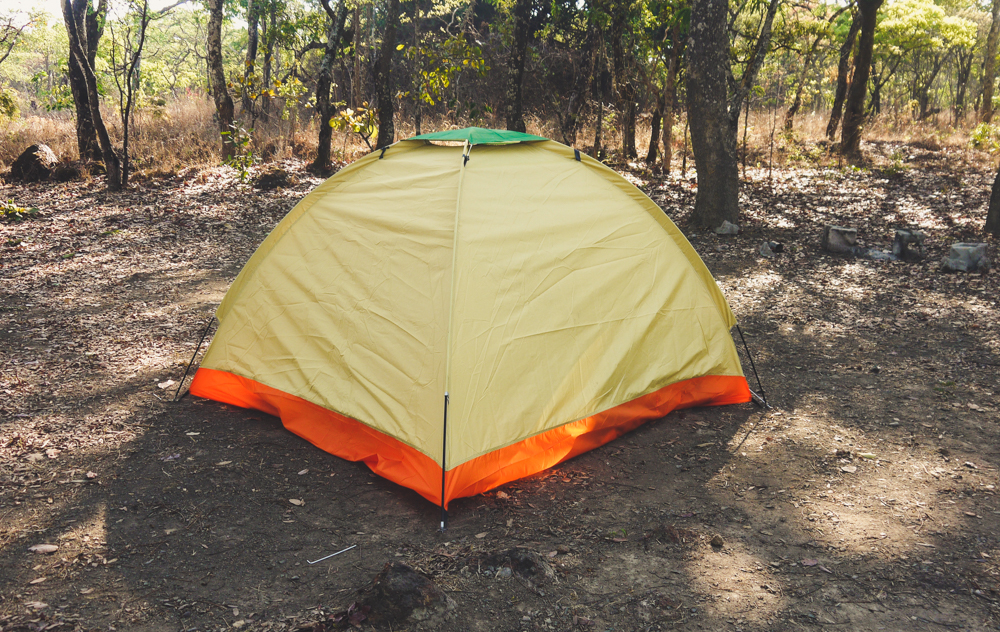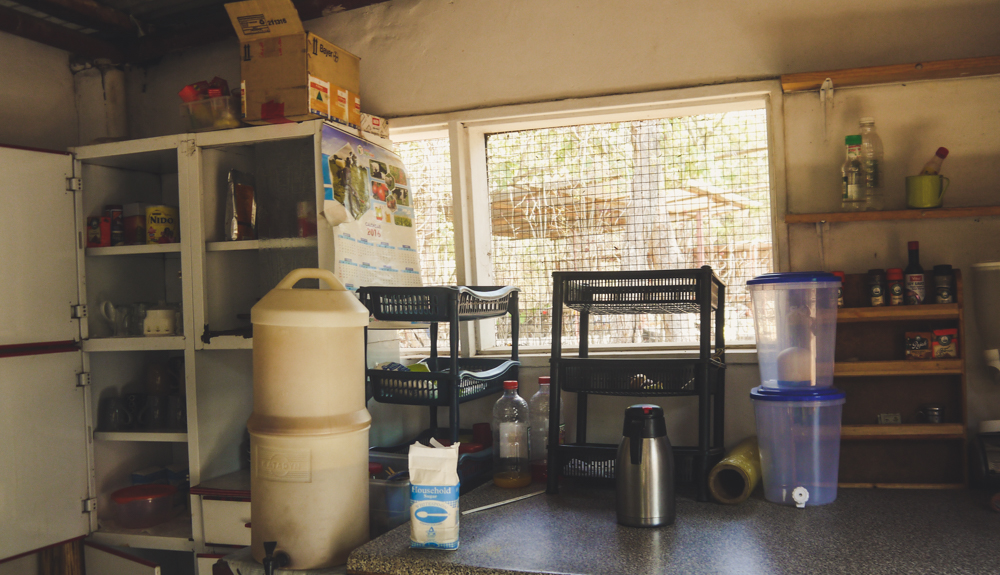 If you don't want to stay in the sanctuary, you can also spend the night at the nearest town to Chimfunshi – Chingola, where you'll find accommodation options for all budget.