Planning a trip to the French capital and wondering what to pack for Paris in the summer? I've put together the perfect Paris summer packing list for you!
Did I mention it's a carry-on only packing list? I'll show you how I pack for most of my trips, including tricks on how you can take EVERYTHING you need to pack for a summer in Paris in just a carry-on.
The Benefits of Packing Carry-On
I love being a carry-on packer when I travel in Europe and I don't really intend on going back. Here's why:
Budget airlines in Europe charge for checked luggage. It can be really cheap to get around in Europe using budget airlines. It's nothing luxurious, but it gets you there with enough comfort. I once scored a return ticket from Germany to Morocco for $25 (both ways), and several out of London to Eastern Europe for like, $30.
It sounds too good to be true, and that's because it is. The way budget airlines make money is by charging for extras, and that includes checked luggage. By packing a carry-on, you avoid these fees and you'll get to your next destination for almost nothing.
No lost luggage. Airlines lose stuff, and that could be your checked luggage. If you pack carry-on only, you can rest assured that all your stuff is safe with you.
You'll save money and avoid headaches. Traveling with little luggage means being able to take public transport to the airport/train station instead of sticking to expensive taxis. Carrying huge luggage equals getting dragged down by the weight.
This carry-on packing list for Paris in summer works for short and long trips!
I can't stress enough that carry-on packing is possible regardless of the length of your trip.
I've traveled for three years using just a carry-on and honestly? I never lacked anything. Packing for a one-week trip should be the same than for longer trips, because 1) If you forget something, you can buy it anywhere (psst. I also wrote this post on my favorite thrift shops in Paris!) and 2) Washing your clothes is possible everywhere in France.
My mantra is that dressing for travel should be the same as dressing at home. You don't wear a different outfit every day of your life, do you? Nope. You probably repeat outfits or mix and match items. The same habit should be applied while traveling.
Here's my carry-on packing list for Paris in Summer:
Clothes + Accessories
7 undies
7 pairs of socks
3-4 bras
5 t-shirts
1 pair of jeans
2 skirts/shorts
2-3 dresses (one maxi dress)
1 cardigan
2 bikinis
1 pair of comfortable sandals (preferably nude so they match with everything)
1 pair of sneakers.  Wear them on the plane so they don't take up space in your luggage. There are so many cobblestone streets in Paris that heels are just a waste of time and energy.
I keep hearing misconceptions about sneakers being a no-no for travelers in Europe because they'll make you stand out as a tourist. This is a total lie, guys! Europeans love their sneakers, and it's even trendy to wear them! If you want to make sure your sneakers fit in with the ones locals are wearing, get a pair of Adidas like these.
1 pair of nice shoes (optional). I don't usually bring fancy shoes when I travel, but in Paris, there is a bit more pressure to dress nicely. For nights out, I like packing either flats or a pair of chic ankle boots with a small heel.
1-2 pashminas. I like pashminas because they have so many uses and take almost no space. They are a great accessory to add a bit of style to your outfits. They can also be used to cover your arms if the weather gets a bit chilly or in the case you want to enter a church. Aside from that, they can act as pillows for plane/train/bus journeys.
1 purse (optional) or a day bag. I travel with a 20-liter backpack from Quechua (I love their products and have been using them for three years). A day bag is a small backpack you can use to go out and about exploring, or simply to put your most important stuff in when traveling. I've seen locals in Europe using it, so it doesn't make you stand out as a tourist (Quechua's backpacks are sold all over Decathlon, a popular French sports shop, so you'll see tons of Parisians wearing it when out for a run, etc).
Tips for choosing the right clothing items to pack for Paris:
Traveling with small amounts of clothes doesn't mean you have to sacrifice style. The key idea to keep in mind while packing is to go for neutral colors that you can mix and match. The number of outfits you can come up with this technique will really surprise you!
Here's a visual of how I do it. All of these things easily fit in my carry on and even leave me with space for extras like a few colorful dresses when I want to spice things up.
I didn't even exhaust the options for outfits here, but I think this acts as a pretty good representation of what I mean.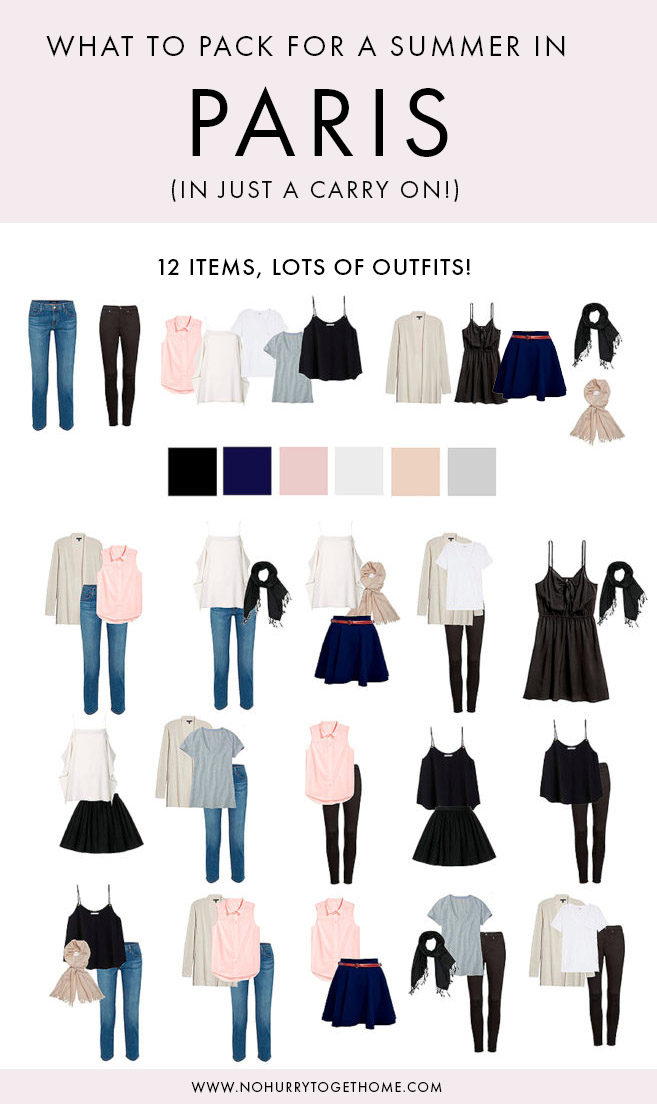 Basically, just dress like you would at home by mixing and matching items and you're good to go.
Toiletries
I never pack too many toiletries because Paris has supermarkets and you can find everything here. Here's what I do bring:
Travel-sized shampoo or dry shampoo.
Travel-sized conditioner
Travel-sized toothpaste
Toothbrush
Hand-sanitizer
Pro tip #1: If you are very particular about shampoo or conditioner that you know is not available in France, get this set of travel bottles and fill them with your shampoo or conditioner of choice.
This will ensure that they don't get thrown away at the airport as you are only allowed to fly with liquid bottles that are less than 100ml for security reasons.
Pro tip #2: Don't bother bringing a big toiletry bag if you're flying between European countries after Paris. By law, liquids have to go into ziplock bags when they go through the security scanner at airports.
It's honestly super annoying having to take your liquids out of your toiletry bag and into a ziplock, so I just use ziplock bags as my toiletry bag during the entire trip. Not fashionable at all, but who cares, really? You can also get these TSA approved bags for toiletries in case you want to keep it stylish.
Makeup + Hair
I usually carry a small neutral eyeshadow palette (browns), eyeliner, mascara, eyelash curler, and concealer with sun protection.
To be completely honest with you, I rarely wear makeup and even less so when I travel. Still, I like to have the option to pep myself up at times. A little mascara and eyeliner can go a long way!
Small hairbrush
Bobby pins for quick hair-dos
Hair ties. Paris can get hot in the summer, and if your hair is long like mine, having it down all the time will get annoying due to the heat.
Electronics
Phone + charger
Universal travel adaptor. France uses a Type C plug, so you'll need an adapter. I recommend getting a universal travel adapter like this one.
Headphones
Portable charger so you can charge your phone on the go and never run out of battery, I've always used this one from Anker.
I'm also currently obsessed with this phone-charging passport holder by Lovie Style.
Kindle (optional)
Camera + accessories (optional)
Laptop (optional). I carry my laptop everywhere I go because I work while I travel.
Useful extras
Travel towel. I'm a new fan of travel towels because they are honestly SO handy. I used to bring a regular towel on my trips and it was super annoying because it took up a lot of space and it always takes ages for them to dry. Nowadays, I never travel without my Travel Towel by Youphoria. It's antibacterial, super light to carry, takes very little space in my luggage, and dries very quickly.
A book (if you don't have a Kindle). There are many places in Europe to exchange books, so you'll never have to go without.
Pen (always useful)
Water bottle. In most of Europe, it's safe to drink from the tap. To avoid spending a good chunk of your budget on buying watered bottles, bring a reusable water bottle one that you can refill as you go.
Travel-sized umbrella and/or poncho. It can rain, and an umbrella like this one is always a good idea to bring along.
Organizing
Packing cubes. They'll save you tons of space because they compress air and they're also a great way to stay organized. I love this set of packing cubes from Ebags.
I always use one cube for one item. Pants + skirts go into one cube, tops into another, and undies + socks into the third one. In this way, I can unpack easily and I always know where to find my things.
I'm not usually a very organized person, but using packing cubes really kind of changed my travel life.
Travel Insurance For France + Europe
Make sure your travel insurance covers all the countries you plan on visiting as well as activities you plan on undertaking. Some insurances won't cover you if harm yourself while hiking or doing other adventure activities, so read your insurance terms carefully.
If you don't have insurance yet, or the one you have won't cover all your needs, I highly recommend you check out World Nomads.
It's travel insurance designed by travelers and it's super flexible. They let you extend or add countries online, so if your plans change or you decide to hit up another country, all you need wifi to adjust your insurance needs.
It will also cover you on over 150 adventure activities, so if you are planning on doing more than just sight-seeing while in Europe, you should definitely look into it.
Follow my adventures on Instagram?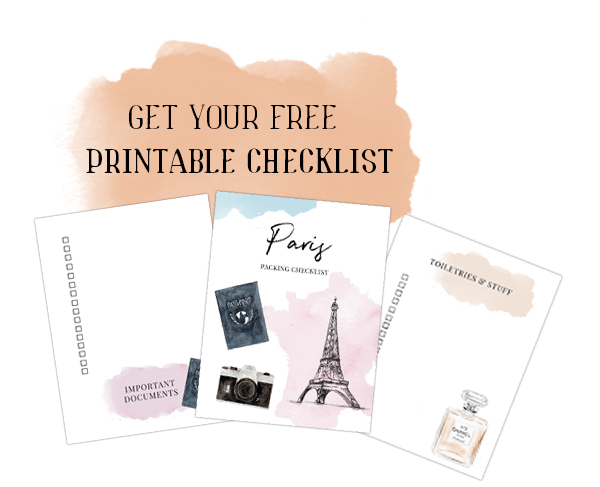 Want to get my free packing checklist? Type in your email in the form field below and I'll send it right over!
Note that by typing in your email, you're subscribing to my newsletter – I'll be sending you occasional emails with new posts and adventures, but you can also unsubscribe at any time if you wish to!
Disclaimer: This packing list contains affiliate links. That means that, if you decided to purchase through them, I might earn a commission at no extra cost to you. This helps me keep this blog running, so thank you!