8 Reasons Why You Should Visit Zadar by Boat
Zadar, located on the Dalmatian coast of the Adriatic Sea, is a historic port that often remains off the beaten path compared to its more famous Croatian counterparts like Dubrovnik.
Steeped in a captivating history that dates back to Roman times, Zadar boasts breathtaking landscapes that are truly unparalleled.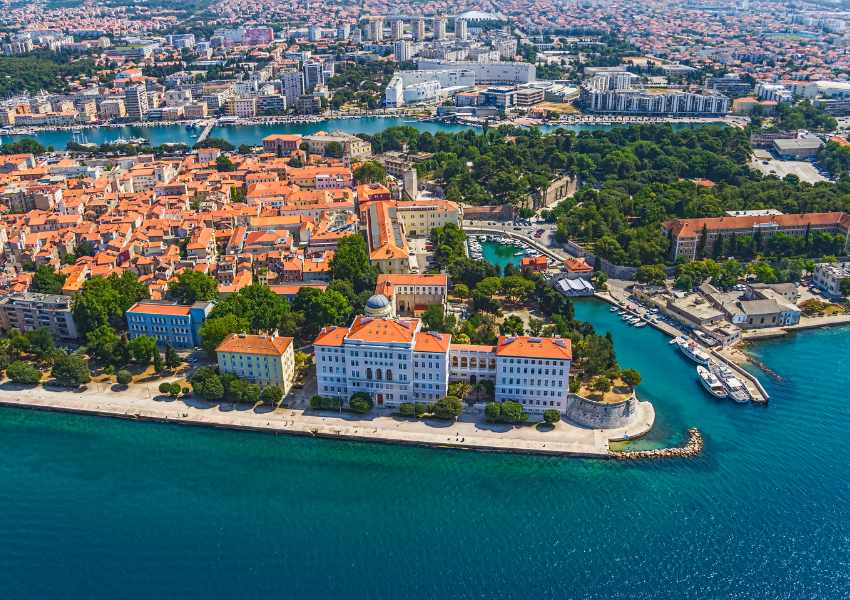 Exploring this exquisite region and its charming islands is best done by boat, as there is a myriad of tiny coastal islands waiting to be explored.
Chartering yachts, sailboats, or motorboats is easily arranged, offering an unforgettable experience.
So instead of visiting Zadar on a quick weekend trip in Europe, why not slow down your travel and explore Zadar and the Zadar Archipelago by boat for a week or two.
Here are eight compelling reasons why embarking on a boat journey to Zadar is an adventure you shouldn't miss.
8 Reasons to Visit Zadar by Boat
As tourists flock to Dubrovnik due to its famous fortification used in the popular television show Game of Thrones, Zadar is among the best cities to travel by boat. Here's why:
1. Explore the Nearby Islands
Spending your days floating on the Adriatic Sea sounds like a dream, but there is so many gorgeous islands to explore.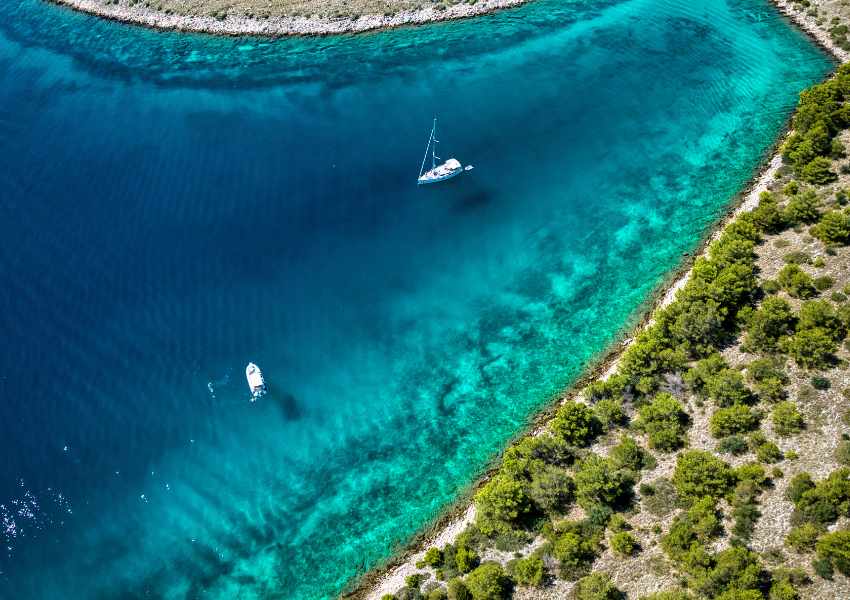 Many people prefer to rent boats for at least a week to see islands such as the Kornati Islands (most popular islands), Dugi Otok, Losinj, Susac, Silba Island, or Molat Island.
Many islands have coves and bays with anchorage for sightseeing. Others are uninhibited and require permission visit.
Visiting Zadar by boat allows you to bask in the tranquility of the Adriatic Sea, swim in its warm waters and take pit stops as you drift along the scenic Dalmatian coast.
2. Visit Croatia's Best Beaches by Boat
Croatia is home to some of the best beaches in Europe. Sail from Zadar to the idyllic Sakarun beach on Dugi Otok island, where you will find pristine turquoise water surrounded by a white-pebbled beach.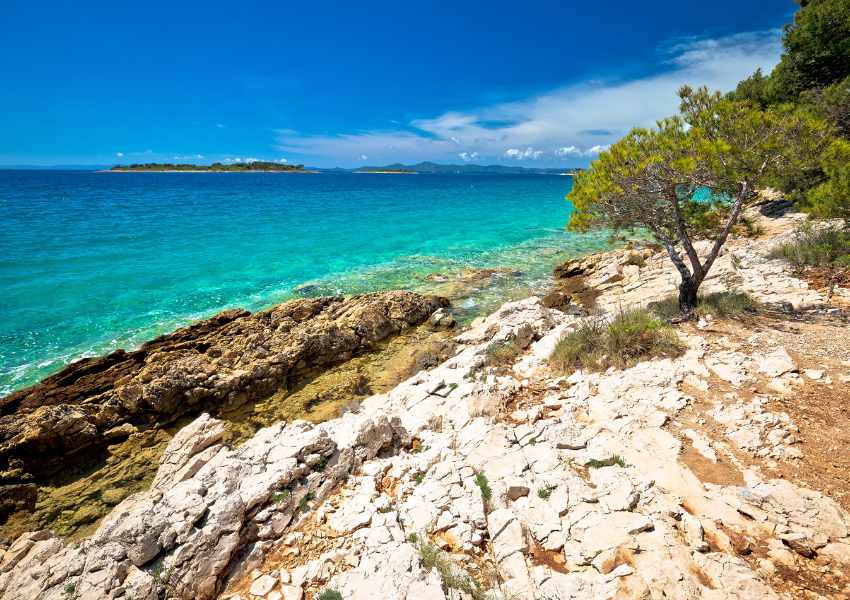 Other stunning beaches that we recommend you visit is Sotorišče beach on Silba Island, Lojena beach on Levrnaka island, and Slatina bay Olib Island.
The beaches can get busy. Peak periods of travel are in July and August but is less crowded during the rest of the year.
3. Visit a Salt Lake that is Only Accessible by Boat
Telašćica Nature Park is located on the picturesque island of Dugi Otok (Long Island).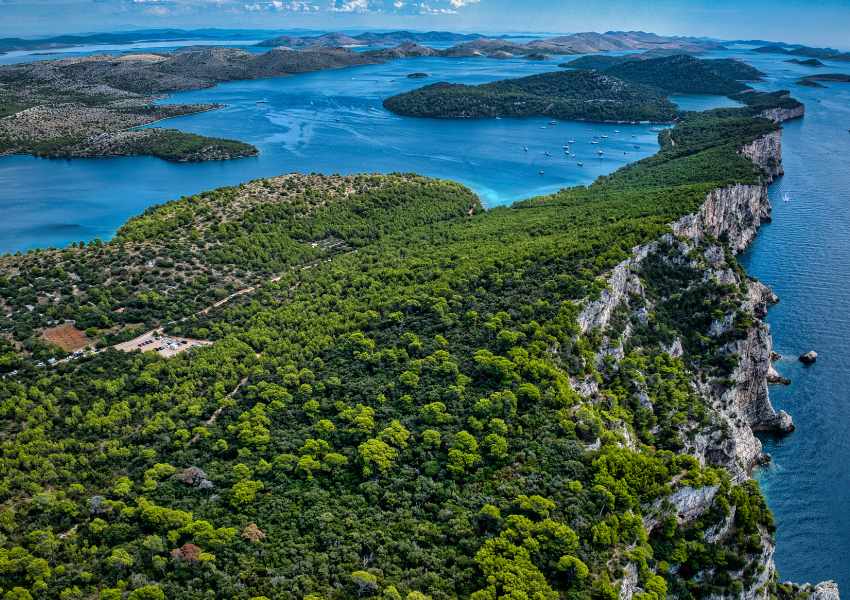 This park boasts three unique natural phenomena: the captivating Telašćica cove, renowned as the most beautiful natural harbor in the Adriatic Sea, the majestic cliffs of Dugi Otok, and the salty Mir Lake.
Surrounded by pine forests, the crystal-clear lake offers a delightful swimming experience with its warmer water temperature compared to the sea.
Whilst you are here, make sure to walk to the lookout for beautiful views of the Kornati Islands.
You may also like:
4. Visit Kornati Islands National Park by Boat
The Kornati Islands National Park boasts a remarkable collection of 89 islands, islets, reefs, and cliffs.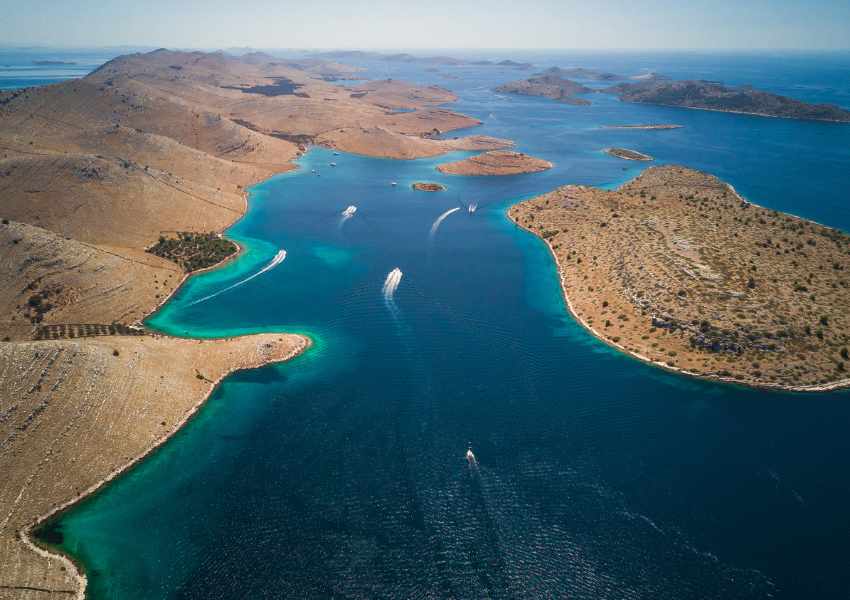 Every corner of the Kornati National Park conceals natural wonders, among which are the ancient cliffs once known as crowns.
The Kornati Islands National Park offers an abundance of activities for visitors to enjoy. From kayaking, snorkeling, and swimming in sandy beaches to hikes, there's something for everyone.
For a fantastic hike for beginners that offers stunning views over the entire archipelago, hike to the summit of the Metlina or Opat peaks on the main island of Kornat.
Within the archipelago, there are two marinas: Marina Piškera, located within the Kornati Islands National Park and Marina Žut, situated on the island of Žut.
5. Explore Historical Sites on Islands
Visit Ošljak Island, the smallest inhabited island in the Adriatic Sea with a population of fewer than 30 people. Explore the 6th-century church of St. Mary and stroll around the town.
Don't miss the village of Preko on the island of Ugljan, a perfect destination for swimming, sightseeing, and visiting the 16th-century St. Michael's Fortress.
Discover the charming and well-preserved medieval town of Rab Island, surrounded by walls and featuring narrow streets, beautiful squares, and Venetian-style buildings. Rab is a UNESCO World Heritage Site and one of the best-preserved medieval towns in Croatia.
Lastly, explore the historic town of Pag on Pag Island, with its well-preserved medieval buildings, including the 14th-century Church of St. Mary and the 15th-century Gothic Palace.
6. See Zadar from the Sea and Spend a Day Exploring The City
Marvel at the remarkable architecture as you sail into Zadar's harbor, with its fortified walls and historic churches creating a picturesque backdrop to your journey.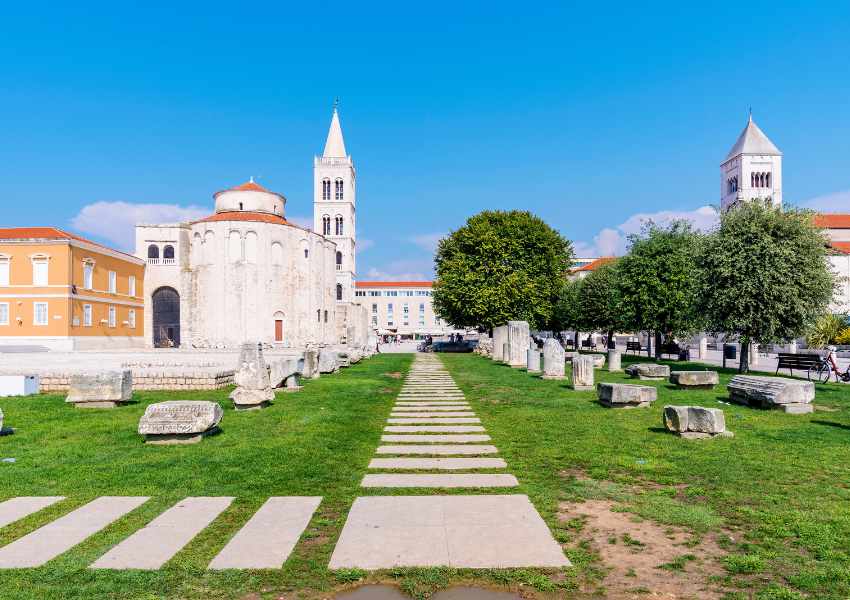 Head inland on a day trip to tour historic sites, including the iconic Cathedral of St. Anastasia.
Zadar's Old Town is a mix of historical and modern architecture. Some of the architecture to be discovered are columns, towers, and gates that date back to the Roman era.
Zadar boasts proximity to three national parks – Paklenica, Plitvice Lakes, and Krka. Take a break from the sea by hiking mountains and swimming in the beautiful waterfalls.
7. Hop Over to Split by Boat
Another fun thing to do by boat is to hop over to Split.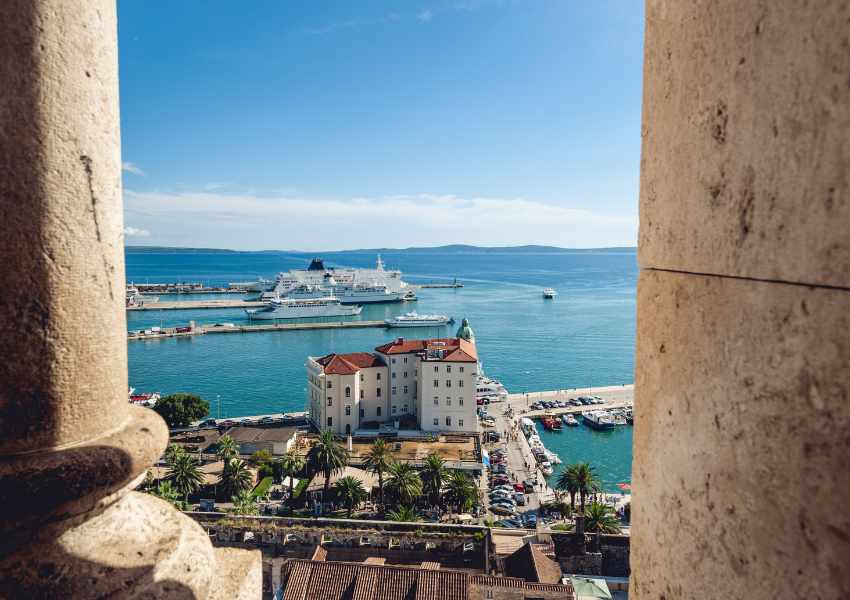 Whilst Split is a great destination for a day trip, we recommend you spend the night in a luxury hotel in Split, to give you some time off the boat, and more time to enjoy this beautiful city.
There are plenty of fun things to do in Split such as:
Visiting the Diocletian Palace
Climb the Bell Tower of St. Domnius Cathedral
Strolling around the Old Town
Climb Marjan Hill
And if you have time and can stay for a few nights, there are some great day trips that you can enjoy from Split as well.
8. Unwind and Relax
Renting a boat means having quality time away from all the hustle and bustle of life in the tourist towns and cities in Croatia.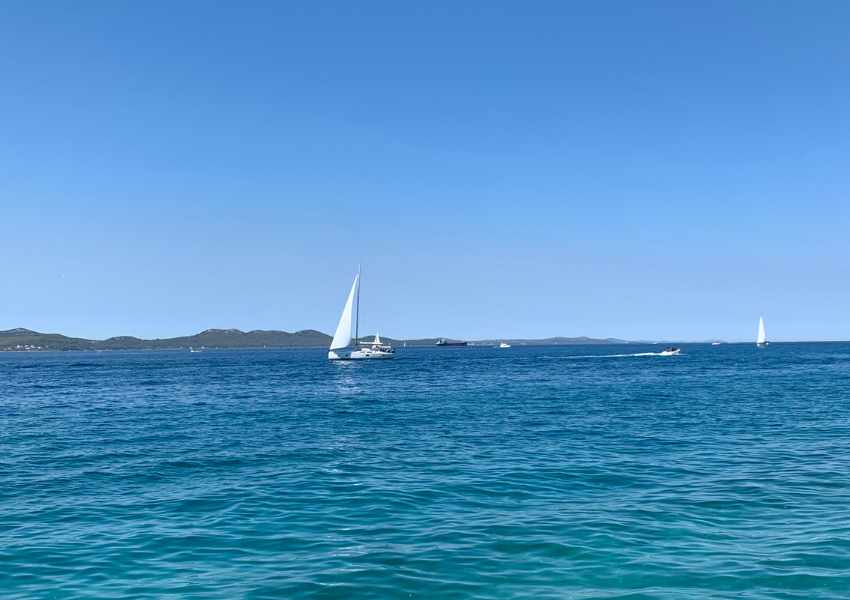 Instead of competing with the crowds and stressing about finding an available table at a restaurant to eat at, you can travel slower, enjoy baking in the sun, swimming, snorkel, read a book and enjoy some casual relaxed meals on the boat.
The Best Time to Explore Zadar by Boat
The Mediterranean waters are calmest in the spring between April and June or late September into October.
The weather during these months is still warm but not overbearingly hot; perfect for visiting the national parks, hiking or heading inland to wander around the cities.
Final Thoughts
Traveling by boat to Zadar is an experience like no other. Not only is it a beautiful way to explore the coastline and nearby islands, you can also discover unpopulated beaches accessible only by boat.
It's a great opportunity to visit unique places such as the salt lake, or the breathtaking national parks.
So why not give yourself a break from your everyday life and embark on a journey of adventure and relaxation in Zadar?