If you're planning a trip to South Africa, chances are spotting rhinos on a safari is high up on your bucket list, and have I got the perfect place for you!
I keep telling everyone that Rhino River Lodge is THE best place to book a safari if you want to see rhinos, because, well, they were a constant during our time there. Black rhinos, white rhinos, baby rhinos, survivor rhinos – you name it, we saw them all!
That being said, though, the reserve is home to many more species, including the ever-captivating Big Five and the recently-introduced wild dogs. We saw so many rhinos during our time at the reserve, but we were also amazed by close encounters with lions, jackals, elephants, giraffes, and many, many more animals.
So yep – while rhinos were the highlight for me, you can be damn sure you'll be able to spot a ton more wildlife, too!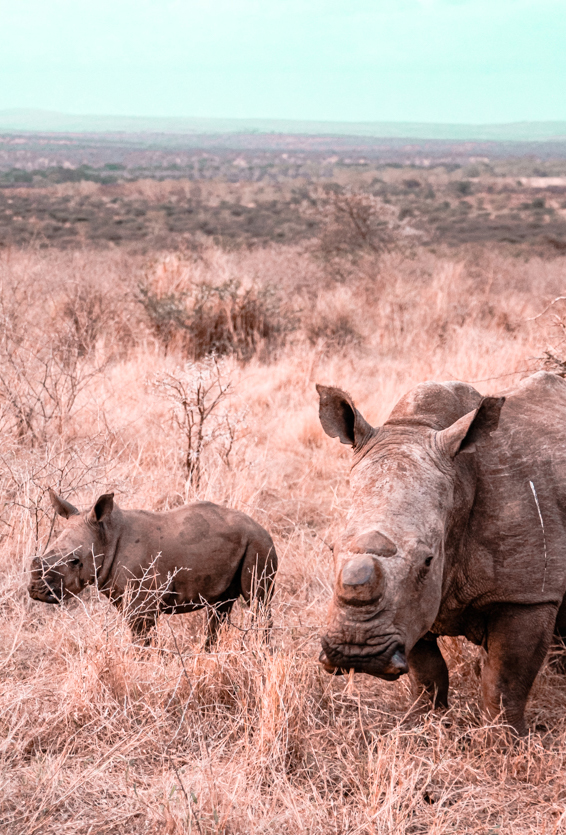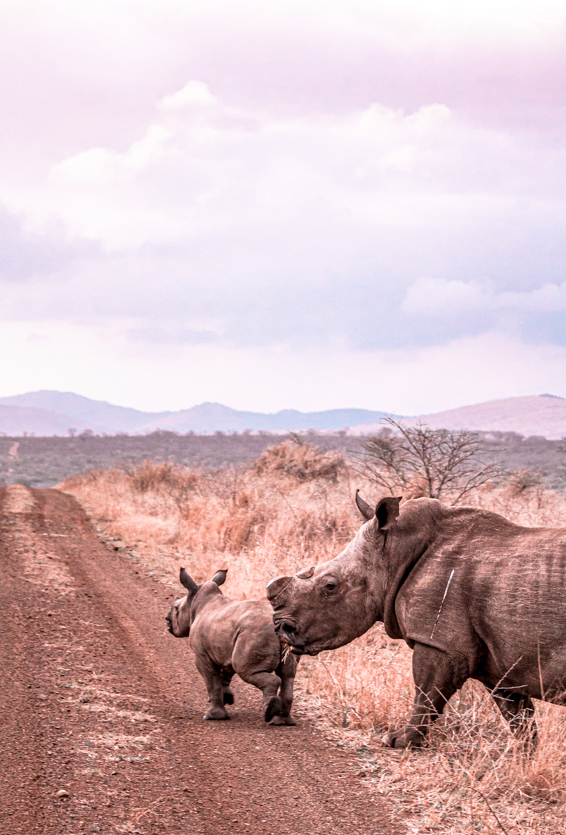 With that said, let's dive into the details of what makes this place so special and why you definitely need to plan a stop at this game reserve in KZN if you're a wildlife enthusiast like me!
The moments that took my breath away
Two nights, three game drives, nine hours spent driving around the alluring Manyoni Game Reserve, and countless wildlife encounters later, here are the four moments that took my breath away during my stay at Rhino River Lodge.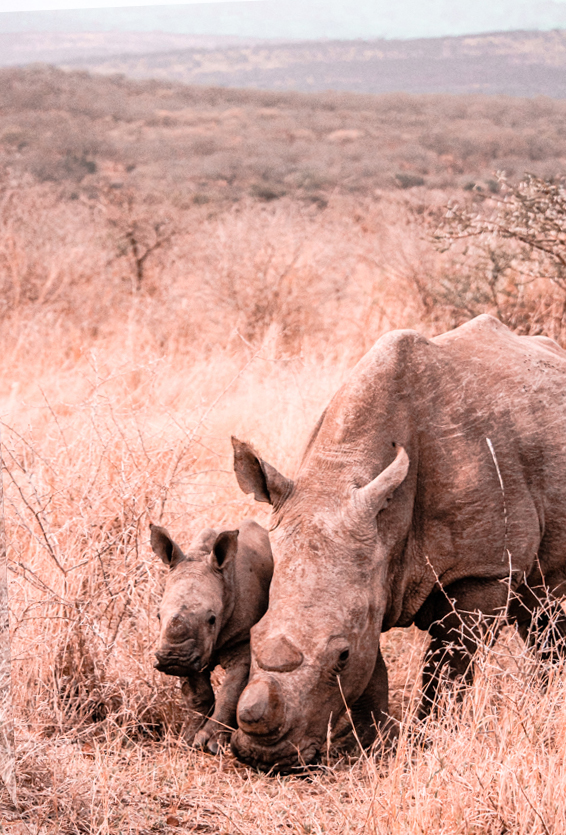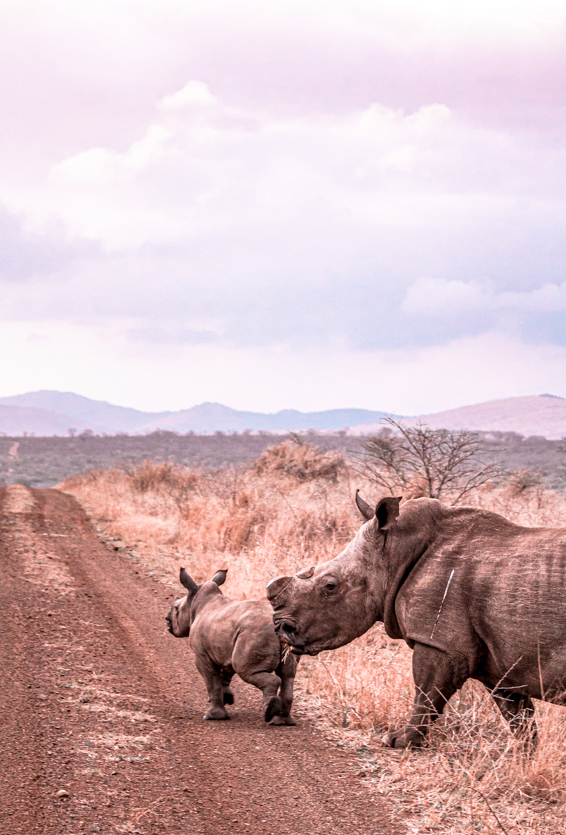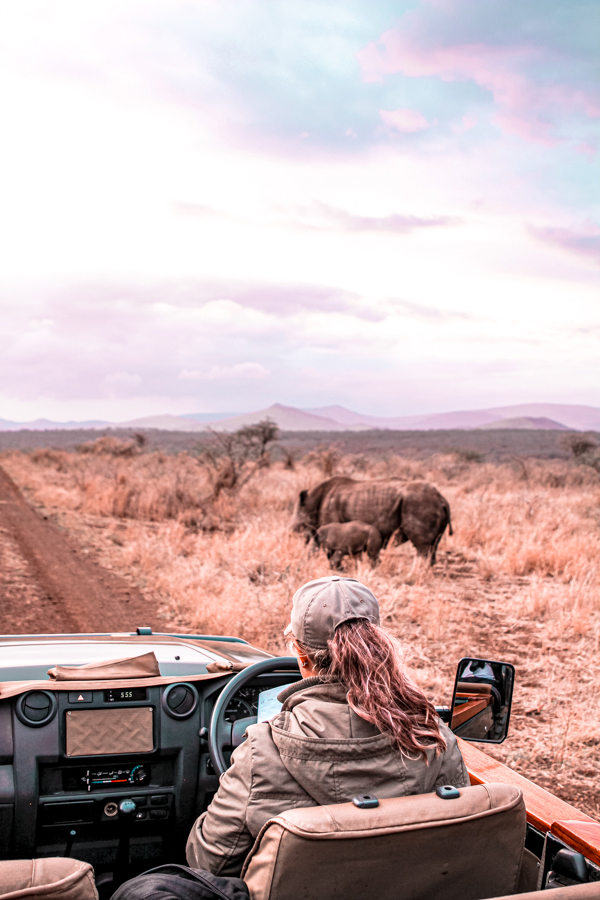 1. Getting close and personal with a mama rhino and her calf
I lost count of how many rhino encounters we had during our time at Manyoni, but if I had to choose one to remember my safari by, it's unquestionably this one.
Rhinos are one of the most endangered species on the planet, so getting to see a white rhino taking a stroll next to her calf is one of the most bewildering experiences a person can ever have.
We'd been driving our way through the bush for over two hours, and as we began making our way back to the lodge, we were greeted by a duo of rhinos roaming next to the road. While mama rhino was completely oblivious of our presence, the baby rhino, being the incredibly curious creature that he is, slowly tumbled his way towards our vehicle trying to figure out what exactly we were.
You'd think these prehistoric creatures would flee at the sight of a human. I mean, we're the reason their species has almost disappeared off the face of the Earth, but they're so gentle and forgiving that the mother didn't bat an eye when her calf curiously investigated us.
It. was. magic.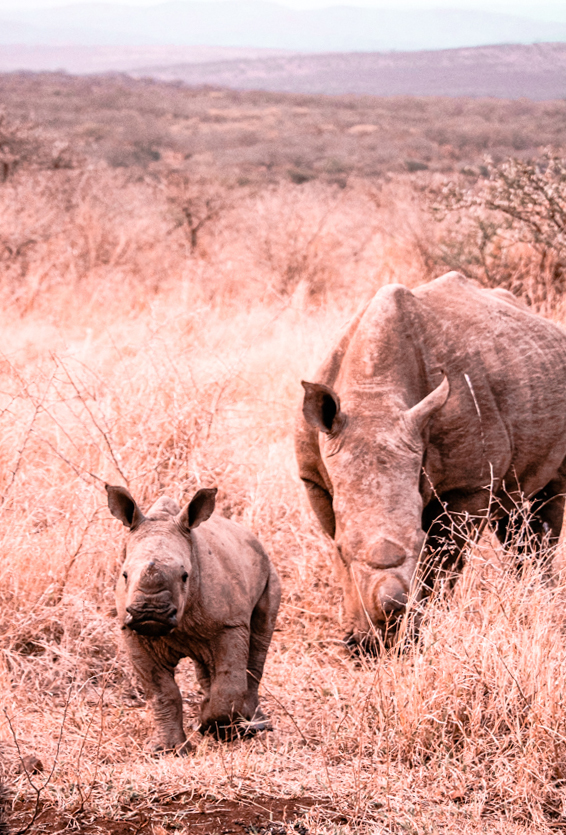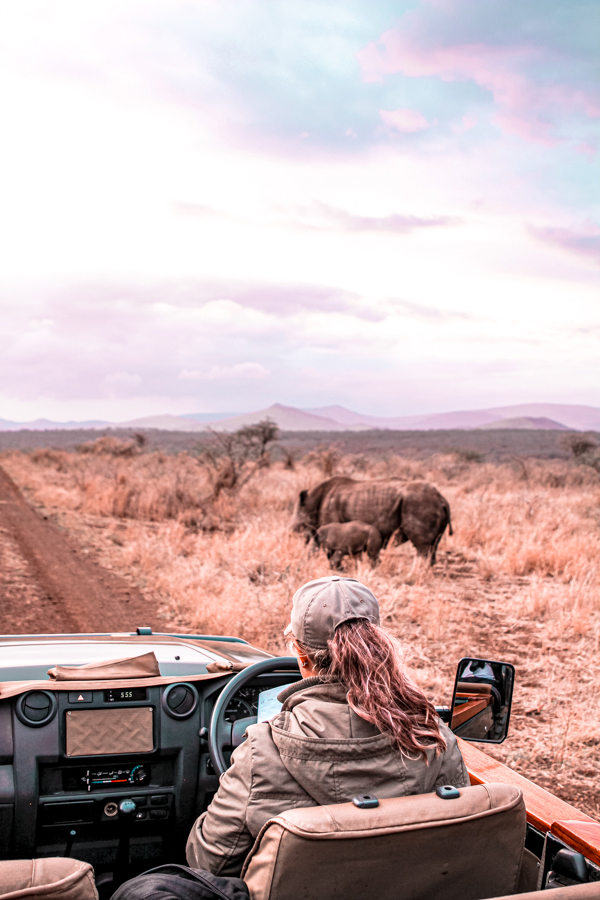 2. Meeting the reserve's newest lion cubs
One of my biggest aims for this trip was getting to see a lion cub. It's such a cliché, but I'd just seen the newest Lion King movie and well, the story tells itself *eye roll*.
When Wilmie, our guide, told us she had a surprise for us, I began developing theories as to what she had in store for the day as we began heading towards the river.
And suddenly, right before our eyes were five lion cubs barely six weeks old. Their mom had been hiding them away for five weeks and she had just brought them out into the open.
Lions are interesting creatures. The cub's father was killed by another lion shortly after the mother fell pregnant. Being a single mom is hard for any species, but for lionesses, it means running the risk of your babies getting killed by male lions and predators.
Instead of hiding away until her litter grew up, the mother got creative and tricked the father's brother into thinking he was the father by mating with him shortly after they were born. That's soap opera material right there, huh?
This is somehow unrelated, but one of the things I appreciate the most about Rhino River Lodge is that they keep a blog in which they constantly share updates on everyday life at the reserve, like this post on the five lion cubs. It's crazy to see how much they've grown in just under two months!
3. Meeting Lucky
Lucky is a female white rhino who survived a poaching attempt in 2015. Getting the chance to see ANY rhino is incredibly special, but it's not every day that you get to meet a survivor thriving in the wild.
Sadly, just like every other rhino at Manyoni Game Reserve, Lucky was dehorned shortly after the poaching incident. This is done in order to take away the prize poachers are after, a sad but necessary measure to protect the few rhinos that still exist on our planet.
You can read Lucky's story here.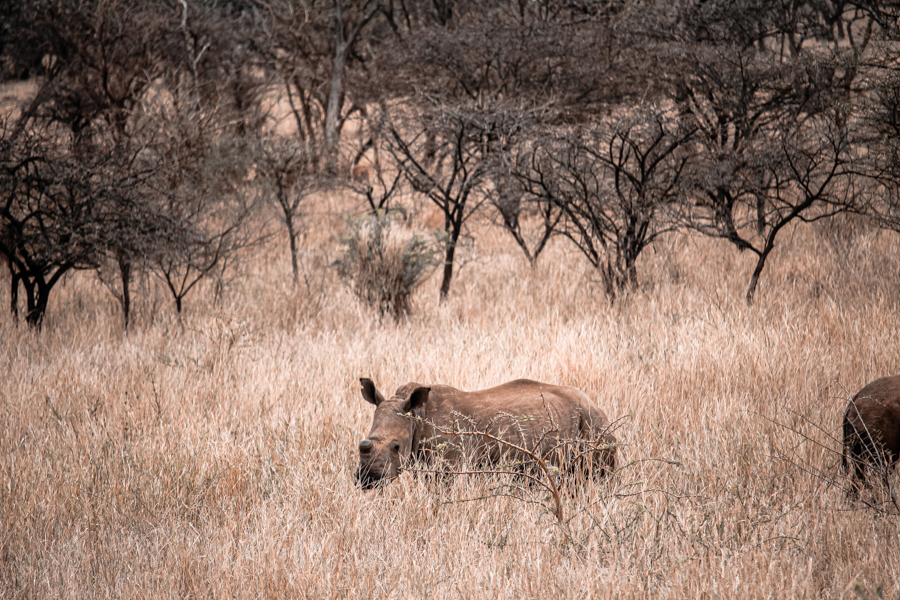 4. Ending our time in the bush with an incredibly close elephant encounter
Sometimes nature saves the best for last.
You'd think elephants are one of the easiest animals to see on safari due to their size, but they're actually quite hard to track because they camouflage so well and move incredibly fast. We'd been desperately seeking elephants with zero luck and by the middle of our last game drive, I'd given up.
And then, a gigantic elephant bull lumbered out of the trees. I grabbed my camera and tried to get a good view of him through the viewfinder, totally oblivious of the fact that a few dozen more elephants had shown up and were standing just a couple meters away from us.
They lingered there for a while, totally unfazed by our presence while going about their usual elephant duties like tussling in the bushes, flapping their ears or pulling out tree trunks.
For ten minutes, all we could hear was the clicks of our cameras and the cracking of tree branches. We stared in awe before the elephants decided to continue their way and leave us. It was easily one of the most breathtaking animal encounters I've had in my life.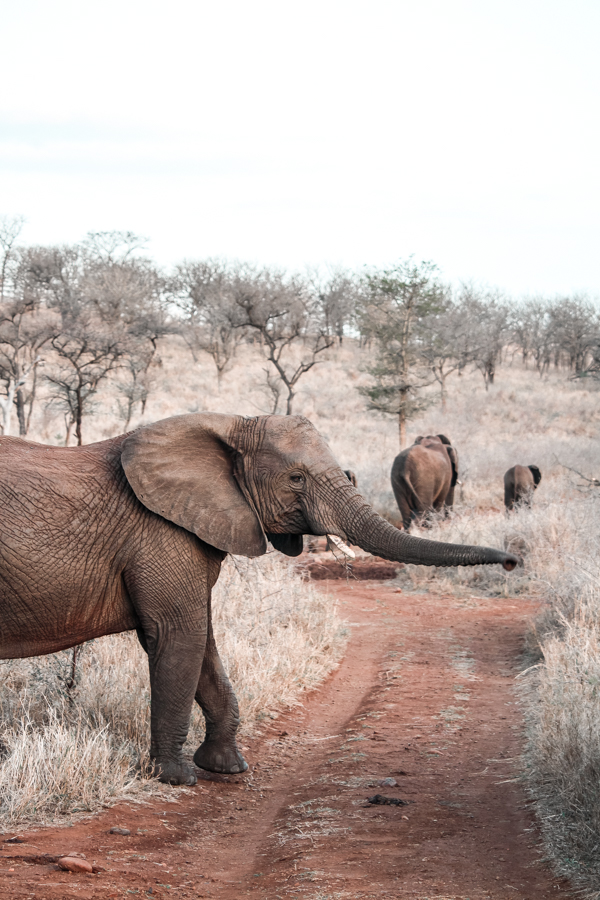 More pictures from Manyoni Game Reserve to inspire you to visit
Everything you need to know about staying at Rhino River Lodge
I couldn't have asked for a better way to spend two days in the South African wild. From the animal encounters to the cozy feel the lodge has to it, everything was absolutely perfect.
Aside from the alluring game drives, my second favorite thing about staying at Rhino River Lodge was the atmosphere at the lodge. There were plenty of opportunities to get to know fellow safari-goers as well as the lodge's team. I felt as though I was part of the family rather than just another guest.
With that said, here's all the basic information to know to book your stay at Rhino River Lodge!
Location
Rhino River Lodge is tucked away in the Manyoni Private Game Reserve and the heart of Zululand in Kwa Zulu Natal. Even though it looks out of the way, a safari here makes for a perfect detour if you're also visiting destinations in the east like Saint Lucia on your South Africa itinerary. It's also an easy getaway from Durban or a perfect stop to make if you're visiting Swaziland as part of your southern Africa adventures.
Common area
The lodge offers a range of accommodation options for any travel style and budget, all of which I'll outline below. But first, let's dive into what the common area is all about because, well, it looks like a massive treehouse and if you know me, anything with a jungly feel to it drives me nuts.
Moreover, the common area also boasts a swimming pool, a cozy dining room, WIFI, and a veranda with the most amazing views of the Msunduze river.
And THIS, guys! Fever trees were all over the area and they're SO beautiful to look at from the common veranda. Of course, I had to head down and take a few pictures 🙂
Fun fact: Did you know these trees got their name because early colonizers used to think they made them sick? Turns out, it was malaria giving them fever, but they blamed it on the trees for a looong time.
Food options
Three meals a day are included in your booking + coffee and biscuits before your sunrise game drive. The food was delicious and incredibly varied, so it never got boring. Seriously, don't come here if you're on a diet, because you'll miss out on a ton!
We had an early morning flight to George to continue our South Africa adventures in Knysna, so, unfortunately, we had to miss our last sunrise game drive and breakfast, but Jo and Jayd, being the awesome people that they are, offered to pack our breakfast so we could take it with us to the airport.
All meals are served in the common dining area and dinner is often served outside around a campfire if the weather is right, but if you're in the mood for something romantic, you can also book a private candle-lit dinner at their outdoor boma. We were surprised by one on our last night at the lodge and it was the perfect way to spend our last evening in the bush ♥.
Game drives
Two game drives per day are included during your stay (two sunrise drive and two sunset drives). We spent two nights but were sadly only able to join three drives as we had to leave at 4 am the last day to catch a flight, but three felt like enough to see so much! Be ready to start the day early while here, as game drives start at 5:30 am as early hours are best to see wildlife.
What to bring
I recommend bringing binoculars, a camera (obviously), insect repellant as well as a hat, sunglasses, and sun cream. As for clothes, pack neutral colors if possible and a light jacket as the weather in Manyoni can be chilly during the early morning. You can check my Safari Packing Guide for a full list of my top recommendations to pack for your adventure.
Accommodation options
The lodge offers four different types of accommodation: en-suite rooms, family chalets, The Cottage, and The Homestead. Below, I'll outline some of the features that make each accommodation option special! You can also take their accommodation quiz to find out which option is perfect for you.
The Homestead
This is the biggest and most luxurious accommodation option in the lodge. It comes with a private deck with a pool overlooking the bush, two double bedrooms, a common area with a fully equipped kitchen, a bathtub, and a dreamy outdoor shower. Oh, and also, Prince Harry once stayed here!
Accommodates: Up to four people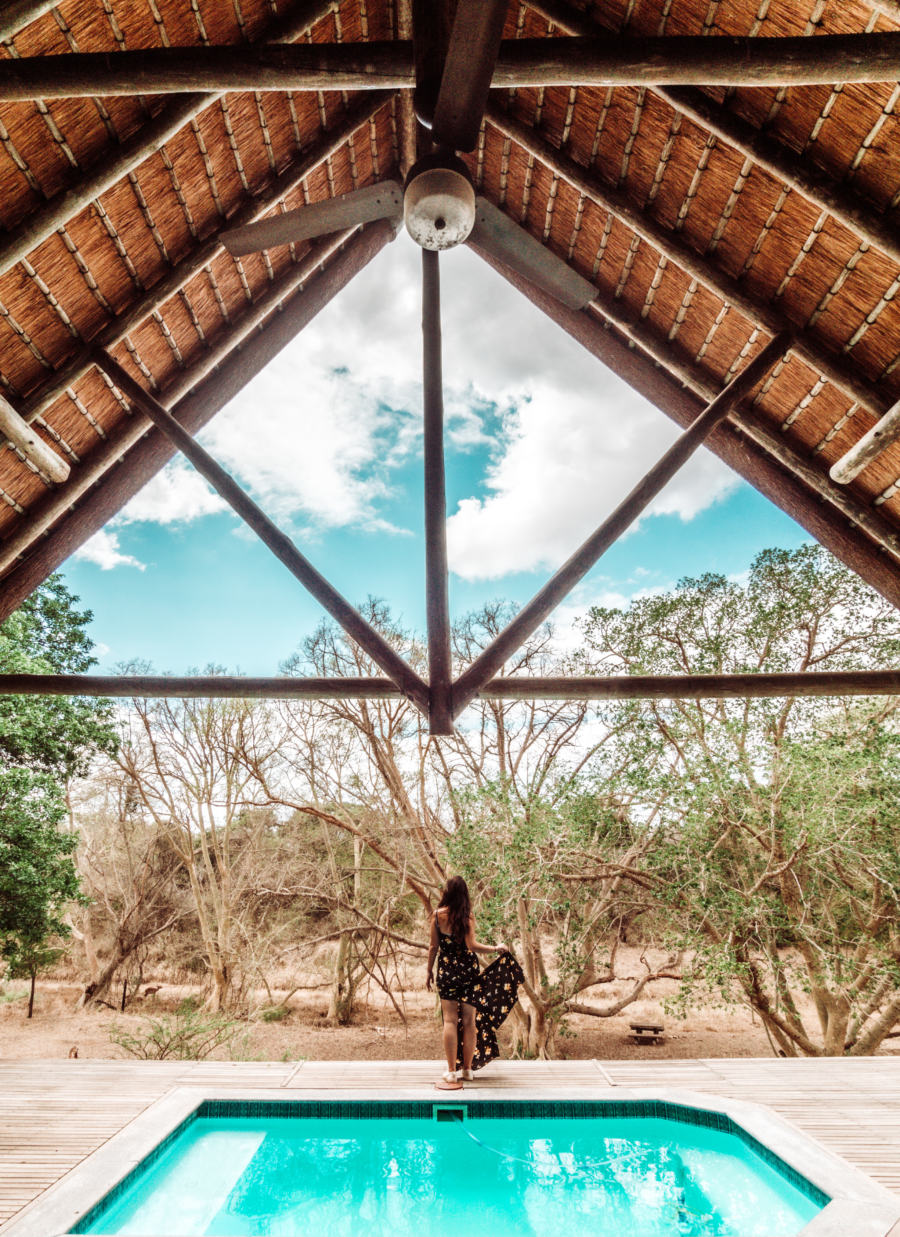 The cottage
Similarly to the Homestead but just a bit smaller, this cozy cottage offers guests two en-suite bedrooms featuring African-inspired decor, a fully equipped kitchen, dining room, and a private veranda with a pool overlooking the Msunduze River.
Accommodates: Up to four people
Family Chalets
The family chalets are the perfect choice for a small family or group of friends. Each chalet comes with two bedrooms (one is a story loft-style room), a shared bathroom with bathtub, and an outdoor sitting area.
Accommodates: Up to four people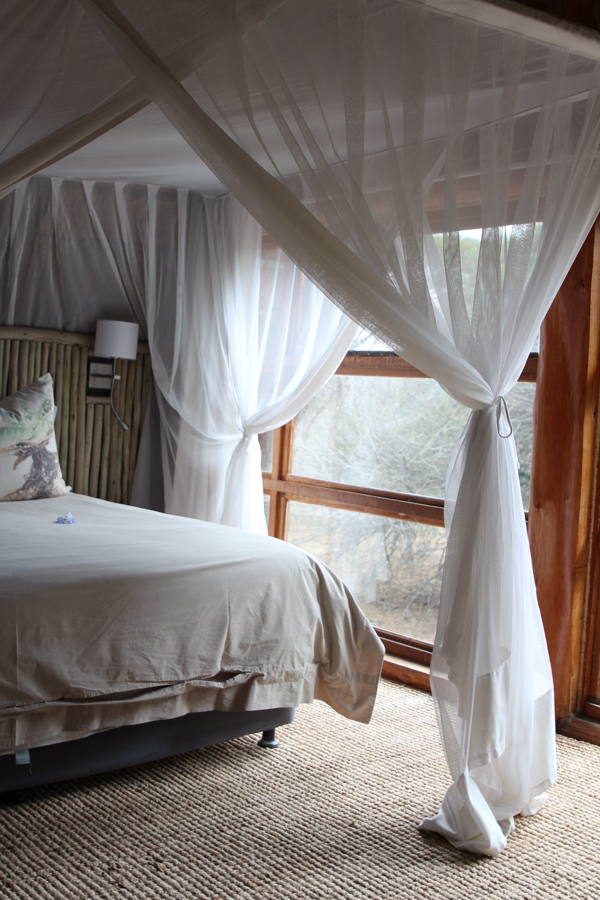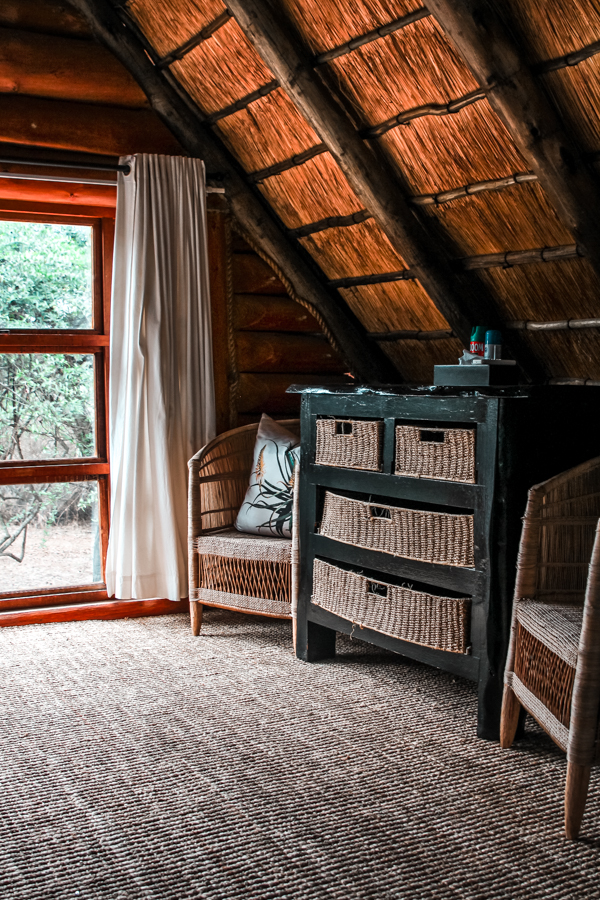 En-suite Luxury Rooms
Perfect for couples on a romantic getaway or solo travelers. They are equipped with one king-sized bed or two single beds, a sitting area, and a cozy veranda.
Can accommodate: Two people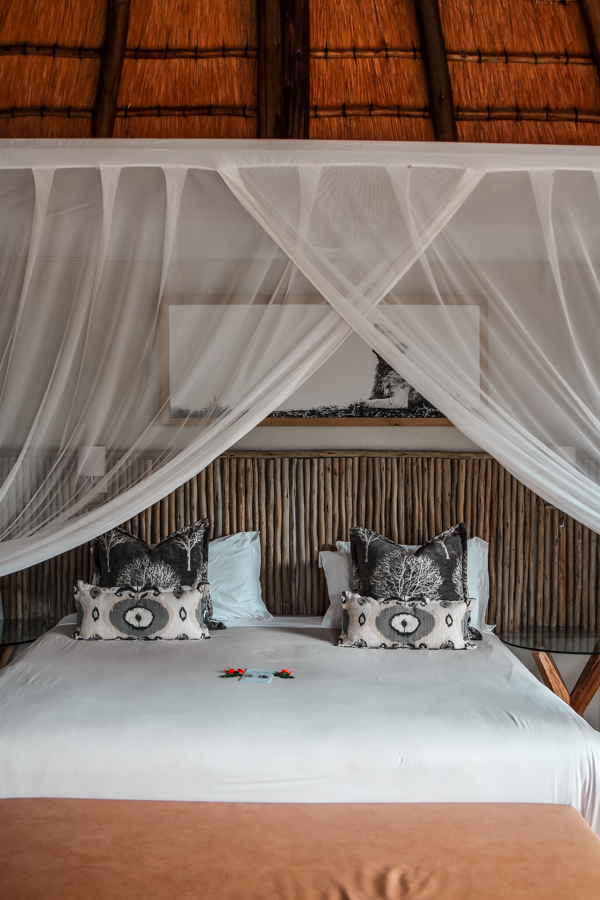 Ready to book your stay? You can do so through their website or via Booking.com.
PIN THIS POST FOR LATER
Disclaimer: This post was written in collaboration with Rhino River Lodge. However, all opinions, pictures, and experiences are my own.