16 Wonderful Things to Do in Vegas During the Day
Wondering what are the best things to do in Vegas during the day? Here are a few recommendations!
Ever since I have memory, I've always thought of Las Vegas as a place you visit to gamble and party, but little did I know that there are so many more activities and attractions you can enjoy in and around Sin City.
I gathered a few of my favorite travel bloggers who know Vegas well and asked them what their top recommendations would be on the best things to in Vegas during the day. These are them.
Are there more things to do in Vegas besides gamble?
Yes! While the casinos in Las Vegas are world-famous and many people do travel to Sin City for that very reason, there are plenty of more things to do in Vegas besides gamble.
From fun activities to enjoy within the city to day trips out to explore the desert and other gems in nature, you'll find there is plenty to do in Vegas both during the day as well as evening activities that don't involve casinos.
What are the best things to do in Vegas during the day?
Below is a list of top recommendations on the best things to do in Vegas during the day as recommended by travel bloggers who know the city and its surroundings well.
1. Valley of Fire
Looking for a desert adventure that will make you forget all about the neon lights of the Vegas Strip? Look no further than a one-day trip to Valley of Fire State Park, a stunningly beautiful wonderland filled with vibrant colors, dramatic vistas, and unique rock formations— just an hour away from Sin City!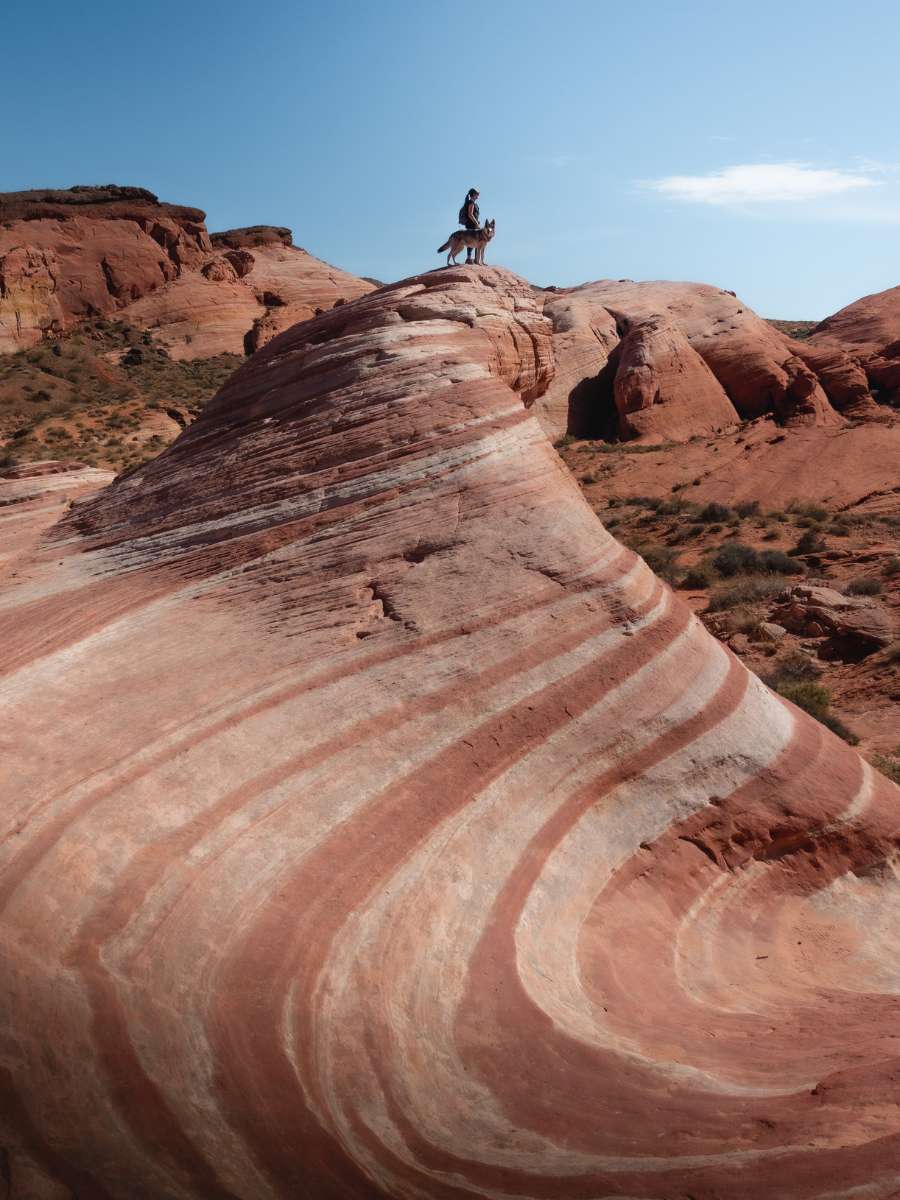 Here are some things to add to your itinerary for a day trip to this beautiful park:
Hike Fire Wave Trail: This short, moderate hike is only 1.5 miles round trip, but it'll take you through some of the most incredible scenery in the park. The trail features stunning rock formations and striated layers of red, orange, and white.
Take in the Petroglyphs: The park is home to some of the most well-preserved petroglyphs in the Southwest. At Atlatl Rock, you can climb up to see petroglyphs that were made as far back as 4,000 years ago.
Visit Rainbow Vista: This overlook offers panoramic views of the park's colorful sandstone formations, and it's especially spectacular at sunset.
Hike White Domes Trail: This is one of the most popular hikes in Valley of Fire State Park. This 1.25 mile trail takes you through a stunning landscape of red sandstone formations, narrow slot canyons, and even a short tunnel.
Check out Elephant Rock: You won't be able to miss this massive rock formation that looks just like an elephant.
Stay for Sunset: You don't want to miss the spectacular sight of the sun setting over the park's vibrant red rocks. It's a great way to cap off a day of hiking and exploring.
Valley of Fire State Park is about an hour's drive from Las Vegas, and there is an entrance fee of $15 per vehicle.
Recommended by Nicoll Davis of Living Tiny With A Wolf
2. The Stratosphere
The Stratosphere, located at the northern end of the Las Vegas strip, is a 1,149 foot tall tower hotel that overlooks Sin City. But the "Strat", as it likes to be called, is not only a hotel. It's also one of the top attractions to visit during the day while visiting the West Coast.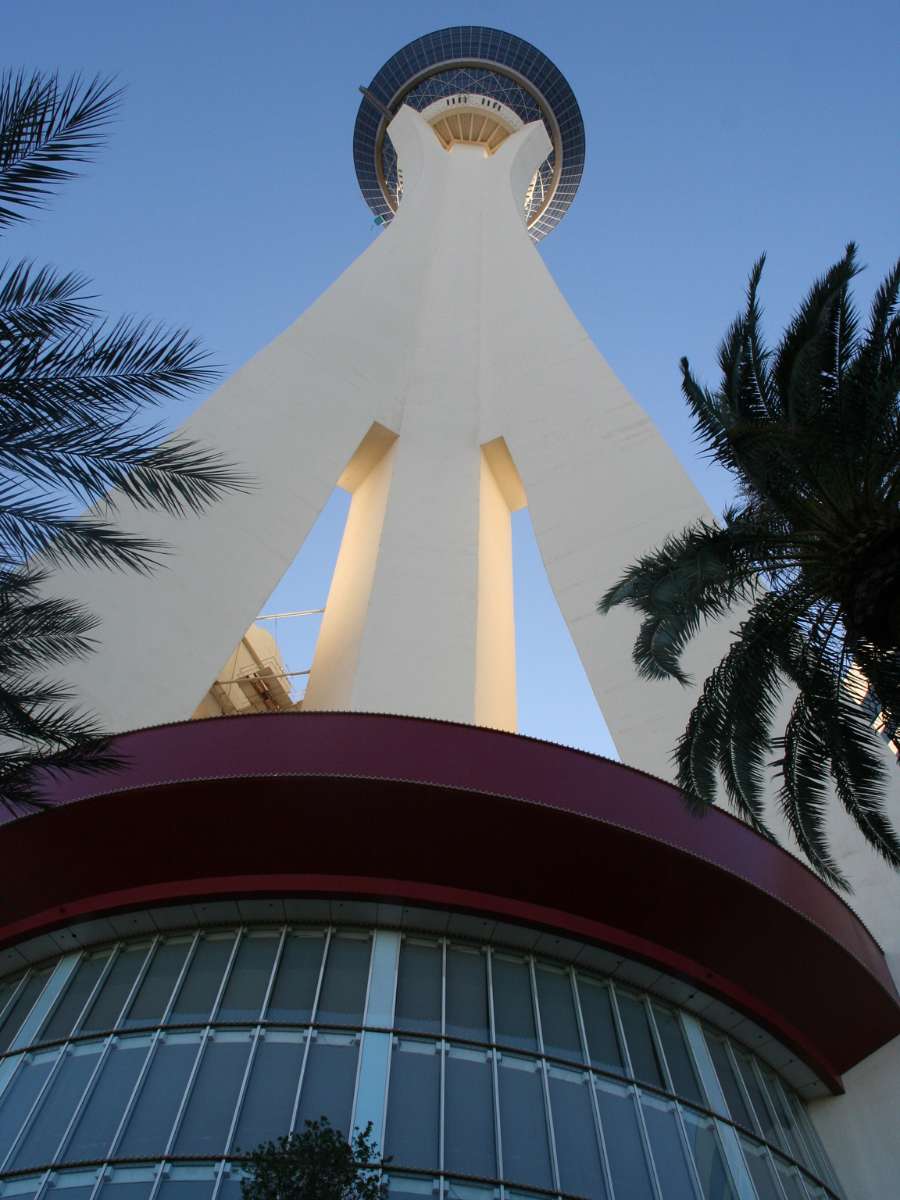 Of course, one of the top things to do at the Stratosphere is taking a lift to the top outdoor and indoor observation deck. Sitting at the very top of the tower, the observation deck offers a 360 degree view on Las Vegas and the strip.
Though it's stunning at night, the view during the day allows you to really see the size of Vegas and the desert surrounding it. It's quite impressive and often leaves visitors speechless. On the deck, you'll be able to find bars and restaurants along with shops to buy Vegas souvenirs.
The view from the observation deck is certainly impressive but it's nothing compared to the thrill you can get by hopping in one fo the two rides that make the Stratosphere famous.
If you want to experience the view from outside, you can join the Big Shot or the X-Scream rides for sensational experiences!
Between hanging 27 feet over the edge of the tower or being shot 160 feet in the air at 45 miles per hour, this is not for the faints of heart! If you have a fear of heights, you'll want to avoid them though! For extra thrills, visitors can try Skyjump, a vertical zip line, the highest of its kind in the world for what we'd call unique views of Las Vegas!
Recommended by Mary of BRB By Mary
YOU MAY ALSO LIKE:
3. Hoover Dam
Most people travel to Las Vegas to see the bright lights and experience the exciting pulse of the city. In case you get tired of the flashy attractions, look no further than Hoover Dam for a quiet day's getaway.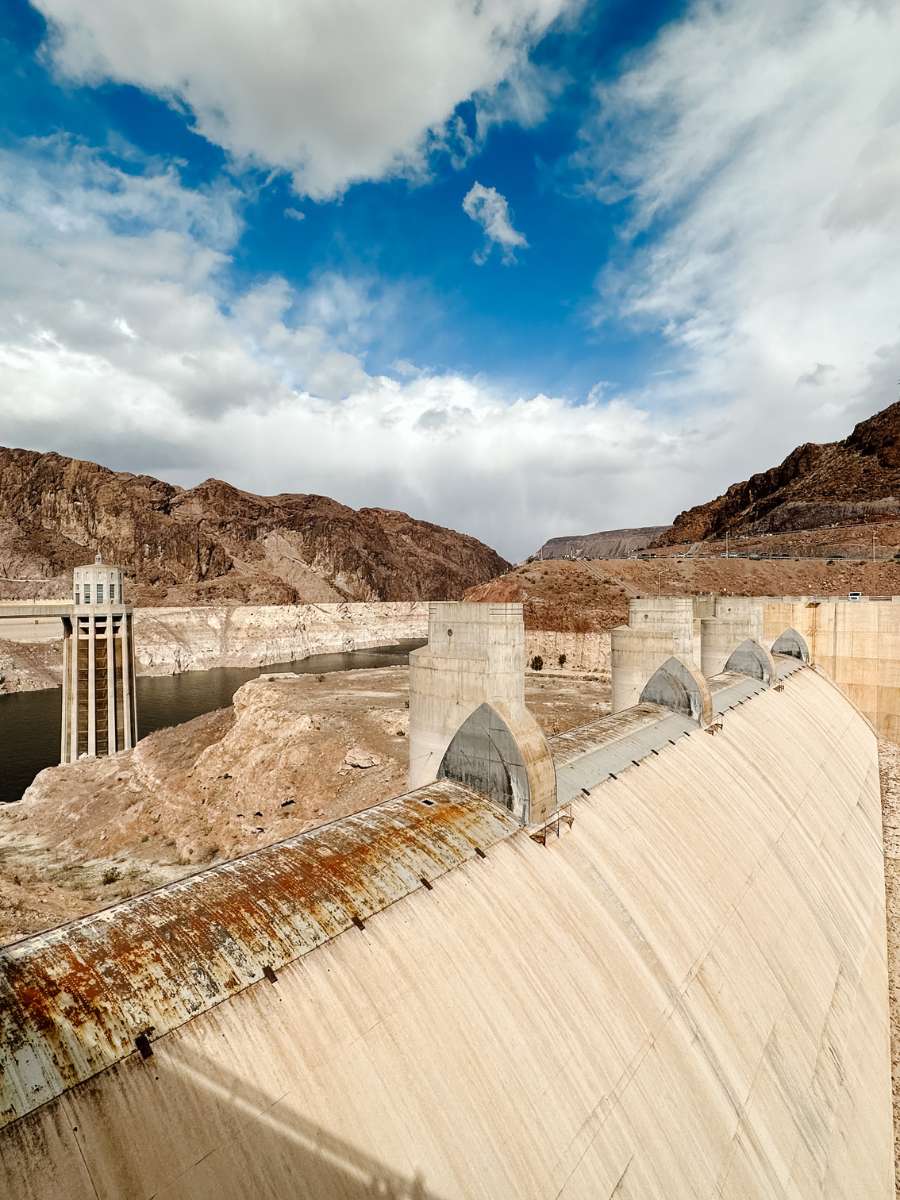 Located about 30 minutes outside of Las Vegas, Hoover Dam is a national historic landmark that is definitely worth visiting. Not only can you check such a famous spot off your travel bucket list, but you can also be there and back to the Vegas action in half a day. So you won't miss out on a thing!
Visitors can explore Hoover Dam privately or through one of many Hoover Dam Tours that offer transportation from Las Vegas. Whether you end up in a tour group or not, the facilities are really a wonder to explore.
In 1936, when the dam was first finished, it was one of the largest structures in the world. It was one of the most advanced as well, in terms of its impressive hydroelectric power production. Anyone with a mind for engineering will be amazed by the design and functionality of the dam.
The Hoover Dam's unique architecture is another reason to visit. Viewing the massive sloping walls, surrounded by the canyon rocks and the shimmering Colorado River, makes for quite an impressive landscape.
Have an amazing time in Las Vegas! And be sure to add a visit to Hoover Dam to your vacation itinerary.
Recommended by Candice of GS Ginger
4. The 18b Arts District
Nestled just south of downtown Las Vegas lies the 18b Arts District, this artistic hidden gem features a unique array of local art, cultural experiences, and culinary delights that will surprise and enthrall any traveler. Join us as we explore the Arts District during the daytime, where creativity reigns supreme and unforgettable experiences await.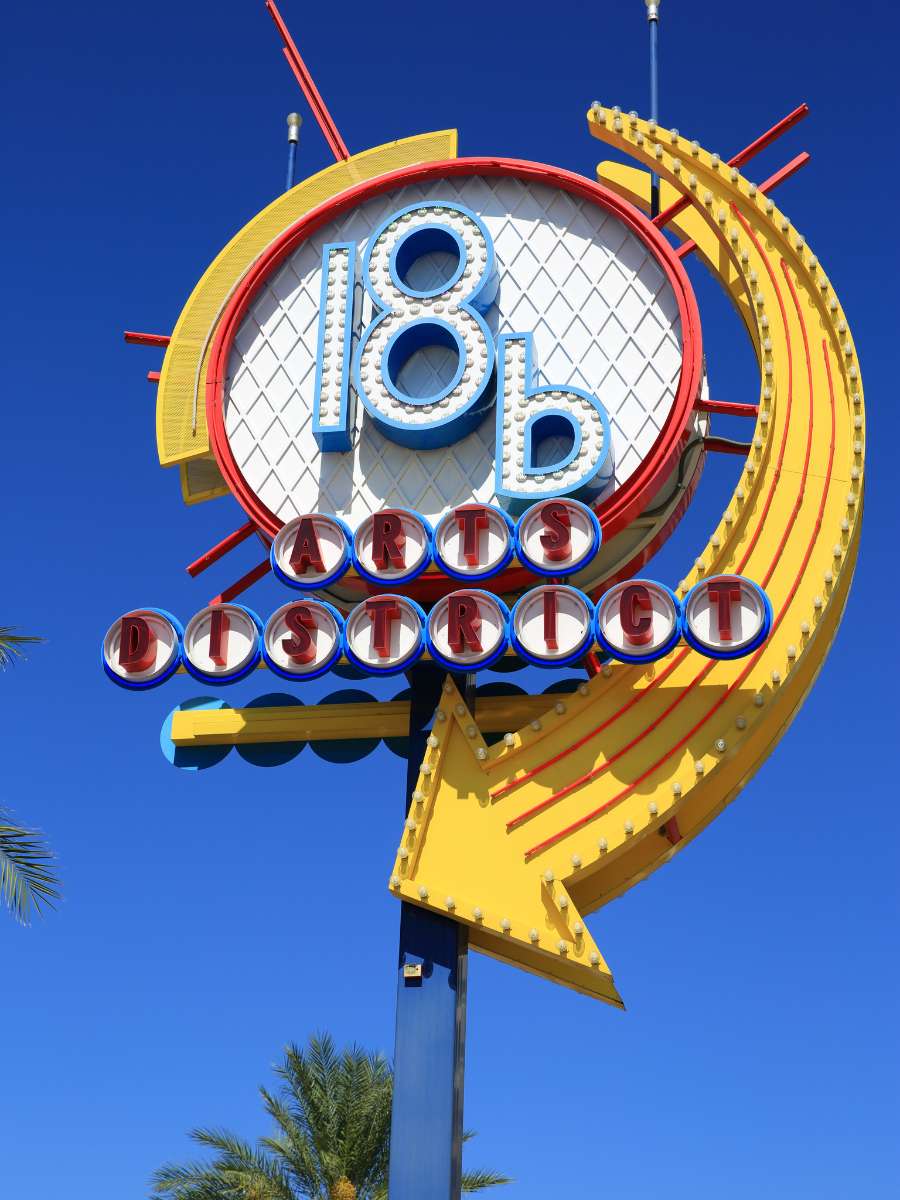 Begin your journey at the heart of the Arts District – the Arts Factory. Set in a repurposed warehouse, this arts hub is a haven for local artists and art enthusiasts alike.
Stroll through its halls and discover a diverse array of galleries, studios, and boutiques that showcase the talent and craftsmanship of Las Vegas' creative community.
As you venture further into the Arts District, you'll find a plethora of cool and unique shops that cater to a wide range of interests.
Vintage enthusiasts will adore Patina Décor, where you'll find a carefully curated selection of antiques, vintage oddities, and eclectic pieces that are sure to spark conversation. For a touch of whimsy, check out Nightmare Toys and browse their large collection of horror film props, toys and clothing for sale.
No trip to the Arts District would be complete without indulging in its growing culinary scene. Begin your gastronomic adventure at Esther's Kitchen, a modern Italian eatery that sources its ingredients from local farmers and artisans.
Savor their handmade pasta dishes and wood-fired pizzas, which are best enjoyed with a glass of wine from their extensive list of unique and natural wines.
If you're craving something a little more casual, be sure to check out Tacotarian, a plant-based Mexican restaurant that offers a delicious and innovative spin on traditional tacos.
With an impressive variety of mouthwatering fillings, from chipotle-marinated portobello mushrooms to beer-battered avocado, you'll be hard-pressed to choose just one.
Be sure to save room for dessert at the beloved Donut Bar. With a daily rotating menu featuring imaginative creations like the Pop-Tart-stuffed "Big Poppa Tart" and the creme brulee donut, this sweet spot guarantees a sugar rush like no other.
With its thriving arts scene, unique shops, and diverse culinary offerings, the Arts District stands as a testament to the creativity and resilience of Las Vegas.
Recommended by Shannon of Three Days in Vegas
5. Casinos
One of the best things to do during the day in Las Vegas is to head to the glamorous and world-renowned casinos!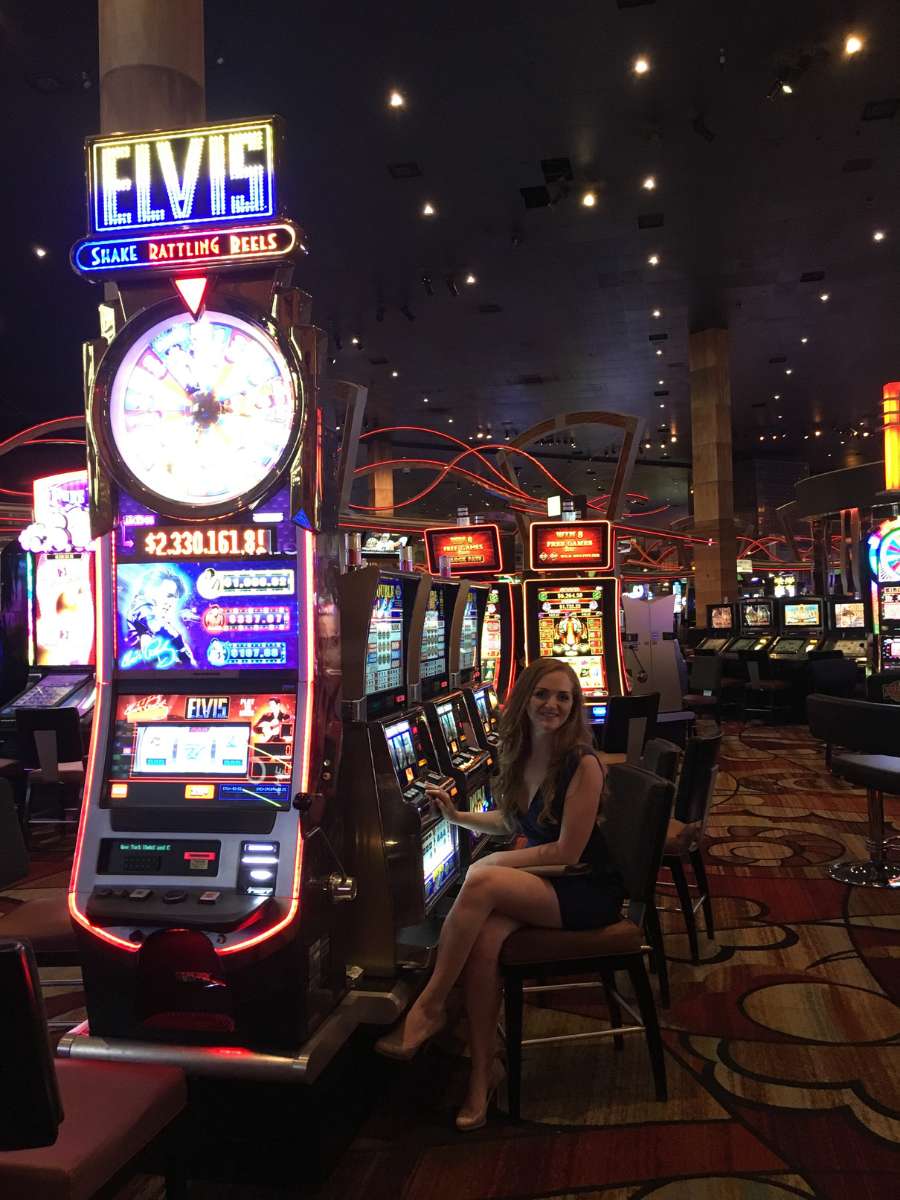 Millions of visitors head to the Las Vegas casinos every year, whether they want to win some money, escape from the heat outside, or just get into the Vegas experience and soak up the atmosphere! The casinos in Las Vegas are absolutely worth a visit, even if you have no interest in spending your money. It is so interesting to watch the people play!
Las Vegas casinos provide an immersive, exciting and unique experience for everyone – you could honestly spend hours here! Filled with stunning architecture and state-of-the-art technology, they really are impressive.
Have a go on the slot machines or video poker, or even try your luck at the table games like blackjack and roulette – you may even win big! And if you don't, well – as the Las Vegas quote goes: What happens in Vegas stays in Vegas!
Particularly during the summer months when the weather is scorching outside, the Las Vegas casinos are the ideal place to spend the day if you don't want to go far. The casinos provide a cool and comfortable air-conditioned environment to relax and have fun.
In addition to gambling, Las Vegas casinos offer a variety of live entertainment, shopping and dining options. They often host live music shows, stand-up comedy acts, and magic performances by world-famous entertainers, as well as restaurants and shops to suit all!
Recommended by Catrina of 24 Hours Layover
6. Race car ride along
If you enjoy getting an adrenaline rush, one of the most exciting daytime activities to do in Las Vegas is to participate in a NASCAR race car ride along at Las Vegas Motor Speedway.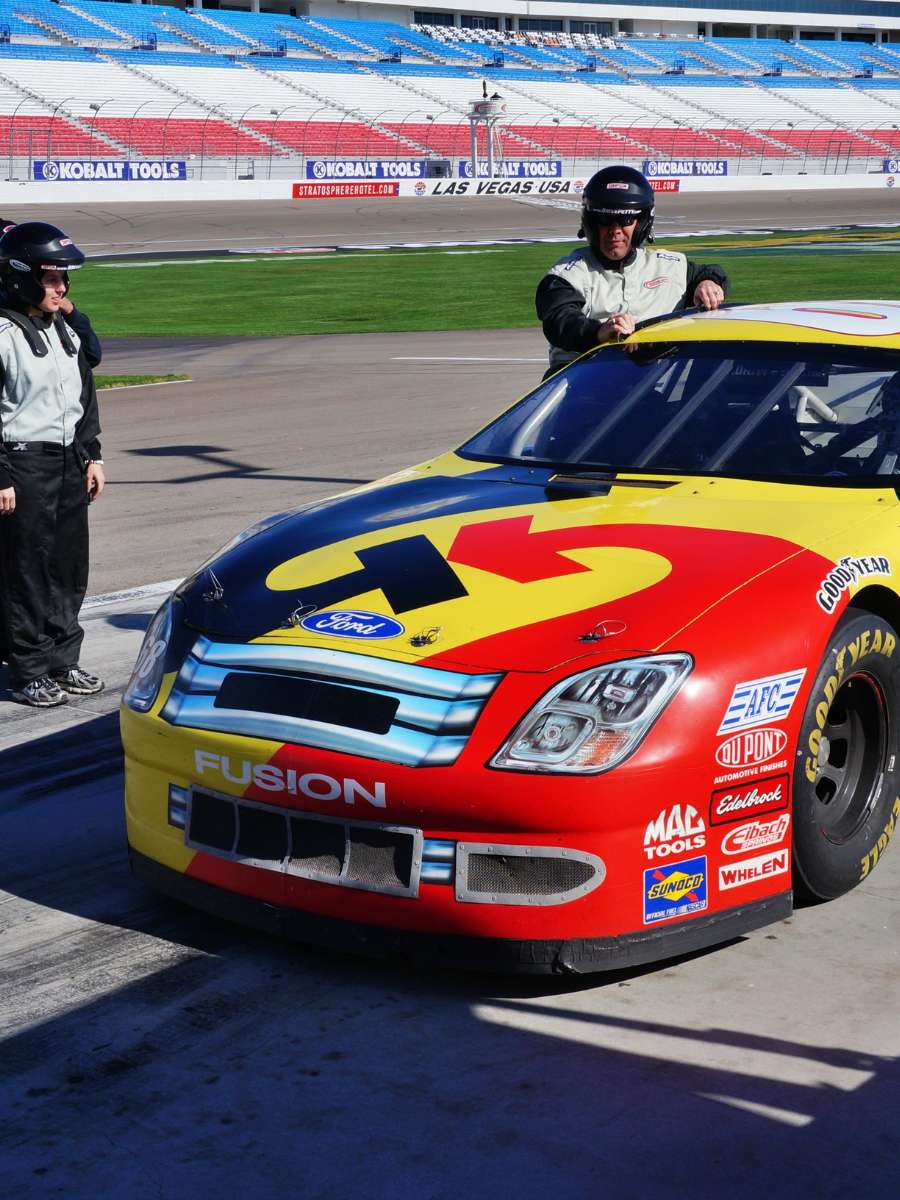 You'll have the chance to ride shotgun in a high-performance NASCAR race car with a professional driver, reaching speeds of up to 160 miles per hour. The driver will take you on a few thrilling laps around the high-banked oval track.
There aren't any doors in a race car, so part of the fun is hopping into the vehicle through the "window". Once you've been strapped in, enjoy the ride of a lifetime. You'll have a unique perspective as the driver takes corners at high speeds with 12-to-20-degree banking in the turns.
There are different options available, depending on how many laps you want to have around the track. A basic ride along will cost $145USD with an option to add-on a video recording of your ride along.
The Las Vegas Motor Speedway is located just 7 miles away from the Las Vegas Strip.
If you're looking to do something a little more extreme while in Las Vegas, make sure to check out the NASCAR race car ride along. It's an unforgettable experience that will have your heart racing.
Recommended by Debbie Fettback of WorldAdventurists.com
7. Neon Museum
The Neon Museum, sometimes referred to as the Neon Boneyard, is a graveyard for old and retired neon signs. If you're looking for a Las Vegas couples' activity and want to escape The Strip, you can take a walk through history and see the progression in illuminated signage.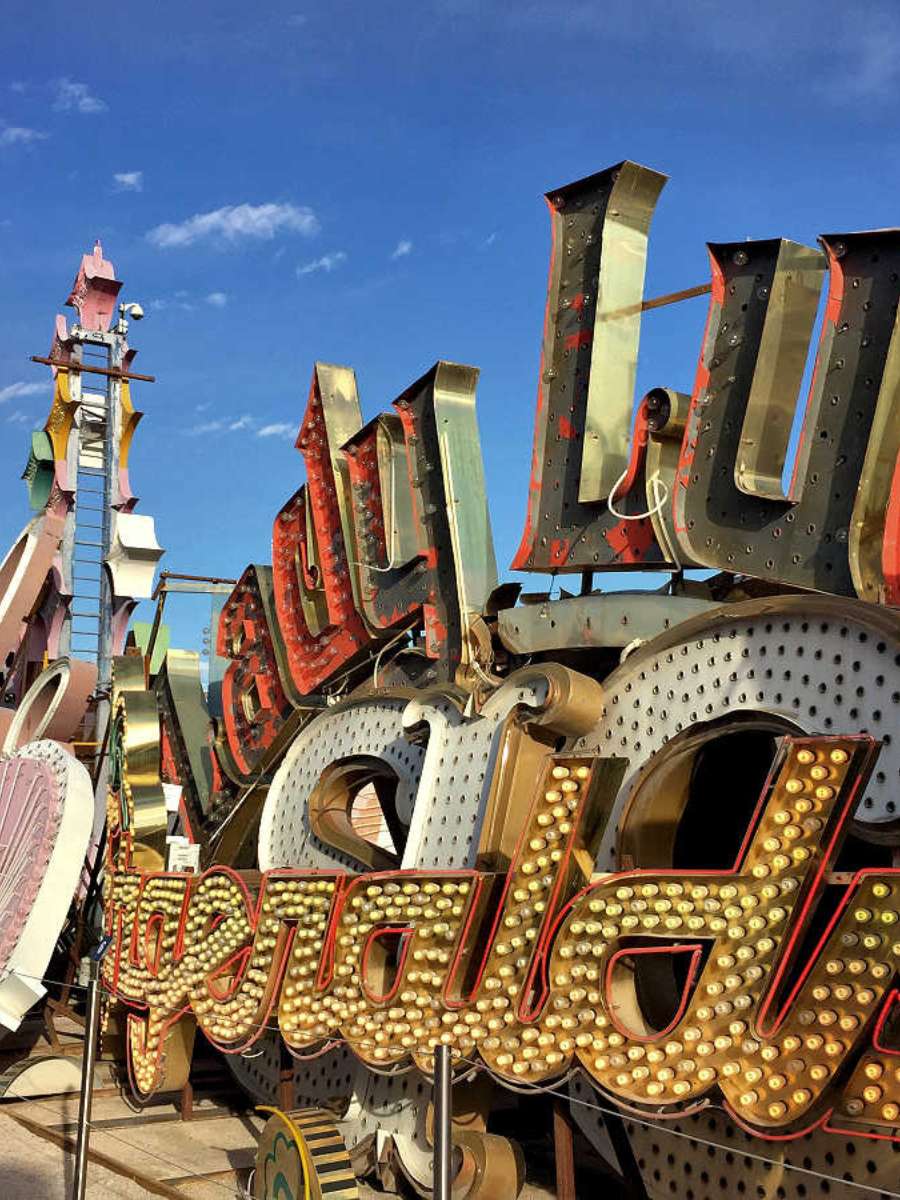 Founded in 1996, the small museum is packed with signs from hotels, bars, and other venues. Run by a non-profit group, it collects, preserves, and displays classic Las Vegas signs that have seen better days.
Some neon signs have aged gracefully, while others have been restored to their former glory. During your visit, museum staff are on hand to give you incite into each piece.
Even if you're not a regular to Las Vegas, you'll recognize the Golden Nugget and giant Hard Rock Café pieces. One sign, the "Betelgeuse," was created for the Tim Burton exhibit, which once ran at the museum.
Some of the quirkiest pieces are the Mars Attack aliens, which surprise visitors in their attack positions, ready to shoot.
While the Neon Museum might seem like a weird place to visit, its collection remains an integral part of Las Vegas' history. In fact, you can reserve time for a personal photo shoot or use it as a backdrop for wedding photos. Now that's Las Vegas!
Recommended by Karen of Forever Karen
8. Arizona Natural Hot Springs
Hot springs in the Las Vegas desert? Yes! If you love outdoor adventure, you can drive 40 minutes south of Las Vegas and then hike to Arizona Natural Hot Springs. The place is also known as Ringbolt Hot Springs. It's the perfect idea for a day trip out of the hectic city. But it's not an easy hike.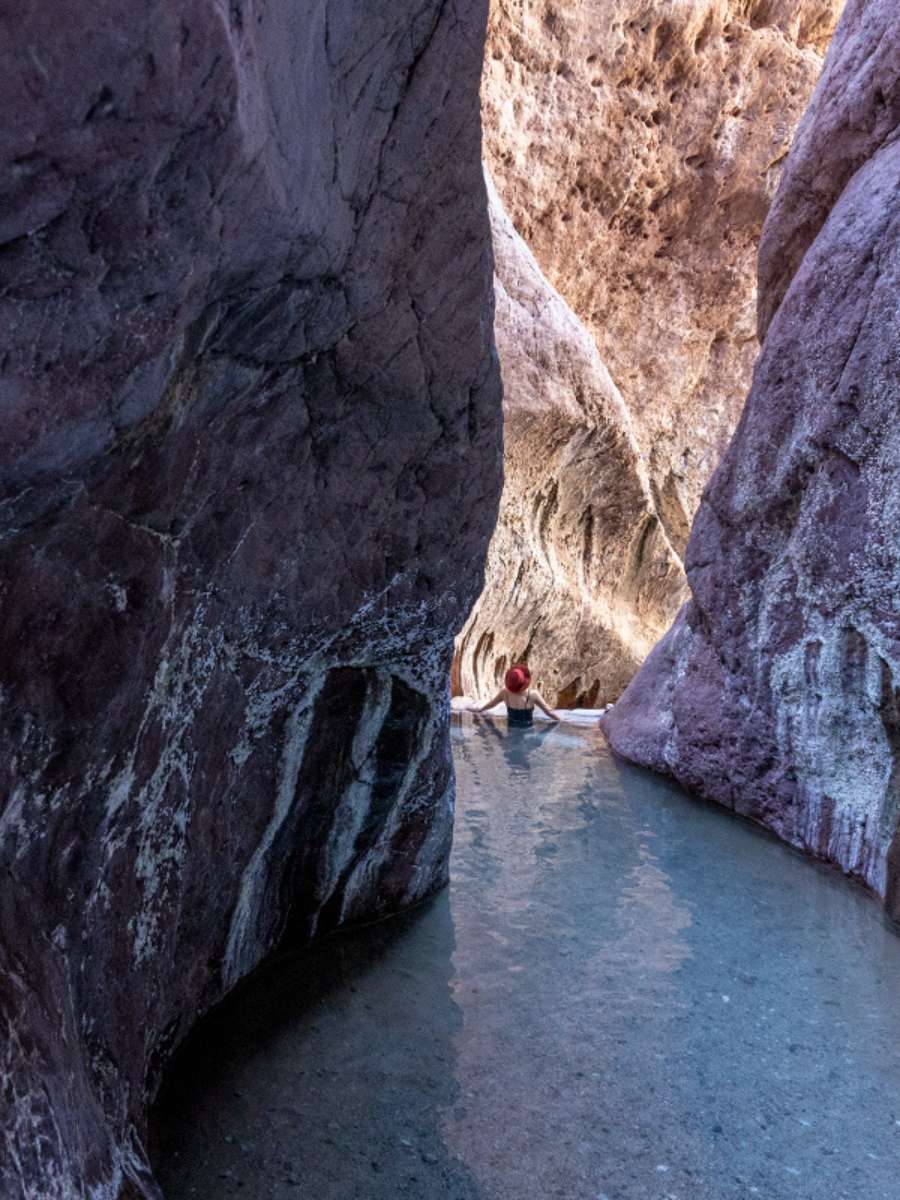 To get to the trailhead, you must take Route 93 toward Kingman. After you pass Boulder City, look for a parking lot on the left, 4.2 miles past Hoover Dam (there's a separate lane to turn left into the parking lot). Turn into the parking lot and leave your car there.
You have two hiking routes to choose from. If you stay to the left, a shorter way will get you to the hot springs faster. It's about 2.5 miles and 1-1.5 hours of hiking. If you stay to the right and take the White Rock Canyon Trail, it's about 3 miles and 2 hours of hiking one way.
You'll be hiking in a hot desert area without access to drinking water. Take plenty of water for a hike. Also, protect your body from the sun.
Wear a hat, cover your shoulders, and use sunscreen. Wear sandals or shoes with a good grip because the rocks are slippery and tricky.
As a reward, hot springs await you in a shady slot canyon. You can soak in them and relax. Be careful not to drink the water, and ensure it doesn't get into your eyes or nose. Amoeba may occur periodically in water (but there are warnings along the way, or if there is a high risk, the trail will be closed).
Recommended by Agnes of The Van Escape
9. Cathedral Gorge State Park
Cathedral Gorge State Park is a hidden gem state park to spend the day at near Las Vegas. This state park is located in the middle of nowhere, about 2.5 hours from Las Vegas, and thanks to its rather isolated location, it sees very few visitors.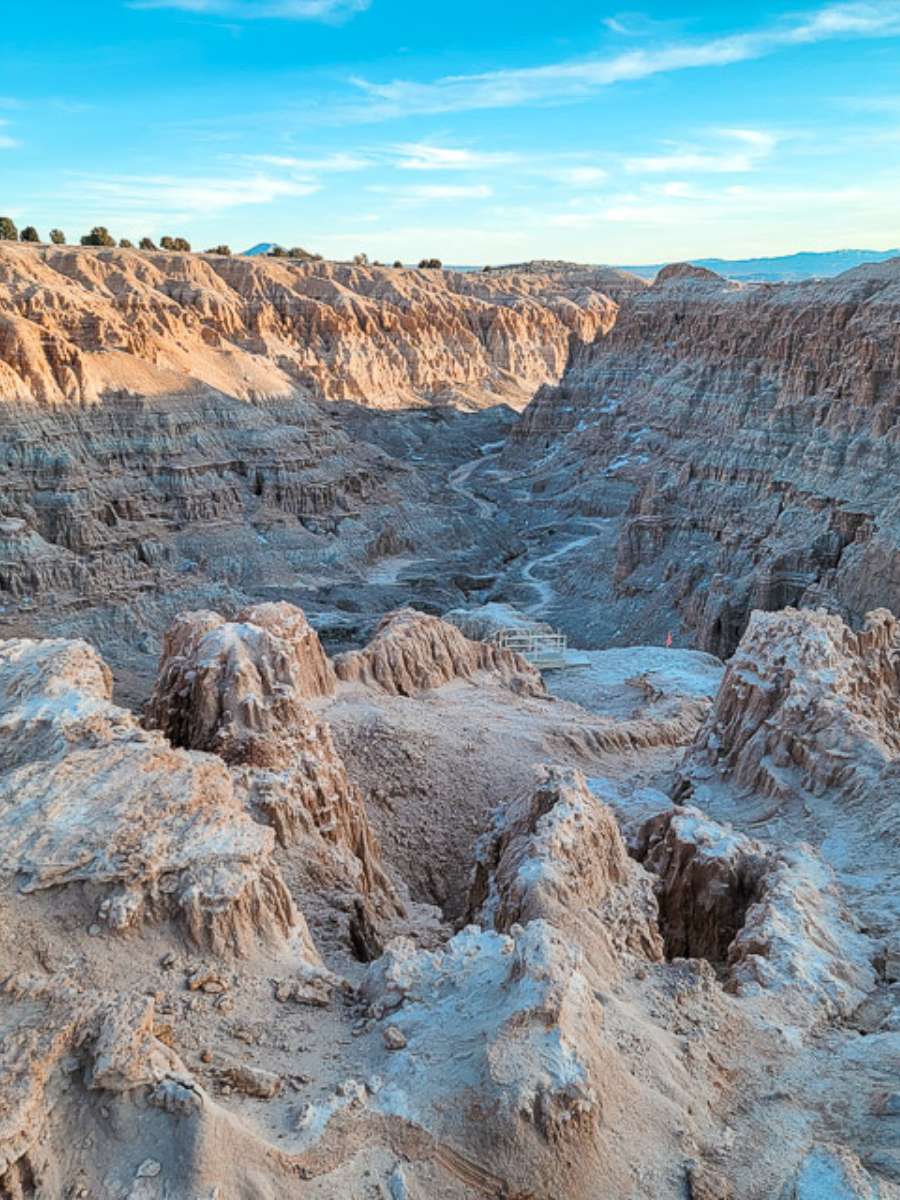 In fact, it is highly likely that when you visit, you might be sharing the entire park with only a few other people.
So, why visit Cathedral Gorge State Park? This park has really cool landscapes, that feature heavy erosion along a tall cliff face, creating spires and distinct ridgelines that cascade down into the valley.
The absolute best trail to do in Cathedral Gorge to be enveloped in the landscape is Millers Point Trail, which takes you through a small canyon path that weaves its way between the cliff walls, with interesting spires and ridges all around you.
The path then climbs a staircase to a viewpoint overlooking the mountains, ridges, and canyon – an incredibly picturesque spot.
Another fun thing to do in Cathedral Gorge is explore the slot canyons. The main road through the park sits along the bottom of a cliff. The cliff wall is filled with the distinctive "spires" of the state park. These spires create little slot canyon pathways all up and down the ridgeline.
These slot canyons are incredibly short, but the walls are straight up and down, extremely tall, and narrow dramatically. Plus, there are dozens of little pathways to explore, which is extremely fun.
Overall, Cathedral Gorge is a great day trip from Las Vegas because although the drive is a little bit longer, you really only need a half day to do everything in the park. You'll get the chance to really be alone in nature, and experience some seriously cool landscapes.
Recommended by Stephanie of The Unknown Enthusiast
10. Ethel M Chocolate Factory and Cactus Garden
Located in Henderson, a suburb of Las Vegas, the Ethel M Chocolate Factory and Cactus Garden is a perfect hidden gem. If you're looking for a place to visit away from the crowds and for some nature areas while around Las Vegas, this is a place to add to your list.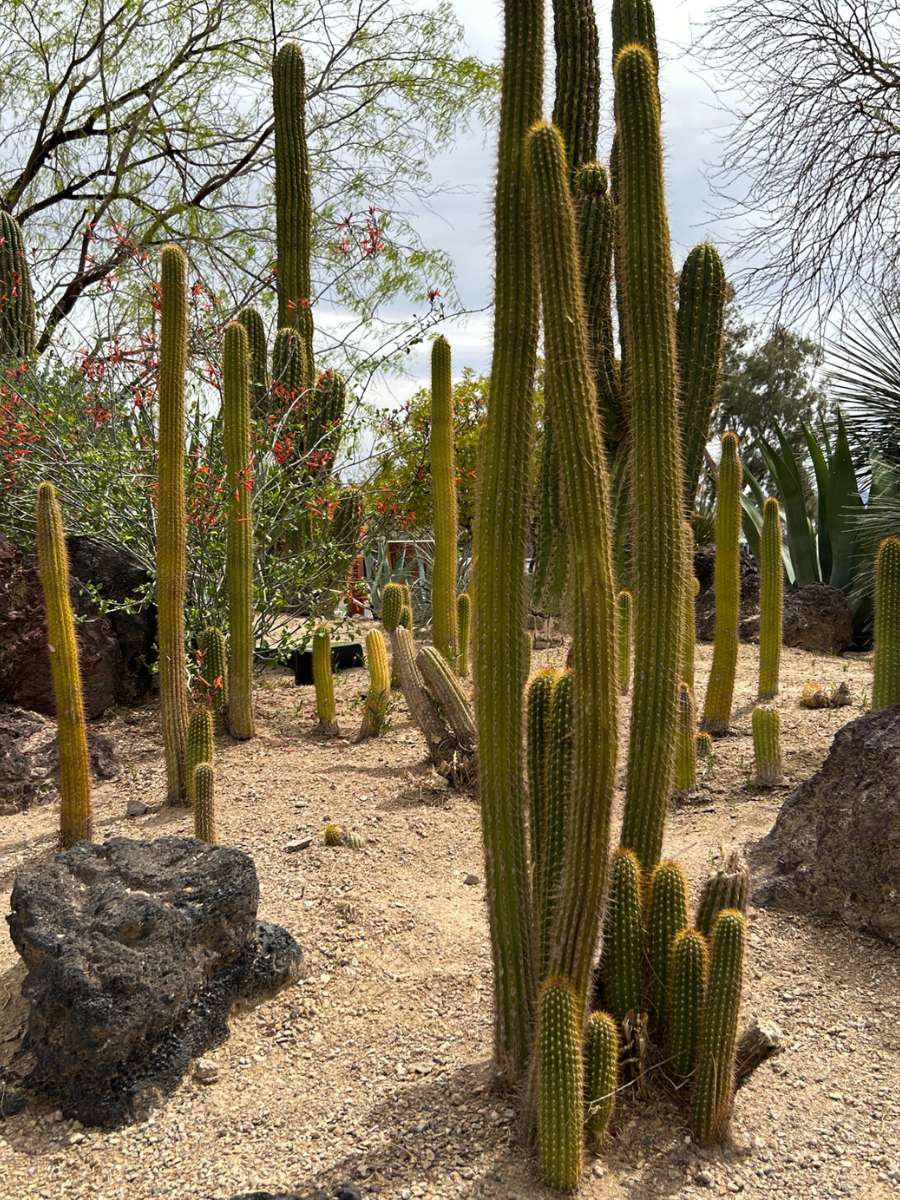 The Ethel M Chocolate factory produces many gourmet chocolates and sweets, including truffles, caramels, nut clusters, and more.
During your visit, you'll get to do a self-guided tour of the factory to see the chocolate-making process and even sample some of the decadent chocolate treats.
You can also purchase chocolate and other treats like chocolate-dipped strawberries, coffee and ice cream. It's a little pricy, but really yummy.
But the real attraction at Ethel M is the cactus garden. There are more than 300 species of cacti and other desert plants spread across the three-acre garden.
The garden was originally created to showcase the natural beauty of the desert. The idea was also to provide an escape from the hustle and bustle of the Sin City.
Today, it's one of the largest cactus gardens in the world. It's a popular destination for visitors to Las Vegas.
You'll find interpretive signs and plaques identifying each plant species. There are also several sculptures throughout the garden.
If you visit during the holiday season, you'll be treated to a stunning display of over a million twinkling lights, transforming the garden into a winter wonderland.
The Ethel M Chocolate Factory and Cactus Garden is open 7 days a week, and it's free.
Recommended by Emilie of Love Life Abroad
11. Spend the day at the Grand Canyon
A day trip to the Grand Canyon from Las Vegas may sound daunting, but it is a must-do experience that should be at the top of your bucket list.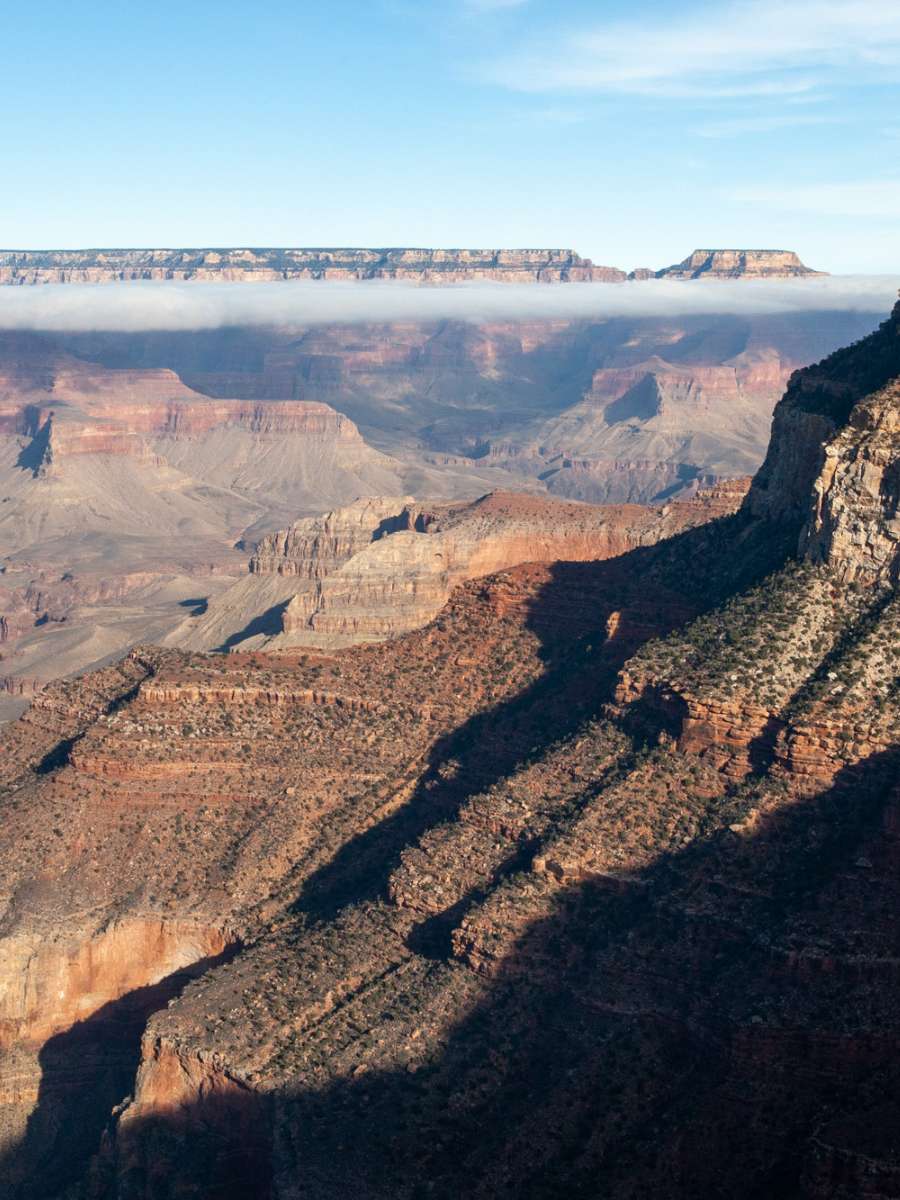 From Las Vegas, you can head to either the South Rim or the West Rim, depending on your time constraints and the activities you want to do.
If you're looking for beautiful views, the Grand Canyon needs no introduction, and either rim will suffice. It's one of nature's most stunning wonders, with jaw-dropping scenery as far as your eyes can see.
Besides the views, there are also plenty of activities for you to enjoy while exploring the canyon.
Hiking enthusiasts will find trails at the South Rim, like Bright Angel Trail, offer up unforgettable experiences and provide new perspectives on just how beautiful natural landscapes can truly be.
Non-hikers might want to choose something more leisurely, so the West Rim is perfect. It features the popular Skywalk, known to give even the bravest of people sweaty palms.
If you haven't heard of it, picture a glass-bottomed bridge hanging off the upper rim, suspended over 4,000 feet above the canyon floor!
Deciding which rim to visit is entirely your preference. But here are a couple of recommendations if you still need help deciding.
If you are short on time, head to the West Rim, as it is closer to Vegas. Or if the Skywalk sounds right up your alley.
The South Rim will provide more scenic drives and viewpoints if you're fine making a longer day of it. It will also have more amenities and a variety of tours, everything from getting a bird's eye view in a helicopter to riding a mule down into the canyon.
Both sides of the park are gorgeous, so you won't be disappointed with the views for either rim you visit. The natural beauty of this wonder will take your breath away and leave you feeling inspired.
Recommended by Jenny of Traveling In Focus
12. Red Rock Canyon
Las Vegas is globally known around the world as a city filled with glitz, glamour, and excitement. However, what many people don't know is that the Las Vegas area offers so much more than casinos, extravagant shows, and fancy hotels.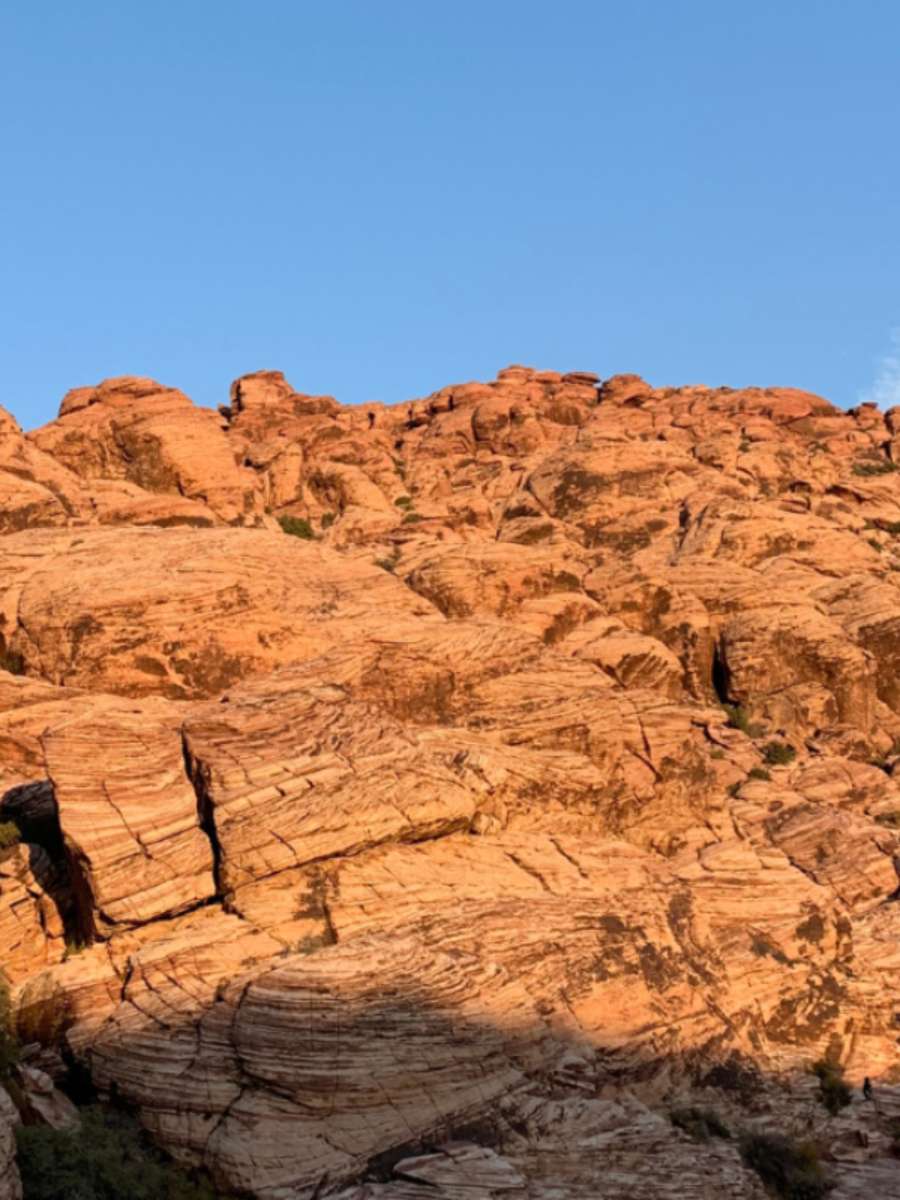 For example, a fun thing to do in Las Vegas that offers a completely different atmosphere from what you'll find along the Strip is visiting Red Rock Canyon, which is a short 20-minute drive away.
At Red Rock Canyon you'll be immersed in a breathtaking desert landscape filled with towering rock formations and incredible views. And while looking at rocks alone might now warrant a visit to the area, there are all kinds of activities available suitable for any visitor.
For instance, if you're looking to explore the area while taking in the fresh air, you can opt to stretch your legs with a leisure hike along one of the many trails. Or, if you're short on time and need to cover more ground than hiking would allow, the roads are wide enough that you can comfortably bike through the Canyon as well!
So, if you're in need of a break from the chaos of the downtown area, consider enjoying the natural beauty in Red Rock Canyon!
Recommended by Kristin of Global Travel Escapades
13. Tour the speakeasies
Taking a tour of the unique speakeasies in Las Vegas is a great thing to do during the day on a trip to Sin City.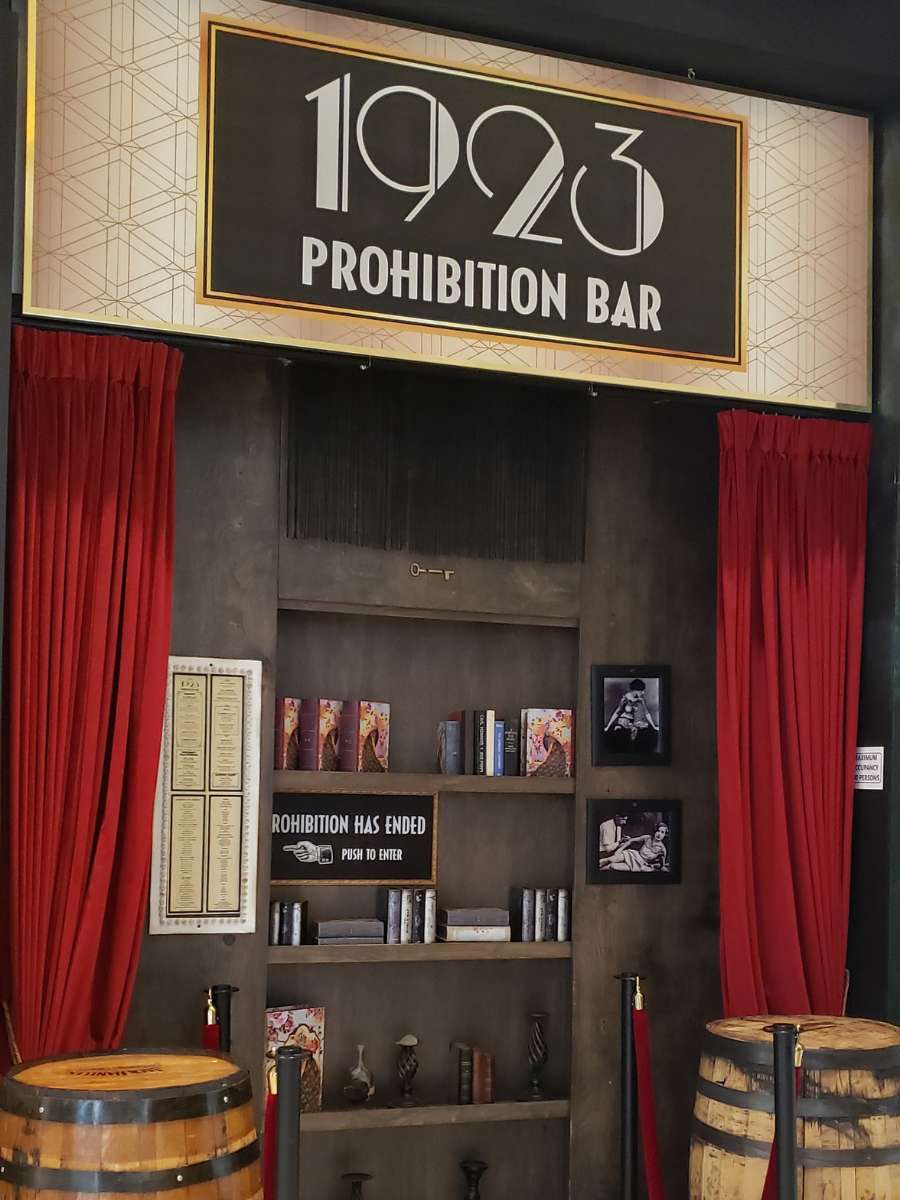 There are quite a few speakeasies on the Las Vegas strip to choose from and even a couple downtown on Fremont Street. In fact, make it a full day scavenger hunt and find them all!
Speakeasies have been reborn from the prohibition era of the 1920's when alcohol was illegal in the US.
Back in the day, speakeasies were secret establishments where alcohol was illegally sold and consumed.
It was illegal, so the entrances were hidden, and only trusted individuals were admitted, resulting in no one being turned in to the cops!
Nowadays, alcohol is sold legally, and the mob is most likely no longer involved. However, it is still fun to hunt for the hidden entranceway and recite the secret password.
After making it inside one of these fascinating bars, there is a refreshing reward of an old-fashioned cocktail while seated in a comfy lounge chair.
A great speakeasy itinerary will include the 1923 Prohibition Bar at Mandalay Bay and Here Kitty Kitty Vice Den at Resorts World.
Those cocktails can be followed by a visit to the Mob Museum in downtown Las Vegas. The Underground is located here with entrance only upon uttering the secret password, a truly authentic experience!
Recommended by Michelle of Moyer Memoirs
14. Death Valley National Park
Death Valley National Park is a stunningly beautiful and otherworldly destination that should be at the top of every travel bucket list.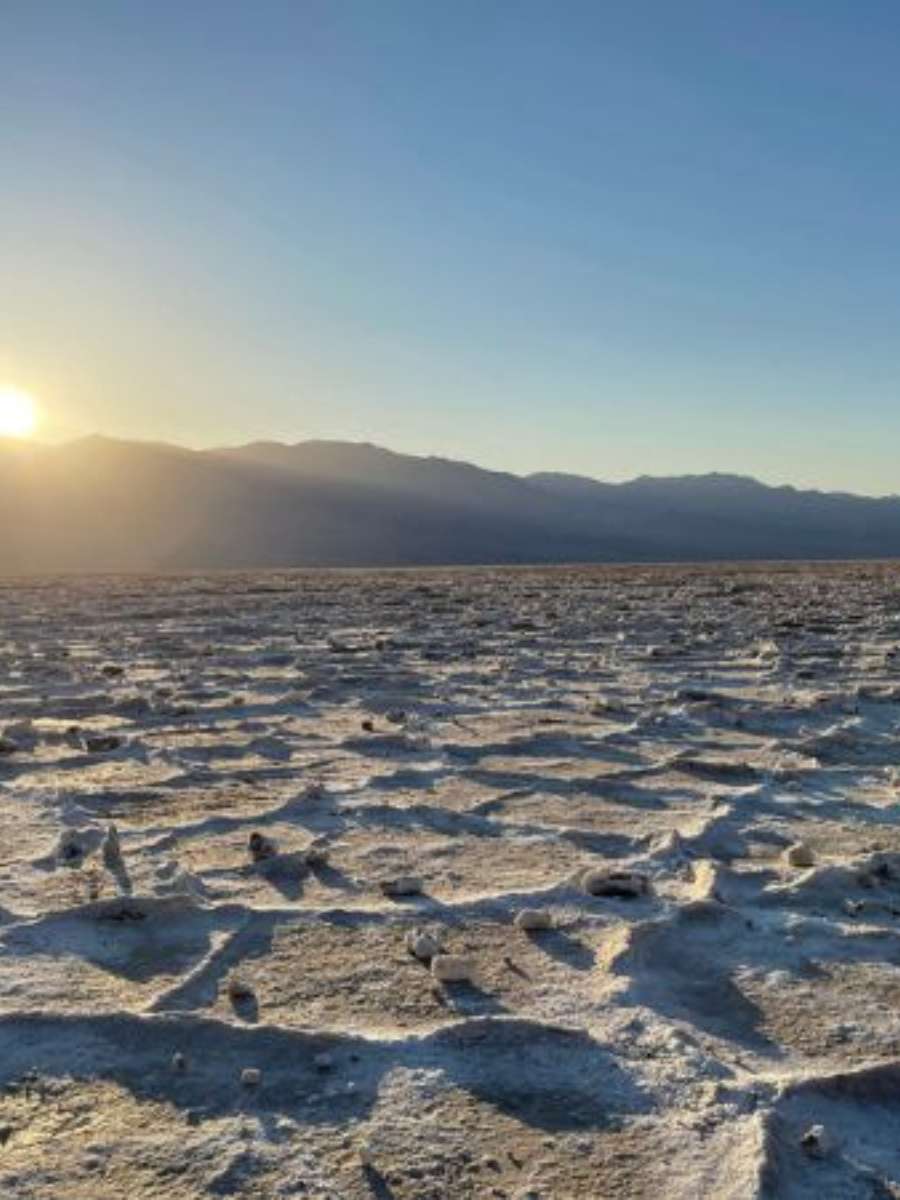 If you are visiting Las Vegas and looking for something unique to do, Death Valley could be the perfect day trip. It is about a 2-hour drive from Vegas to Death Valley. You will need to get an early start, but with some preplanning, it's possible to see many of the national park's highlights in a single day.
Death Valley is loaded with hiking trails and scenic drives that feature its diverse landscapes and unique geological formations. You could easily spend days getting lost and exploring this one of kind destination.
However, with limited time, there are a couple of sights that are not to be missed! Such as the hexagonal salt flats at Badwater Basin, the towering sand dunes at Mesquite Sand Dunes, the rainbow colored mountains along Artist's Drive, and the panoramic views of the badlands at Zabriskie Point, to name a few of the popular ones.
Known as the hottest place on earth and the driest place in North America, it's best to visit Death Valley in the spring when temperatures are milder and more comfortable for outdoor activities. And for the opportunity to see beautiful wildflowers bloom throughout the valley.
A day trip to Death Valley from Las Vegas is worth the adventure. It will be a busy day with a lot of driving, but you will not regret visiting this unbelievable location.
15. OmegaMart
Created by Meow Wolf, an arts production company, OmegaMart is one of the most unique things to add to your Las Vegas itinerary.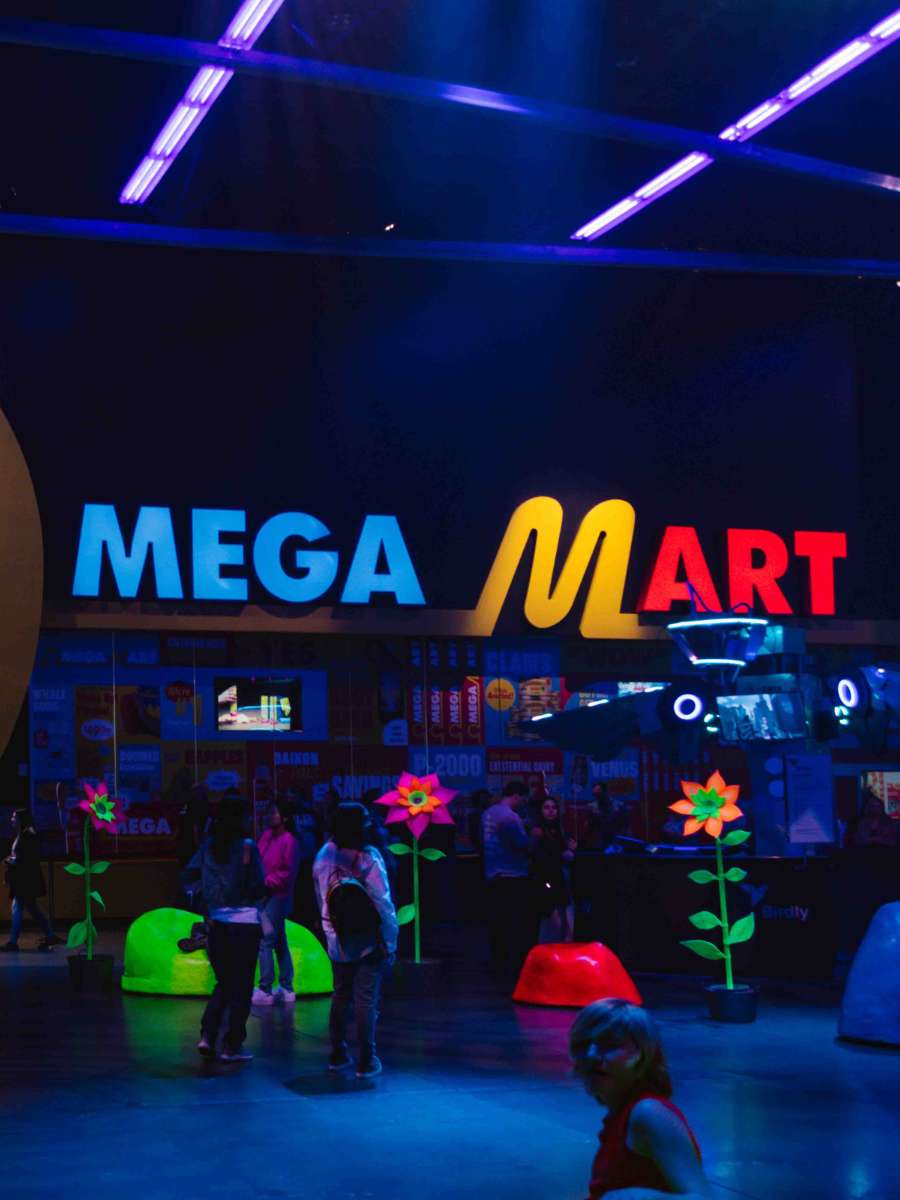 What appears like a regular grocery store is anything but. After wandering the aisles of OmegaMart, observing the weird products like dehydrated water and Who Told You This Was Butter?, you'll quickly stumble on portals to another dimension. Don't miss the portal through the refrigerator and the one through the plant-covered archway.
As you step into the other world, you're greeted with fantastical, immersive rooms full of art, a detailed story, and more portals! Each room is vastly different from the next so you'll find yourself getting pulled in every direction.
The experience is quite interactive and a stimulatory overload, in the best way. You truly can spend hours discovering OmegaMart.
Before you leave, or perhaps better right when you enter, be sure to find the bar located in the store behind the pharmacy for unique concoctions that live up to the wacky nature of OmegaMart.
Tickets are $49+ per person depending on the day visited. When you arrive, be sure to ask about the optional $5 Boop card, an RFID card that allows you to interact even more with the elements in OmegaMart.
Recommended by Alanna of Periodic Adventures
16. Las Vegas North Premium Outlets
Shopping in the USA is one of the best shopping experiences in the world but you don't need to shop on New York's 5th Avenue to get that experience. You can visit one of the outlet malls that offer the same experience at half the price.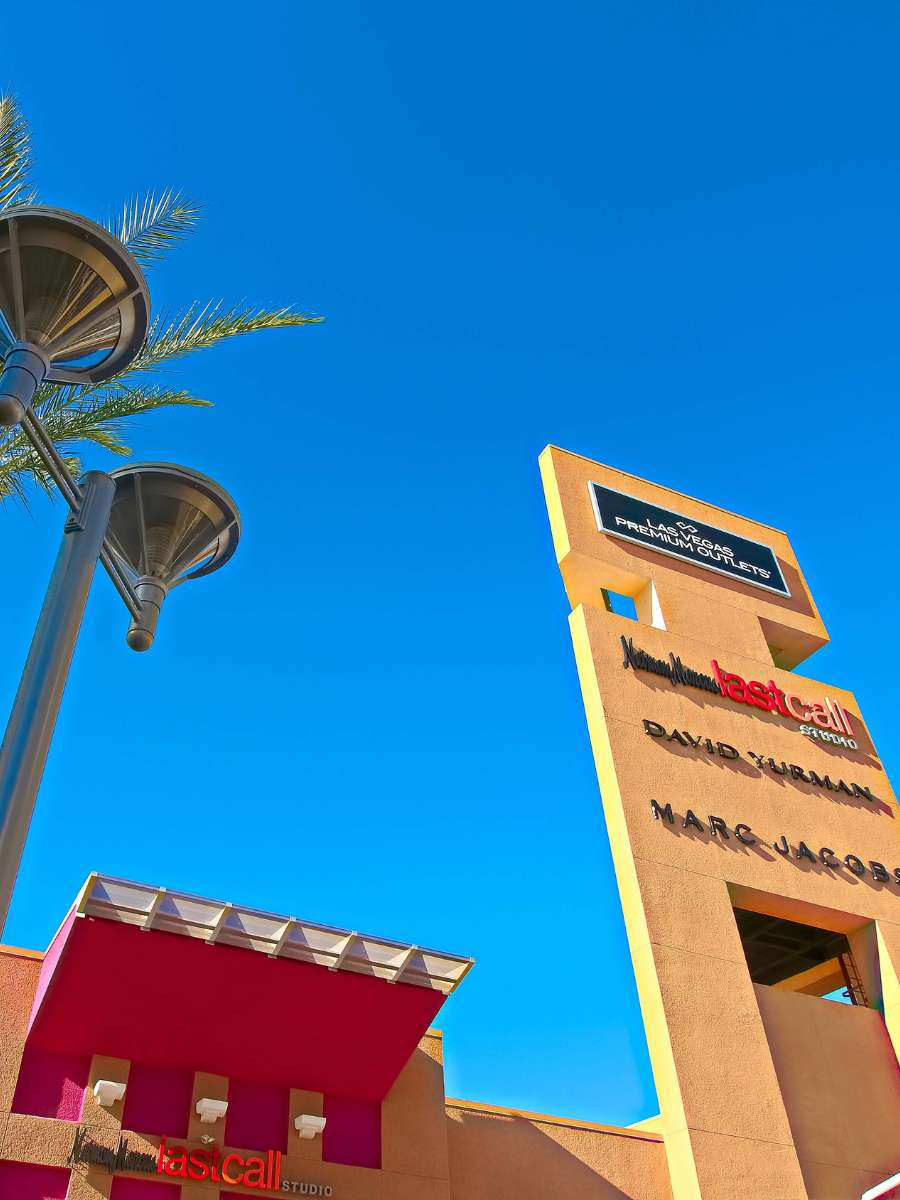 The Las Vegas Premium Outlets are one of the places that offer such and it is a great place to visit during the day when you are in Las Vegas.
This outlet is just a few miles from the famous Las Vegas Strip and offers visitors access to access to 175 retail and brands.
The Las Vegas Premium Outlets is an outdoor shopping center, so be sure to dress appropriately for the weather. With high-end fashion brands like Armani and Gucci and popular stores like Gap and Disney store, there's something for everyone at the Las Vegas Premium Outlets.
One of the main benefits of shopping at the Las Vegas Premium Outlets is the discounts. Stores offer discounts of 65% every day, making it an excellent place to shop for deals.
There is also a variety of eating options. From Starbucks to Shake Shack to the Cheesecake Factory, you'll find plenty of options to keep you fueled up while you shop.
The Las Vegas Premium Outlets can get crowded, so plan accordingly. If you're driving, there's parking available. If you're staying on the Las Vegas Strip, you can take advantage of the complimentary shuttle service.
Overall, the Las Vegas Premium Outlets are a great destination for anyone who loves to shop. With its convenient location, variety of stores, and significant savings, it's no wonder why it's one of the most popular things to do in Las Vegas.
Recommended by Rehana of Rehana Mahomed
Wrapping Up: Things to do in Vegas during the day
As you can see, there are plenty of wonderful things to do in Vegas during the day!
If you're visiting Sin City but don't necessarily want to party up or you're simply looking for ideas on activities and attractions to do before the sun goes down, you'll find plenty of that and more both in and around Las Vegas.