Las Vegas is one of the most popular destinations for travelers from all over the world, and its restaurant scene is no exception.
With a variety of options ranging from top Michelin-starred dining experiences to budget-friendly eateries on and off the Strip, Las Vegas has something for everyone.
Best Casual Dining Restaurants in Las Vegas
From the cozy dive bar style Carson Kitchen to a more modern and colorful experience at The Chandelier, don't miss these top casual dining restaurants in Las Vegas!
Carson Kitchen
One of the hottest Downtown Las Vegas restaurants, Carson Kitchen is a casual dining experience like no other. Serving gourmet burgers, flatbreads and other small plates in an airy atmosphere graced with natural light, it has become renowned for its irresistible menu and chic setting.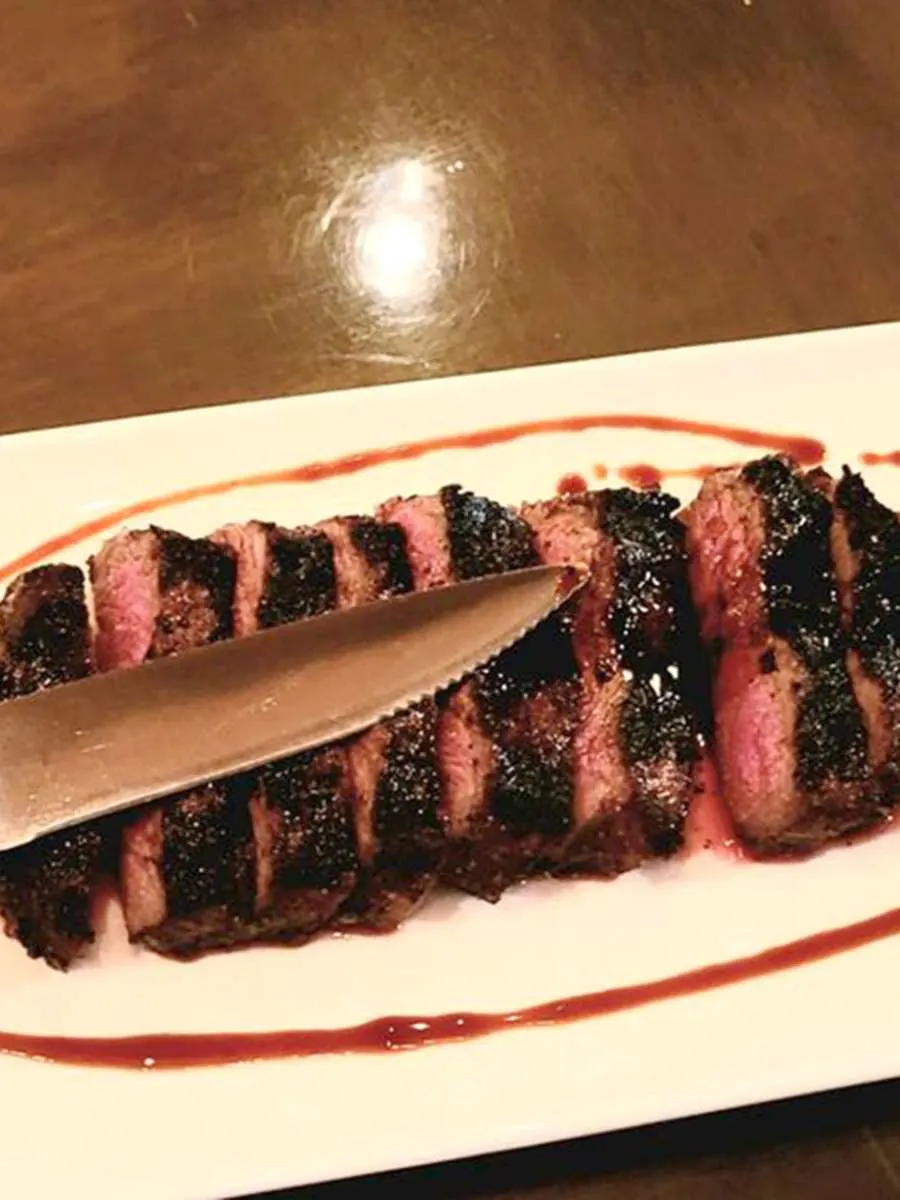 But what really sets this restaurant apart is its rooftop patio that offers some of the best views of downtown on any given night with its rustic industrial decor and warm lighting to create a truly unique ambience.
It's no surprise that Carson Kitchen continues to be highly rated by reviewers for their flavorful dishes such as their Secret Sunday Chicken sandwich or signature Pork Meatloaf.
Lotus Of Siam
Lotus of Siam is a fantastic restaurant located just off the Strip. It's considered one of the best casual dining restaurants in Las Vegas and serves Northern Thai cuisine – making it well worth the visit.
It's been named the best Thai restaurant in North America, so you know what you're getting really is top notch!
Lotus of Siam has an impressive wine list and offers family recipes such as Fried Chicken Dumplings and Garlic Prawns, which continue to be local favorites.
For travelers looking to try something new while visiting Las Vegas, Lotus of Siam should definitely be on their list as they won't find a better place to indulge in authentic Thai flavors anywhere else.
Mon Ami Gabi
Located in the lavish Paris Las Vegas Hotel & Casino, Mon Ami Gabi features a stunning main dining room as well as a bistro-like outdoor seating area complete with views of the iconic Fountains of Bellagio.
True to form, this charming bistro serves up traditional French favorites like steak frites and onion soup Au Gratin. The expansive wine list surely won't disappoint either – boasting over 500 varieties from around the world!
With over 32,000 reviews giving a rating of 4.6 out of 5, it definitely lives up to its reputation as one of the very best restaurants in Vegas – perfect for travelers looking for an authentic experience without breaking their budget.
YOU MAY ALSO LIKE:
Best Fine Dining Restaurants in Las Vegas
For those looking for a special evening out, Las Vegas offers some of the finest fine dining experiences around, including Joel Robuchon, Twist by Pierre Gagnaire, é by José Andrés and Top of the World Restaurant.
Joel Robuchon
Located in the MGM Grand Hotel and Casino, Joël Robuchon is a French gourmet restaurant that takes fine dining to an art form.
The brainchild of late legendary Chef Joël Robuchon, he famously earned 32 Michelin stars during his lifetime and was awarded "Chef of the Year" on more than one occasion.
When you set foot inside this restaurant, it doesn't take long to see why guests are enchanted by its luxurious ambiance. Beautiful artwork adorns the walls, and seating options both cozy and private can be found throughout the space.
The menu includes traditional French cuisine with touches inspired by Chef Robuchon himself such as Duck foie gras served with lentils or vegetable tart made from seasonal ingredients..
All dishes are designed with an eye towards perfection which stands up well against other upscale restaurants in Las Vegas.
From signature classic Lobster Bisque sauce over butter-poached Nova Scotia Lobsters, Escargot presented atop a creamy porcini mushroom paste -the courses here add delightfully new flavors for those looking for something special in their meals.
é By José Andrés
At é by José Andrés in Las Vegas, you will find a unique culinary experience unlike any other. The world-renowned celebrity chef offers up an outstanding Spanish tasting menu elevated to perfection through masterful avant-garde techniques.
This multi-award-winning restaurant is tucked away within the luxurious Cosmopolitan hotel and provides guests with a cozy, intimate environment complete with steel topped bar for added excitement.
Try delicate seasonal fares like grilled octopus and lamb carpaccio reimagined through this celebrated chef's innovative lens! Here, each dish is artfully crafted from the freshest ingredients so that it's not just delicious – but memorable too.
Top Of The World Restaurant
Top of the World Restaurant, located at The STRAT Hotel, Casino & Skypod in Las Vegas provides guests with a signature experience that can't be found anywhere else.
Boasting an unparalleled 270-degree view of Las Vegas from 840 feet in the sky and high-top seating options for larger parties, Top of the World is regarded as one of the most iconic restaurants in Las Vegas.
In 2019 Top of the World Restaurant was awarded Best of Las Vegas Award for Best Fine Dining, Best View and Most Romantic Spot.
It has also earned multiple awards throughout its years including being named to Open Table's list of 100 Most Scenic Restaurants In America since 2011.
Best Budget-Friendly Restaurants
From Tacos El Gordo to Secret Pizza, there is no shortage of budget-friendly restaurants in Las Vegas.
Tacos El Gordo
Tacos El Gordo is a budget-friendly restaurant in Las Vegas known for its fresh, flavorful and generous portions of street tacos.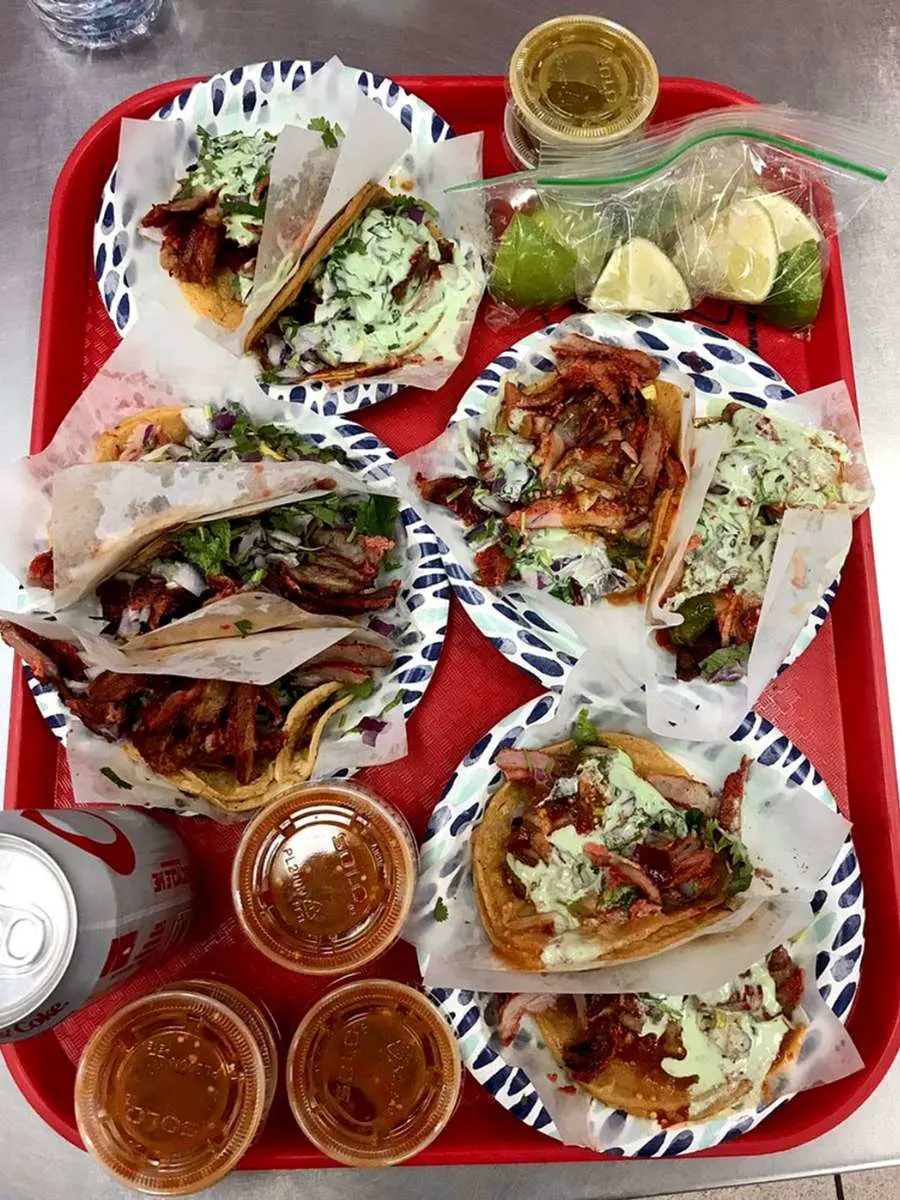 Ever since it first opened its doors over 10 years ago, the restaurant has become popular amongst locals, as well as travelers visiting the city.
As one of the most highly praised taco spots in Las Vegas, customers can expect to find delicious options such as grilled carne asada steak tacos with cilantro and onions or crispy fish tacos served on double corn tortillas.
Equally impressive are their signature salsas – made using select ingredients sourced locally – offering diners various levels of heat with each bite.
The atmosphere at Tacos El Gordo is vibrant and friendly; from colorful murals decorating walls to an upbeat Mariachi band playing traditional tunes while you wait for your food order to arrive.
It truly adds an extra layer of fun to this memorable dining experience! Furthermore, visitors will be delighted by their expansive menu including a variety of burritos, quesadillas, flautas and al pastor platters—all at unbeatable prices.
Secret Pizza
Located inside The Cosmopolitan of Las Vegas, Secret Pizza is an often overlooked 24-hour food destination that's perfect for midnight snack cravings.
Whether you're a local looking to explore the city's hidden gems, or a tourist on a budget, this place promises to satisfy your stomach and wallet.
For just over ten dollars you can grab two slices of authentic New York-style pizza with toppings like pepperoni and sausage, as well as vegan options such as mushroom caps topped with tomatoes and pesto sauce.
The ambiance here is casual as it has more of a takeout joint vibe than anything else, so don't expect any fancy decor or other frills – although that isn't really what they're known for anyway.
The Peppermill Restaurant & Lounge
The Peppermill Restaurant & Lounge has been offering great food and iconic Las Vegas decor for decades. It's the perfect spot for budget-friendly travelers, as you can have a delicious meal here without breaking the bank.
The Peppermill Burger is one of their signature dishes and it feeds two people for less than $50 – an incredible deal in comparison with other eateries on the Strip! Plus, they offer unique cocktails that complement their fruity neon-lit lounges.
This place offers a truly special dining experience due to its romantic booths, flaming reflection pool and friendly atmosphere.
Unique Dining Experiences In Las Vegas
From Hell's Kitchen to the Eiffel Tower Restaurant, Las Vegas offers a range of unique dining experiences – from fancy to outrageous! Be sure to read on if you want to find out more about these unforgettable restaurants.
Gordon Ramsey Hell's Kitchen
Las Vegas is home to many world-renowned restaurants, and Hell's Kitchen stands out as one of the best. This restaurant brings together a unique blend of chefs from all over the world with their passion for serving up creative dishes.
As soon as you walk in, you can smell the tantalizing aromas coming from Hell's Kitchen's open kitchen concept, where ingredients are freshly prepared right before your eyes.
The menu features signature dishes developed by Chef Gordon Ramsay himself and his team that boasts flavors of France, Italy, Britain and other international cuisines choices.
Eiffel Tower Restaurant
The Eiffel Tower Restaurant is one of the best fine dining experiences in Las Vegas. The restaurant provides stunning views of the city from its 11th floor location atop Paris Las Vegas' replica Eiffel Tower.
Inside, guests are greeted with a romantic atmosphere complete with dramatic drapery and shimmering chandeliers that evoke an old-world charm.
Guests can also enjoy award-winning French cuisine prepared by chef J. Joho while looking out at the beautiful lights of the Strip in front of them!
With accolades from USA Today, Travel & Leisure and OpenTable as one of the most romantic restaurants in America, it's no surprise why diners flock to eat at venues like this for special occasions or for a weekend getaway experience.
Heart Attack Grill
Located in downtown Las Vegas, Nevada, the Heart Attack Grill is a hamburger restaurant with a twist. The menu offerings here are definitely not for those trying to watch their waistlines!
Offerings include the Quadruple Bypass Burger, weighing in at 9400 calories and the Triple Bypass Burger with over 6200 calories and enough fat content to satisfy anyone's daily recommended intake!
If that doesn't get your heart pounding then there's also an array of sides including lard-cooked french fries and "Flatliner Fries" made with full cream butter.
If, despite all warnings, you still seem eager to try this one-of-a kind experience, remember: Eat responsibly or suffer the consequences!
Despite its dangerous reputation as being one of 'the unhealthiest meals around' news outlets have reported on guests who actually suffered from a massive coronary while dining here.
The Golden Tiki
Located in the smoking hot Las Vegas Chinatown restaurant scene, The Golden Tiki is an offbeat tiki bar that offers a truly unique and eccentric dining experience.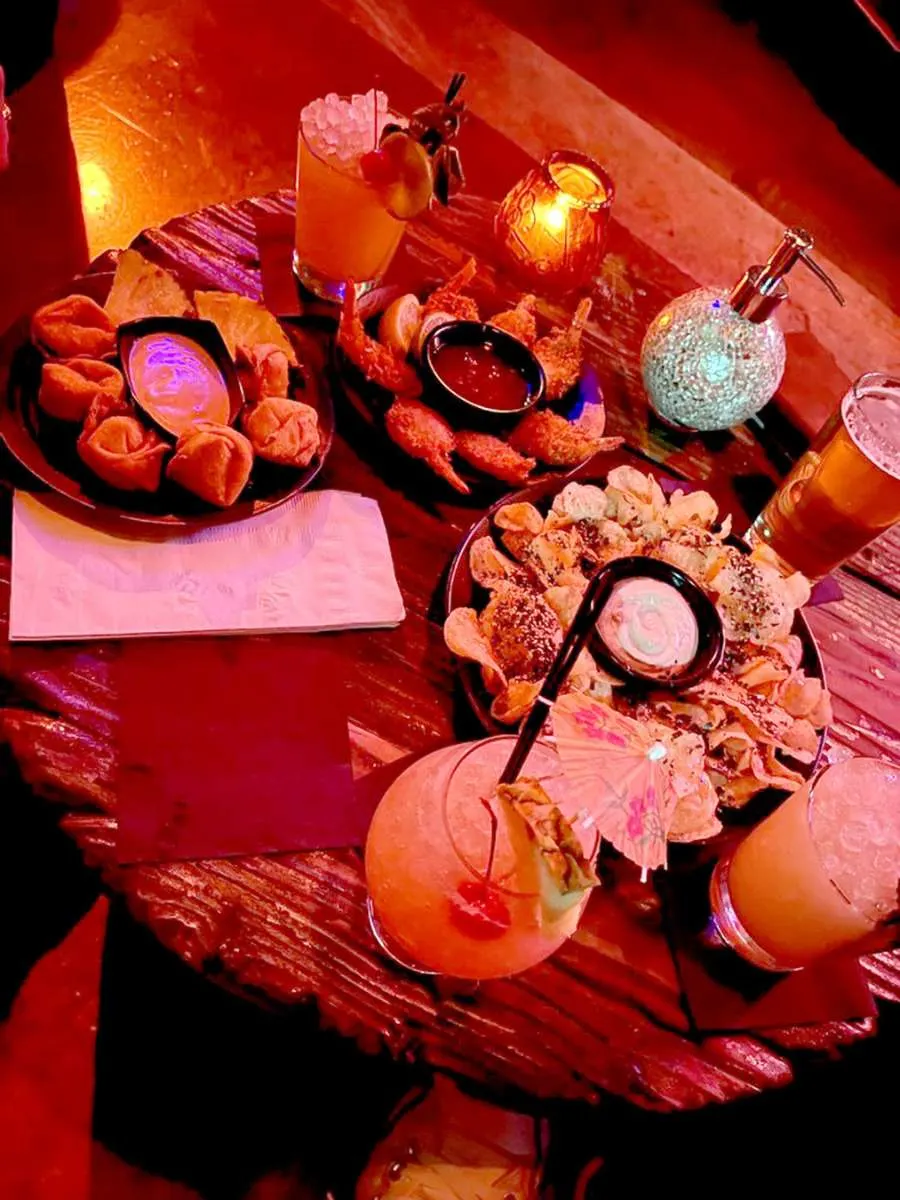 As soon as you walk through the doors of this funky spot, you're surrounded by tropical decor complete with shrunken heads and all sorts of oddities—all contributing to the eerie atmosphere that's guaranteed to make your visit one-of-a kind.
Not only are there plenty of kitschy things to look at while enjoying delicious cocktails, but live music fills the air throughout the weekend too!
The Golden Tiki has become increasingly popular due its wild aesthetic, strong 5-star rating on Yelp, and perfect blend of delicious food options amidst a fun yet bizarre setting.
Wrapping Up: The Best Restaurants in Vegas
Las Vegas is known for its world-class restaurants, offering a wide range of dining options revered by both locals and tourists.
Whether you're looking for an upscale fine dining experience or simply grabbing a bite to eat on the cheap, Las Vegas has something to satisfy every taste and budget.
With so many incredible choices in Las Vegas it can be hard to decide which restaurant is right for you.
ABOUT THE AUTHOR
Shannon is an adventure enthusiast, nature lover, and art dabbler who lives in Las Vegas, Nevada. She's a huge fan of discovering new places to visit and the outdoor lifestyle and is a regular contributor at threedaysinvegas.com.