15 Best Free Things to Do In Daytona Beach
Looking for the best free things to do in Daytona Beach? If so, you've come to the right place. In this post, I'll cover great free and cheap things to do in this magnificent resort city on Florida's Atlantic Coast.
From hanging out on the famed white sand beaches to exploring the international speedway to heading to a brewery, there is plenty of fun to be had with little to no investment in Daytona.
One of the best beach towns near Kissimmee, Florida, this popular holiday destination is a great spot to hit county parks, museums, and even a chocolate factory (offering free self-guided tours and chocolate samples).
Whether you're traveling solo, as a family with kids, as a group of friends, or as a couple, you're sure to find some great ideas in this post.
15 Free and Cheap Things to Do in Daytona Beach
1. Enjoy The Beach
There's a reason Daytona has "Beach" in its name. This incredible coastal city features twenty-three miles of shoreline complete with white and golden sand beaches. At low tide, the beach can be up to 500 feet wide!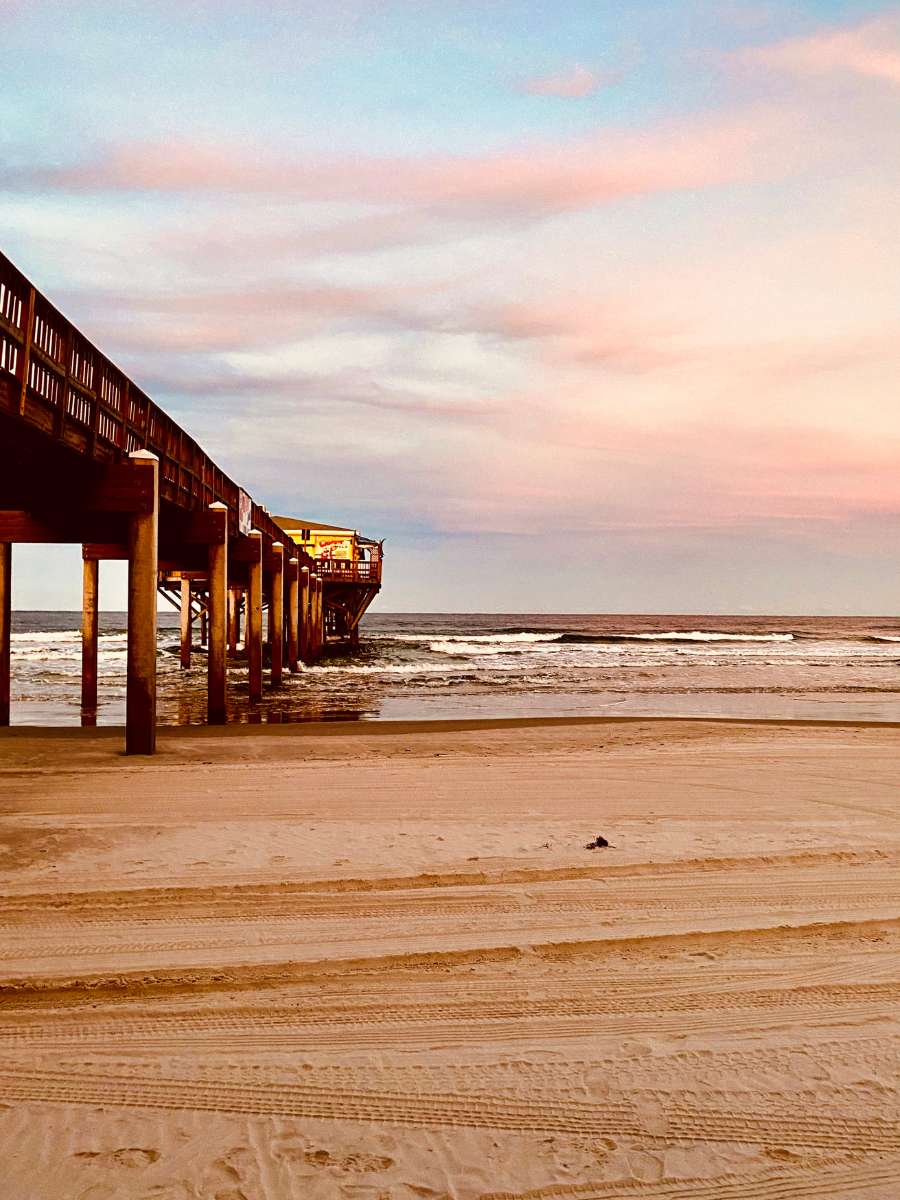 Claim your spot on the sand, put up an umbrella, and crack open a chilled root beer or a cooler of sliced watermelon.
This corner of Daytona has been called "The World's Most Famous Beach" partly due to the fame it gained during the 1900s as a venue for beach racing.
Now it's a fabulous spot to parasail, surf, swim, or relax in the sunshine.
When you get hungry, there are plenty of dining options nearby.
There are even designated beach access points where you can drive right onto the sand for on-beach parking. It's one of the most accessible beaches in Florida.
Besides Daytona Beach, you can also enjoy nearby beaches such as Ormond Beach, Ponce Inlet, Daytona Beach Shores, and New Smyrna Beach.
2. Daytona Beach Boardwalk and Amusements
Restaurants, shops, entertainment, arcade games, carnival rides, and a Ferris wheel await at the Daytona Beach Boardwalk.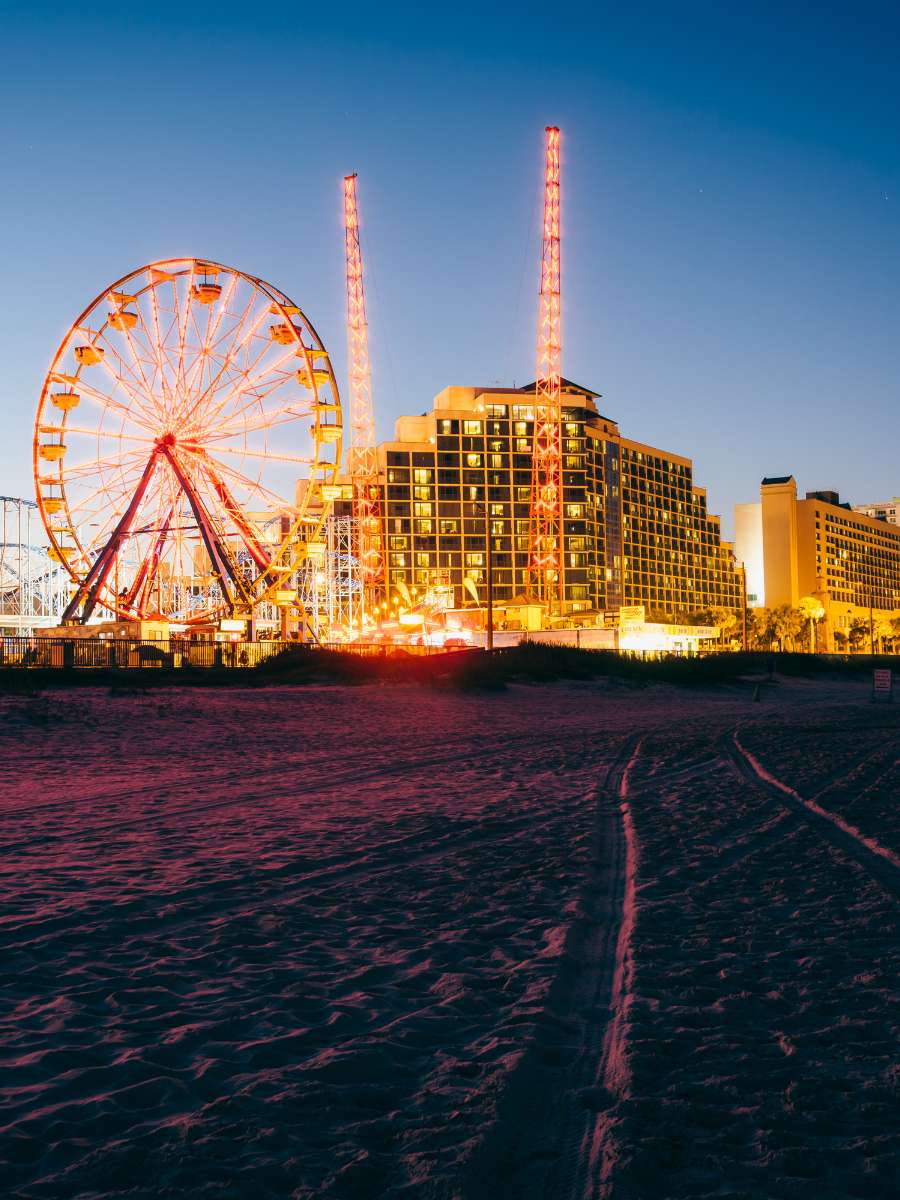 Although some activities are paid, you can still have fun watching people, catching some street performer acts, taking pictures, and enjoying the upbeat atmosphere.
Between Memorial Day and Labor Day, head over to the boardwalk to enjoy Daytona's free fireworks display. It is held every Saturday during the summer at 9:45 pm.
The Boardwalk is also an excellent place to walk, run, jog, or go birding.
A walk along the 1-mile out-and-back boardwalk only requires about 20 minutes of your time, but you could also spend much longer. Enjoy the scenery and check out the clock tower and waterfall along the way.
Finish off with some ice cream and chill time at an outdoor table in front of the many eateries.
3. Daytona Beach Pier
No visit to Daytona would be complete without visiting the iconic Daytona Beach Pier.
Not only is the pier an impressive sight, but a walk along its wooden planks will take you back in time.
The pier embodies much of the history of Daytona Beach including its origins at the turn of the 20th Century, its destruction by a massive fire on January 20, 1920, and its conversion into a casino and Victorian ballroom venue in 1924.
Even Daytona's famed beach racing left its mark since some of the pilings had to be removed to accommodate the speeding vehicles.
The pier is over 1,000 feet long and offers spectacular views of the ocean, the shore, and the Daytona Beach skyline.
It's also one of the best fishing piers you can find.
Fishing here is free and doesn't require a license. Grab your bait and tackle and head to the east end of the pier. Here you'll find scads of fighting fish including tarpon, bluefish, snook, pompano, kingfish, sailfish, flounder, sheepshead, cobia, and trout. You may even see some dolphins!
4. Dunlawton Sugar Mill Gardens
Lush plants, meandering pathways, and towering trees draped with Spanish moss make Dunlawton Sugar Mill Gardens a beautiful free spot to visit.
As you can guess from the name, this historic site was once home to an English sugar mill. You can still see the remains of the 19th-century plantation as you walk through the property.
In 1940 the sugar mill was converted into a theme park complete with life-size dinosaur statues (which now offer fun photo ops).
Besides its eclectic history, the real draw is the 12 acres of botanical gardens.
This gorgeous free space is teeming with tall palms, live oaks, tropical plants, a kid's garden, an herb garden in the shape of Florida, and a human sundial.
Pick up some new reading material at one of the Little Lending Libraries. Maybe you'll even want to relax in the shade and spend a tranquil hour alternating between reading and admiring your surroundings.
5. Museum of Arts and Sciences
Looking for an intriguing way to spend a few hours? If so, head to the Museum of Arts and Sciences in Daytona Beach. Also known as MOAS, this is the largest museum in the area and is affiliated with the Smithsonian.
Admission to the museum is free to Volusia County residents on the first Tuesday of every month.
This huge facility houses over 30,000 artistic, historic, and scientific objects. You can see everything from Chinese Art to restored railroad cars, antique automobiles, and Coca-Cola memorabilia.
There's also a giant sloth skeleton, gorgeous paintings, and pottery.
Admission will also give you access to the Cici and Hyatt Brown Museum of Art, a planetarium, and an incredible collection of Cuban paintings (the most significant in the United States).
The museum is open Monday through Saturday from 10 am to 5 pm or 11 am to 5 pm on Sundays. It is closed on major holidays.
6. Andy Romano Beachfront Park
When it comes to gorgeous ocean views and top-notch facilities, Andy Romano Beachfront Park is an awesome free place to enjoy Daytona Beach.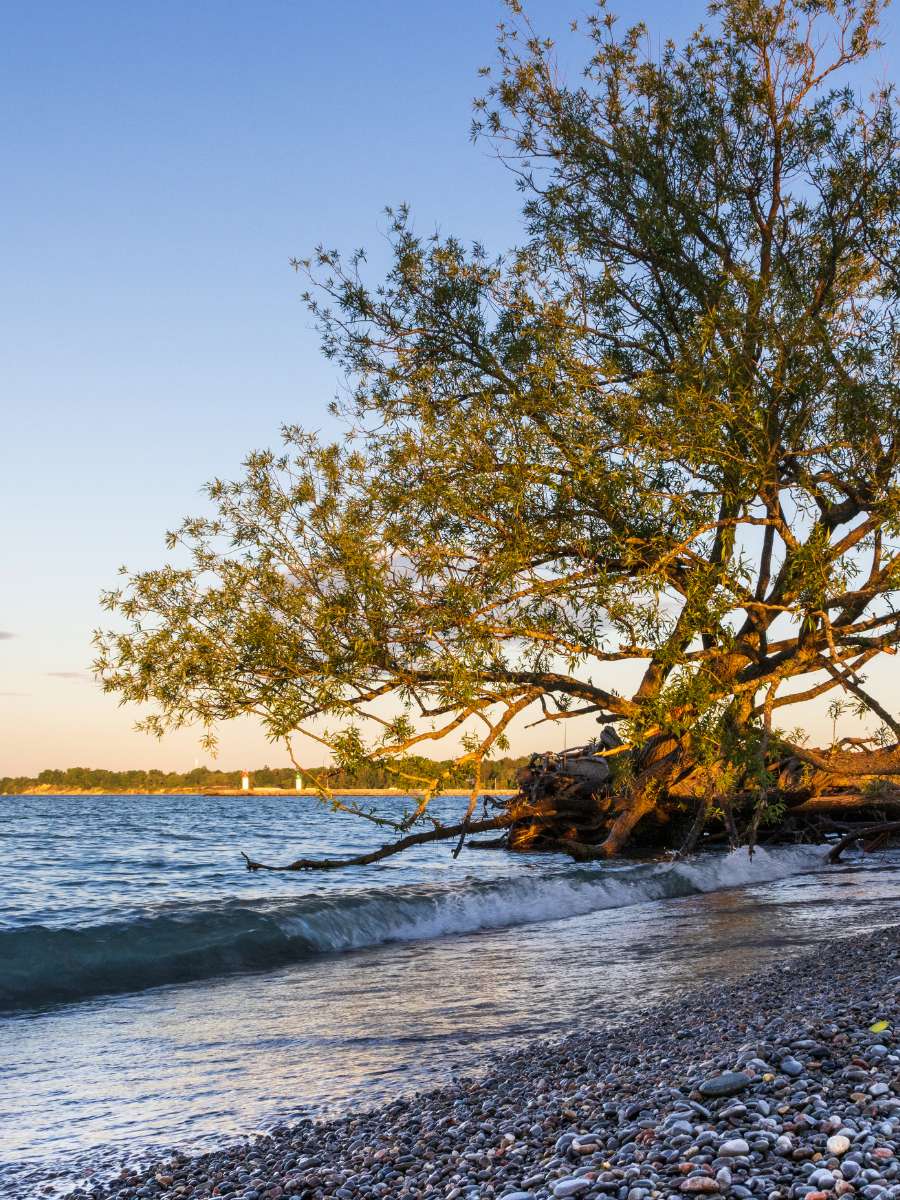 This small park is beautifully designed and offers lots of benches where you can sit and soak in the view.
If you'd like to swim in the ocean, you can head down to the sand, dive into the salty water, then rinse off back at the park.
Kids will love this park as well thanks to the splash pad and playground. There is also free off-beach parking, restrooms, a shaded pavilion, shaded picnic tables, grills, and concessions.
Head to this beautiful tranquil park for a fun day with the whole family.
You can have a picnic, barbecue, and games day. Alternatively, walk along the ocean with a cup of coffee and a special friend, or relax on a bench while you watch the sunset.
7. Daytona Flea & Farmers Market
Few shopping expeditions can match the fun, hustle and bustle, and variety of a farmer's market. The Daytona Flea & Farmers Market is not only massive but it also features vendors for just about anything you can imagine.
The produce is fresh, varied, and reasonably priced and the olive & pickle vendor is fantastic (especially his horseradish pickles).
Concessions, beer, restaurants, new and used items, and more will keep you entertained for hours. This market is so big, you could easily spend an entire day here.
The market is open from 9 am to 5 pm every Friday, Saturday, and Sunday year-round.
Admission is 100% free, there is plenty of parking, restrooms, etc.
Expect to spend a lot of time walking. Fortunately, there are lots of places where you can sit down and rest for a bit.
This market is fun even if you do nothing but peruse without purchasing.
8. Ponce Inlet Lighthouse and Museum
Visit Florida's tallest lighthouse and the third-tallest lighthouse in the United States at the Ponce Inlet Lighthouse and Museum.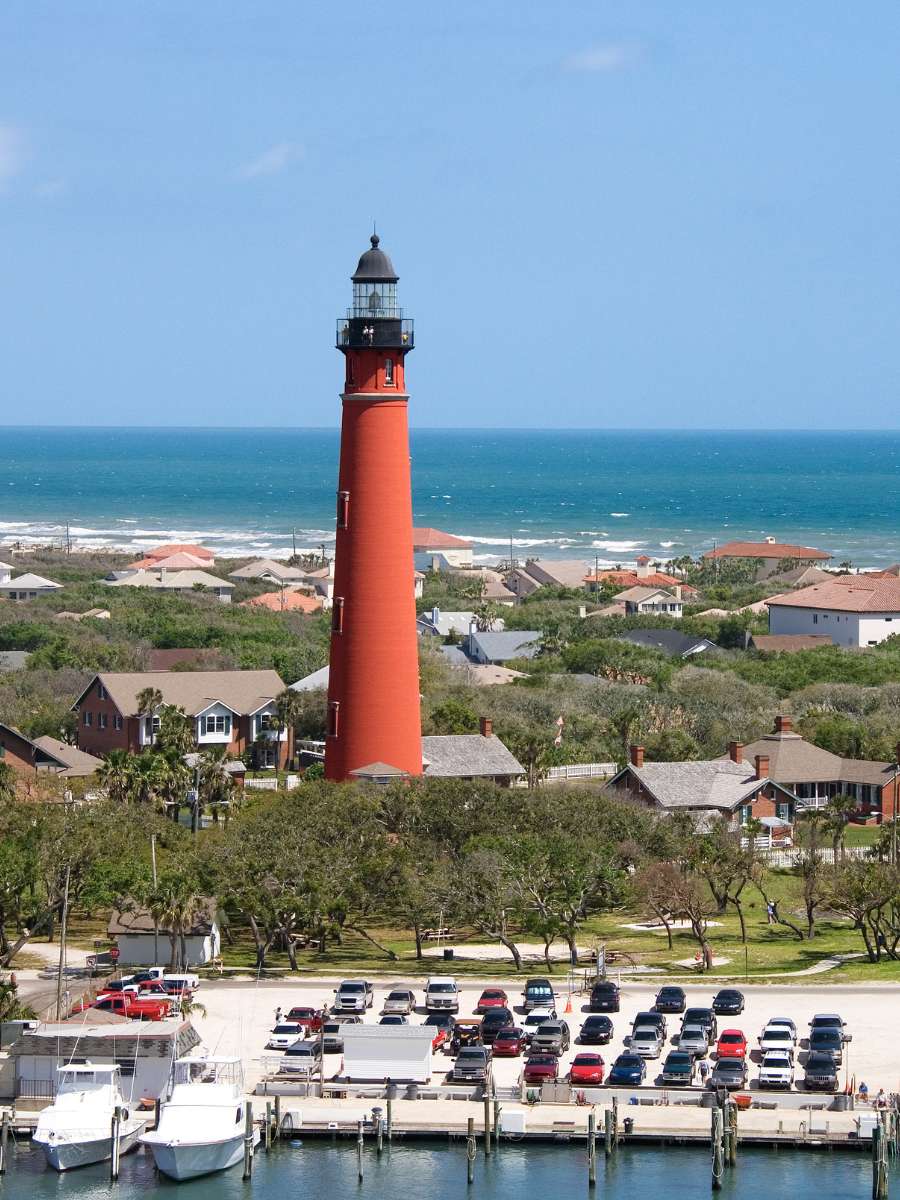 This striking lighthouse rises 175 feet above the ground, is bold red, and is topped with a bright golden gleam.
Although this isn't a free activity, the rates are accessible (Adults age 12+ pay $6.95, and children ages 3-11 pay $1.95).
For the price of admission, you'll have access to the lighthouse and grounds, complete with fascinating museum installations, historic information, and a challenge.
The challenge is to climb the 203 steps to the top of the lighthouse! The views from the top are incredible.
Be sure to visit the lens museum, one of the exhibits housed in the outbuildings.
Although most visitors opt for the self-guided tour, if you are visiting with a group of 10 or more, you can reserve a group tour ahead of time. (Though this costs a bit more).
The Ponce Inlet Lighthouse and Museum has an intriguing history, and even played a life-saving role in Stephen Crane's famous short story "The Open Boat."
9. Angell & Phelps Chocolate Factory
A free tour with free samples of fudge and chocolate-covered bacon? Sign me up!
Angell & Phelps Chocolate Factory on South Beach Street is surely the tastiest destination on this list of free things to do in Daytona Beach.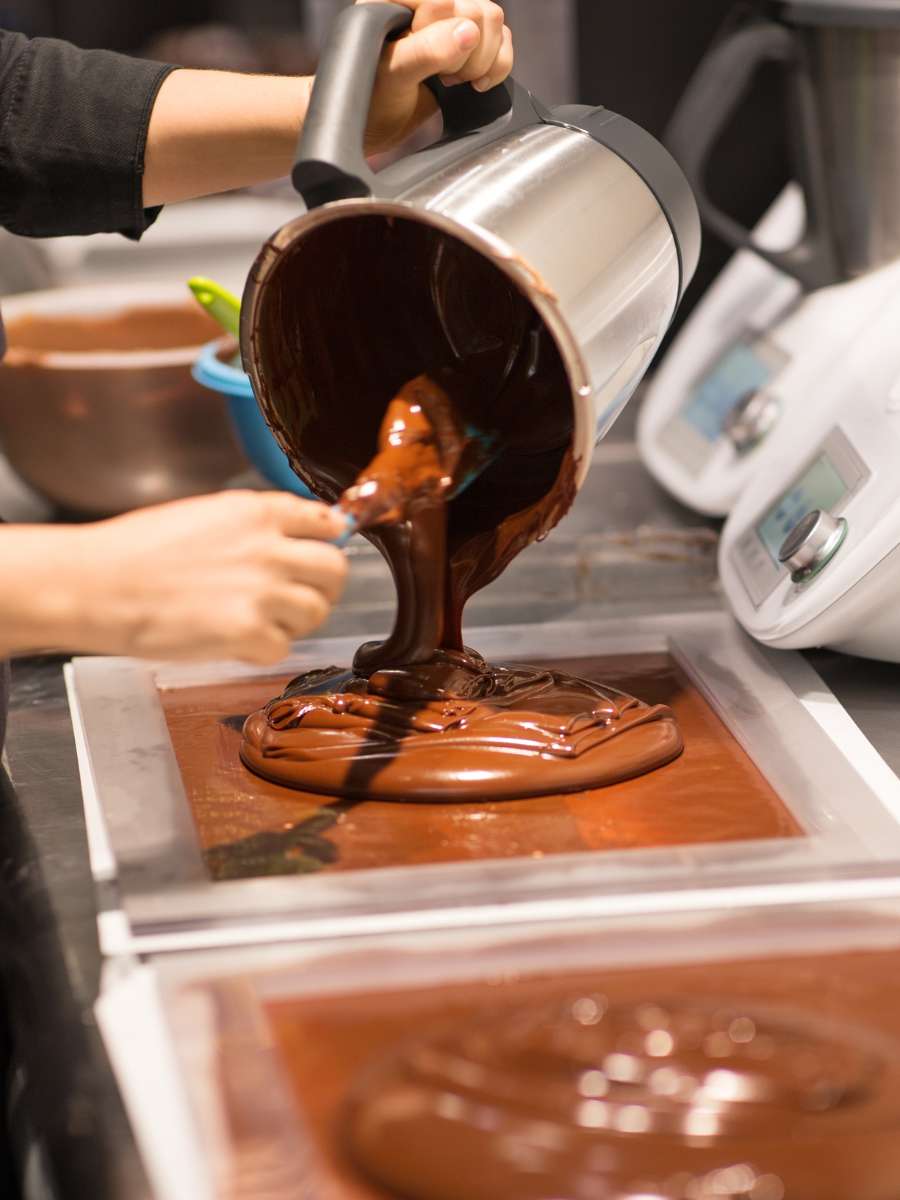 This fun chocolate shop offers free tours every hour at the start of the hour from 10 am to 4 pm during regular operating hours.
Many of their chocolates are beach themed. You can eat milk chocolate sand dollars, chocolate bare feet, chocolate alligators, and even dog-friendly white chocolate bones (not beach related, but still).
During the tour, you'll learn about the origins of chocolate and how it is produced. The equipment and staff are behind special viewing windows to keep the chocolate operations sanitary, but it's still fun to see.
At the end of the tour, you'll get to choose two chocolate treats to eat.
This chocolate shop has been in operation since 1925.
10. The Casements and Rockefeller Gardens
If you love history, beautiful gardens, statues, and culture, the Casements Rockefeller Gardens on the Halifax River is one of the most amazing free things to do in Daytona Beach.
This 9,000-square-foot estate was the historic home of business magnate John D. Rockefeller. He'd spend his winters here to avoid the ice and snow in the north.
The residence is now the Cultural Center for the City of Ormond Beach and is free to enter.
For the best experience, join a free tour of the estate. They are available Mondays through Fridays every hour from 10 am to 3 pm and on Saturdays at 9:30 and 10:30 am.
If you have kids in tow, help them get the most out of the experience with the included scavenger hunt experience.
Check the Casements website for upcoming fun drop-in events such as yoga classes, cooking classes, father-daughter dances, and free summer concerts.
YOU MAY ALSO LIKE:
11. Sun Splash Park
Another great spot for a family day is Sun Splash Park on South Atlantic Avenue.
This oceanfront park is a perfect place to enjoy a picnic, water games, a splash pad, and a playground.
The four-acre facilities also offer off-beach parking, beach access ramps, decorative walkways, restrooms, and outdoor showers.
The park itself is open from sunrise to sunset. The splash pad is open from 8 am to 7 pm (but is currently closed for repairs).
Swim at the beach (within view of the lifeguard headquarters), feed the seagulls, and enjoy a tasty packed lunch. Cold beverages are available for sale if you need to cool off.
12. Pirate's Island Adventure Golf
Follow in the footsteps of Captain Kidd and Blackbeard during the Pirate Island "Adventure Golf" experience. During this fun activity, you'll play your way through a pirate-themed course.
Start in a seaside village then continue alongside a tidal lagoon, through a cave with buried pirate treasure, and over some fun bridges.
The scenery makes the experience even more beautiful and immersive.
Although Pirate's Island Adventure Golf isn't a free activity, it could end up being pretty cheap if you nab a coupon.
Check the Pirate's Island website for current deals. At the time of writing this, kids under 12 play for free, which is perfect if you've got a posse of little ones to entertain.
13. North Peninsula State Recreation Area
Palmetto dunes, sea turtles, surf fishing, and sandy beaches make the North Peninsula State Park an awesome free attraction.
A day at this 900-acre park is a perfect way to soak in vitamin D along the three miles of golden sand coquina beaches.
There are also plenty of biking and nature trails to enjoy, plus a kayak launch and an interpretive exhibit.
Go shelling or fishing along the beaches or take your surfboard out for a spin.
To explore the area and local wildlife, walk or pedal over the hard-packed gravel keeping an eye out for gopher tortoises, indigo snakes, deer, monarch butterflies, and wildflowers.
If you're into birding, be sure to pack your binoculars! Smith Creek Landing and the Coastal Strand Hiking Trail are two excellent spots to sight local and migratory birds.
Cyclists can enjoy the Ormond Scenic Loop, a 30-mile double-loop trail that passes through incredible scenery.
This park is open all 365 days of the year from 8 am until sundown. Admission is free.
14. Daytona International Speedway
Although a tour of the Daytona International Speedway stretches the definition of "cheap," it still merits inclusion on this list because it's so iconic.
Visiting the World Center of Racing in a place that became famous for speed racing is pretty incredible. Taking a one-hour tour of the speedway will give you a whole new appreciation for the facilities, the racecars, and the history of racing.
Tours are sold on a first-come-first-serve basis. They start at 9:30 am every day and run continuously until the last tour heads out at 3:00 pm.
During the tour, you'll visit the Daytona Walk of Fame and the Dale Earnhardt statue. You'll see the track, check out some amazing race cars, and learn cool things about racing and the Speedway.
Tickets cost $25 for adults and $20 for kids ages 5 to 12.
Run a search for coupons before you buy, and check the modified tour dates (as tour times are altered during races) to make sure you'll get to enjoy this activity.
15. World's Most Famous Brewery
When Florida's steamy weather has you feeling like a languid noodle, it could be time to visit the World's Most Famous Brewery.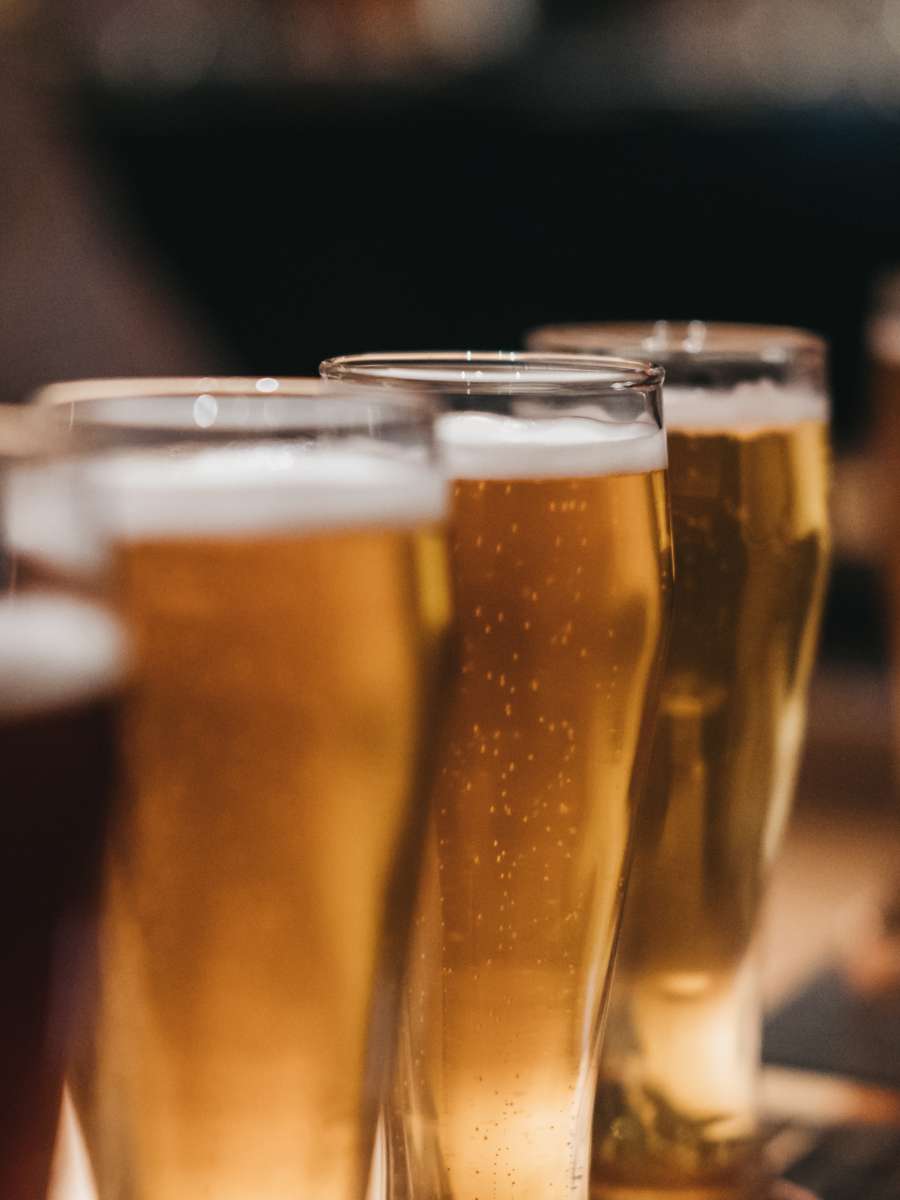 This was the first beachside brewery in Daytona Beach and offers local brews on tap. Head there for a cold beer, board games, a life-sized Jenga table, and live music.
The spot is even dog friendly.
Have your kids in tow? They can have chips and soda and play some games while you enjoy an adult drink. Alternatively, claim a table outside and down a seltzer while you watch the sun set.
Some of the selections at World's Famous Brewery include Chu' Bacon Me Crazy Beer which features smoky maple bacon notes and the Frooty Booty Beer which packs a nostalgic Fruity Pebbles flavor to take you back to your childhood breakfasts.
Check out the brewery's weekly events including:
Jamaway Tuesdays
This is an open mic night where the audience provides the show. Music, spotlights, and more are welcome.
Yappy Hour Wednesday
This fun play-on-words gives you an important clue to who's invited to this happy hour: dog owners and their pets. Dogs drink free.
Throwdown Thursday
Throwdown Thursdays are all about games! Cornhole tournaments, Scrabble playoffs, trivia, and giant Jenga await.
Funday Friday
This all-day event means a special discount for domestic beers and a chance to celebrate the end of the work week.
Live Music Every Saturday
If you love live music, you'll love Saturdays at the World's Most Famous Brewery. They bring the bands, you can enjoy your beer and the awesome beats.
Lei-z Sundays
Sundays are all about relaxing, sipping mimosas, and brewery tours.
Daytona Beach FAQs
Is Daytona Beach Boardwalk free?
Yes–the Daytona Beach Boardwalk is free to access.
Naturally, there are plenty of ways to spend money here thanks to all the shops, restaurants, carnival rides, and arcade games. But you don't have to. Spending $s is optional.
If you're on a budget, you can enjoy the street performers, people-watching, ocean views, and festive atmosphere for free.
During the summer months (memorial day through labor day), you can come for free Saturday night fireworks at the boardwalk. The show starts at 9:45 pm.
How do you spend a day in Daytona Beach?
One of the best ways to spend a day in Daytona Beach is with a beach day. Head to the soft sands and refreshing waters of Florida's Atlantic coast. You can swim, surf, parasail, have a picnic and build sandcastles. Be sure to meander along the boardwalk and pier as well.
If shopping is more your style, explore the Daytona Flea & Farmers Market which is held every Friday, Saturday, and Sunday year-round. You can find everything from horseradish pickles to tools.
For rainy days, Daytona Beach also offers many great museums such as the Museum of Arts and Sciences or the Ponce Inlet Lighthouse and Museum.
Can you legally drink on Daytona Beach?
Drinking on Daytona Beach is illegal. Possessing or consuming alcohol on the beach, pier, boardwalk, or parks is prohibited according to the Daytona Beach city ordinance.
Is Daytona Beach cheap to visit?
Daytona Beach can be a cheap place to visit, it all depends on how strategic you are with your activities. There are plenty of free places to spend a day including the beach, the pier, the boardwalk, Andy Romano Beachfront Park, and the Dunlawton Sugar Mill Gardens.
Fun and historic activities abound as well. Your cheap options can include a free tour of the Angell & Phelps Chocolate Factory or a visit to the Ponce Inlet Lighthouse and Museum.
Conclusion Free Things to Do in Daytona Beach
Daytona Beach is a popular destination in Volusia County on Florida's Atlantic Coast.
Visitors on a budget can enjoy miles and miles of sandy beaches, picnic areas, botanical gardens teeming with lush tropical plants, free summer firework shows, and a massive farmers market well worth exploring.
There are great free and cheap activities for families with kids, couples, groups of friends, and solo travelers alike.
Which of these cheap and free things to do in Daytona Beach sound good to you?
ABOUT THE AUTHOR
Wayne is a travel blogger and creator of Always On The Shore. He loves to write about the best attractions, restaurants, and resorts in Florida and the southeastern U.S. When he is not writing, he is running outdoors, spending time with family, or planning his next trip.