Solo Female Travel stories: The Secret to Surviving Solo Travel as a Female in Morocco
By Emma from All Over the Place
Don't let the title fool you–this isn't a cautionary tale warning you of the supposedly endless dangers of solo travel. I'm not here to spook you with horror stories of travels gone horribly wrong, or describe the plot of Taken yet again.
You'll get enough of that from your friends and family who just can't understand why you possibly would want to travel solo. Instead, I'm a solo traveler enthusiast here to share some tips on how to get the most out of your trip and how to stay safe in Marrakech.
In October of 2020, I moved to Morocco to work at a local travel start-up based in Casablanca. As a part of my job, I needed to study up on just about every region in the country and craft itineraries for clients. As I came to know the country through my work, I knew I needed to get out and see these places for myself. As a 22-year-old with no real connections at the time, I wagered that my best option was to venture out on my own.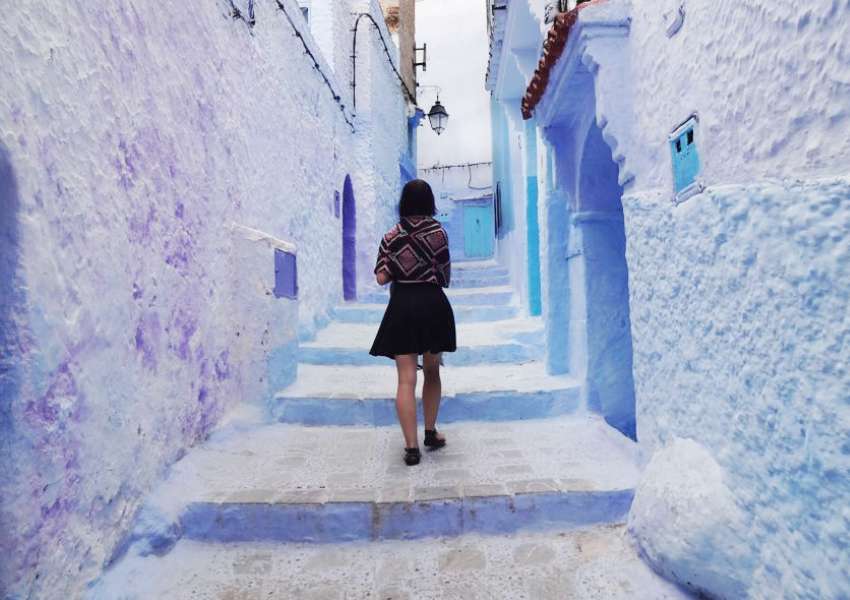 Most people (especially my Moroccan coworkers) couldn't possibly understand why on earth I'd want to go to these places by myself. They called me crazy and told me I'd be bored out there on my own. Nevertheless, I went. And had an amazing time. I met some incredible friends and had some unforgettable adventures all over Morocco.
All in all, Morocco is a great place to explore solo. It's got a good travel infrastructure but it isn't too touristed out. It's relatively easy to get off the beaten path and experience a Morocco that's unlike anything you previously imagined.
Of course, solo traveling comes with inherent risks that should not be ignored. All I'm saying is that these "risks", stereotypes, prejudices, and unfounded fears shouldn't keep you from exploring and learning about the places you want to visit.
I traveled to many Moroccan cities on my own, lived to tell the tale, and am here to share with you some advice on how you can do the same.
So here's a non-definitive list of do's and don't to surviving solo travel as a female in Morocco.
DON'T just stay in Marrakech
As my Moroccan colleagues like to say, Marrakech is like Disneyland. It's an incredibly lively and wonderful place filled with enchanting things to see and one of the best Morocco cities to visit, but if you want to get a richer taste of Morocco, definitely venture outside of the city. Even just getting outside of the medina and exploring the more residential side of Marrakech is a step in the right direction!
Luckily for you, there are a bunch of amazing destinations in Morocco that you can reach within a couple hours from Marrakech, like the magnificent Ouzoud Waterfalls, bustling Casablanca, or the rocky Agafay Desert.
You could even get to the coastal Essaouira within 4 hours and start a trip down to Imssouane, Taghazout, and Agadir to get a taste of Morocco's beachy vibes.
Each town in Morocco has a unique vibe and flair and you can experience so much of this beautiful country simply by just getting out and going there.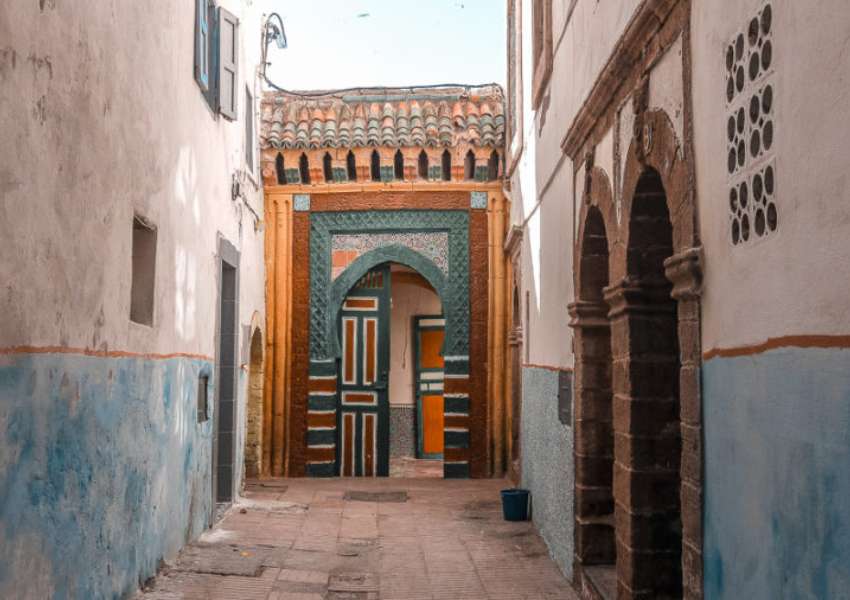 DO Try to blend in as much as possible
There's obviously an extent as to which this is possible. As a woman in Morocco, especially if you are visibly foreign, you will attract a lot of attention.
Not all of this is bad per say, though it can lead to some very uncomfortable interactions and potentially some unwanted situations.
In terms of clothing, I'm not saying run to the store and start rocking a traditional djellaba or hijab (in fact, don't do that).
Instead, I'd recommend going for a more neutral and modest version of the clothes you already wear. Jeans or any longer pants and long flowy skirts are a good call.
If you're going to smaller villages, I'd make sure to dress even more modestly as a way to show respect.
You really don't need any particular type of clothing in Morocco.
There are no "rules" to what to wear– many Moroccan women choose to wear skirts, shorts, heels and tight clothing, while others go with more traditional modest wear. Moroccans are used to tourists dressing up in whatever they feel like, but if you don't want to attract some significant attention, err on the side of caution.
Foreigners aren't allowed in mosques (with a few exceptions), so covering your hair isn't a requirement in nearly any situation.
"Blending in" also has to do with how you carry yourself. When walking around, always look like you know where you're going, even if you don't.
To that end, don't follow the people who may come up to you in the medina and offer you directions. They will typically lead you down some confusing alleyways and ask for a tip for their "services". Just politely decline and don't tell them where you actually need to go.
Staying alert and mindful of your surroundings is a must while traveling alone. Keep calm and pay attention!
You may also like:
DO be mindful of medina streets
Many Moroccan cities have ancient quarters or "medinas" located near the city center. These medinas are usually sprawling, tight, winding streets that can feel like a bit of a maze sometimes.
As a woman, I'd recommend staying outside of the old medina if possible in places like Marrakech and Fes, just to avoid dark alleyways and corners at night.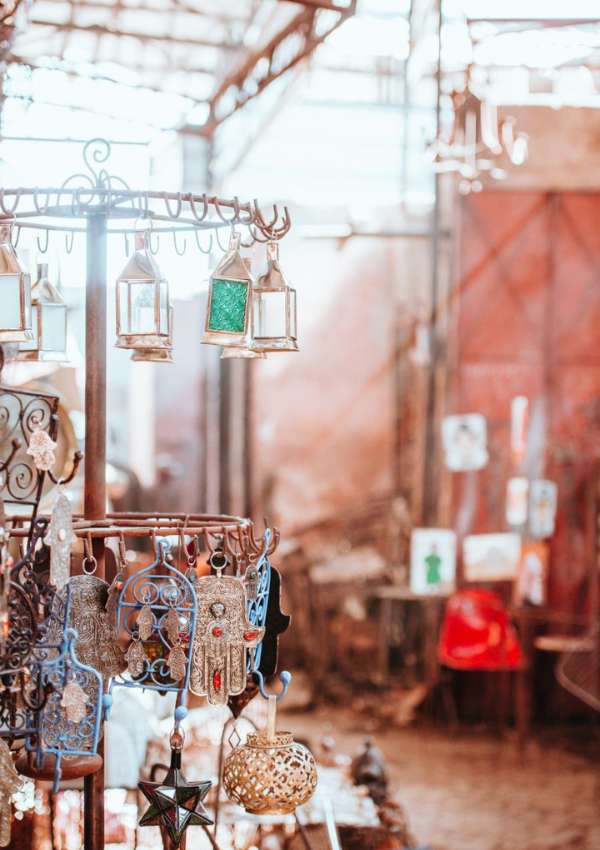 That isn't to say you shouldn't visit the medina at all! Most of the amazing historical bits of the city are nestled in the ancient medinas, and walking the medina can feel like you've just been transported to another time completely. Do explore the medina, just do so before sundown.
If you're keen on exploring the medina but are a little nervous about going by yourself, you can easily hop on a walking tour or hire a personal guide for the medina. Trip Advisor has countless reputable guides and tours focused on ancient medina culture and history. You can also connect with your hostel manager to see if they have any personal connections with day guides.
I'd definitely suggest doing this for Fes's medina as there's just so much history nestled in the medina that goes overlooked to the untrained eye.
Don't forget to get travel insurance for your trip! As always, I recommend Safety Wing for great prices and coverage abroad. It starts at only $45 USD per month and will have you covered with everything you may need during your trip! Check them out here.
DO stay connected
Wifi isn't too hard to find in most Moroccan cities, but if you're spending a considerable amount of time in Morocco on your own,
I'd definitely recommend getting a cheap SIM card to stay connected throughout your journey.
Especially if you're planning on venturing to smaller villages or rural areas, having a reliable data connection is a good idea. Google maps is your best friend (though in tight medina quarters, it isn't the most accurate or reliable).
Check in with friends or family at home at least daily and make sure they know your plans for the day. Always keep a constant stream of communication with your loved ones to let them know you're safe (and to show them pics of all the cool things you're experiencing traveling solo ;))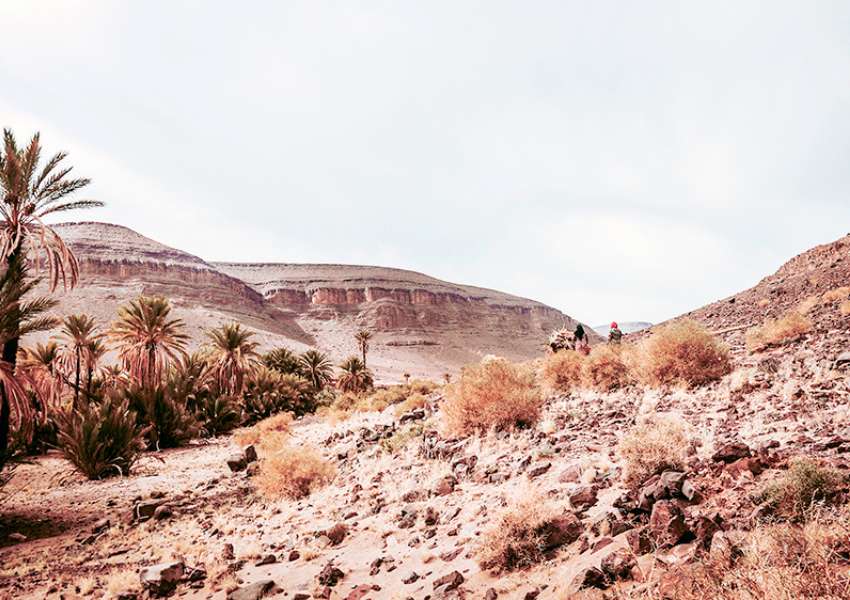 DON'T skip out on the hostels
People either love or hate hostels. But when it comes to solo travel, I personally think they're a great resource. Hostels in Moroccan cities are often situated in old traditional Riad guest houses. They've often got beautiful and intricate designs and can feel really homey and chill.
If you like a bit more privacy, I'd go for either a private room in a hostel or Riad. That way, you'd most likely be able to connect with fellow travelers or Riad owners and managers.
Another pro-tip when traveling throughout Morocco is to definitely connect with your Riad manager! Yes, sometimes they can be a bit grumpy or unfriendly, but they can also be an incredible resource in the city. Make sure to grab their number down just in case you need it for the day.
Riad managers will for sure know the best places to eat around where you're staying, good tour guides, must-sees in the area, and so much more. They're also great to get to know as a potential contact if you get lost or need some help with directions.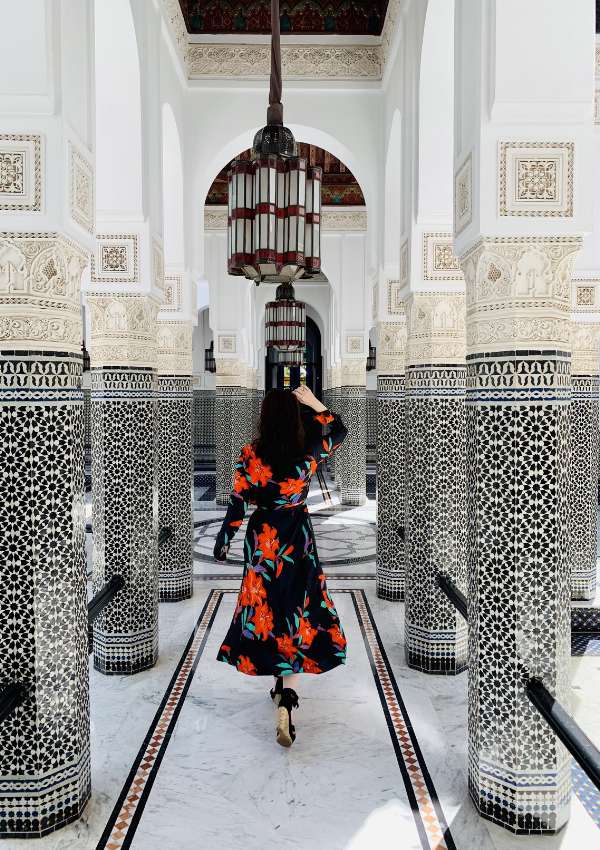 DO make friends (even if it's just your hostel manager)
Having someone on the ground who knows where you are and when to expect you back in your room can make a huge difference when traveling.
This can be trusted fellow travelers you meet along the way, or even your hostel/hotel manager or Riad owner. Connecting with trusted people on the ground in Morocco is a great way to feel just an extra little safe while traveling solo.
DO plan for the unplanned
Solo traveling, and traveling in general, invites the unexpected.
This can apply to some negative situations like getting sick or injured (which you should definitely plan for), but it can also mean some amazing unexpected travel opportunities.
Leave room in your itinerary for "going with the flow", or unexpected adventures that may pop up along the way. This definitely depends on how much time and flexibility you have, but
I've found that leaving room for the unexpected brings the best travel memories. These little detours can be some of the most memorable and worthwhile parts of your travels.
While on a supposedly-weekend trip to Taghazout, I met a group of new friends at a coworking space and ended up making plans with them to travel to Essaouira. I ended up spending multiple weeks in Essaouira working remotely and surfing during my lunch break and it was an amazing experience.
Leaving a little wiggle room in your itinerary for some spur-of-the moment adventures can invite some incredible experiences into your travels.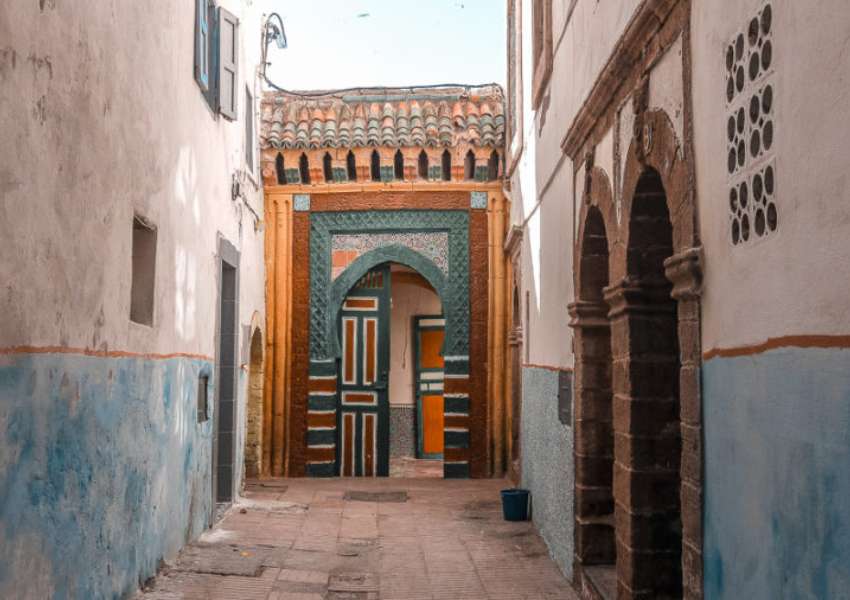 DON'T write off group trips/tours
Okay, I'll admit, I'm not the biggest fan of group tours.
I find them constraining at times and depending on the other members in the group, they can be a complete vibe kill.
On the other hand, they can sometimes be the simplest way to get from a to be and an amazing way to meet new people.
Regardless of your perception of group tours, I'd suggest keeping an open mind for shorter group tours within Morocco.
If you want to get to harder-to-reach places like Ouarzazate and the Sahara Desert, it might be worth it to book an all-inclusive multi-day trip with a local agency or hostel.
In addition to being able to connect with fellow travelers, you'll be able to take away some of the stress of finding transport and accommodation in some more remote areas.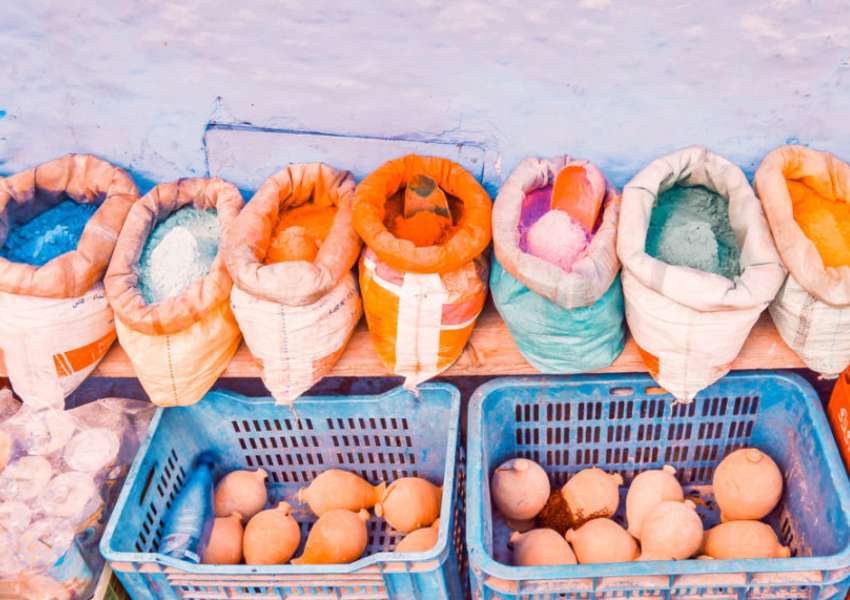 DO be strategic about the info you share
Traveling as a solo woman in Morocco might turn a few heads. You're going to attract attention, so be careful about the information you share with the people you meet.
Shopkeepers and taxi drivers are usually very friendly and chatty and might ask you a bunch of questions about your travels, but don't feel the need to tell them everything. If they don't need to know, they don't need to know!
For the most part, don't tell everyone that you're traveling solo. Don't be afraid to lie or make up stories about where you're going, who you're traveling with etc.
You can even wear a fake wedding ring if that would make you more comfortable (I'd sometimes do that when visiting busy medinas or traveling with guy friends, just to avoid questions).
This can also apply to letting people know where you're staying. If you're not getting the best vibe from a taxi driver, have him drop you a few minute's walk away from your Riad. A little white lie here and there can make you feel a whole lot safer while traveling solo.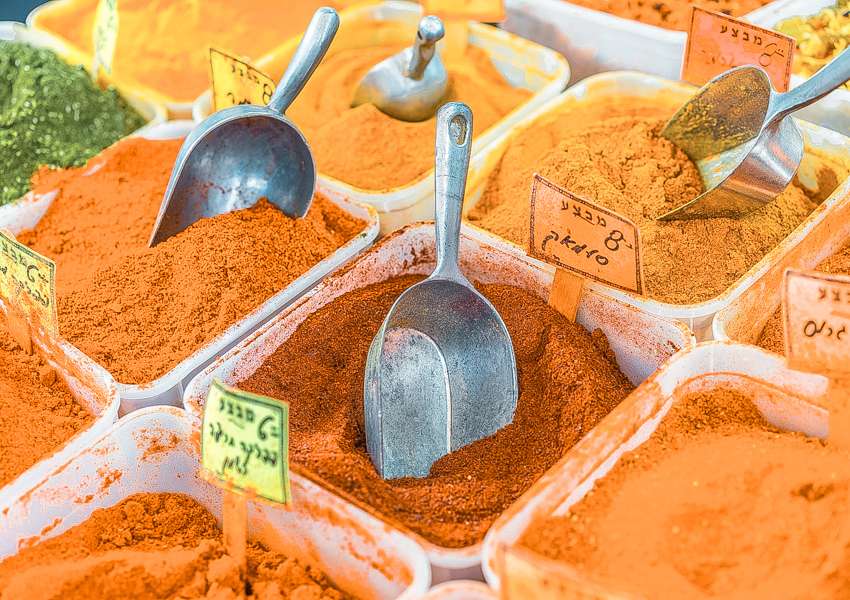 DO get comfortable with Morocco's train, bus, and taxi system.
Morocco has an incredible public transport system in between cities, and it's a great idea to take advantage of the country's far-reaching network of trains and buses.
The easiest and most often cheapest way to get around Morocco is on the buses and trains. Download the ONCF app or visit their website for low-hassel booking, or just buy them at the train station.
In terms of travel within cities, you're mostly reliant on taxis to get around. As a foreigner, taxis can honestly be a huge hassle. J
ust remember that unless you're in a town with a fixed taxi fare (like Essaouira or El Jadida), always ask for the meter ('kunter' in Arabic).
If you want to avoid the taxi hassle altogether, you can also arrange a pick up directly to your Riad/hostel booking (though this will be more expensive than regular taxis).
So there are my non-definitive do's and don'ts for traveling as a solo woman in Morocco. I hope you found some of my advice useful, and at the very least have some more inspiration for your next Moroccan solo trip. Happy travels!